Jeans and boots are all fall staples but they can get pretty standard and boring after a while. The pieces that can really make your outfits pop are fall shirts.
When I first started looking for stylish tops for women to add to our fall wardrobes, I was a little disappointed. It seems that retailers are still a bit behind due to the pandemic and the choices were somewhat limited. It's also not fall yet but social media and other bloggers started pushing fall at the beginning of August. I just didn't really see anything for fall that made my heart sing at that time. Target and Amazon finally came through with some fall items I will wear.
Now that we are into September and fall is much closer, I'm beginning to get on board with fall clothing. I usually start my fall transition and fall outfits with fall shirts. It's usually too hot at the beginning of the season for layers, so a pretty fall shirt can give an outfit all the fall vibes. I include a fall print top in my list of fall wardrobe essentials.
I've rounded up seven fall shirts you should add to your closet now. These tops can be worn alone in early fall with shorts, skirts, pants or jeans. Later you can layer these shirts with cardigans and jackets.
This first top is from Target. This three-quarter sleeve button front top leans heavily into some of the Pantone Fall 2021 colors. It's got fucshia and rose pink, along with deep purples/ burgundy. Even though burgundy is not one of the Pantone colors this year (it had it's turn years back with marsala and oxblood) it is still a viable and reliable color for fall, as well as the rich jewel tone purples we are seeing.
This blouse is made from a lightweight rayon. It has a bit of a boho flair. I'm wearing a small but it seems to run big, so I would size down. Even though it has buttons, I could put it on and take it off without unbuttoning it. Since it's roomy and blousy, I'd pair with fitted bottoms, like straight leg jeans or skinny jeans. You can also pair it with kick crop or flare jeans, but I would avoid wide leg pants. It would also make a cute fall outfit with a fitted corduroy skirt.
Straight leg raw hem jeans from Loft/ booties-JCPenney (old); option
Another fall shirt from Target. I'm smitten with the ruffle detail that accents the neckline and shoulder seams. This blouse pulls in olive and more blush, as well as some lavendar. Lavendar is another popular color this fall in spite of not being named as one of the Pantone colors. This top features elastic elbow length sleeves. It's a great option (as well as the one above) for those who want some arm coverage, even when it's still warm. This top is a flowy light rayon. I paired it with jeans but I'll be wearing this one to work with olive dress pants. It also runs a little large. I'm exchanging the small for an x-small.
Jeans- Old Navy/ similar; mules- Kohl's/ option option
This one is my favorite! And that was a big surprise to me because it has a slight babydoll style to it and I never like those tops on me. I do always fall for a flutter sleeve and the lace detail makes this one extra sweet. The back yoke repeats the lace. This rich purple is perfect for fall, but it also comes in a deep dark blue and a muted coral that are both perfect for fall shirts. You can also find this top at Target. Size down.
I paired it with dark wash skinny jeans, but I will be wearing it with grey and olive jeans as well.
Jeans- Wit and Wisdom; Chain detail leopard mules- Nordstrom
Universal Thread Pullover This one technically isn't a shirt, but it's still a top you may want to consider. It's a super soft knit poncho style top. You will need to wear a tank or cami underneath in early fall and then layer it over a long sleeve tee or mock neck/turtleneck top later. The arm holes are too big to wear it without something underneath.
This pullover is a good length for leggings too for petites. Taller ladies might have an issue with the front coverage. Here I'm pairing it with plaid pull on knit pants from Target. These feel like wearing pajamas but they could be dressed up for the office.
This topper has a pretty pattern to it, which you can see a little better in this close up.
Cable and Stitch Short Sleeve Sweater
In keeping with my lavender/purple sleeve, I chose to feature this short sleeve sweater from Cable and Stitch, a trusted Amazon brand. A short sleeve sweater is perfect for our warmer fall climates. This sweater can go from work to weekend. It comes in other fall friendly colors like navy and marigold yellow. It's 100% cotton. The small fits, but I might size up for a looser fit.
Find a few more fall friendly short sleeve sweaters here.
Leave the tie untied and this fall shirt becomes a v-neck. This top has a boho vibe. 100% polyester but the material feels good on. Wearing a small.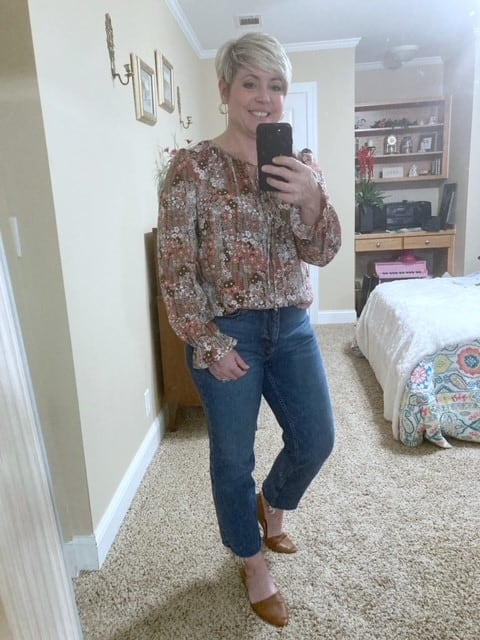 This v-neck top feature a ruffle, elastic cuff sleeves and leans into the fall colors of yellow and blush with a little bit of adobe/clay on a rhodonite (navy) background. I paired it with dark wash jeans, but it would work well with white jeans in the fall too.
See three ways to wear this top now and three ways to wear it later on Instagram.
Chain mule loafers- Amazon
Which one is your favorite?
DON'T MISS OUT!
Subscribe to my daily feed or to the weekly newsletter to get each post as its posted or a link to the each week's posts along with exclusive subscriber content in the weekly newsletter. Make sure you check your junk email after you subscribe and add me to your email safe list.