Leopard has had it's share of the attention this past fall and winter, but it's more than a trend. Leopard print is a classic print you can invest in and not worry about it going out of style. An easy way to add leopard to any outfit is with a pair of leopard booties.
Hesitant? I was when I first bought mine two seasons ago, but I have not regretted it. They add a fun touch to any outfit. I've got 15 ways to wear leopard booties for you. If you don't have booties, you can also easily adapt leopard flats to any of these outfits.
Disclosure: This post contains affiliate links. I make a small commission from your purchases through these links. Thanks for supporting my blog.
1- Tunic top + leather leggings – This would be a fun date night outfit and any color tunic will work.
Top- Express; option leggings- Hue; option boots Sam Edelman option
2- Grey jeans+striped turtleneck or tee+plaid vest – Leopard and buffalo plaid are a perfect pairing, so go ahead and mix your leopard with any buffalo plaid top.
Shirt- Banana Republic; option vest – Old Navy; option – jeans- NYDJ; option ; option– boots Sam Edelman- option
Shop Leopard booties:
3- Tunic sweater + black jeans This could be dressed up a bit or make a great casual outfit, depending on the sweater you choose.
Sweater- JCPenney; option; option; jeans- Loft straight leg– boots- Sam Edelman- option
4- Burgundy jeans+cream sweater+faux fur scarf- Ditch the scarf for a more casual, less fuss outfit.
Sweater- Gap; option jeans- NYDJ; option; Scarf- Banana Republic; option boots- Sam Edelman
5- Orange tunic+ crop flare jean+ plaid scarf– Orange and leopard are the perfect fall combo, and the crop flare jeans are so fun with ankle boots. My sweater has a zipper in the back. I linked a button back option.
Sweater- Nordstrom (Caslon); option jeans- Nordstrom- option scarf- Ebay; belt bag- option
6- Taupe sweater+velvet jeans+leopard booties
Sweater- Amazon; option pants- JCP; option; boots- Sam Edelman
7- Chambray shirt+black cardigan+leggings+scarf- Change up the look instantly by changing the color of the scarf.
Sweater- Old Navy; option; chambray- Old Navy- option; leggings- HUE; scarf- Amazon; boots- Sam Edelman
8- Sweater+ dot shirt+ trousers+ boots– Leopard booties even work for the office.
Top- JCrew Factory; sweater- Gap; option pants- JCPenney; option Boots- Sam Edelman
9- Sweatshirt dress+moto jacket- Don't discount wearing leopard booties with a dress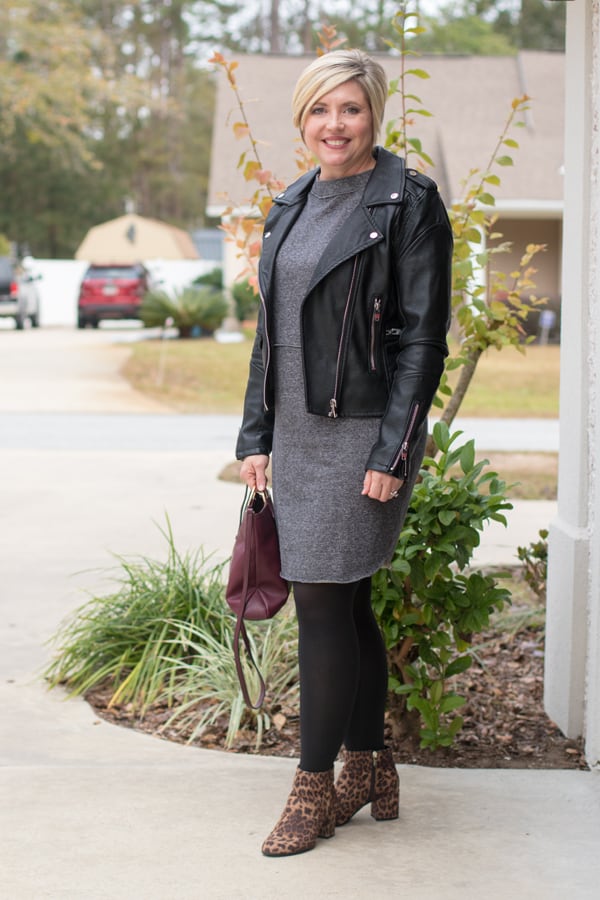 Dress- Amazon; jacket- Nordstrom; tights- option; boots- Sam Edelman- option
10- Camel blazer+black top+burgundy pants+leopard booties – Another office outfit
Blazer- JCrew Factory; top- option; pants- JCPenney- option
11- Camel sweater+striped tee+velvet jeans
Cardigan – Amazon; tee- Nordstrom option; – pants- Loft
12- Burgundy vest+striped turtleneck+grey jeans
Vest- Macy's; option; shirt- JCrew; jeans- NYDJ; option; boots- Sam Edelman
13- Burgundy jeans+camel sweater+striped turtleneck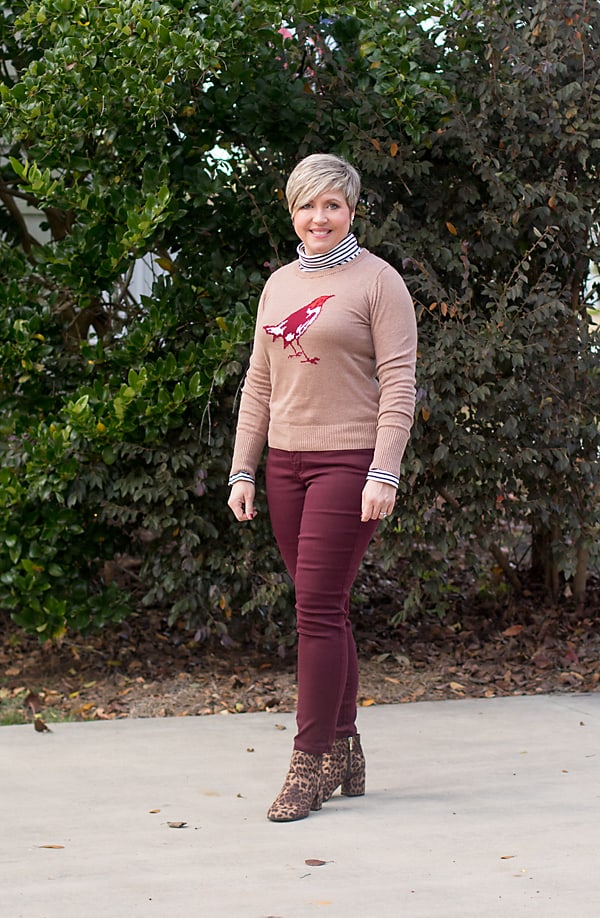 Jeans- NYDJ; sweater- Target (old); option; turtleneck- JCrew
14- Purple tunic+leather leggings+leopard boots
Tunic sweater- thrifted; option leggings- Hue; boots- Sam Edelman
15- Black cowl sweater+velvet pants+blazer
Related: Classic vs edgy- cowl neck sweater 2 ways
Sweater- Loft; blazer- JCrew Factory; pants- Loft
Whew! That was a long one. If you are still here, thanks for sticking to the end.
I hope you have some great inspiration for wearing leopard booties. You also got a peek at how I remix my closet as several pieces were featured more than once – the camel blazer, grey jeans, striped turtleneck and velvet pants.