Welcome to 9 to 5 Style! The third Monday of every month Jennie of A Pocketful of Polka Dots and I will showcase a theme featuring our individual takes on a professional look. Our aim is to inspire and show professional style does not have to mean boring and without personality. We hope you enjoy our 9 to 5 Style!
This month Jennie chose to style green. It's such an appropriate color for spring. Everything will soon be turning vibrant shades of green as new life bursts forth. Even though emerald isn't one of the Pantone colors for this spring and summer, I'm seeing a lot of this bright shade of emerald in retail stores. It's one of my favorite colors, so I decided to style two pieces in this vibrant color.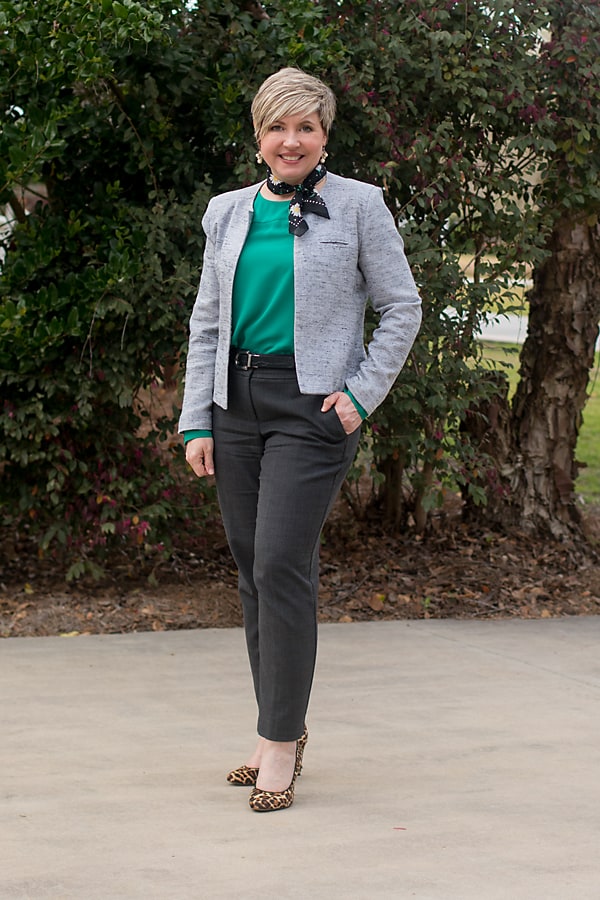 Jacket- thrifted; option option option
blouse- JCrew Factory; option
pants- Loft; option option option
shoes- Vince Camuto; option option
earrings- old; option option; scarf- thrifted; option option option
You may remember this blouse from my JCrew Factory try on post. It was a keeper and I'm looking forward to wearing it many ways this spring and summer. It's not too heavy so it will still be appropriate in cold summer office A/C conditions. The boatneck neckline lends itself well to accessorizing with a scarf. Square silk scarves are one of my favorite spring accessories.
I was also inspired last week by Sheaferr at Sheaferr Told Me To to pair leopard and green. I thought I had ran out of interesting ways to style this green jacket, but nope, I haven't worn it with this leopard blouse before. And I have these new earrings from Amazon I have been dying to wear.
Jacket- old; option; option option
blouse- Calvin Klein via Ross; option option option
pants- Loft
shoes – Ann Klein similar option
earrings- Amazon
If you don't need an office outfit, then pair a leopard blouse with jeans and these earrings, similar to the inspiration outfit from Sheaffer. These earrings are amazing. They are so light I have to reach up and touch to see if they are still there.
I unintentionally paired leopard and green in both outfits by adding the leopard pumps in the first one, but leopard and green really pop with each other. So now you have two ways to wear leopard and green for spring.
Have a great week.
You may also like 3 Chic Ways to Wear Kelly Green to the Office.