Hello and welcome back for another round of Prime Purchases! Amazon Prime day is going to be next week on October 13 and 14. I was going to try and spend less this month but now they are having Prime Day. I'm sure there will be great deals on some of my favorite brands, so the temptation is going to be strong. If you don't know what's so great about Prime, now is the perfect time to sign up for a free 30 day trial and see for yourself, plus take advantage of the deals that roll out next week.
Here are all the things I bought last month. You can shop all my favorites from all months on my Amazon storefront page. I also did a big try on session with fall fashion from Amazon last month. Be sure to check it out too.
Some of these are basic items we use daily/weekly and needed to restock.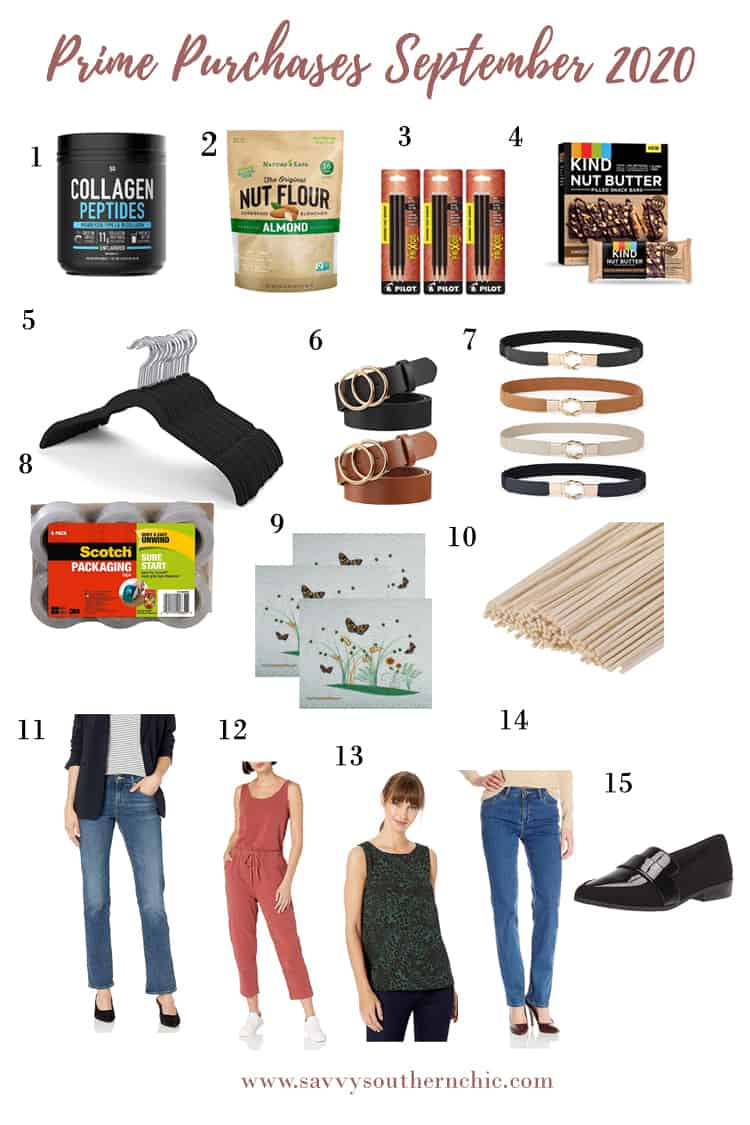 1 Collagen peptides- I use this for my joints and little protein boost, although it's not the same as dietary protein and should not be subbed for the majority of your protein. I normally get Vital Proteins but this one is a little less expensive and comes highly recommended so I decided to give it a try this time.
2 Almond flour– Great for gluten free baking and cooking, but don't get carried away. Watch your fats with almond flour.
3 Ink refills- I needed ink for my favorite pens- Erasable Pilot Gel Pens. While I wouldn't write checks or sign important documents with this ink, I love it for my planner so I can correct mistakes easily. My brain gets way ahead of my hands sometimes, so I'm always having to make corrections.
4 Kind Nut Butter bars We discovered these at Sam's. We ran out and the hubby kept hinting that we needed to go to Sam's for bars. They are really good! While these are a little cheaper at Sam's, I ordered this case from Amazon Prime for the hubby's birthday as treat and to avoid going to Sam's just for bars, lol.
5 Velvet hangers– The struggle with the closet is real! I have switched to exclusive use of these hangers but seem to have more pants hangers than blouse hangers, so I ordered a pack of these for my shirts and tops.
6 Double O-ring belts I ordered these last year and love them but they have become too large for me. I repurchased them in a smaller size.
7 Skinny Stretch belts These are new favorites. The perfect finishing touch, especially when you are only front tucking a blouse. They come in four packs of various colors.
8 Scotch Sure Start Shipping Packaging Tape, 6 Rolls, – I can never seem to keep enough of this on hand. It probably has something to do with shopping online and making returns, lol, but I needed tape. I can never remember to get it in the store, so Amazon prime it is!
9 Set of 3 Each Swedish Dishcloths I have heard and read such rave reviews about these from a couple of other bloggers, but I hated these! Well, hate is a strong word, but I regret this purchase. I really don't like them. I failed to look all the way to the bottom of the listing at the dimensions. They are pretty small- dish cloth size but I think they would be better suited for their advertised purpose if they were dish towel size.
10 HOSSIAN Set of 100 Reed Diffuser Sticks It was way passed time for me to change out my diffuser vases and oils and I needed new sticks. These seem to be getting the job done.
11 Levis Straight Leg 505 jeans– These were $29.70 when I bought them. They appear to have gone up in price but if you are interested, place them on a list and see if the price drops. It does pay to create lists and watch for things like that with Amazon. I wanted some straight leg jeans in my wardrobe for a change from skinny jeans and not many of my bottoms fit anymore (thanks to FWTFL) so now was a good time to get these. Levis have been long standing go tos for denim for me.
12 Daily Ritual Women's Stretch Cotton Knit Twill Drawstring Waist Sleeveless Jumpsuit I'm smitten with this piece. So comfy and in a fall color but sleeveless so I can actually wear it in our weather and do some light layers with it.
13 Lark and Ro Sleeveless Tank– I love this piece for layering under blazers and cardigans. It comes in several colors and prints, and also in v-neck versions. Prices vary by print and style.
14 LEE Women's Instantly Slims Classic Relaxed Fit Monroe Straight Leg Jean These have also increased in price since I purchased them but watch for a drop. These have a higher rise than the Levis but work perfectly for me. Before dropping a size, I was convinced that high rise jeans were not for me, but these have changed my mind. They aren't too high of a rise, but great for me as a petite.
15 Dr. Scholl's Shoes Women's Agnes Loafer Super comfy. I will be wearing these to work and off duty with jeans. Prior to these, I did not have a pair of black flats. I have now filled that void. I'm a fan of Dr. Scholl's and recommend them for all day wear.
Whew! That was quite a list for this month but I really love the convenience of getting everything food, fashion and home from one place! We went to four different stores last weekend and made return visits to two to get some things for an upcoming camping trip. We wasted a whole day! The whole time I kept thinking I could just go home and place an Amazon order in less than an hour and have it all at my doorstep in two days. I'm spoiled!
Linking up with Prime Purchases!