As a woman over forty, you may think that the latest fashion trends are off-limits. But with a few simple tricks, it is possible to stay on-trend and look great this spring. Whether you're looking to update a classic look, introduce a trendy item into your wardrobe, or find fresh inspiration, this article will tell you everything you need to know about 2023 spring fashion trends for women over forty.
We'll explore the various trends in detail and look at how to style these garments in a way that's age-appropriate and suits your individual style. With the help of this article, you'll be able to stay on top of the latest fashion trends and look fabulous this spring.
With the start of spring, now is the perfect time to get inspired and find out what stylish ensembles work best for mature women. From bold colors to classic lines, we will explore the best 2023 spring fashion trends for women over 40.
The 10 Best 2023 Spring Fashion Trends To Wear Over 40
1 Leather
Leather/ faux leather- it's sticking around for spring. It's too hot here in the spring for leather, but the temps are what stop me from wearing it, not age. Age should not be a factor stopping you from wearing leather. Whether you're rocking a modern, edgy look, or sticking to something more classic, you'll be sure to find the perfect piece this spring.
Consider a faux leather belted dress in blue sapphire for an unexpected by sophisticated way to wear this trend. In a flare cut, this dress is demure and classy.
2 Just Relax
A relaxed fit is the trend for most everything right now. Jeans are meant to be worn looser and shirts come in relaxed fits. Blazers and toppers are oversized. So just relax.
Remember this isn't your ticket to hiding under clothes that are too big for your body. Purchase a relaxed fit in your normal size. And purchase items that were made in a relaxed fit. Don't try to achieve this by grabbing a normal fitted cut in a bigger size. You'll just look sloppy.
3 Shine On
All things shimmery, shiny or metallic will be trendy this spring. I'll probably skip this one when it comes to clothing. Many shimmery fabrics tend to highlight wrinkles, bumps and bulges. Shiny fabrics can make you look larger. While not a concern for everyone, it can be an issue for the over 40 woman who isn't comfortable with a changing body.
The safest way to indulge in this trend is with shoes, bags and accessories.
4 3D Florals
When I first started blogging and paying more attention to fashion (over 10 years ago!) floral appliques, floral pins and floral details on clothing was a big trend. It was also all the rage to DIY your own floral accents for tshirts, belts and such in the craft community. This is what pulled me from a craft blog to fashion.
We are in that ten-year cycle where everything comes around again. These are still wearable this time around, if you stay away from anything that looks childish.
5 Cargo Pants and Pockets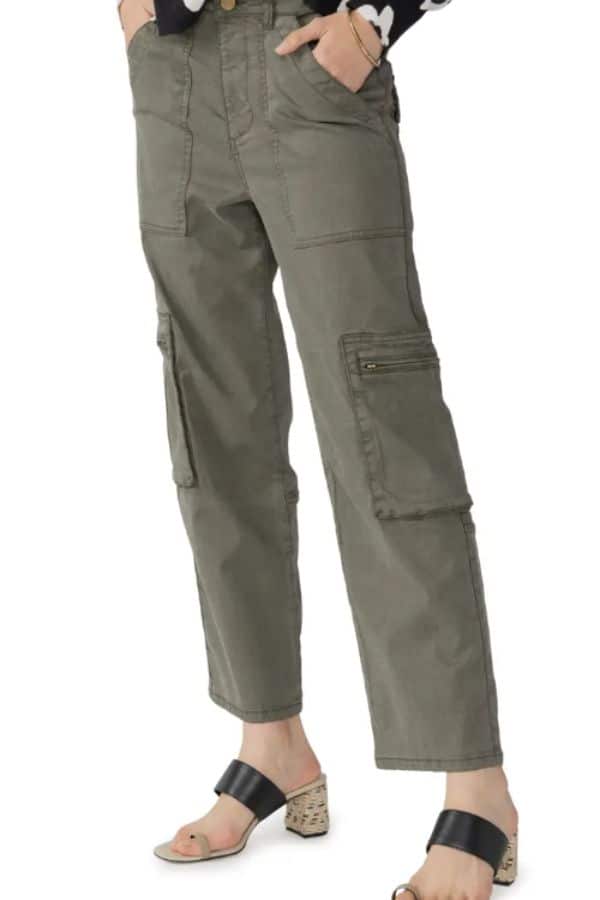 Cargo pants are everywhere, as well as large cargo pockets on jackets and tops. Cargo jeans are a thing too. You either love them or hate them. If you love them, age shouldn't be a factor in wearing them. They come in fitted styles and relaxed or wide leg silhouettes. Find the pair that flatters your body type. Wear them with sneakers or dress them up with a blazer and heels for cool, street style vibes.
6 Wide leg jeans and pants
One of the biggest Spring 2023 fashion trends is in denim. Wide leg jeans are the trending silhouette for spring. You can also find some non-denim casual pants in wide leg cuts. You can wear these at any age if they suit your body type. They are especially flattering to pear shapes and those with wide hips. The key to wearing a wide leg pant is balance. Define the waist or wear a more fitted top to balance the volume on the bottom.
7 Maxi skirt
Maxi skirts are always popular in spring and summer. They are never really out of style, but you will see more longer hem lengths this spring. If all the micro miniskirts we've been seeing had you rolling your eyes, you will be happy to see the dropping hem lines. Maxi skirts have been revived and denim maxi skirts are taking the spotlight.
8 Ballet flats
These were on the horizon last year and they are making a bigger appearance this year. Some of them have straps and embellishments, but you can wear a classic ballet flat and be on trend too.
Lug sole loafers and shoes are still popular, but if chunky isn't your cup of tea, you may find the ballet flat to be a nice alternative. They are certainly practical and one of the easiest spring 2023 fashion trends over 40.
9 Oversized totes
Oversized totes and bags are the thing. Whether you indulge in this trend has nothing to do with age. Petites may want to stay away from this one, unless you need to hide from someone in public behind your bag. I'll skip this one because I prefer to look like I'm carrying my bag instead of it carrying me, but if you are of a larger stature, go for it!
10 Sheer/ transparent
This is one trend I wish would just go away for good. No one needs to show off everything in public. If you want to indulge in this trend, sheer sleeves are a tasteful way to go at any age. Another way to wear this trend is to pair a sheer blouse over a full coverage camisole. Otherwise, Victoria needs to keep her secret. We don't need to see your underwear.
Related: 10 Amazing Spring 2023 Fashion Color Trends
Which one of these spring 2023 fashion trends will you be adding to your closet this season?
You don't have to embrace every trend. As Coco Chanel famously said, "Fashion fades, style is eternal."
Choose items that clearly express your personal style, and you'll be sure to be turning heads all spring long! The possibilities are endless, so don't be afraid to take risks, experiment, and have fun with trends, but don't be a slave to them.