Hello and welcome to another edition of what I wore lately. This is what I wore in real life for work and work from home for the last couple of weeks. I've spent the past two weekends in pajamas and work out clothing or leggings because we spent the past two weekends putting some accessories on my new car. I've been a wrench monkey so the attire was not worth capturing.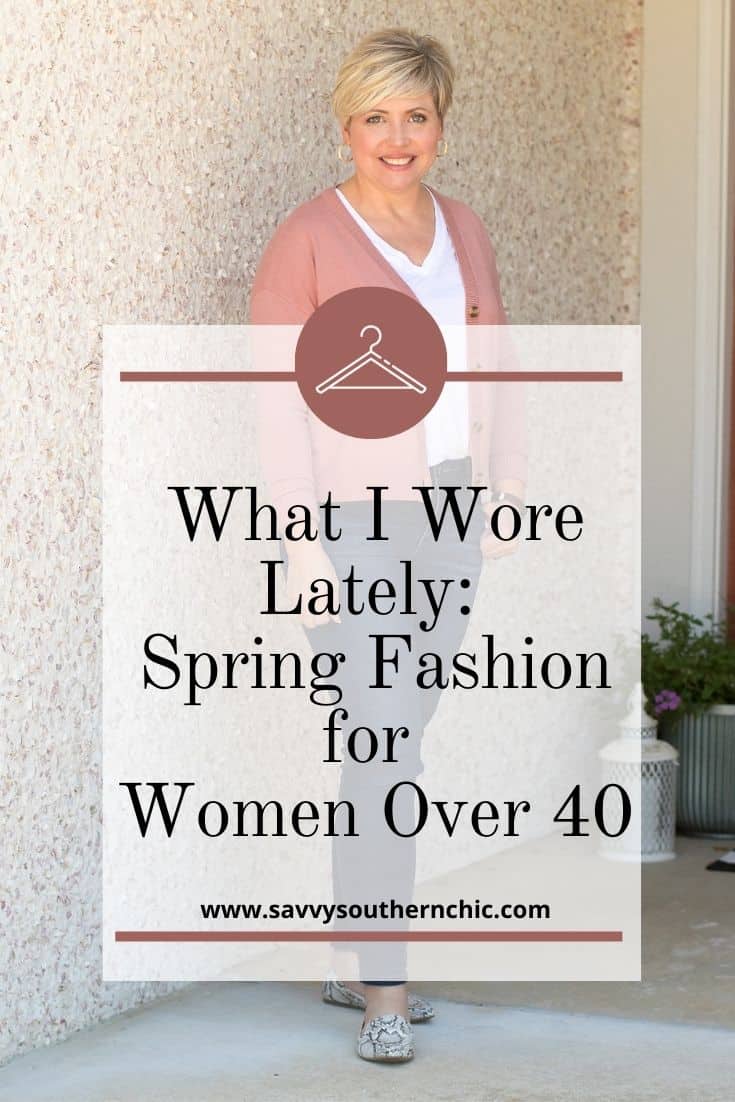 My apologies for these first few small photos. Some came from the phone and some from the dslr camera and I have no idea what I was thinking when I sized those first three. You get a post from me, not perfection!
This was a weekend outfit I captured three weekends ago. It was a cool day and a sweatshirt was perfect. These Gap high rise jeans are so comfy, so I'm afraid you might see a lot of them. Same for the gold espadrilles. They have been my go to for spring while it's still a little cool for sandals.
Work outfit- I've never really worn a cardigan buttoned up as a blouse but this one is perfect for it. I added a cami underneath for a little more modestly.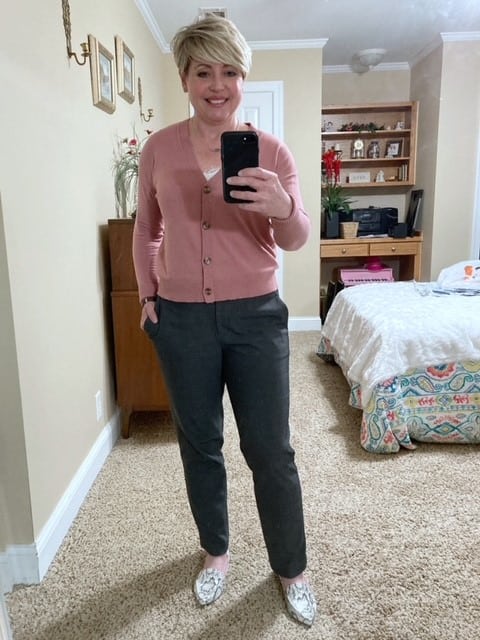 Cardigan- Loft; pants- Ann Taylor; snakeskin loafers- Steve Madden
Work from home- These are the best joggers! And it's the gold shoes again. Not even going to apologize.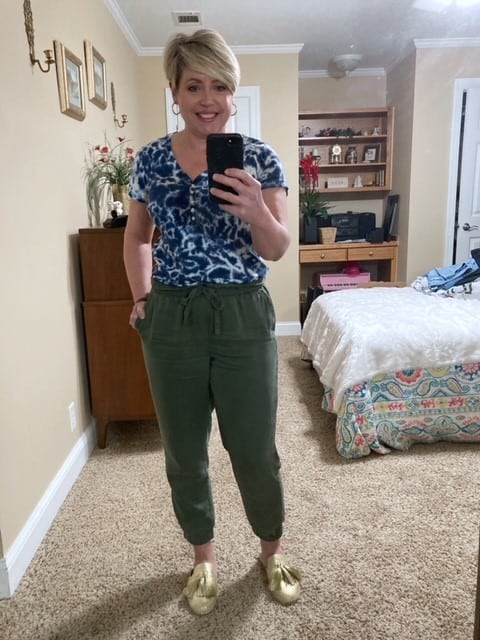 Joggers- Banana Republic; top- Kohl's similar
Work from home – The cardigan again.
Cardigan- Loft; jeans- Wit and Wisdom; loafers
Work outfit- These pieces are are new purchases this spring. When we went back to three days in the office I had to get myself in gear and find some work pants that fit. I already had these olive pants so I just replaced them with one size smaller. The sweater is a great lightweight piece for our mild spring season and flats have become more prevalent in my work wear thanks to a year of "no shoes".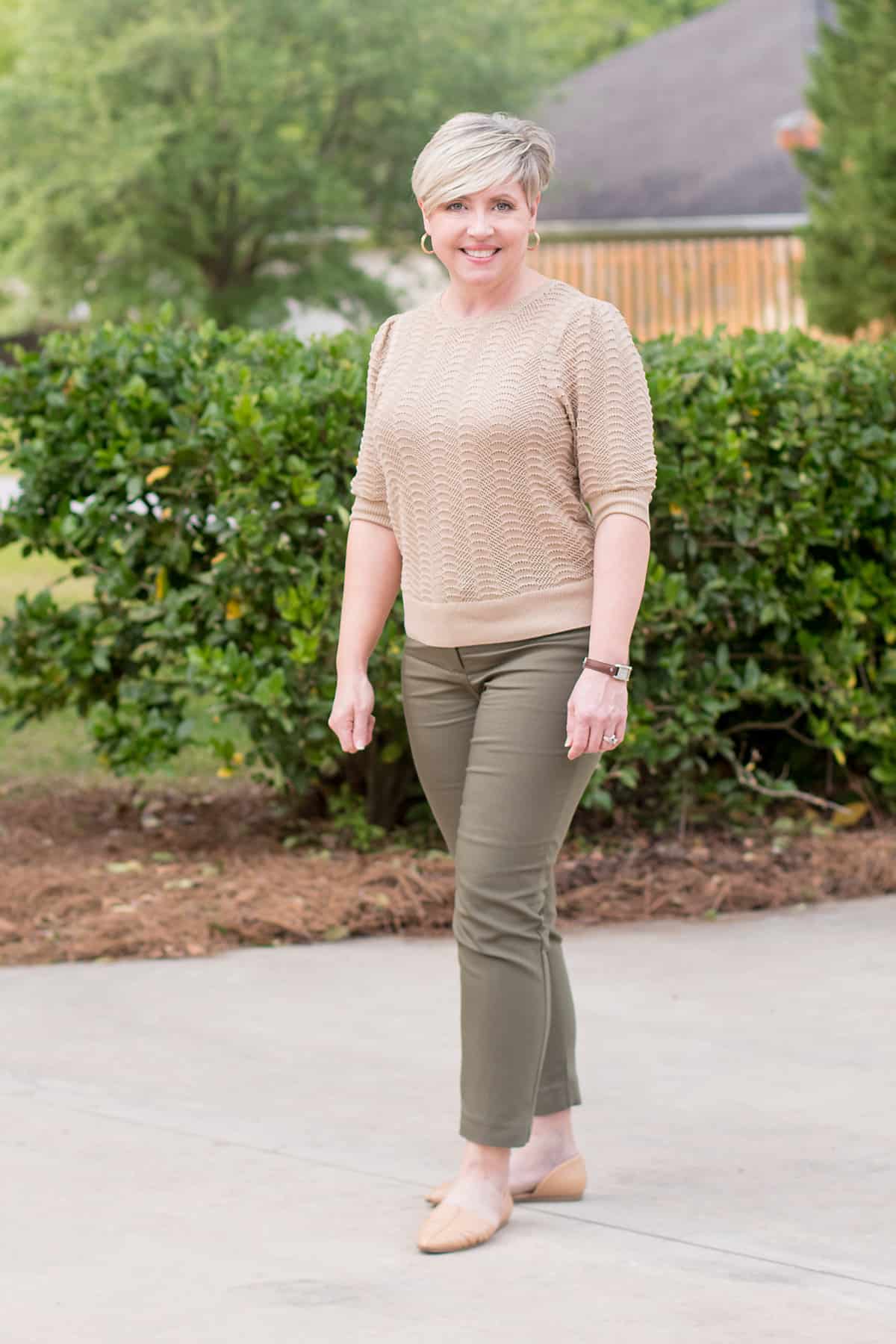 Sweater- Loft; pants- JCPenney; flats- Target
Office outfit- Mostly oldies with the exception of the pants. I bought them in the fall.
Shop this look HERE
Office outfit- The blouse is another new piece. I talked about this green ash color in my feature on how to wear the spring 2021 greens color trend.
I'm showing this outfit with and without a blazer.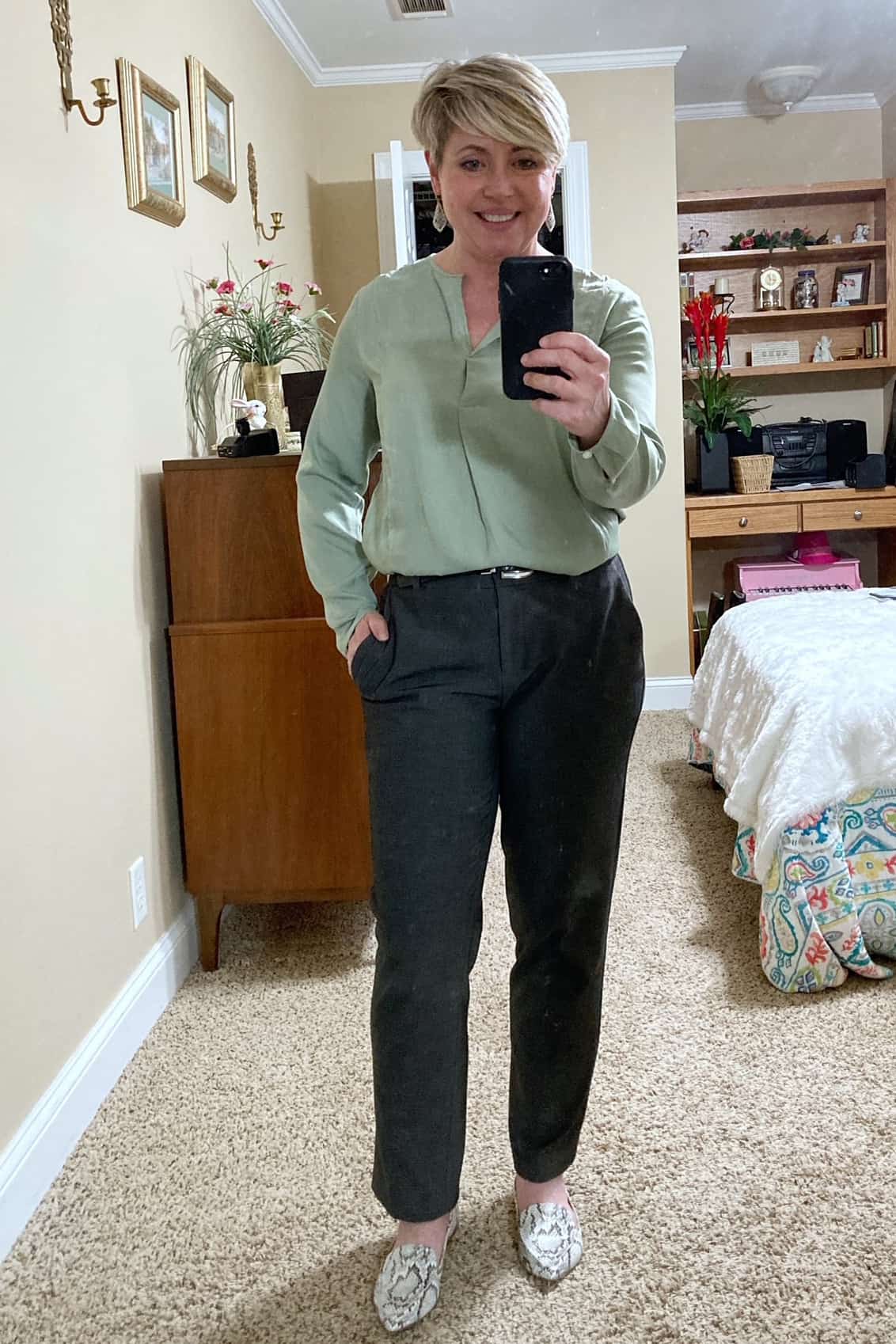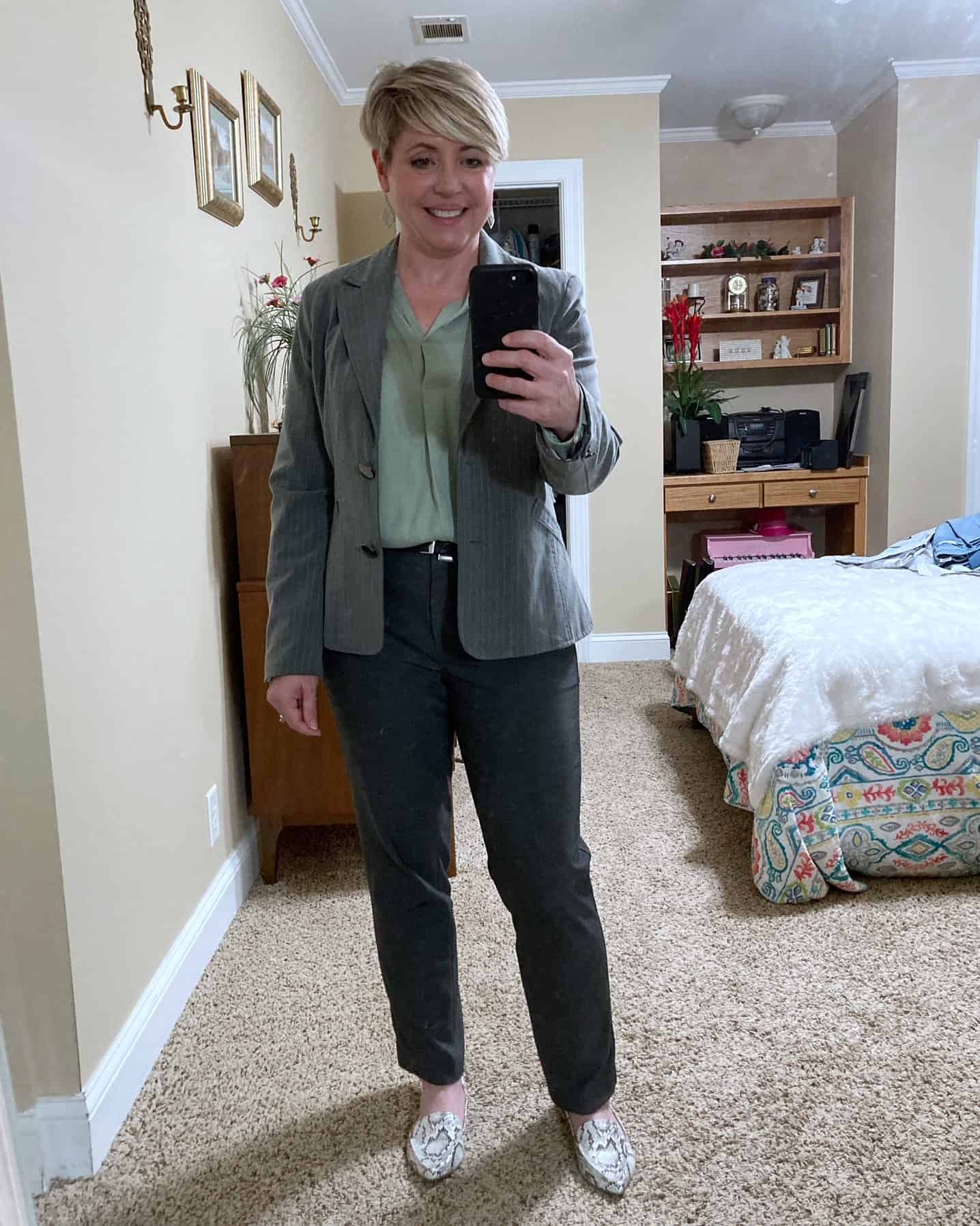 Blouse- Banana Republic; pants- Ann Taylor; loafers
Office outfit- These purple pants are a new purchase. I replaced the basic black, grey and navy and decided I needed a fun color too.
Blazer- Gap (old); blouse- Nordstrom; pants- JCPenney; shoes- Nordstrom
Work from home- Chinos and striped tee. The jacket was just for the photos, but if I had gone out I would have worn it.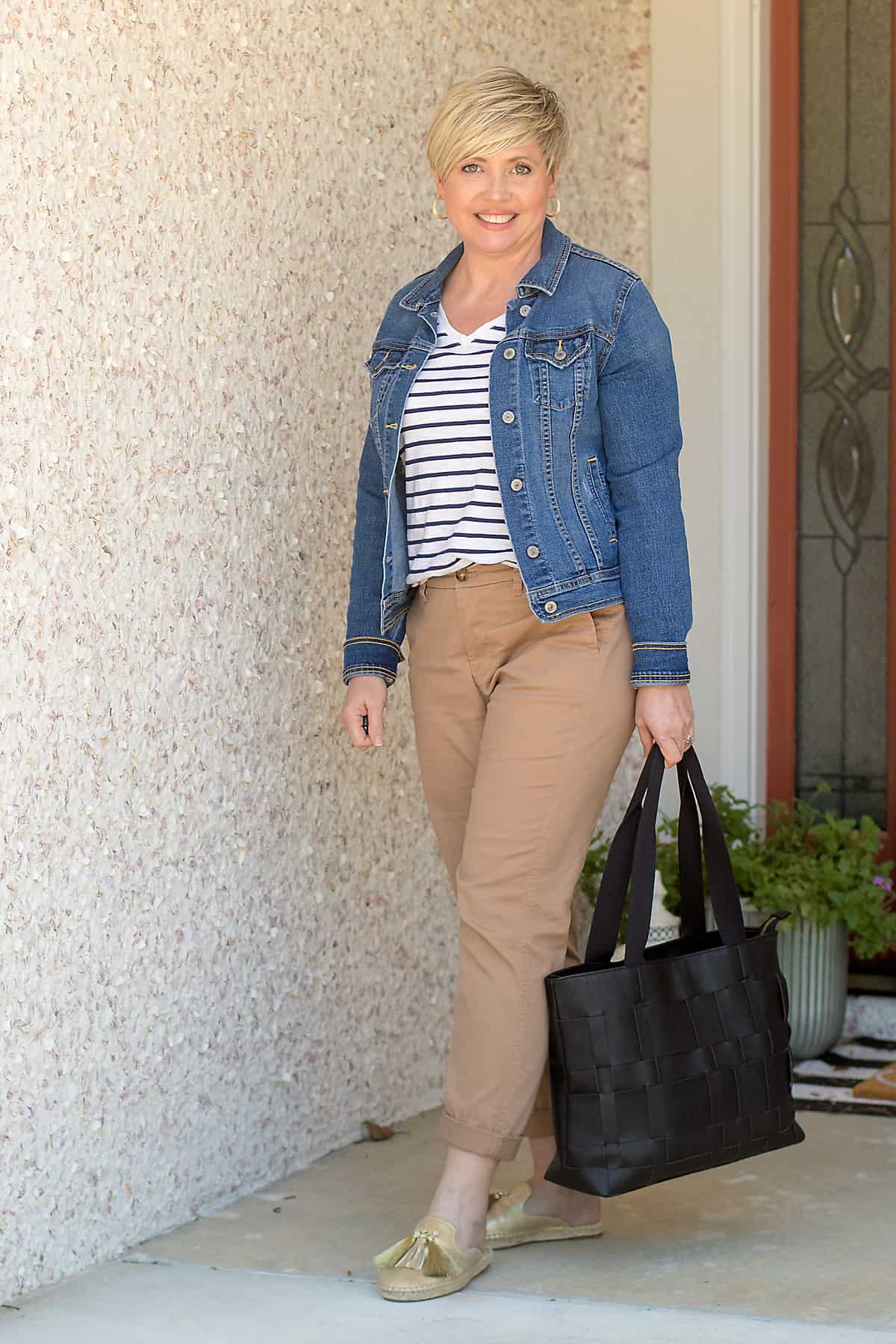 Jacket- Old Navy; striped shirt- Old Navy; chinos- JCrew Factory; tote- Target
Work from home- Another outfit with the joggers and the denim jacket (if I had gone out). It's really just a tee and joggers for working from home.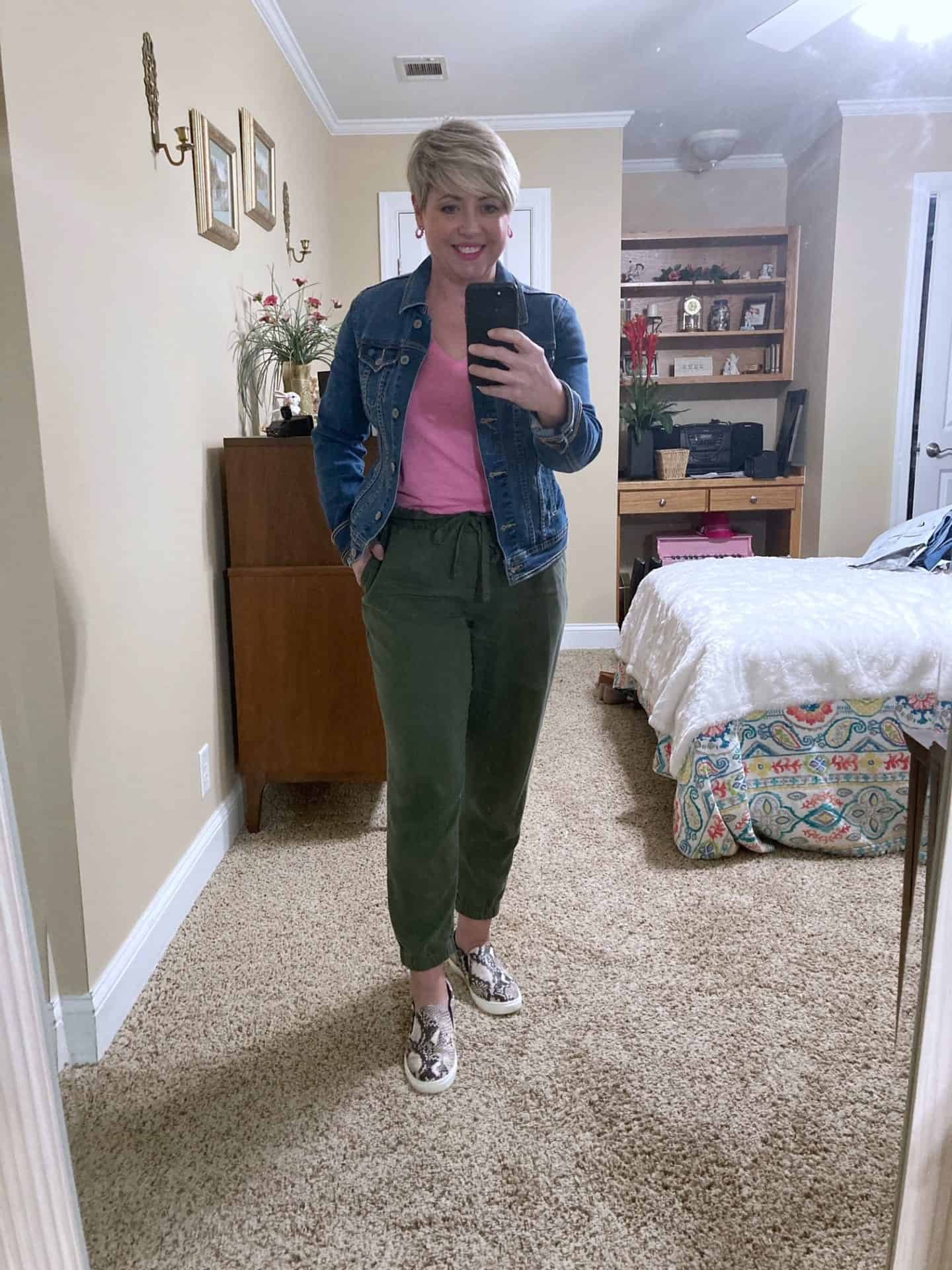 Jacket- Old Navy; tee- JCrew Factory; joggers- Banana Republic; sneakers- Target