Olive is a great color to have in your wardrobe. The yellow-ish green color that derives its name from green olives serves as a terrific neutral while providing some range and interest that other neutrals don't.
Today we are going to look at 12 outfits with olive green pants.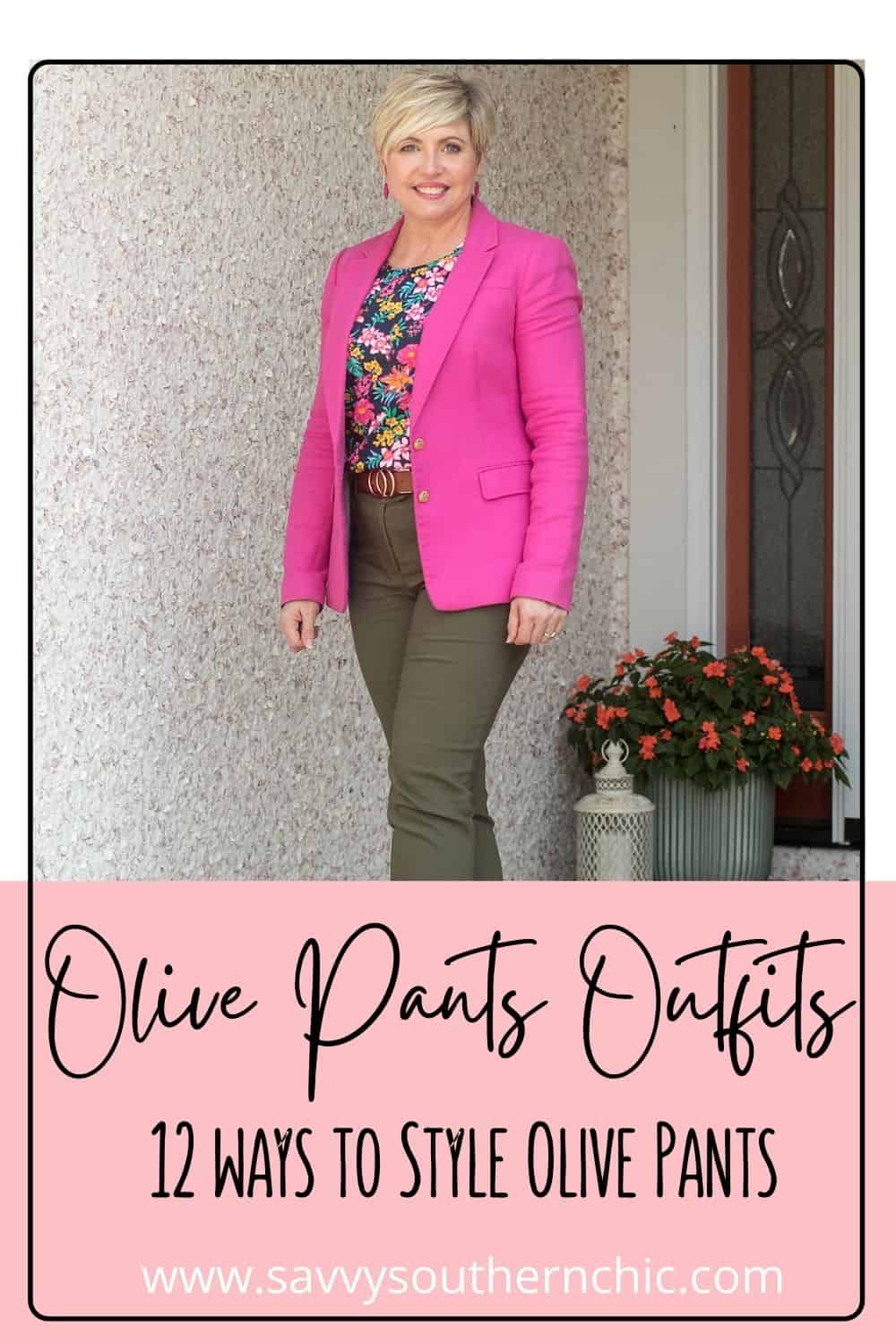 Originally seen mostly in fall wardrobes, it has become a seasonless neutral and can be worn year round. You may have an olive colored jacket or top but have shyed away from olive pants because they may seem a little more difficult to style. It's stepping into the realm of wearing "color" on the bottom half of an outfit. That should not give you an reason for concern.
Olive green women's pants come in a variety of styles. You can find olive green pants, jeans, olive linen pants, and joggers. Today we using a pair of olive green cropped pants and we are looking at how to wear them in work outfits.
The pants featured in this post are olive green ankle pants by Liz Claiborne from JCPenney. They are no longer available. They are available in a Liz Claiborne slim fit ankle trouser. Another great option similar to these is the high waisted pixie pant from Old Navy. Another option is the Curvy Sloan Slim Ankle Pant from Banana Republic Factory. A higher end option for an olive green pant would be these pants from Boden.
Spring Olive Pants Outfits
A spring olive pants outfit is easy to create and totally appropriate for the season. Pair the earthy green tone with pinks and other colors occuring in nature.
A floral top will usually have some green tones in the complimentary stems on the flowers and will be easy to coordinate with olive pants. Here a blush blazer was chosen to compliment the floral top and olive pants. Nude shoes create a continual line with the leg and don't compete with the neutral pants.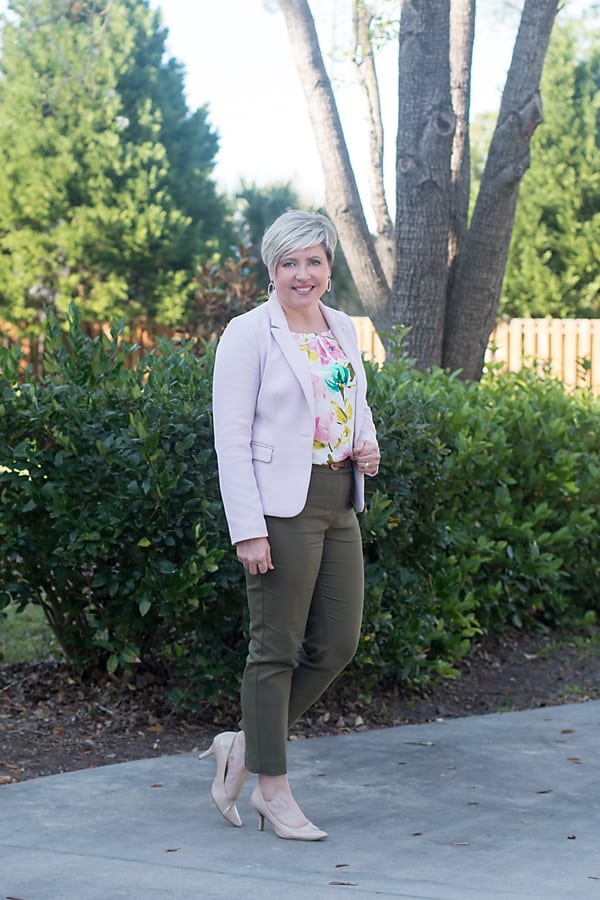 Here a warmer peachy pink cardigan was chosen pair with the olive pants for another spring olive pants outfit. Neutral shoes were chosen again to keep the focus on the outfit. Neutral shoes also work best with ankle pants in general to keep the line of the leg from being chopped up by color.
Cardigan- Loft; option; option; shoes- Old Navy– option; option
Olive is a neutral that you can pair with almost any other neutrals. It looks striking with black, navy, white and tan. The texture in this sweater keeps this all neutral outfit from being boring.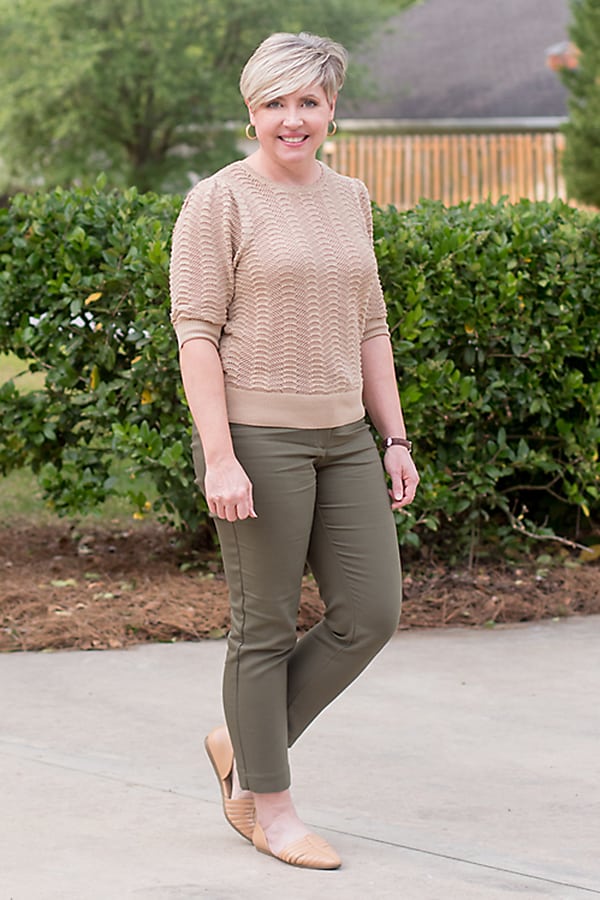 Summer Olive Pants Outfits
Go brighter with the colors you pair olive pants with in the summer.
Here a hot pink blazer and a bright floral top create a striking outfit for the summer.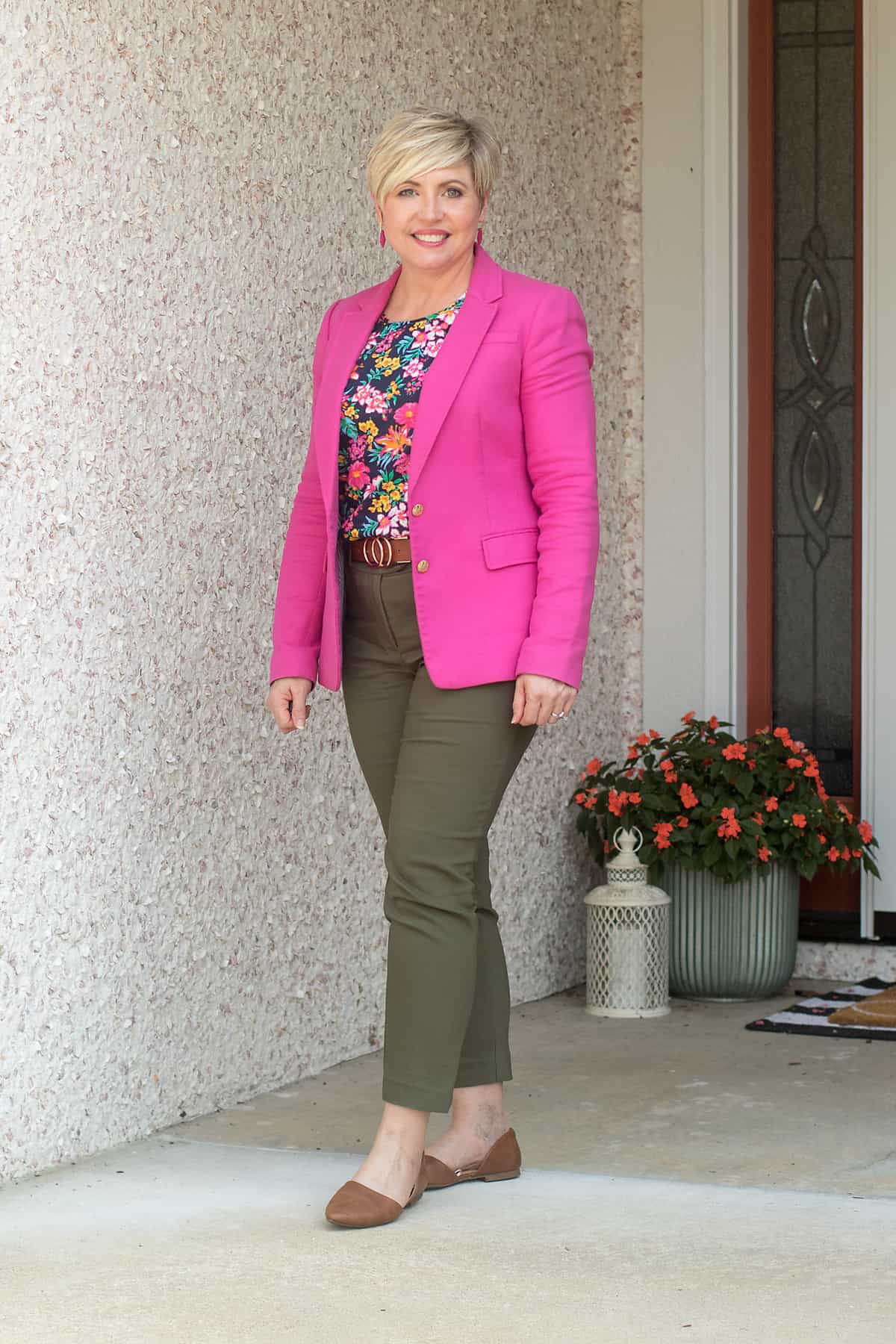 Blazer- option
A white blazer turns any outfit into a chic summer ensemble. Here a white blazer with a black print top creates another summer olive pants outfit.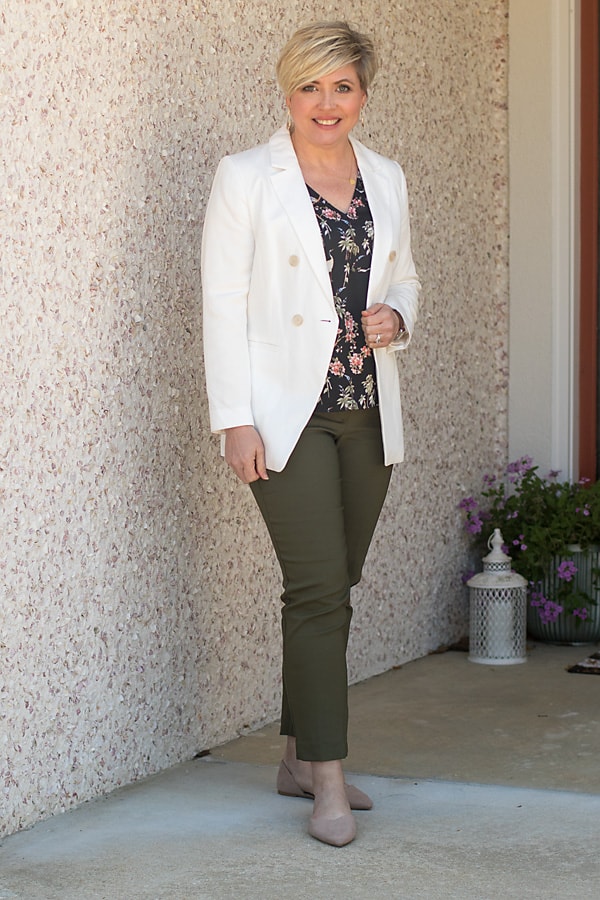 Pair a solid navy top and striped navy blazer with olive green pants.
This outfit is neutral enough to wear year round, but the stripes have a nautical summery vibe.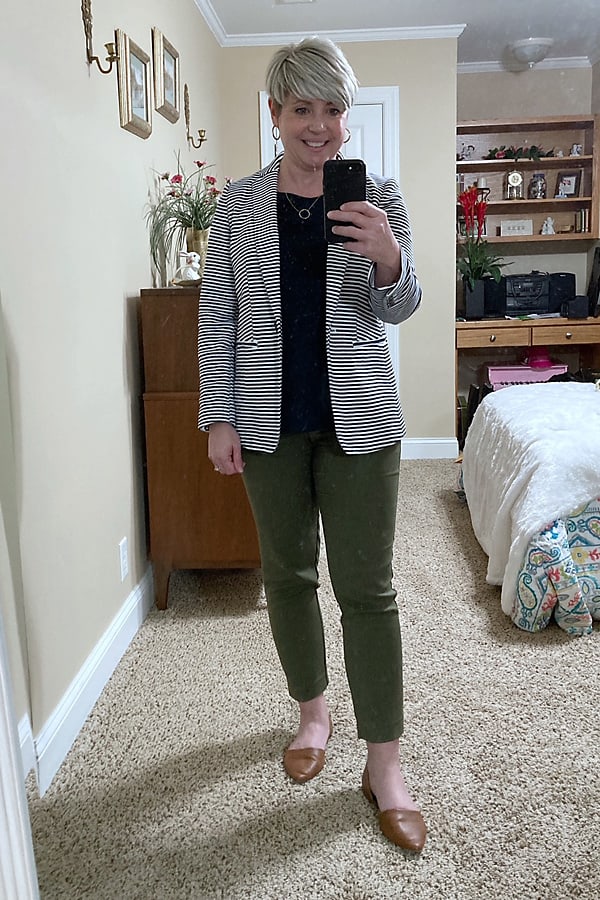 Blazer- Ann Taylor- similar
Fall olive pants outfits
Pair olive pants with richer autumnal colors in the fall. This combination of olive and mustard makes a fun, colorful look.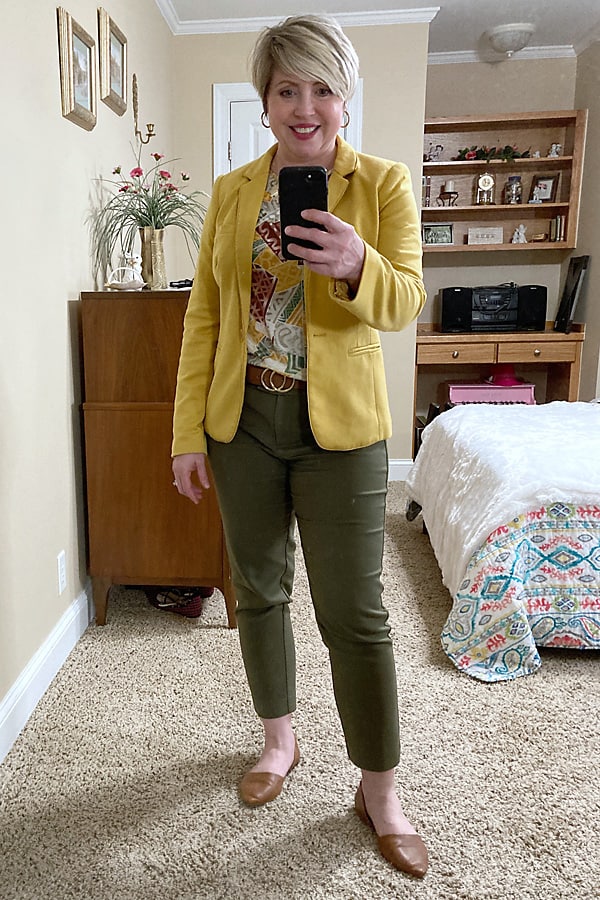 Another rich tone to pair olive pants with in the fall is burgundy. "Bookend" the look with a bugundy blazer and top and burgundy shoes.
The same tan sweater from the spring look above becomes a fall look with the addition of a black blazer and leopard shoes. I'd actually wear this look year round due to it's neutral tones.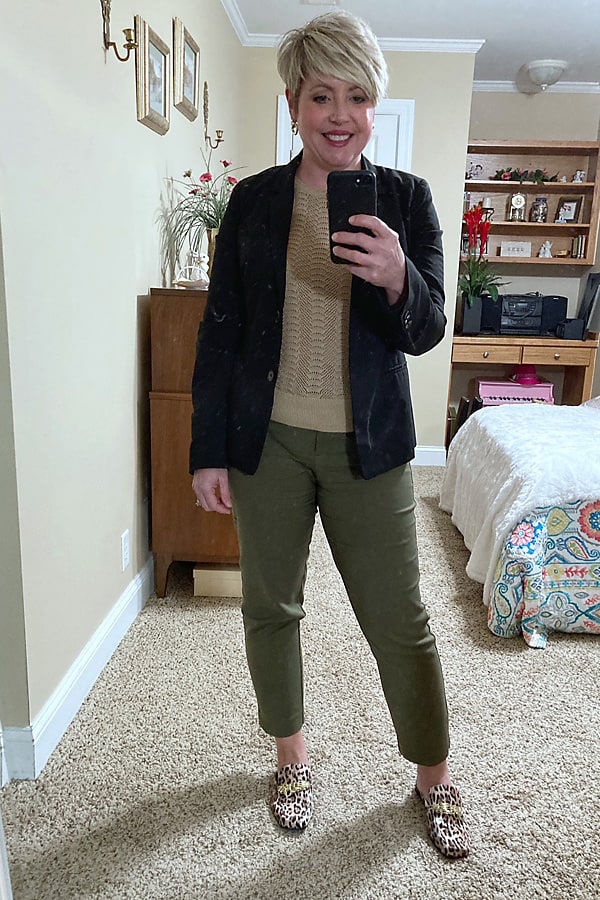 Winter Olive Pants Outfit
Layer up a camel sweater and a blue button up and top with a navy blazer for a winter look.
Winter here is mild enough for bare ankles, but if you need to cover them to keep them warm, wear this look with leopard or cognac ankle boots. Choose boots with a high enough shaft that the top of the pants can come down over the top of the boots.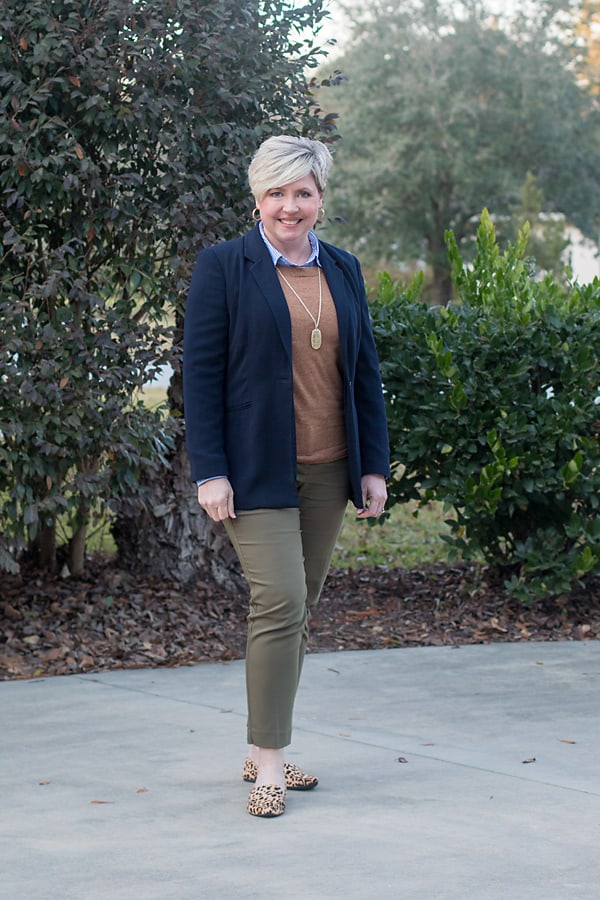 Year round neutral olive pants outfits
Pair olive pants with other neutrals for looks that you can wear all year. Adjust the material and item based on the seaon.
This black and white line art floral sweater works well for spring but a different black and white sweater would make a great winter look.
Pairing olive with leopard print will always work. Adjust the type of top to the season. Think leopard print cardigans and sweaters for winter, leopard tops with a black blazer for fall, or a pretty long sleeve leopard blouse and no topper for spring.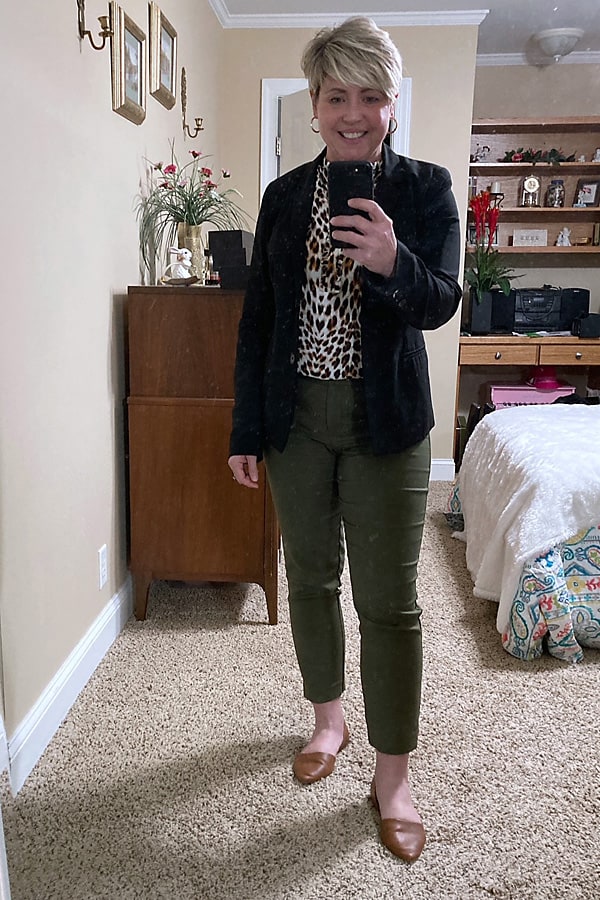 What colors go with olive green pants?
From the looks above, you can make a safe assumption that olive goes with the neutrals
Black
Navy
White
Tan/Camel
You can also pair olive with red and any spectrum of red, like pinks and burgundy. Red is the complementary of green and any of it's shades and derivitive colors work well. Olive pairs well with mustard and yellow due to its yellow-ish undertones.
It also pairs well with coral and lavendar or purple/violet hues.
Remember to put a little creativity into the process if jeans or casual pants suit your lifestyle better. All of these outfits with olive green pants can be tweaked to be more casual. Substitute jeans or joggers and use the color schemes to inspire your outfits. Sub cardigans or a denim jacket for the blazers, or leave the topper off.
Now you should have the knowledge and inspiration to incorporate outfits with olive green pants into your closet and daily outfits.