Graduation ceremonies will soon commence. It's a celebratory event for sure, especially if you are the mother of the graduate. There will be photos and people to greet, and every mom wants to look her best. Stressing over what to wear to graduation shouldn't cloud the occasion, so read on for the best graduation outfits for mom.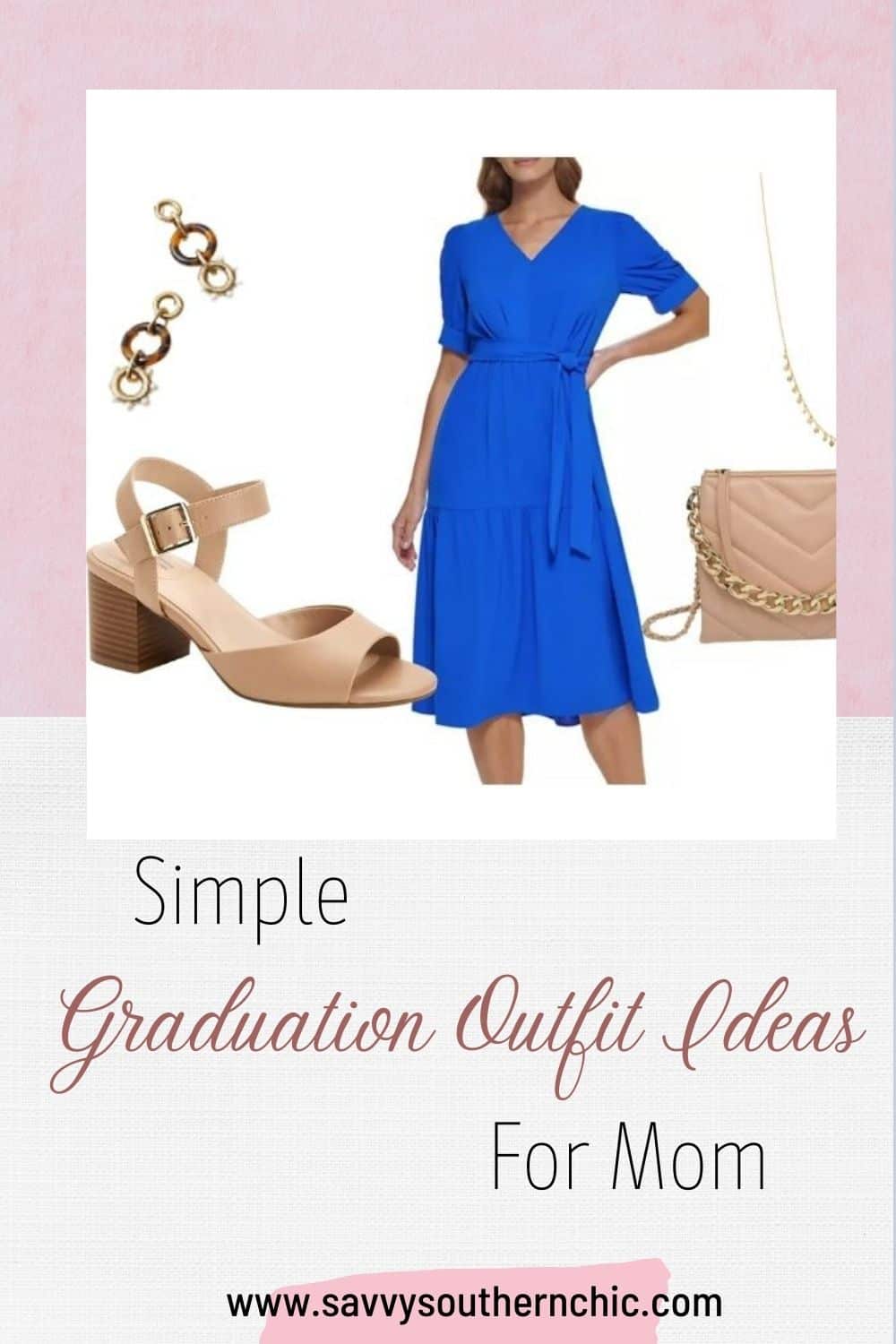 What Should You Wear to Graduation?
Let's start with what NOT to wear- jeans, casual shorts, graphic t-shirts, and flip flops. Save these for the pool party or bar-b-que afterwards.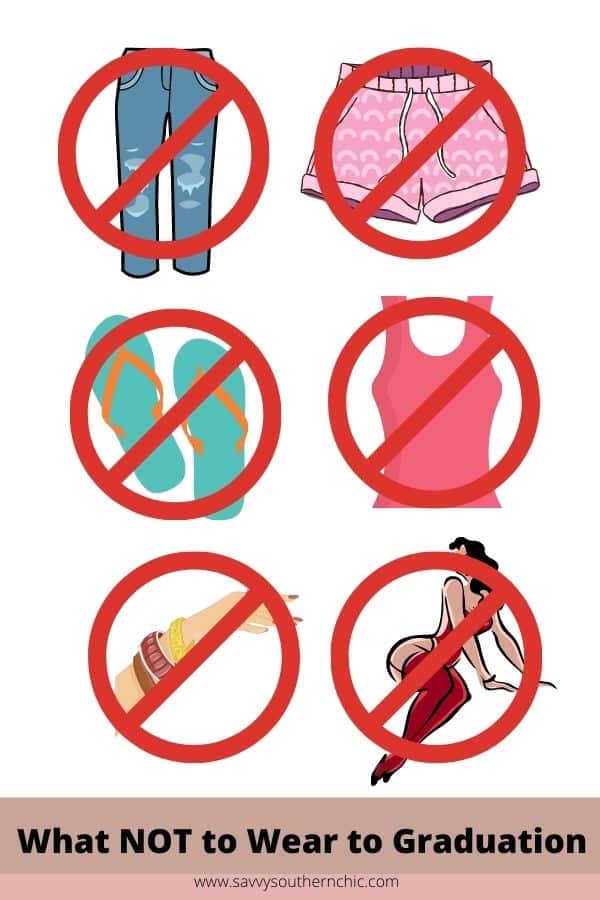 The graduate worked hard to receive that diploma. That effort deserves some respect and honor. We honor others and their accomplishments by putting some effort into the outfit we wear.
Any guest should look like they want to be at the ceremony. Appearing put together and polished says you respect their accomplishment and you want to look nice for them.
Moms, this is also not the time to wear your sexiest outfit or your flashy statement jewelry and accessories. You may be feeling your age because your baby is moving on into adulthood, but remember this event is more about them than you.
All of the advice in this article goes for grandmothers, aunts, sisters, friends and all guests, not just moms. Many ceremonies limit the number of seats and guests, so if you got a ticket, you are important to the graduate. Show them your support by appearing well dresssed and refined.
You don't have to "dress your age" if that makes you feel old or dress "matronly" but it is a time to be on the conservative side and to look polished.
Don't show up in an outfit that would embarrass your child or loved one , or that you will regret years later when you look back at photos.
Now that we have that out of the way…
What do moms wear for graduation?
Opt for anything from dressy casual to semi-formal. Many pieces of advice suggest you dress as if you were going to church. However, many now attend church in jeans and t-shirts so that advice could be a bit confusing.
Here are three acceptable dress codes:
Dressy casual- Nice dress pants or skirts with dress blouses or dresses. No sneakers or casual footwear.
Business wear– Suits of business style dress.
Semi-formal- fancier than business attire but not black tie or fancy gowns. This may be a good option for college graduations or ceremonies held indoors in more formal venues.
Dressy casual and business wear will work for the high school auditorium or outside stadium graduations.
A dress is always a good choice as a graduation outfit for mom.
This belted midi dress will accent a small waist. Many women prefer to cover upper arms. The sleeves come to the elbow, providing upper arm coverage. The aline style flatters most body types.
For more on dresses that flatter by body type, check out Fashion A to Z: Nine Styles of Dresses.
A dressy jumpsuit makes a nice alternative to a dress.
If the ceremony is outside and you are worried about breezy conditions, consider a jumpsuit or pants suit. Accessorizing with a little shine is okay, just don't pile on rhinestones or sequins. The metallic sandals and clutch provide a little celebratory shine but still maintain sophistication due to the structure of the clutch and simplicity of the two strap block heel sandal.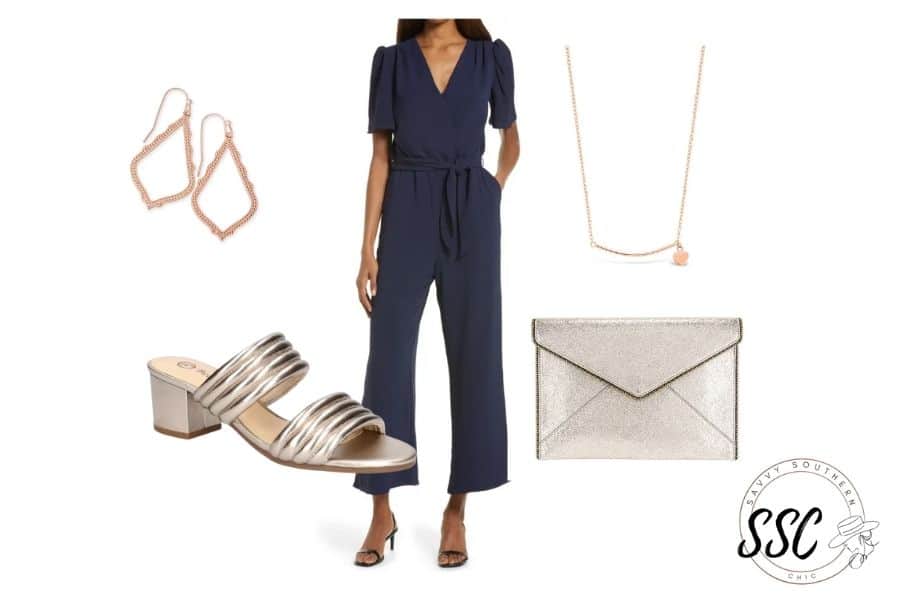 Graduation outfit ideas for moms include a pants suit with a blazer.
It's a smart choice for college graduation outfits for mom, but can be worn to a high school graduation as well. If the ceremony is indoors, air conditioning might be chilly so the blazer is a good choice. It can be removed once you are in a warmer setting.
If you don't want to go with a matching suit, a coordinating pair of pants and a blazer is an option.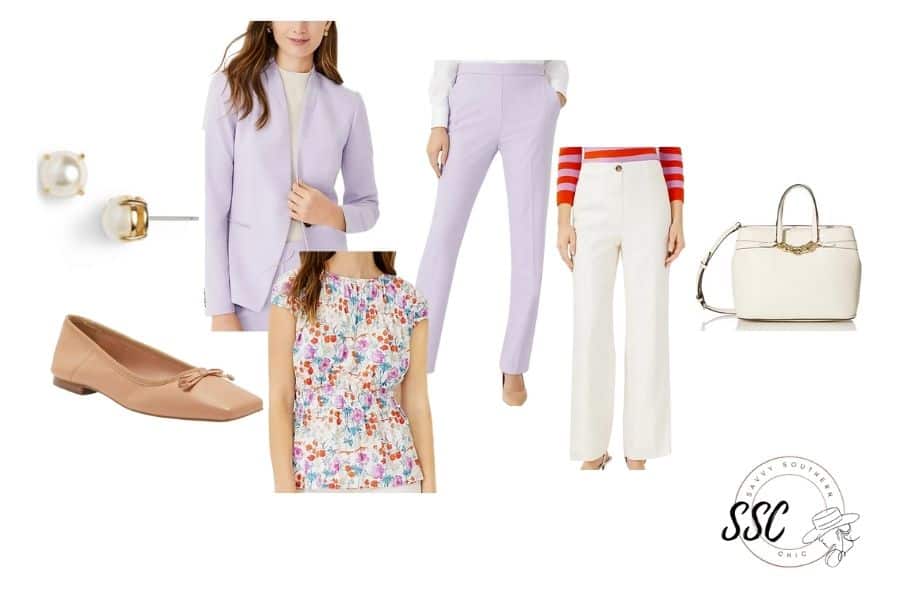 Prints like florals make nice graduation outfits for mom.
Don't choose a print or floral that's too busy. Choose one that reads and flows more like a solid. Busy prints will be distracting in photos.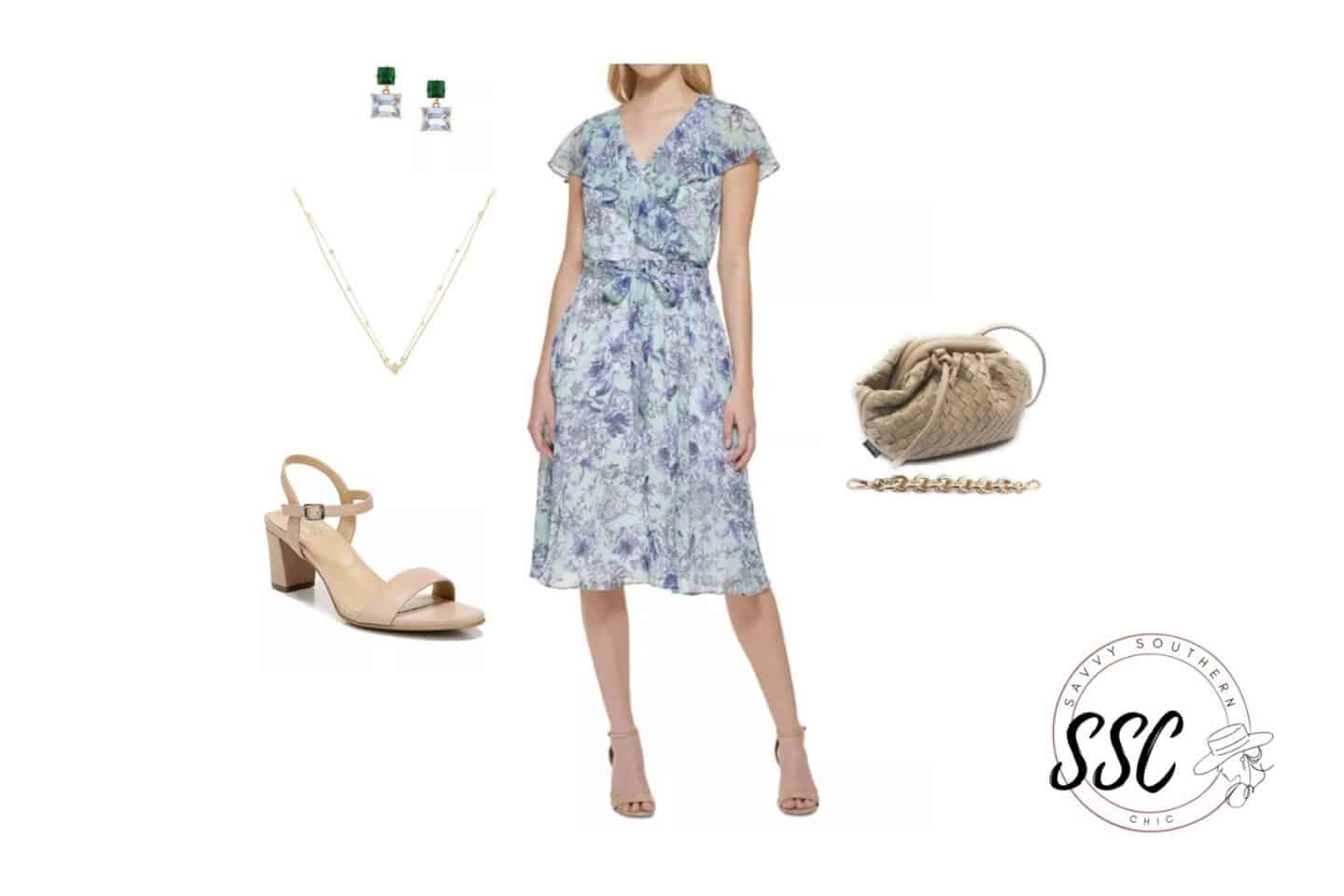 A few more things to consider:
Choose colors that flatter you but make sure you don't clash with the graduate's cap and gown. Don't dress in school colors either. You don't need to be the school mascot.
Take a look in the mirror. If you see the color casted on your neck or chin, the color is too bright and will not photograph well. You will have that bright pink or bright blue "glow" on your skin in photos. Choose a more muted color.
If the event is outside, stick to block heels, wedges, or dressy flats that are easy to walk in on the grass.
Follow these tips and graduation outfit ideas for moms, and you will have an enjoyable day with your graduate.
DON'T MISS OUT!
Subscribe to my daily feed or to the weekly newsletter to get each post as its posted or a link to the each week's posts along with exclusive subscriber content in the weekly newsletter. Make sure you check your junk email after you subscribe and add me to your email safe list.