We are starting peak wedding season- May to October- with June being the second most popular month, so that means you may have bridal shower invitations on your calendar. And that begs the question- what do you wear to a bridal shower?
With all of the different types of showers and theme showers— Jack and Jill, couples, lingerie, brunch, kitchen theme, Bar-b-que, garden showers, fiesta/ taco bar — it can be tough to decide what to wear.
Keep reading for all the dos and don'ts and for bridal shower outfit ideas that will have you appropriately dressed and confident in your appearance.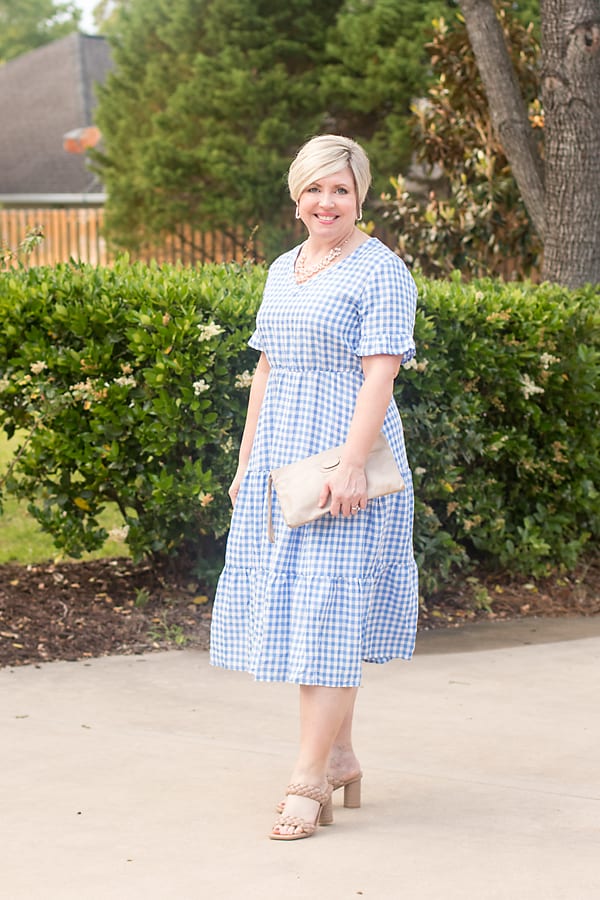 Dress- Amazon; similar; shoes- Target; necklace- Belk; earrings- Belk
General Rules for Dressing for a Bridal Shower
Regardless of the type of shower, theme or dress code, here are a few general rules to apply when deciding what to wear to a bridal shower:
Check the invitation for any special themes and for the venue or location. These details can dictate the dress code.
Couples showers will usually have more laid back, fun themes. The more laid back the theme and location, the more casual your attire can be. If it's a fancy, ladies only shower, you are going to need to dress up.
As with any event that commemorates or celebrates a milestone in someone's life- graduation, wedding, baby showers, retirement dinners, awards ceremonies- you should put a little thought and effort into your outfit. I recently heard today's laid-back approach to wearing leggings, sweats and tees to every function labeled "sloppy casual."
"Sloppy casual" is not the attire to wear to a bridal shower or any of the aforementioned events, whether you are a young woman or a woman over 40. If you receive an invitation to such an event, you are special to that person and your presence should honor them. Showing up looking like you just rolled out of bed or off the couch after binge watching movies does not send the message that you care about the person or that you honor them.
What Should You Not Wear to A Bridal Shower?
Don't wear white. That's usually reserved for the bride, not just at the wedding but at wedding showers too.
Don't overdress. Don't wear anything risqué, revealing, or too attention-grabbing. Don't steal the bride's thunder by outshining her with your outfit.
Jeans don't have a place at a bridal shower. The exception would be if it's a bar-b-que or backyard couples shower with a casual dress code. And then I'd still recommend dressing them up a little. Keep them neat. Don't wear the most distressed, holey pair of jeans you own. Non-distressed jeans with a nice top would be your best bet.
The location will also dictate footwear.
Is it outside, or will there be a lot of walking? Wear flats, wedges, or block heels that won't sink into the grass or shoes you can walk in.
Shoes can also dress up an outfit, or dress it down as needed. Think you might be overdressed when you arrive? Take a more casual pair of shoes or denim jacket to dress down outfits.
Make a quick change if you see guests dressed more casually. However, it's always better to be overdressed than underdressed.
Bridal Shower Outfit Ideas
While the bride is the star of the show, it's important to make sure her guests look their best, too! A pretty dress is always a good choice.
When it comes to choosing the perfect dress for a bridal shower, there are a few things you want to keep in mind. Above all, you want to feel confident and beautiful in whatever you choose. You also want to choose something that is appropriate for the occasion.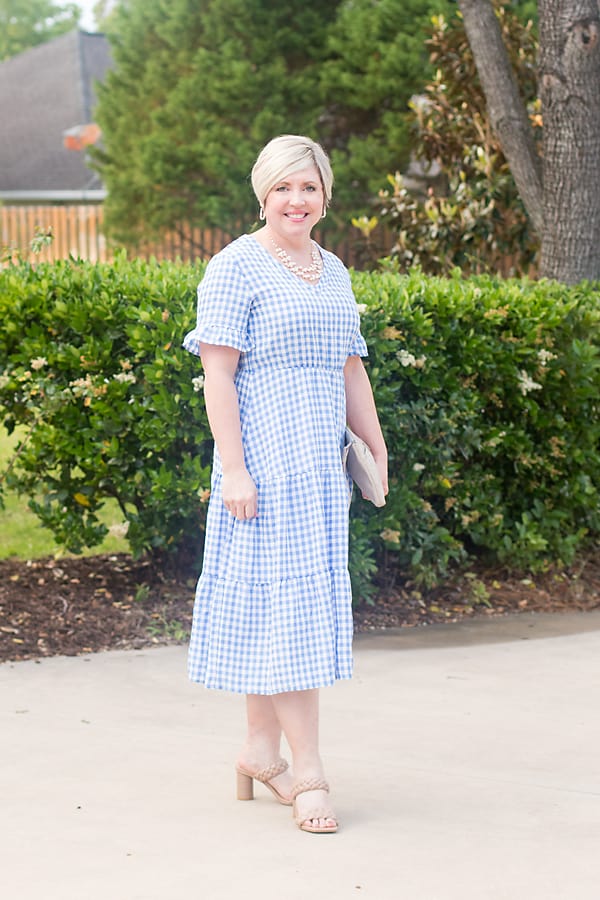 This flattering v-neck gingham dress is perfect for a spring or summer bridal shower. Dress it up with pearl accessories.
Here are a few more dress ideas for a bridal shower:
A sundress is perfect for a daytime shower. They're comfortable and easy to wear, and you can never go wrong with a floral print. A sundress is perfect for those outdoor garden showers or country club settings.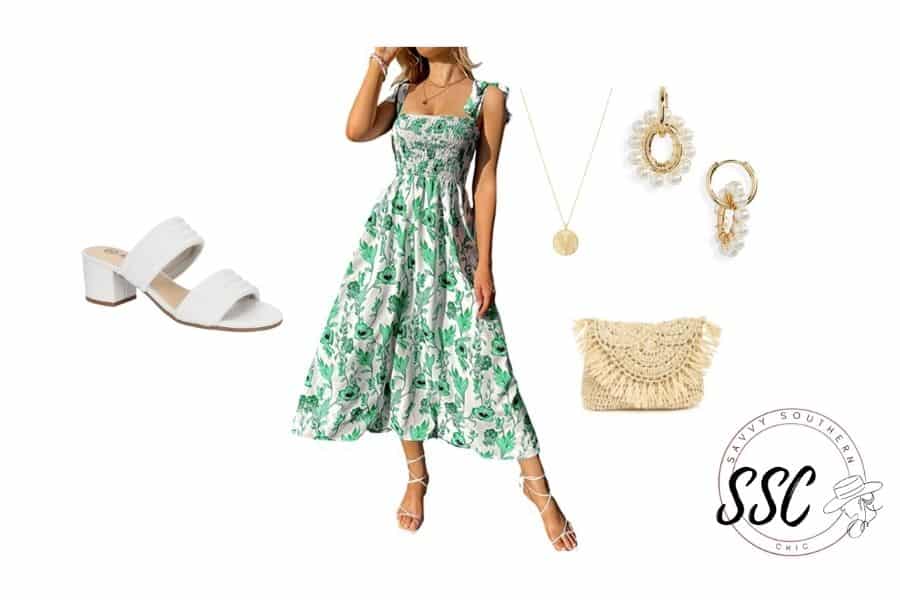 Dress- Amazon; Shoes- Nordstrom; Necklace- Gorjana; Earrings- Nordstrom; clutch- Nordstrom Rack
If you are not comfortable exposing your arms or shoulders, add a cute cardigan or lightweight denim jacket over the sundress. You can also opt for one with more coverage than the traditional sundress with spaghetti straps
An in-between option for a dress would be a bright cheerful aline, shift, or fit and flare dress.
This bright pink fit and flare dress features balloon sleeves that make it dressy enough for a sit down brunch, lunch or champagne type shower.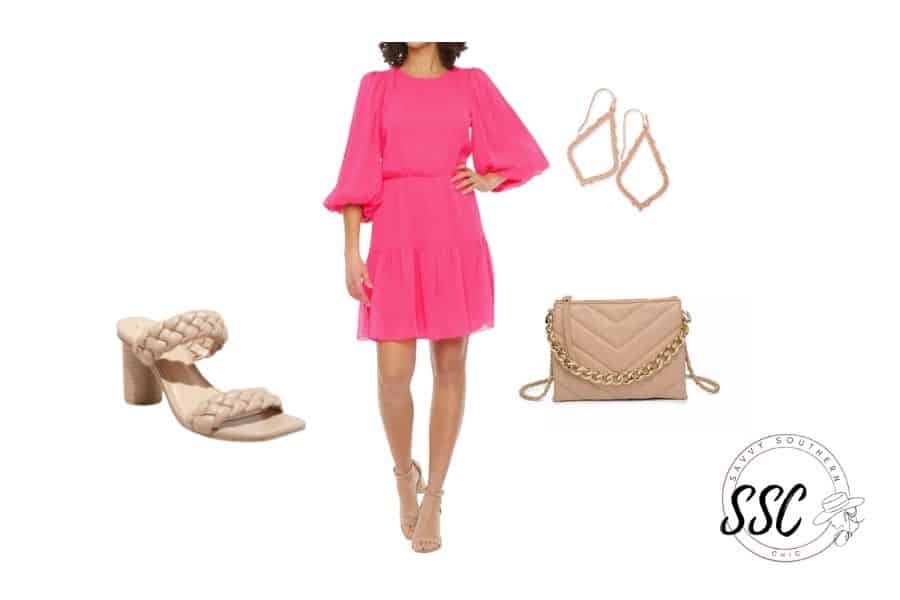 Dress- JCPenney; shoes- Target; purse- Macy's; earrings- Kendra Scott
If you're looking for something a little more formal, a cocktail dress is always a good choice. Just make sure it's not too flashy or revealing – you don't want to upstage the bride! It would me appropriate to wear a more formal outfit to a formal luncheon or a shower at a fancy rooftop restaraunt.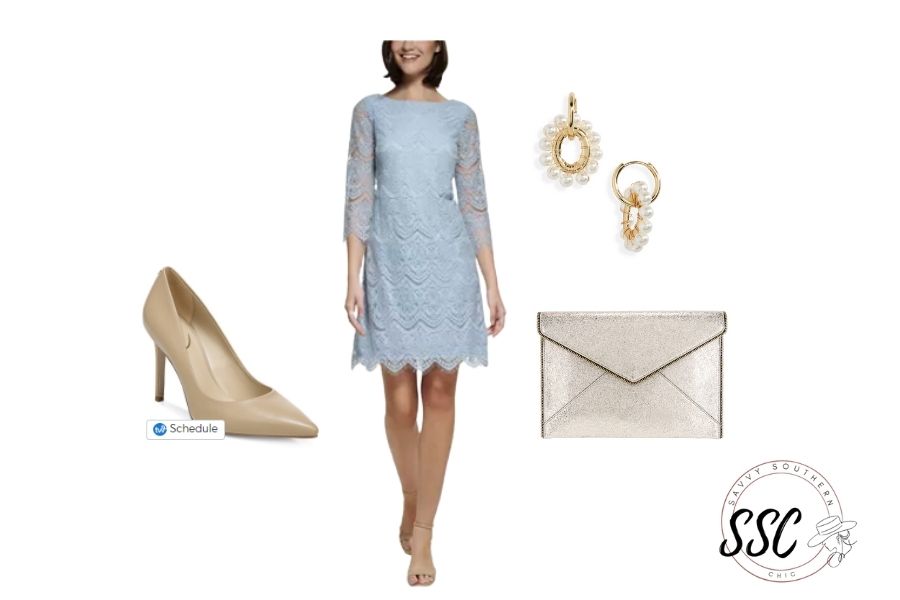 Bridal Shower Outfit Ideas That Aren't Dresses
A pretty skirt and blouse are a great idea for a bridal shower outfit. You can dress up a skirt for the dressier events, and dress it down with a tee and flat sandals for more casual events.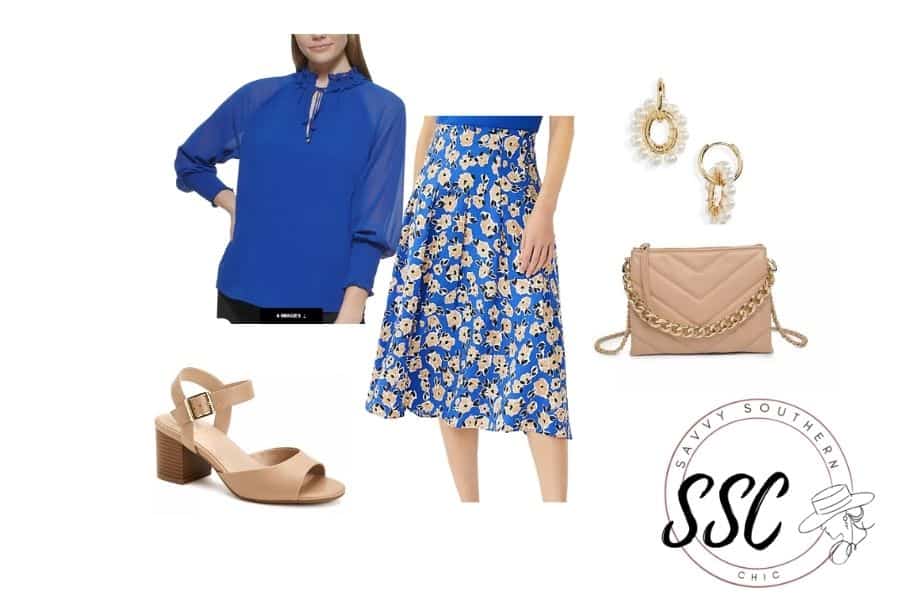 Blouse- Macy's; skirt- Ann Taylor (comes in regular, petite and tall); sandals-Macy's; purse- Macy's; earrings- Nordstrom
Pants and a dressy top make a great outfit for a bridal shower if you need a more casual bridal shower outfit or don't like dresss. Coordinating separates like these from Ann Taylor make putting together an outfit a breeze.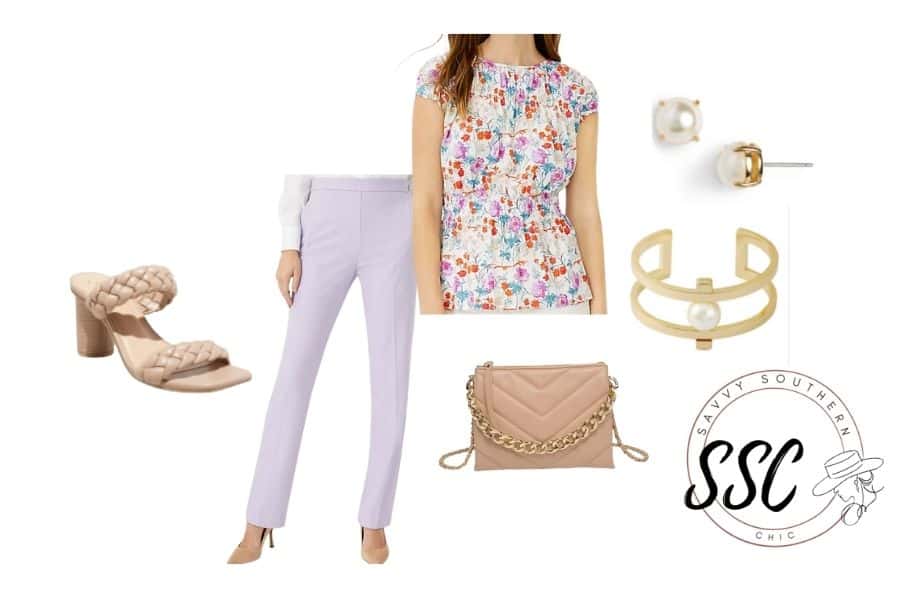 Pants- Ann Taylor; top- Ann Taylor; shoes- Target; purse- Macy's ; earrings- Nordstrom; bracelet- Nordstrom
You can wear jeans to a bar-b-que or casual couples shower, but if it's a summer bridal shower, it's going to be hot. You will be cooler and more comfortable in a pair of breezy linen pants.
Top- Macy's; pants- Old Navy; flats- DSW ; sandals- Amazon; earrings- Nordstrom; crossbody- Target
A three-quarter sleeve top will provide arm coverage and the blouson sleeves will allow for some air flow to keep you cool. Tuck this top into wide leg linen pants to keep some balance and avoid looking frumpy.
You will want to wear flats for an outdoor bar-b-que and there are options for flats. Sandals or closed toe ballet flats would look cute with this. A small crossbody bag keeps essentials close by and leaves you hands free to juggle plates and drinks.
Still have questions about what to wear to a bridal shower?
Let's recap some important considerations. Beyond these things, remember that going dressy casual to dressy and wearing something that makes you feel confident in a social setting is always best.
Can you wear white to a bridal shower?
No, avoid an all white outfit. White is usually reserved for the bride to wear at her showers. One white piece as part of an outfit is okay as long as the entire outfit doesn't present as white.
Can you wear black to a bridal shower as a guest?
Avoid black. This is a celebratory occasion so wear something bright and cheerful. Reserve black for the most formal of showers, such as those that might call for a cocktail dress.
What can I wear besides a dress to a bridal shower?

Pants and a dressy blouse or a pretty skirt and blouse can be worn to a bridal shower. A jumpsuit also makes a great bridal shower outfit.
Can I wear pants to a bridal shower?
Yes. Make sure the type of pants match the dress code. Wear dress pants for dressy, more formal showers and save casual pants for casual couples showers or bar-b-que showers.
What should you not wear to a bridal shower?
Don't wear all white, all black or anything too revealing or flashy. Dress feminine and conservatively and don't upstage the bride.