It's winter. It's that time of year when you just want to bundle up in sweats and stay under a blanket. Getting dressed isn't even appealing, but it can be a lot more fun with a piece like a leopard print cardigan. Leopard print is here to stay. It's been called a trend, and how you wear it and what pieces you wear in the print may be trendy, but the print itself is pretty classic. Liven up your winter outfits with a leopard print cardigan.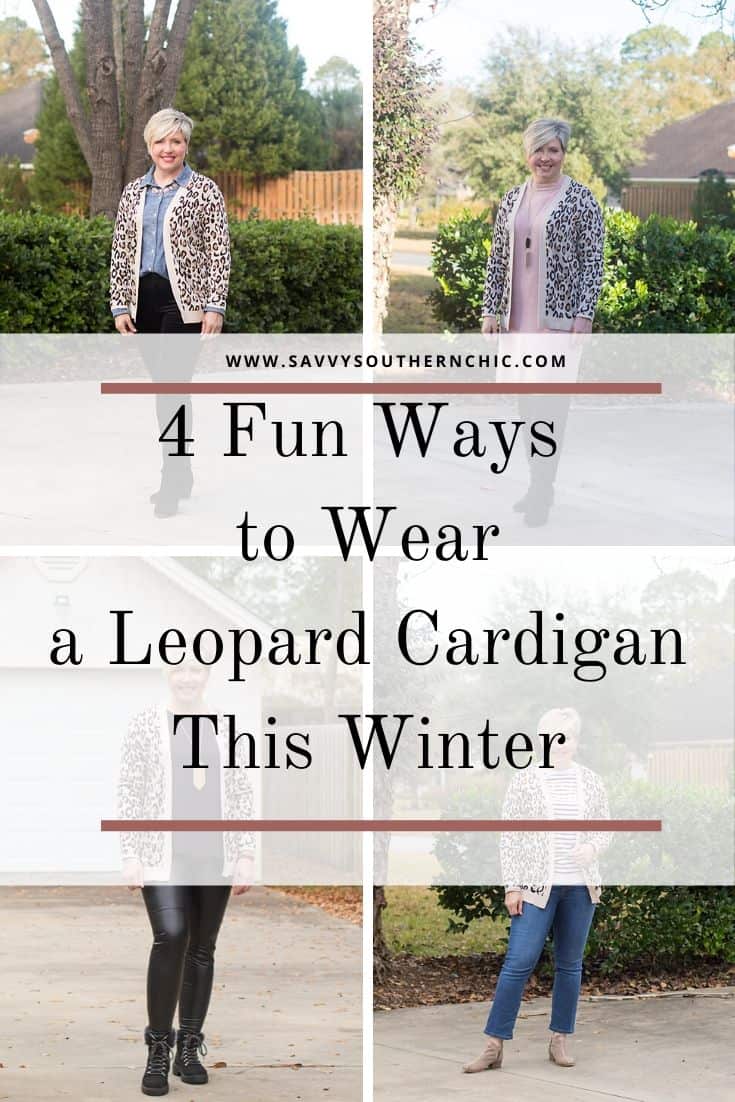 I ordered this leopard print cardigan from Kohl's last month. I'm wearing a petite medium. I could probably wear a small but for layering over thicker items, the medium is probably best.
Here are four ways to wear a leopard cardigan this winter:
1 Pair it with a chambray shirt and velvet pants.
Velvet pants are a little warmer than regular pants, but if you don't need the extra warmth, black pants or jeans will work. The chambray keeps this outfit from being too dressy for everyday. Pairing the pants with black boots creates a long lean line, something we like to do when wearing thicker bulkier items.
2- With a sweater dress + tall boots
Layer a leopard print cardigan over a sweater dress or any solid dress. Tall boots or over the knee boots will add some warmth to dress outfit. Add tights if you need them. This sweater dress is from Amazon and is so soft. It comes in other colors and a leopard cardigan would look amazing with this dress in black, burgundy or olive.
3 With a black tee and faux leather leggings
Really have some fun by a pairing it with a black tee and faux leather leggings. Not a fan of faux leather leggings? It works with regular leggings or black jeans. It also works with a white tee if you don't have a black one or don't wear black next to your face. Winter boots keep this outfit cozy.
4 With a graphic sweatshirt and jeans
Another cheery casual way to wear a leopard print cardigan is by layering it over a graphic sweat shirt. I've got some pattern mixing going on with the stripes. If you don't have a graphic sweatshirt, pair it with a striped tee. A solid graphic sweatshirt works too.
Add a leopard print cardigan to your closet and have some fun this winter.