When the heat kicks up, I'm as likely to wear a skirt as I am a pair of shorts. Midi skirts are a modest alternative for those who don't like shorts. A midi skirt is easier to fit and less restrictive than shorts and pants. They go the extra mile and a good floral print is versatile enough to style several ways. Here are six ways to wear a midi skirt.
This post contains affiliate links. I make a small commission from your purchases through these links. Your support is appreciated.
I am styling the same skirt in two prints. It comes in a total of 11 prints and solids. I'm wearing a medium (I'm 5'2″/ 151 pounds). It has a drawstring waist but the strings are small and can easily be hidden by a belt if you want to belt it like the first option.
6 Casual Ways to Wear a Midi Skirt
1 With a white button up
For a dressy casual look, pair a midi skirt with a white button-up and belt at the waist.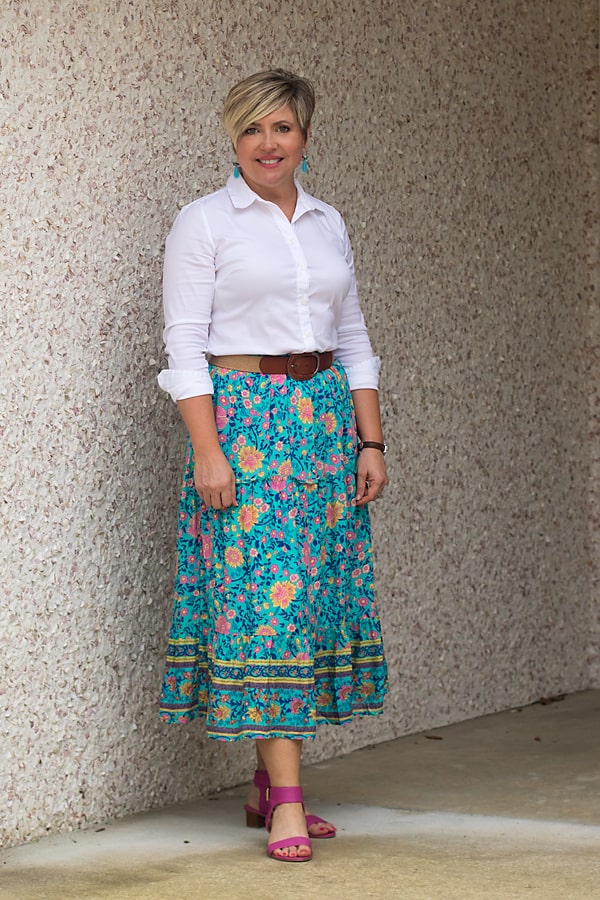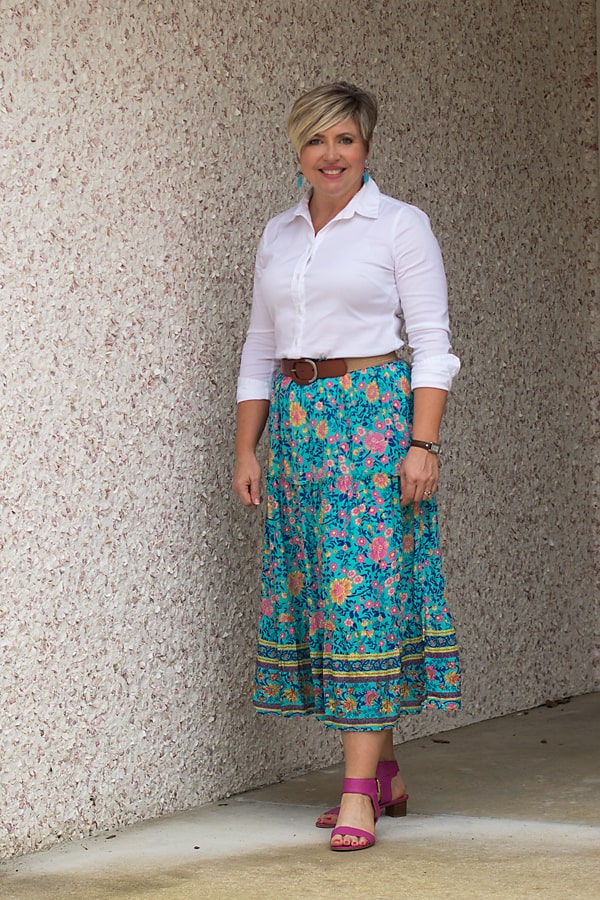 Shirt- Ann Taylor; skirt- Amazon; shoes- Nine West; option; option; option; earrings- option
2 With a body suit
It's important to keep a balance between your top and skirt when your skirt has a little more volume like a midi skirt does. A body suit makes a great pairing for a midi skirt. This body suit was recommended by Kellyann and it didn't disappoint but I sized up when I shouldn't have so the bottom was big.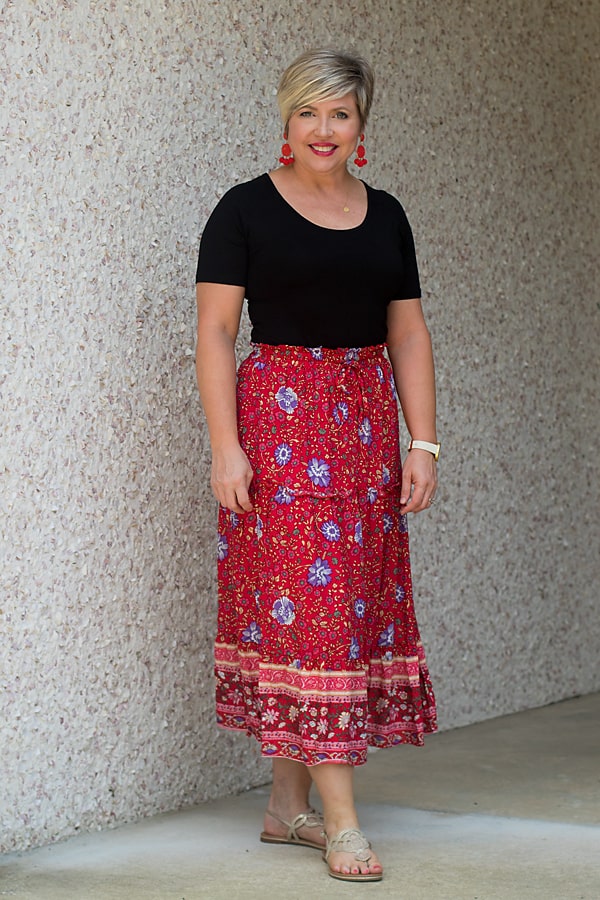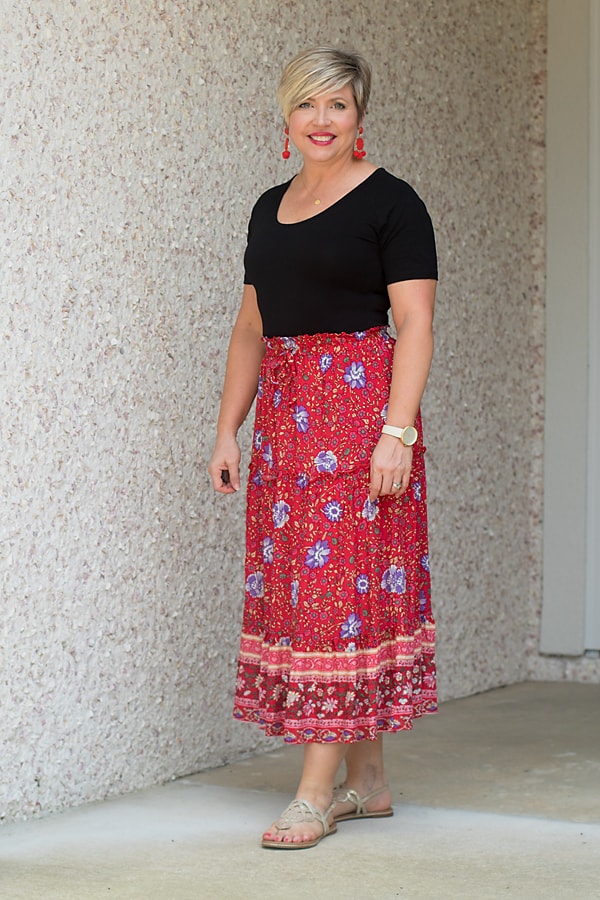 Bodysuit- Amazon; skirt- Amazon; earrings- Amazon; sandals- DSW; option
3 Tie a button-up shirt at the waist
Tie a white button up shirt at the waist instead of tucking and belting.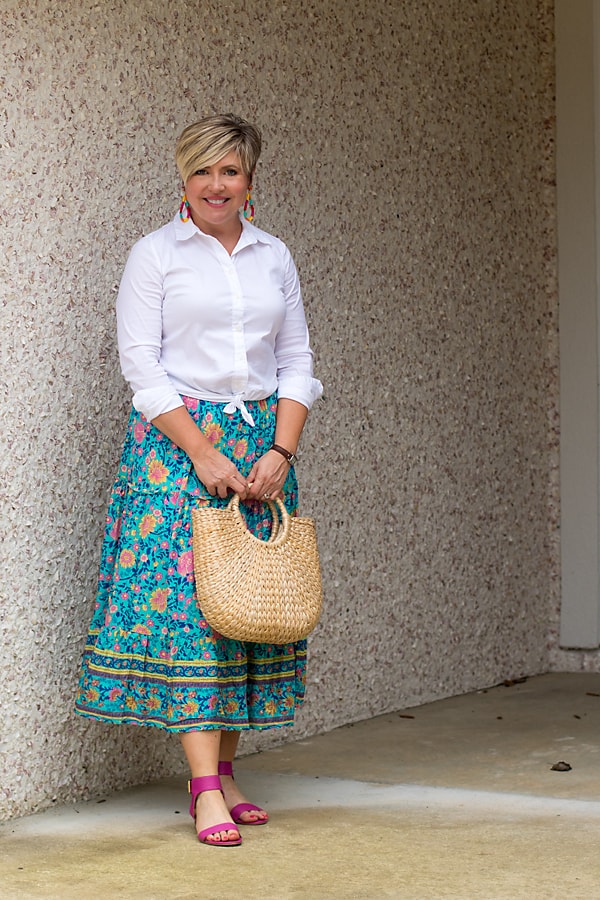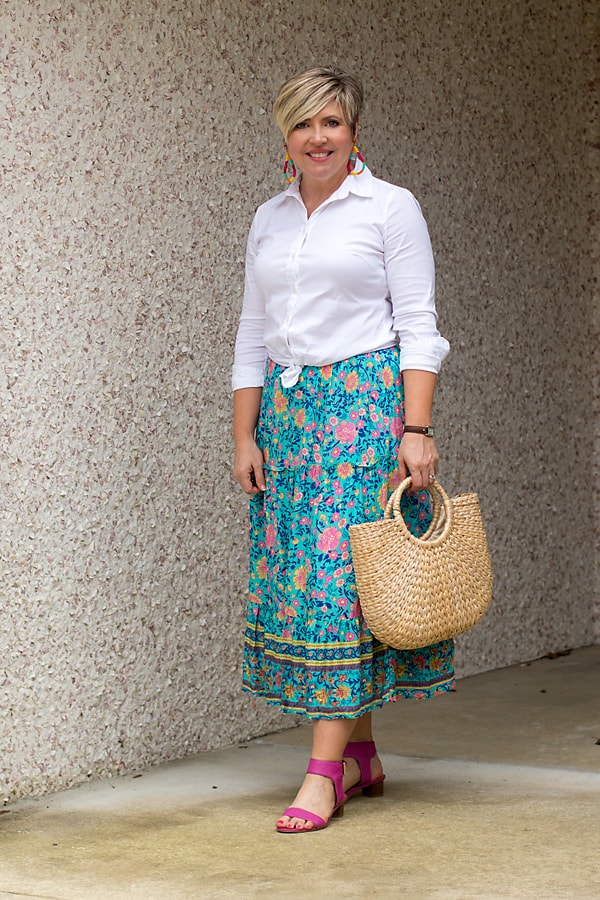 Earrings- option; purse- Amazon
4 With a tank and a denim jacket
I love the boho vibes of a floral midi skirt. Pair it with a tank and a denim jacket. Accessorize with a wrap bracelet.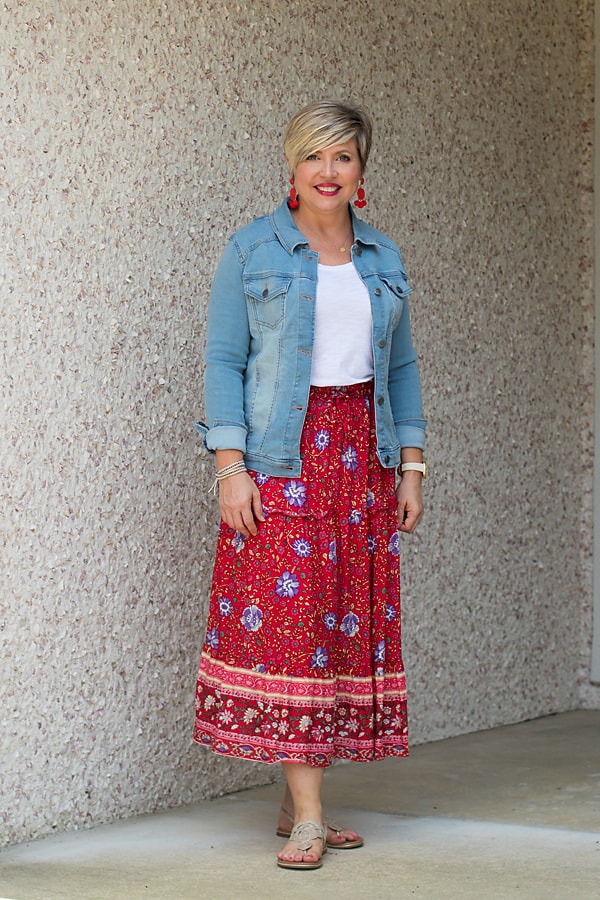 Denim Jacket – Amazon; tank- Loft outlet (these are my favorite)
5 With a graphic tee
Pair a midi skirt with a fun graphic tee.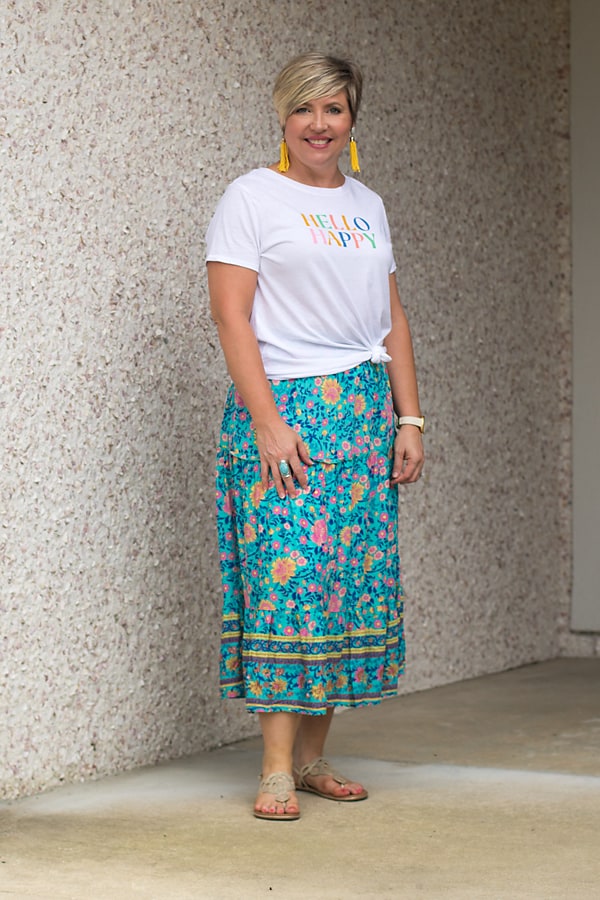 Tee- Old Navy; option; option; earrings- similar
6 With a striped tee
Pair a floral midi skirt with a striped tee. Keep the patterns/stripes small and don't go too busy since you have a lot of material/ print with the skirt.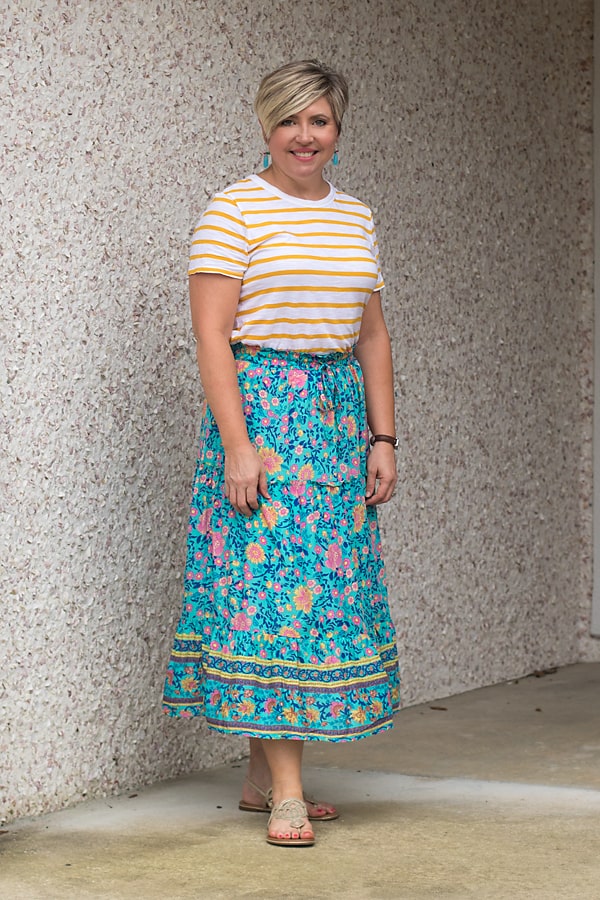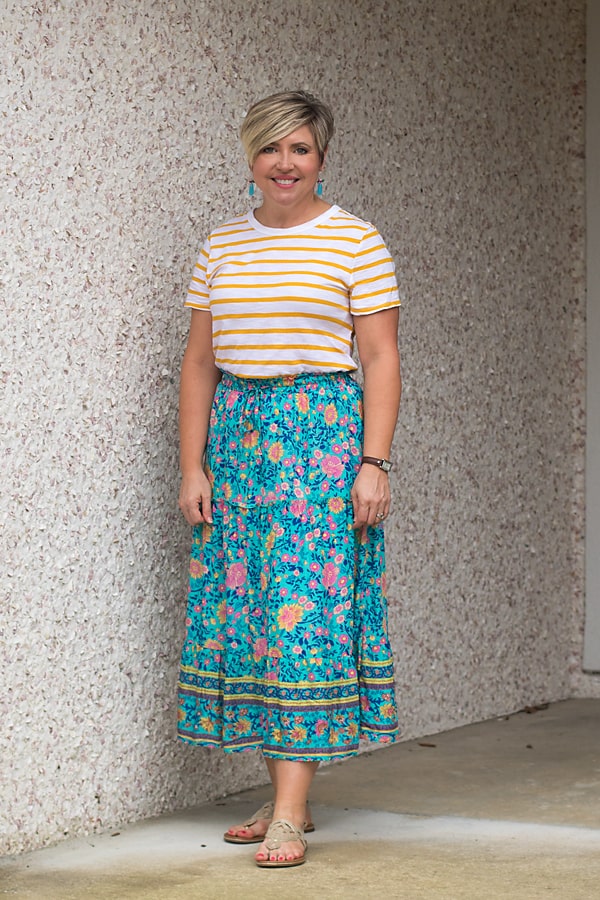 I hope you have been inspired by some new ways to wear a midi skirt!
Be sure to check out Summer Dresses and Skirts You Need This Summer from Amazon.
DON'T MISS OUT!
Subscribe to my daily feed or to the weekly newsletter to get each post as it's posted or a link to each week's posts along with exclusive subscriber content in the weekly newsletter. Make sure you check your junk email after you subscribe and add me to your email safe list.