It's swimsuit season and that causes some concern for many us who want to find the most flattering swimwear. Finding swimsuits that flatter can be a bit tricky, especially when you have larger hips and thighs. However, with summer just a few weeks away, it's definitely time to learn which ones you should take with you to the beach!
Here's the ultimate guide to the best swimsuits for a pear-shaped body.
What is a Pear-Shaped Body?
Sometimes referred to as a "triangular frame," a pear-shaped body is characterized by the following:
Hips that are much wider than the shoulders and bust
A defined waist that is narrower than the hips
Thick thighs and fairly slim arms
If your body frame resembles that of Beyoncé, Kelly Clarkson, America Ferrera, and Jennifer Lopez, then you're definitely pear-shaped!
Pear-shaped women often struggle with making their upper bodies appear proportionate to their thick hips and thighs. But to create a balanced silhouette, the key is to draw attention to the defined waist, while emphasizing the top half. This means opting for either cinched styles or voluminous clothes that visually add weight to the shoulder and bust areas.
See also: 5 Ways to Easily Camouflage Wide Hips
How to Choose Swimsuits for a Pear-Shaped Body
Much like with regular clothes, the trick to choosing flattering swimsuits for a pear-shaped body is to balance out the upper and lower halves. This can be done by accentuating the waist and adding volume to the top, both of which will draw the eye away from the wider hips and thighs.
3 One-Piece Swimsuits for a Pear-Shaped Body
Given their unique frame, pear-shaped women are often forced to settle for one-piece swimsuits that are either too loose up top or way too tight below. Not only are these unflattering, but they're also extremely uncomfortable, preventing you from enjoying your summer vacation.
Fortunately, after scouring the Internet, I have managed to find three beautiful one-piece swimsuits that will perfectly highlight the waist and accentuate the bust!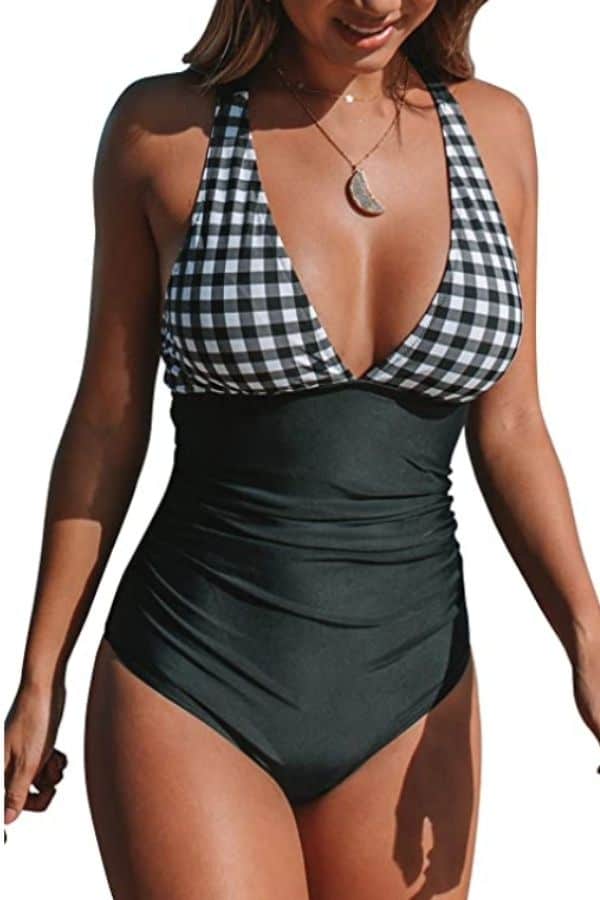 Made with high-quality chinlon fabric, this one-piece swimsuit features a plunging neckline and a vibrant gingham print, both of which will emphasize the upper half of the body. The ruched front and solid-color bottom also cinch the waistline, making the pear-shaped silhouette appear more proportionate.
Customer Review:
"It's flattering and thick and fits perfectly everywhere on my hourglass mom body. I don't feel frumpy in it at all! All my moving parts are secure and I can run and play with my kids in it and still catch hubby's eye. It's the perfect combo of modest and attractive when it comes to a swimsuit!" (Cristina Moore, July 2020)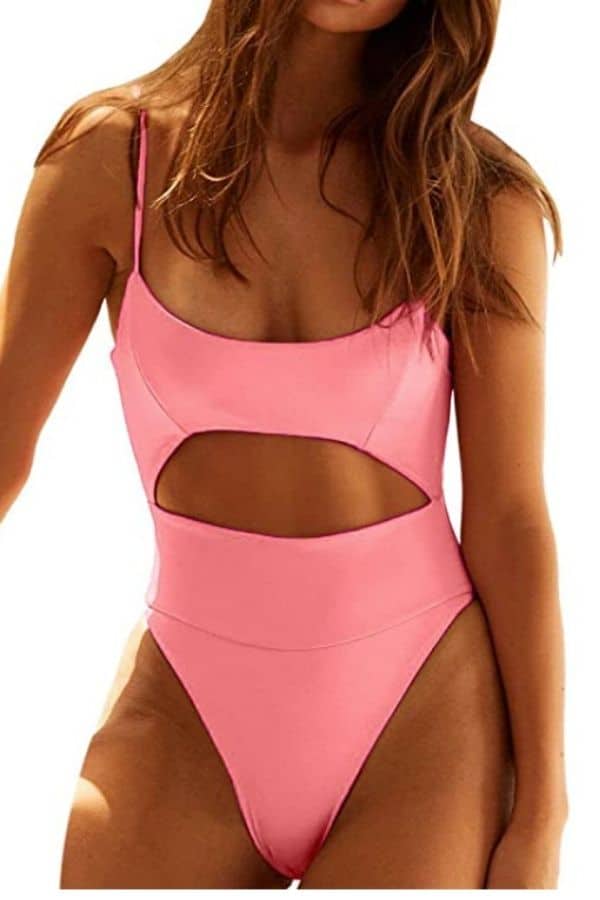 Cut-outs are a godsend for pear-shaped women, which is why this one-piece swimsuit will be a great option. The sexy low-scoop draws attention to the top part of the body, while the high leg bottom creates a more balanced frame. This is a must-have for the summer holidays!
Customer Review:
"If I could give more than five stars, I would. I was a little bit skeptical about how this swimsuit would fit and look but decided to take the risk – and it was worth it! Very high-quality and easily my new favorite swimsuit. The design is super flattering and every time I have worn it, someone has asked where I got it from." (Sara, June 2021)
If a plunging neckline isn't your thing, you can also draw attention to the top half of the body in a more modest way with a halter style, high neck one piece. The details at the top will keep the focus away from the bottom half. The subtle ruching on this suit will accent the waist.
Customer Review:
"This suit is very comfortable and has good coverage. I prefer a suit that's a bit more modest, but I do still want it to look cute. This checks all those boxes. The high neck line with mesh inserts adds to the look, and makes it feel a little sexy, without being revealing. The straps and thick, which makes it comfortable and holds everything securely. The back has a U shape, which I liked, rather than high neck in back also. I got the teal green color and think it's very pretty. Overall very flattering, and a summer staple for a busy mom chasing after the kids!" (Kara April 2022)
3 Two-Piece Swimsuits for a Pear-Shaped Body
Looking to add more variety to your summer wardrobe? Then, bikinis would be a fantastic option since they can be mixed and matched. To balance their curvy silhouettes, pear-shaped women should pair flashy and vibrant tops with solid-colored bottoms. Embellishments and cutouts are also a great way to draw attention to the upper half of the body.
Here are three two-piece swimsuits that are flattering for a pear-shaped body.
An off-shoulder bikini with adjustable spaghetti straps, this two-piece swimsuit will perfectly flatter pear-shaped silhouettes. The ruffled flounce draws attention to the upper part of the body, while the bottom accentuates the narrow waist. Its eye-catching tropical print is also to die for!
Customer Review:
"I've struggled with how I look, so in the last [few] years, I've just worn bicycle shorts and a t-shirt when swimming. This swimsuit has boosted my confidence. Now, I don't have to struggle and worry when summer rolls around. I'm super excited to show this swimsuit off and feel good in my skin while doing it! (Cheyanne Hansen, February 2021)
High-neck styles are a fantastic choice for pear-shaped women because they help create the illusion of volume on the upper part of the body. This means that this two-piece swimsuit will be perfectly flattering, thanks to its adjustable halter tie. It also features a buckle at the back, allowing for easier and more secure closure.
Customer Review:
"First swimsuit that I found in years that has the style and fit I was looking for. The bikini bottoms fit nicely, actually covering my butt without leaving part of my cheeks hanging out and riding up into my crack or bagging. Well-made with real lining inside instead of just doubling up the outer fabric. So, it doesn't drip as much when you get out of the water. Great style, manufacturing, and fit. Love it so much that I ordered another one! (Willow, August 2021)
Made from a combination of nylon and spandex, this bikini is as high-quality as you can get! Not only does the high-rise bottom provide great coverage, but it also accentuates the waist, making pear-shaped women appear more proportionate. The ruffle design also adds volume to the top, creating a balanced silhouette.
Customer Review:
"This bathing suit is super high-quality! I highly recommend them, especially if you're looking for something cute but full-coverage." (Jersey M., March 2022)
What Swimsuits Won't Flatter a Pear-Shaped Body?
Many pear-shaped women are conscious of drawing unwanted attention to their wide hips and thighs. If you're worried about this, then stay away from boy shorts, which are low-waisted bikini bottoms that run straight across the upper legs. These tend to emphasize the lower half of the body – something that isn't ideal if you're hoping to balance your curves.
You should also avoid swimsuits that feature side ties, embellishments, and other such textures in the hip or waist area. These design elements will add volume to the bottom half of your body, making you appear disproportionate and much bigger than you really are.
Bikini bottoms with flashy prints and patterns are unflattering on pear-shaped bodies too. However, if you really want to add pops of color and texture to your beach outfits, then make sure that these are only concentrated on the upper half of your body. Doing this will significantly balance out your curvy proportions.
Why Finding the Best Swimsuit is Important
Shopping for swimsuits can be incredibly daunting, which is why people often leave it to the last minute. It's also easy to overlook them – after all, how important can they be if they stay submerged underwater for hours on end?
But in reality, finding a swimsuit style that perfectly flatters your body is extremely important. Not only will you feel more confident about yourself, but it will also be more comfortable, which means no more sneaky adjustments in the middle of an intense beach volleyball game. No matter the excursion, you won't have to worry about accidentally showing off your private bits!
At the end of the day, it's all about self-confidence!
If you want to look good, then you have to feel good about yourself too. A beautiful and flattering swimsuit is nothing without confidence, so make sure to find a swimsuit you feel good in.
You may also like: Exposed! 9 Stylish Types of Swimsuit Cover Ups to Make Your Next Beach Trip Amazing
Which of these swimsuits for a pear-shaped body are you most excited to try out? Let me know in the comments below – I'd love to hear from you!