Are you in need of a little inspiration for your fall business casual work wear? There are varying degrees of business casual, but if you work in a conservative office environment, your style needs to be classy. Here a seven classy chic outfits to help you meet that goal.
Before we get to the outfits, let's explore classy chic a bit.
What is Classy Chic?
Classy is defined as "elegant, stylish"( Merriam Webster dictionary) Classy means admirably skillful and graceful. A classy woman is also well mannered.
Elegance portrays manners and poise. A classy woman is also confident and her outfits show it.
"Elegance is not standing out, but being remembered." —Giorgio Armani
A woman may not necessarily be remembered for every detail of her outfit, but more for the way she conducts herself. Looking sharp, polished and put together is part of that experience.
Consider Audrey Hepburn as the example of classy and elegant. Not only was she stylish, she was an accomplished actress and a humanitarian. She had grace and poise and a spirit everyone loved. She was quoted as saying "I never think of myself as an icon. What is in other people's mind is not in my mind. I just do my thing."
Like Audrey, a classy woman isn't seeking attention, but will draw it.
Chic means "smart elegance and sophistication especially of dress or manner"; a distinctive mode of dress or manner associated with a fashionable "lifestyle, ideology,or pursuit". Used as an adjective, chic means "cleverly stylish", "currently fashionable".
Putting Together Classy Chic Outfits
Classy chic outfits are well blended outfits of classic timeless pieces and a few modern trends. They aren't necessarily "trendy" but classy chic outfits are current. Don't chase fast fashion or even high fashion.
See Also: What's my style? Classic Style
Classy outfits don't have to cost a lot of money. You can still look classy on a budget. However, your work wardrobe does deserve a little of your money and attention.
To be taken seriously at work and to look professional, you need to invest in quality basics. You may consider purchasing these pieces in neutrals as well. Your neutral basic pieces will get the most wear. These wardrobe essentials will pair nicely with everything else in your wardrobe.
The pieces in these classy chic outfits are all budget friendly. Good quality doesn't necessarily mean you have to shop luxury brands.
Classy Chic Outfit #1: Ruffled blouse and neutral trousers
While neutral colors like these camel trousers will make up a significant portion of classy chic outfits, you don't have to avoid color. Solid colors will be viewed as more elegant than print.
That said,
your solids pieces don't have to lack detail. This clip dot ruffle button up top has feminine, elegant ruffles and the dots add texture. There is nothing boring about this solid color top. Complete this look with nude pumps.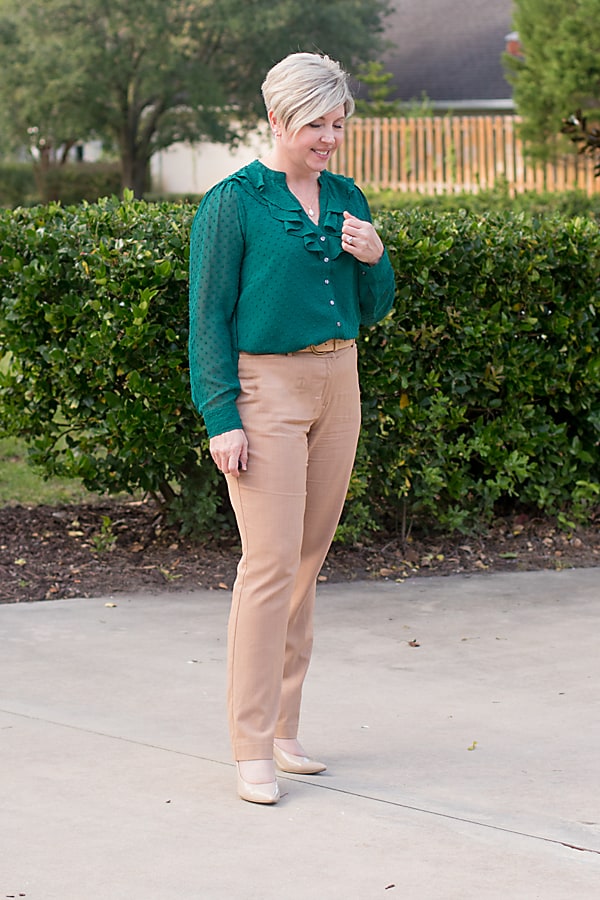 Blouse- JCrew Factory; pants- JCPenney- similar; pumps- similar; earrings- similar; belt- Amazon
This blouse would also pair well with a pencil skirt for another variation of the outfit.
Outfit #2: Black blazer+ solid top + plaid trousers + white ankle boots
Add a blazer to polish off your fall work wear. A black blazer is a great investment for both work wear and for everyday wear.
It looks great with jeans and a tee and with your business casual outfits. A blazer provides structure to an outfit – another element of classy chic looks.
Another solid color top was chosen for this outfit. This one has smocking that provides interest.
Blazer- similar; top- JCrew Factory; pants- Kohls; boots- Mia
Light grey plaid trousers serve as another neutral base for this outfit. Plaid is a pattern that can easily be worked into both business casual and classy chic outfits. Most plaids can be viewed as one color, making them interesting yet professional.
This barely bootcut pant silhouette is a classic that will always be in style.
This entire look is finished off with trendy white ankle boots. Even though they are trendy, the ankle boots feature a classic block heel and square toe design. They are the perfect blend of modern and classic.
Outfit #3: Fall Business Casual – Plaid blazer + neutral sweater + burgundy pants + neutral flats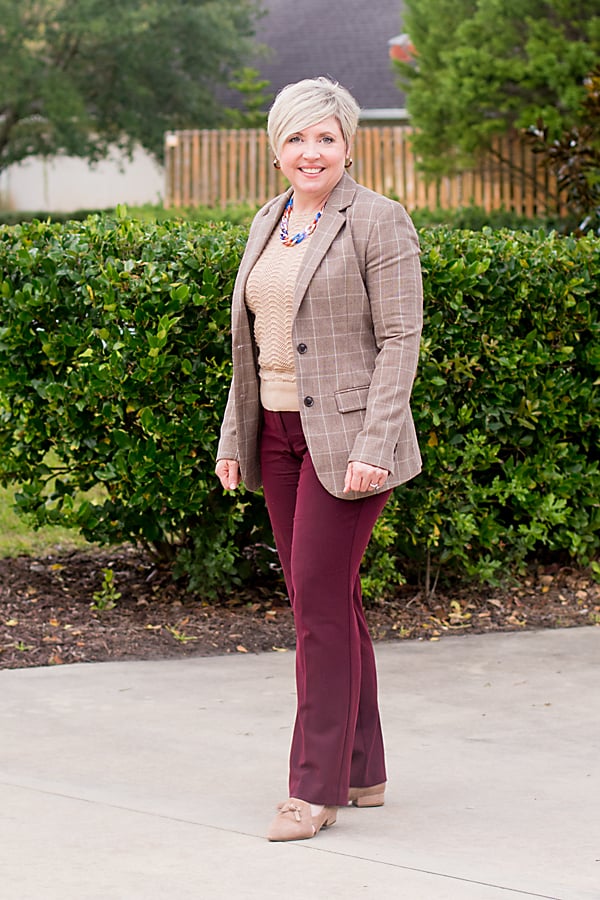 Another classy piece to have for fall is a plaid blazer. Choose subtle neutral plaids over loud colorful pieces for more longevity and for a more elegant look.
Blazer – similar; option; sweater- Loft; similar; pants- JCPenney-similar; shoes- Cole Haan; necklace- JCrew Factory
Here a brown plaid blazer is paired with a neutral sweater and burgundy pants for a classy chic fall office outfit. This great look is completed with neutral flats.
Outfit #4: Pretty ruffle blouse + ankle pants + flats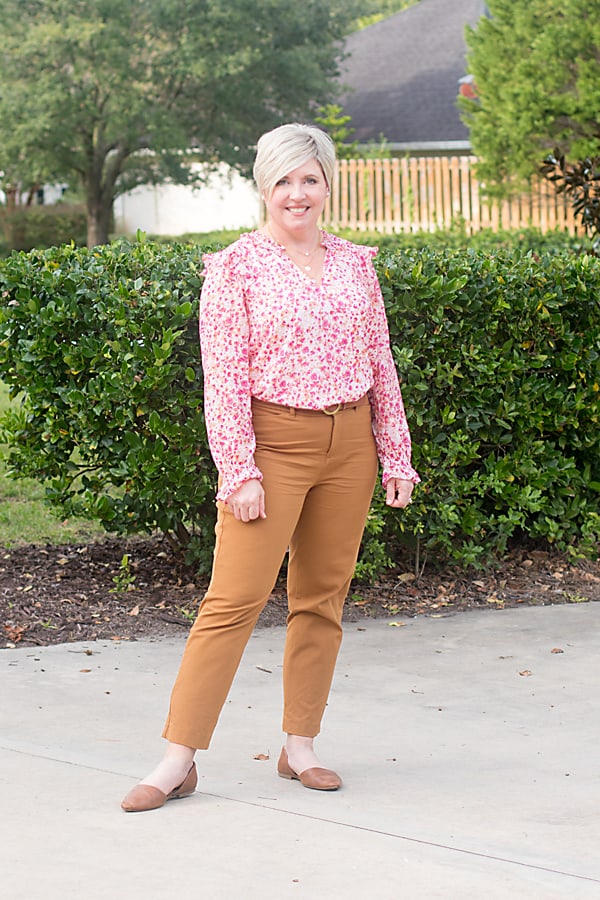 Solid color tops are elegant, but prints can have a place in classy chic outfits. Smaller prints like florals are feminine and feminine pieces help you pull off elegant looks.
A floral print in a material like a silk, rayon or polyester will be more classy than cheap knits or cotton. Choose polyester in higher quality items as a cheap polyester will not look classy. The point is a smoother drapey fabric will be more classy than a rough or stiffer fabric, especially in a print.
This outfit features ankle pants that can be dressed up or down. These Old Navy High Waisted Straight Pixie pants are more on the casual side of business casual but with blazers and dressy tops they can be part of your professional wardrobe.
Blouse- JCrew Factory; similar; pants- Old Navy; shoes- Amazon; similar
A pair of neutral flats are also a must for business casual looks. A cognac brown pair will go with all your fall looks. Flats are also part of the French minimalist style, which is well known for it's elegant style. Ballet flats are a popular choice. I favor pointed toe flats for the leg lengthening effects.
This blouse could also create an elegant outfit by pairing it with a pencil skirt and heels.
Outfit #5: Black blazer + solid ruffle top + plaid pants + black heels
Another look featuring a black blazer, the solid ruffle top, and dark grey plaid pants. This look is completed with black pumps.
Black pumps are also another item to include in a wardrobe for classy chic outfits. They are also a great go to for fall work wear.
Blazer- similar; top- JCrew Factory; pants- Kohls; pumps– similar; option
Outfit #6: Button up blouse + sweater vest + plaid pants + white ankle boots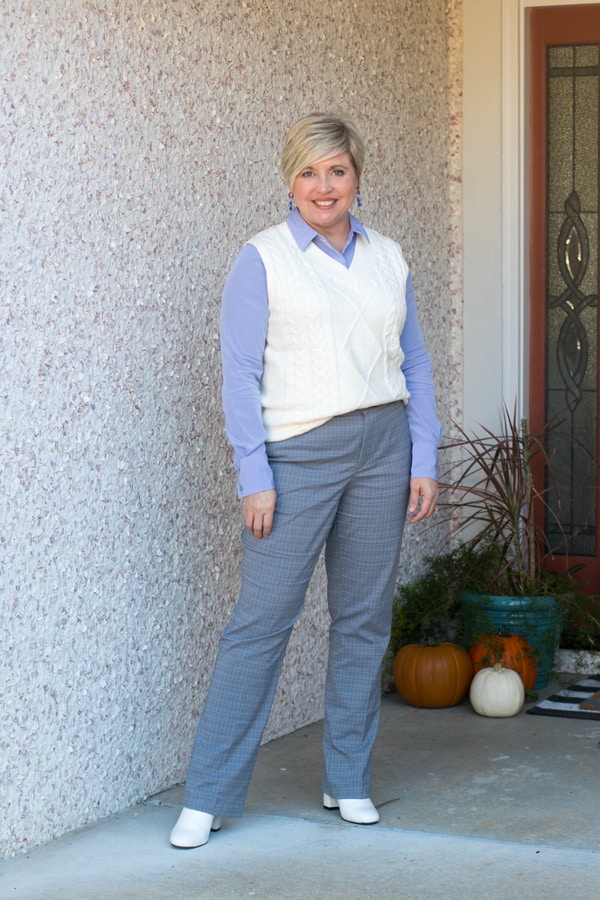 This button up blouse features a loose, draped design. It's a great example of a polyester item that has class. It's smooth and silky feeling. Pair it with a cream sweater vest, plaid pants and white boots for a fall business casual outfit that has class as well as a trendy vibe.
Blouse- Kohls; vest- Amazon; pants- Kohls; Boots- Mia
Classy Chic Outfit #7: Pink sweater + plaid pants + white ankle boots
Pair a soft sweater in a coordinating color with plaid flare cut pants. The combination of pink and brown is perfect in the fall. I also find wide-leg pants to be more elegant looking than skinny pants, but both can have a place in your wardrobe. The trouser leg is also a classic shape that doesn't go out of style.
Sweater- Old Navy; option pants- Thred Up; similar; option boots- Mia
More Ways to Look Achieve Classy Chic Outfits
Keep accessories minimal.
Small, simple jewelry is best for a classy look but you can have fun with a few chunkier pieces. Just don't over do it. All of the looks above feature minimal accessories. Most were finished with small earrings or pearl accessories. A delicate gold necklace is a good piece to have to accessorize your work wear.
To avoid overdoing it on the accessories, a good rule of thumb is to look in the mirror and remove one piece if you have put on several accessories. Err on the side of "less is more."
One common accessory in all of the stylish outfit ideas above is a belt. A belt is a great way to add polish and completion, especially for work wear. I recommend having a brown belt and a black belt. Both will coordinate with most outfits. A reversible belt is a good option too.
Make sure your clothes fit.
Not too tight, not too loose. Conside a tailor for achieving a perfect fit. It's nearly impossible to get the right fit right off the rack.
Choose pieces that work with your body type.
"The dress must follow the body of a woman, not the body following the shape of the dress." —Hubert de Givenchy
Even if an item "fits" it can still be wrong for your body type. If a shirt or blouse "fits" my pear shaped body, but hits at my hips, it's going to make my hips look wider. If that top also lacks any details on the top and has a higher neckline, it's not going to create my best look. Likewise, a crop top might "fit me" but it would also highlight how short my torso is.
While you don't have to follow every body type rule, choosing pieces that play up your best features will give you a classy chic look.
Utilize a capsule wardrobe.
A classy lady knows how to work a capsule wardrobe. She knows how to wear her favorite classic pieces in various ways. Some common items in a capsule wardrobe include a white shirt, a trench coat, and denim jeans in a dark wash.
Pay attention to the condition of your clothing.
Make sure your clothes are free of wrinkles, pills, tears and stains. None of that is classy chic. Ditch faded pieces. You can get all the "rules" right and still miss the mark if your outfit is wrinkled or in poor condition. It's a good idea to examine your most worn pieces each season and replace those that are showing signs of wear.
One Final Style Tip
The best way to maintain a classy style is to stay true to your own personal style. Wearing pieces that you feel good in and that give you confidence will go farther than following any rules of fashion. If you have nailed your personal style, your looks will stand the test of time. The easiest way to be classy is to be the best version of YOU.