In any field where client relations matter, appearances matter, too. Most people dress to communicate respect and exude authority when meeting with their professional contacts. They also expect the same courtesy from whoever they're meeting.
From a client's perspective, what you wear to an important meeting will demonstrate your professionalism and, by extension, the reputation of the company you represent. But don't forget that a good client meeting outfit can also boost your confidence, helping you feel more at ease and increasing your likelihood of success in high-pressure situations. Here's a briefer on what's safe to wear for most client meetings so that you can make an excellent impression in your client meeting outfit.
How to Dress For a Client Meeting
What to Wear versus What NOT to Wear: The Basics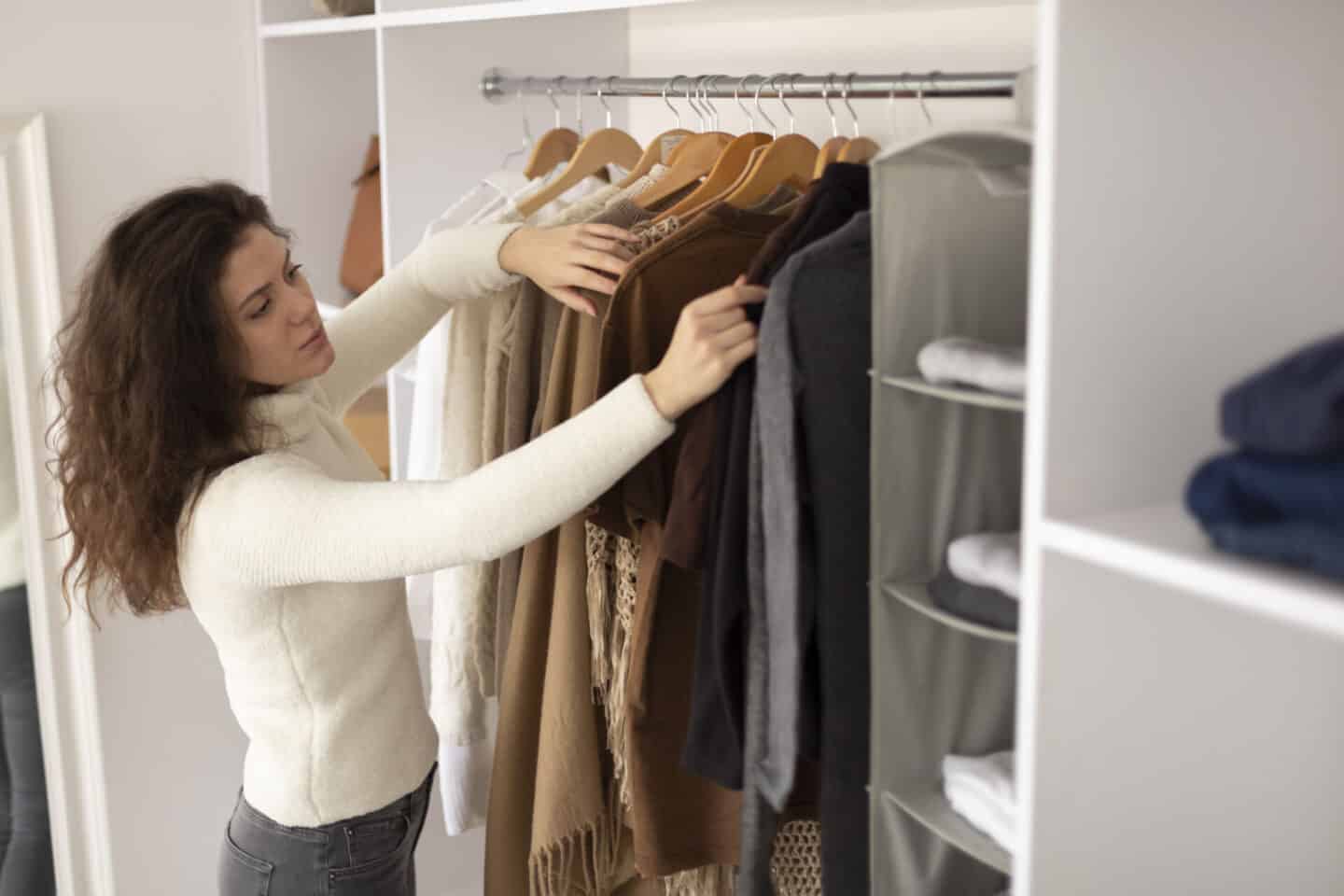 First, let's talk about what not to wear to client meetings. As a rule of thumb, an overly casual or distracting client meeting outfit is a no-go when you're discussing work-related matters with clients. Ditch those distressed jeans, graphic tees, or very short skirts. These choices may send the wrong message about your level of engagement and seriousness.
Remember that first impressions can make or break business relationships. That means that wearing inappropriate attire to a first (and succeeding) client meeting is a risk that's simply not worth taking.
If it seems like your workwear wardrobe is in need of refreshing, shop tights, blazers, formal slacks, polo shirts, and loafers—all of which contribute to a polished, but approachable look. Investing in these versatile pieces not only ensures that you're always meeting-ready, but also helps you transition seamlessly between different types of client interactions throughout the day. Whether you're heading to a casual brainstorming session or a formal contract signing, you'll have solid business meeting outfits to match any occasion.
Tips on Dressing for Specific Occasions
Bear in mind, however, that there are different kinds of client meetings you can expect to attend throughout your career. It's important for you to be aware of the different dress codes that are typically followed for each type. To illustrate, here are some examples of specific occasions and the kind of attire they call for:
Casual Meetings
Many industries—like those that deal in tech, the creative arts, search engine optimization (SEO), or the media—typically observe more relaxed dress codes. All the same, one should not underestimate the impact of their attire at a casual meeting.
Tailored slacks, a knee-length skirt with tights, shirt dresses, or dark-colored leggings are great casual meeting choices for women. These can be tastefully paired with a modest blouse, a crisp button-down, or a fine-knit sweater that neither distracts nor detracts from the subject matter of the meeting.
When it comes to footwear, cleanliness and conservatism should guide your choices. You can choose between closed-toed flats, low heels, unobtrusive sandals, or even a pair of modest canvas sneakers or slip-ons.
Business Casual Meetings
Business casual meetings are where you can strike a balance between relaxed and formal. One of the most popular business meeting outfits is a pair of dressy pants or a skirt with a button-down and a well-fitted blazer. This will impart an air of authority without tipping into overdressed territory.
You can also wear a tailored dress that's understated yet elegant, or alternatively, a knee-length skirt and blouse combination that manifests sophistication without being ostentatious.
Just be sure to choose your colors and patterns carefully. Subdued or neutral tones with minimalistic patterns are the most favorable for this kind of application. In addition, pay extra attention to your choice of fabrics and fit. Ill-fitting or overly casual fabrics can undermine the integrity of an otherwise acceptable business meeting outfit.
As far as footwear is concerned, consider modest heels that neither sacrifice comfort for style nor vice versa. Your goal should be to select a pair of shoes that complements the outfit well but also allows for ease of movement and comfort.
Ultimately, your attire for a business casual meeting should be a reflection of your objective: to facilitate a productive, yet congenial dialogue between two different parties.
Formal Meetings
Formal meetings often involve high-stakes discussions, negotiations, or presentations that can significantly impact your company's future. That means the way you dress for these occasions is of utmost importance. Dressing formally not only conveys respect for the occasion, but also signals your commitment and readiness to engage in serious discourse. Done well, the overall impression you make on your client can enhance your own credibility and that of your organization.
Formal business meeting outfits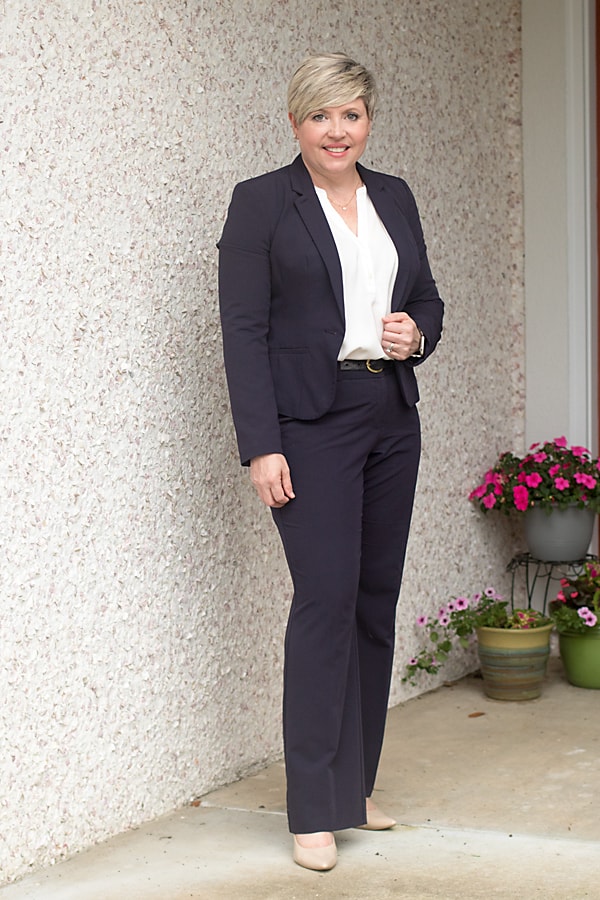 A business suit or a sheath dress of an appropriate length is usually the best choice for women attendees. Darker tones are also advisable for outfits, as they're most closely associated with professionalism and authority.
If you want to wear a pantsuit, ensure that both the jacket and skirt or trousers are of a matching fabric and hue. This creates a cohesive look. For a dress, on the other hand, you're best off with a premium fabric that exudes understated elegance. Avoid any flashy embellishments or patterns in a formal business meeting outfit.
As for accessories, it's usually best to tone down and go for a minimalist look. Women may consider a simple, yet elegant necklace or a pair of pearl or stud earrings. Footwear should comprise low-to-mid heels that are as comfortable as they are aesthetically pleasing. You won't go wrong with materials like leather or suede.
A formal client meeting is not an occasion to experiment with fashion-forward trends. Rather, it's an opportunity to showcase one's commitment to both business tradition and excellence. Remember, your chosen attire will not only reflect on you but also on the organization you represent. It's essential to dress in a manner befitting the meeting's significance.
Having a meeting by video? Check out these tips for how to dress for a video conference.
Conclusion: Dressing for Success
Ultimately, what you wear to a client meeting will be a reflection of your professionalism and attentiveness. It also reflects your mastery of your industry, and even your personal competence. The next time you prepare for a client meeting, give your wardrobe as much thought as you give your presentation. Win them over in a well planned client meeting outfit.