What are the fashion trends for fall 2023? And which ones can you indulge in over 40?
First, let me say this.
You can wear anything over the age of 40 if it flatters your body and suits your style. And you don't have to wear trends. They come and go. If your style is more classic, skip them but keep your classic pieces on the modern side.
However, if you want to add a trend or two to your closet and you want to know which 2023 fall trends you can wear over 40, stick around.
I haven't seen any riveting or polarizing trends this season. We are on a nice slow continuation with trends we've seen before and have been wearing to the past year or so. There are a few things that are getting a little extra attention this season.
The 2023 Fall Fashion Trends to Wear Over 40
1. Cargo pants
These are a great casual option if you get tired of jeans. While some are baggy, there are plenty of slim fit cargo options and some that have dressier vibes. Most come in neutral colors, making them very versatile.
The strong detailing makes them a great choice for rectangles and inverted triangles looking to add some volume and detail on the bottom half. Pear shaped body types can wear them too but be sure that the pockets aren't placed at your widest point, making you look bigger. Look for cargo pants with pockets lower on the leg.
Shop cargo pants:
2. Sweater vests/ sleeveless sweaters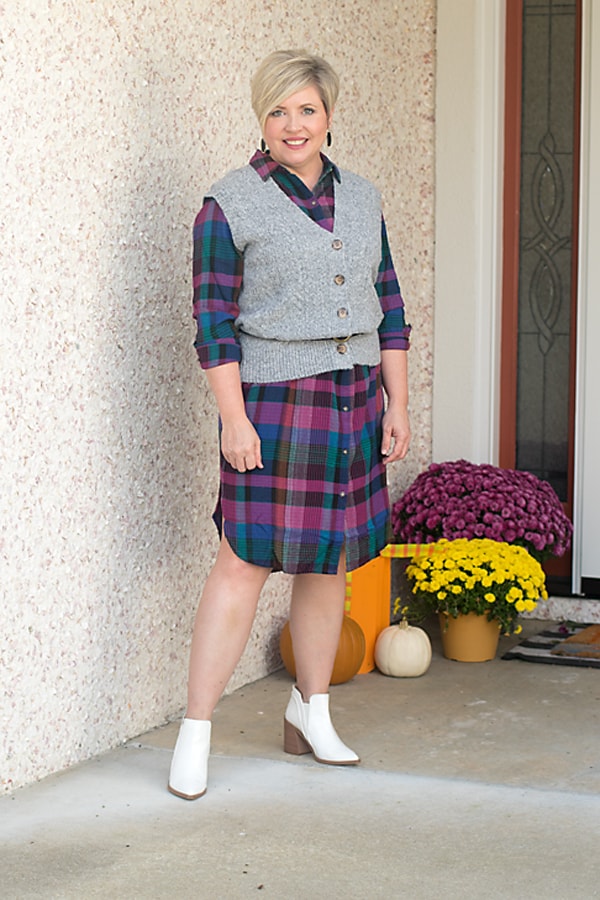 Vest- Walmart; dress- Walmart; boots- Amazon
These are still having a moment. Wear a sleeveless sweater on its own in late summer or early fall. Layer it with a thin tee or button up shirt for a fall transitional outfit. A sweater vest is a great layer for just a little boost of warmth. Pair them with jeans, trousers or skirts, or layer over a shirt dress.
Vest- Amazon
Shop sweater vests:
3. Suit vests
The suit vest has taken off at the "must have" item of fall. This tailored item is the perfect piece to pair with wide leg trousers. Wear them as a top on its own now and over a button up or tshirt later when the temps drop. Suit vests are excellent layering pieces. You can wear them over turtlenecks, lightweight sweaters, or even graphic tees for a trendy and fashion-forward ensemble.
For a classic and versatile choice, consider a suit vest in a neutral color like black, gray, or navy. You can also experiment with different fabrics, including wool, tweed, or even linen for a more casual look. Suit vests come in various styles, from single-breasted to double-breasted and with different button configurations. Choose a style that suits your personal taste and the formality of the occasion.
Shop Suit Vests:
4. Power dressing
Looking like you just left your office 9 to 5 is totally on trend this fall. After all the comfy casual lounge wear and oversized everything, we are taking it back to structured suiting. Power dressing isn't limited to the workplace. It can be adapted for various occasions, including business meetings, formal events, and even casual outings.
Modern power dressing isn't limited to neutral colors. Try a matching suit in a bold color.
You can certainly wear this trend over 40. Don a power suit for a wedding, retirement ceremony, or to attend a baptism.
Shop power pieces:
5. Wide leg jeans/ pants
Wide leg jeans are the most prominent trend in denim this season. Other silhouettes are certainly acceptable, but wide leg jeans are dominating this year.
The key to wearing this trend has nothing to do with age. It's about maintaining balance with the outfit and defining the waist.
Shop wide leg jeans/pants:
6. Fitted blazer
If you haven't loved the oversized blazers and jackets, you'll be happy to see that waist-cinching fitted blazers are joining the scene. Hourglass body shapes can show off your curves with this style. If you are a rectangle, create some curves.
Shop fitted blazers:
7. Corduroy
Corduroy is a fall and winter classic, so its a bit of a contradiction to call it a trend. However, it is abundantly available and popular right now. The trendy way to wear it is with a trending cut, like wide leg pants or a midi skirt.
Shop corduroy:
8. The Color Brown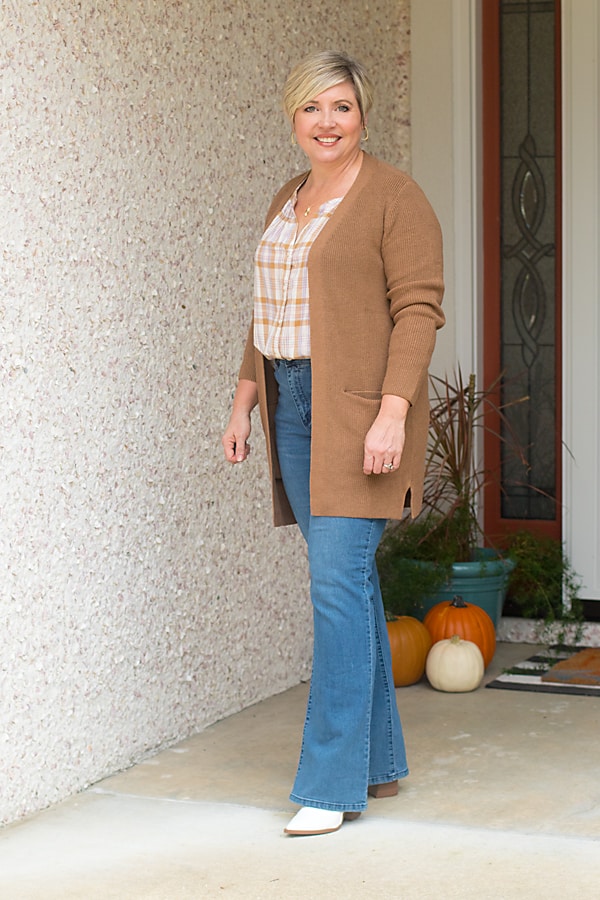 Even though it wasn't forecast by the big fashion magazines, the color brown is everywhere. And I'm all for it. Brown is a great neutral and more flattering than black for women over 40. Rich chocolate brown or fudge is on point this fall.
9. The Color Red
The fashion gurus have forecast red to be a hit this year. I've seen a good bit online but not as much as you would think, given the announcement that it will be a trend. The good news is there are multiple shades of red, so there is a red for everyone. Several shades of red made the Pantone colors for fall 2023.
10. Chanel inspired flats and pumps
The Chanel cap toe slingback and many dupe versions have been growing in popularity over the past couple of years. I had a pair on my watch/wish list for over a year and was able to grab them during Amazon Prime days. Cap toe flats and slingbacks have exploded into the must have trend in fall shoes. Wear them with trousers for work or jeans for a casual chic look. Opt for a sling back or a ballet flat version.
Shop cap toe options:
A few more micro trends
These things won't be touted as major trends but will still be on the scene for fall. Little details like these give an outfit some extra pizazz.
Snakeskin
Combine micro trends and go for a slim snakeskin belt to accessorize your outfits.
Studded
Studded flats, belts and jeans are growing in popularity.
Peplum Hems
Create some fun and flirty curves with a peplum hem.
Slim belts
All of these 2023 fall fashion trends are totally wearable for the woman over 40. Remember, it's never about age. It's about choosing the pieces that flatter your unique body.