Pin
The world of fashion is a dynamic and ever-evolving realm where every individual has the opportunity to express their unique style and personality. One essential element that can transform any outfit from ordinary to extraordinary is the choice of a top.
Whether you're aiming for a casual and relaxed look or something more elegant and sophisticated, various types of tops can effortlessly elevate your ensemble. In this article, we will explore distinct categories of tops, each with its charm and versatility. We will help you discover the perfect tops to make any outfit pop.
Classic Button-Down Shirts: Timeless Elegance and Versatility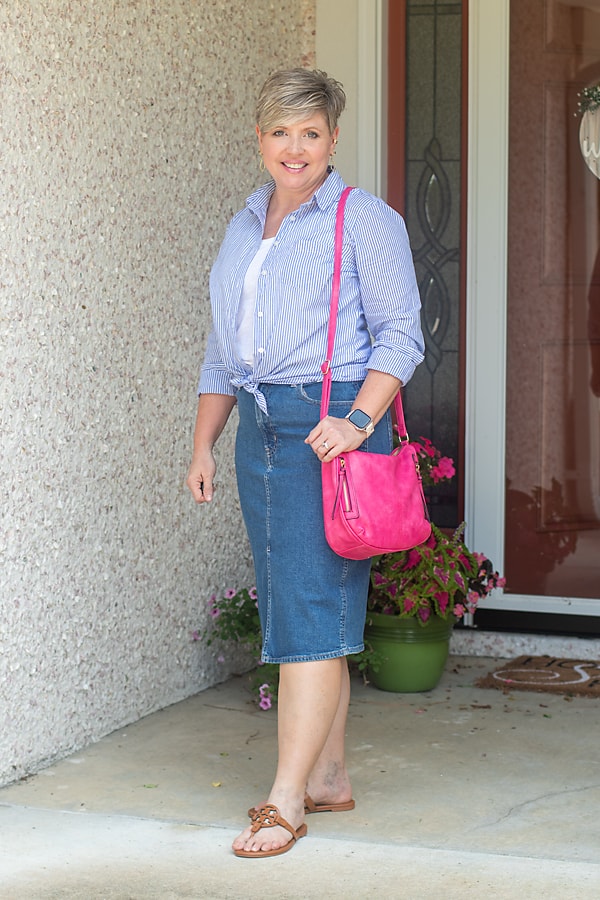 The classic button-down shirt is a wardrobe staple that has stood the test of time. Whether you're dressing for a formal event or aiming for a smart-casual appearance, a well-fitted button-down shirt can be your go-to choice. These versatile tops come in various fabrics, including cotton, silk, and linen, making them suitable for different occasions and seasons.
A crisp white button-down shirt exudes timeless elegance. Also, it pairs effortlessly with a range of bottoms, from tailored trousers to denim jeans. To create a chic office look, tuck the shirt into high-waisted pants and accessorize with a statement belt.
For a more relaxed ensemble, leave it untucked and roll up the sleeves for a casual, yet put-together vibe. Button-down shirts provide endless opportunities for customization through different collars, sleeve lengths, and patterns, allowing you to personalize your style.
Off-the-Shoulder Tops: Flirty and Feminine Allure
For those seeking a touch of playfulness and a dash of femininity in their outfits, off-the-shoulder tops are the perfect choice. These types of tops reveal the shoulders, collarbone, and neckline. Thus, they create a romantic and flirtatious look that works for both daytime and evening occasions. Off-the-shoulder tops come in various styles, including loose and flowing blouses, fitted bodysuits, and cropped varieties. There is one to suit many diverse tastes and body types.
Pair an off-the-shoulder blouse with high-waisted shorts for a relaxed summer look. Opt for a fitted bodysuit with wide-leg trousers for an elegant evening ensemble. The versatility of these tops extends to their compatibility with various materials, such as lace, chiffon, and denim, allowing you to choose the perfect fabric for any occasion. Finally, complete your outfit with statement earrings and a clutch bag to emphasize the flirty allure of these stylish tops.
Puff Sleeves: A Touch of Romantic Whimsy and Vintage Elegance
Puff sleeves are a charming addition to the world of tops, offering a touch of romantic whimsy and vintage-inspired elegance. These sleeves, characterized by their voluminous, gathered fabric, can instantly elevate your outfit with their unique silhouette. Moreover, puff sleeves come in many variations, from subtle and delicate to dramatic and oversized, allowing you to tailor your look to your style.
Whether you opt for a blouse with subtle puff sleeves for a hint of femininity to your office attire or choose a statement dress with dramatic puff sleeves for a special occasion, this trend is a delightful way to infuse your wardrobe with a touch of playful sophistication. Puff sleeves effortlessly blend modern fashion with a nod to the past. This makes them a versatile choice for those looking to make a fashion statement that's both timeless and trendy.
Wrap Tops: Flattering and Versatile Silhouettes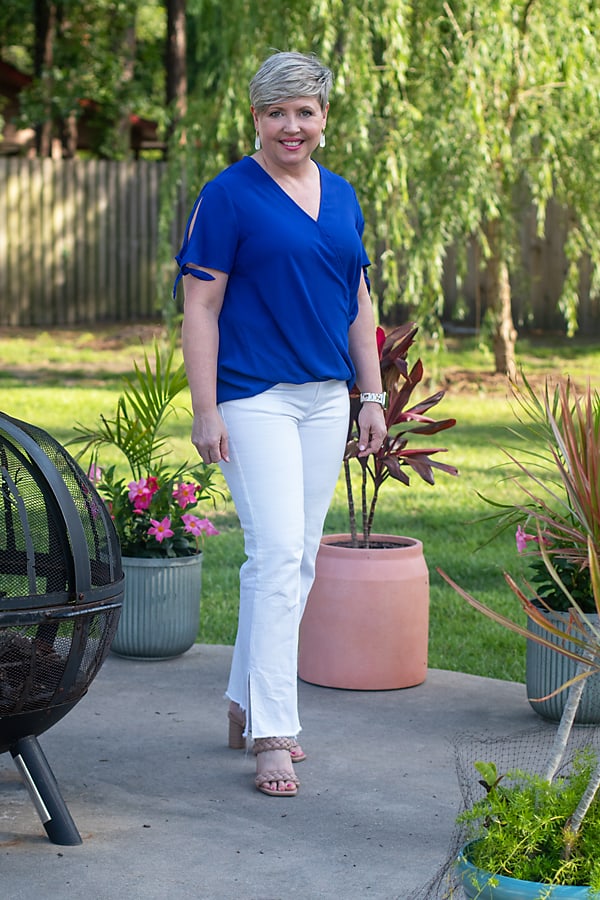 Wrap tops are a must-have addition to any fashion-savvy individual's wardrobe. The unique design of these tops features a front closure that wraps around the body, creating a flattering V-neckline and cinching at the waist. This silhouette complements a wide range of body shapes, providing an instant hourglass effect and an effortlessly chic look.
For a casual daytime outfit, pair a wrap top with high-waisted jeans and sandals. To transition into the evening, choose a wrap top in a luxurious fabric like satin or velvet and combine it with a sleek skirt and heels. The versatility of wrap tops lies in their ability to be dressed up or down, making them suitable for various occasions, from brunch dates to cocktail parties.
Peplum Tops: Feminine Flair and Graceful Movement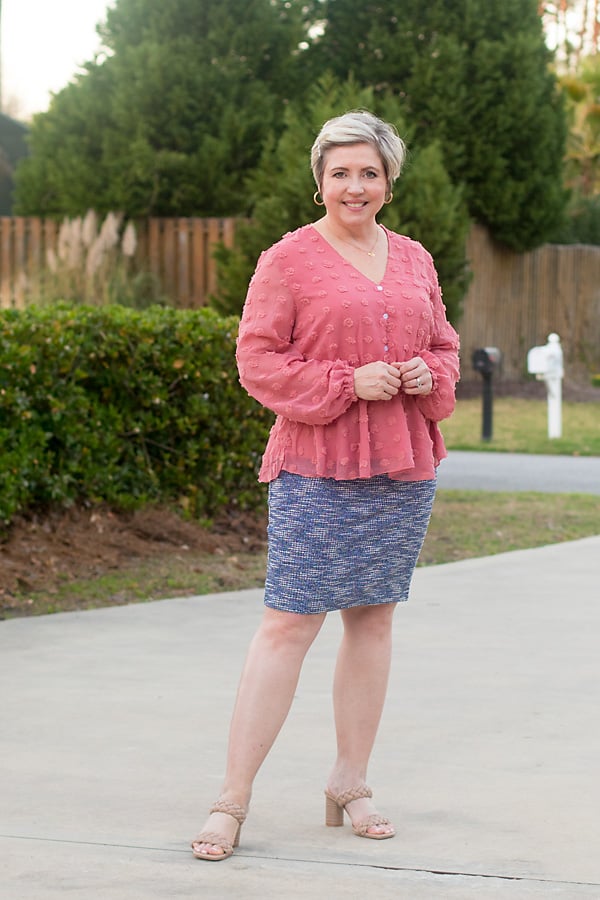 Peplum tops add a touch of feminine flair to any ensemble with their distinct ruffled or flared waistline. This design element not only accentuates the waist but also adds graceful movement and a romantic vibe to your outfit. Peplum tops are available in various sleeve lengths, necklines, and materials, allowing you to customize your look to your liking.
For a polished office look, pair a peplum blouse with tailored trousers and pumps. To achieve a more casual yet chic appearance, opt for a peplum top in a lightweight fabric like chiffon or cotton, and pair it with skinny jeans and ankle boots. Whether you're attending a garden party or a dinner date, a peplum top can effortlessly make you the center of attention, radiating elegance and charm.
Turtleneck Tops: Cozy Elegance and Winter Wardrobe Essential
As the temperatures drop, turtleneck tops become a cozy and stylish choice. These tops feature a high, close-fitting collar that not only keeps you warm but also adds an air of sophistication to your outfit. Turtlenecks are available in various styles, from fitted sweaters to sleek bodysuits, making them a versatile addition to your winter wardrobe.
Pair a chunky knit turtleneck sweater with leather leggings and ankle boots for a chic cold-weather look. For a more refined ensemble, choose a form-fitting turtleneck top in a luxurious fabric like cashmere and pair it with a tailored coat and knee-high boots. These types of tops offer endless layering possibilities, making them an essential piece for creating stylish winter outfits that keep you snug and stylish.
Crop Tops: A Trendy and Youthful Statement
Crop tops have taken the fashion world by storm, offering a trendy and youthful approach to styling. These types of tops are characterized by their shorter length. They typically end above the navel, and come in a variety of designs, from fitted to flowy. Crop tops allow you to showcase your midriff and create bold, fashion-forward looks.
For a casual daytime outfit, pair a cropped t-shirt with high-waisted shorts and sneakers, exuding a relaxed yet fashionable vibe. To elevate your evening attire, opt for a tailored crop top paired with a high-waisted skirt and heels. This will emphasize your figure and making a striking statement. Crop tops are versatile and can be found in various fabrics and patterns. They are easy to incorporate them into your wardrobe. Experiment with different styles to create an edgy and youthful aesthetic.
Fashion is a dynamic world, and your choice of top can make or break an outfit. Whether you prefer classic elegance, flirty styles, puff sleeves, or flattering silhouettes, your top can transform your look effortlessly.
With the right top, you can elevate your style to suit any mood or occasion. So, explore various types of tops, mix and match with different pieces, and let your clothing choices reflect your unique taste and creativity. The perfect top will always make your outfits pop and leave a lasting impression.