Welcome back to another edition of Fashion A to Z. We're working our way through the alphabet with fashion terminology. Today we are looking at another A- athleisure and seven cute athleisure outfits.
I first published this blog post in 2019. Athleisure is still going strong. The athleisure movement really took off in 2020 with Covid quarantines. Let's take a look at athleisure outfits for 2022.
What is athleisure?
Athleisure is a fine line between wearing your gym clothes and not looking like you just came from the gym.
Athleisure- a fashion trend that involves wearing clothing designed for athletics or workouts- leggings, hoodies, joggers, sneakers- in other settings such as school, work or other casual occasions.
It is NOT your late 80s or 90's nylon wind suit. Who had one of those? sheepishly raising my hand.
We now have joggers out of softer more presentable materials. And they are cute with tshirts and denim jackets.
Athleisure is not so much a trend anymore as a lifestyle choice. Tune into social media and you will see influencers sporting athletic wear in a cute outfit to some degree.
Athleisure Essentials
There are a few key clothing items you will need to nail athleisure. Your essentials will include casual pieces such as:
Biker shorts
Cute sneakes
A pair of leggings
graphic tee
tank top
joggers
Sweatshirt/ hoodie
How to Wear Athleisure
It's not a free card to wear any old ill-fitting, sloppy clothing you want.
The key to pulling off stylish athleisure is to make sure your chosen pieces are comfortable but fit properly.
Choose a combination of traditional work out wear and regular clothing items.
Mix in some regular items like a denim jacket or chambray shirt.
Wear your sweatshirt with a skirt.
Give your atheleisure some edge with a moto jacket.
Throw on a ball cap or head band.
Include accessories and jewelry so it's clear you are not just in your gym clothes.
Wear cute sneakers. There are so many cute sneaker options now and they can truly make an outfit.
7 Cute Athleisure Outfit Ideas
Give your jeans a break and turn to one of these athleisure outfits for your casual days.
Joggers+ Sweatshirt + Cute sneakers
Sweatshirt- Old Navy; option option joggers- Amazon; sneakers- New Balance; option earrings- Kendra Scott
I used to be one of those people who limited sneakers strictly to running or working out. I didn't even own a pair other than the ones I run in. However, I slowly warmed to the trend and I now have multiple pairs that are not for working out.
I love the pop of color my New Balance sneakers above give an outfit and those are the comfiest shoes I've ever owned.
Retro sneakers in bold colors are super trendy this year and would be a fun addition to your athleisure wear.
The Old Navy sweatshirt is from a previous year but I'd recommend any current sweatshirt from Old Navy because this one is so soft and cozy.
See also: These Are the 12 Best Athleisure Brands for Achieving Comfy Chic
Joggers + tee shirt+ utility jacket + white sneakers
I searched for knit joggers off and on for a while and I finally tried out these Amazon Essentials brand joggers. I was struggling to find a good fit or the right weight material I could actually wear in this climate.
I'm wearing these in a medium and they are soft, lightweight and not too heavy. They are also not so lightweight that they show every bump and bulge.
If you want to dip your toe into this trend without spending a lot, these joggers are the way to go.
See also: How to Style An Anorak Jacket for Women: Effortless Outfit Ideas
Jacket- old- JCP; option; option tee- Old Navy; joggers- Amazon; sneakers- Amazon; purse- Nine West; option option earrings- Kendra Scott; necklace- Rocksbox
Leggings + pullover top + quilted vest
The most widely accepted athleisure look today is leggings. You can style your leggings so many ways. You can dress them up with sweaters and scarves and boots, or stay true to the athleisure trend with long tunic tees, relaxed sweaters and your sneakers.
Leggings are a must for cute athleisure outfits. My favorite leggings are these 90 Degree by Reflex from Amazon.
Adding a quilted vest or puffer jacket to your leggings and pullover top or sweatshirt makes a cute athleisure outfit for colder months.
Related: How to Wear Leggings At Any Age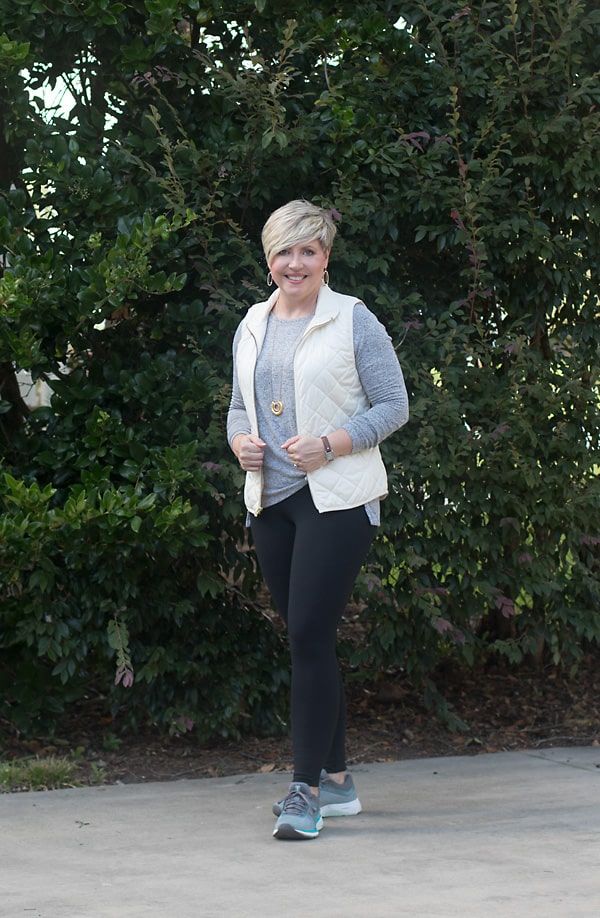 Tee- Old Navy; similar Vest- Old Navy; similar leggings – Amazon; sneakers- Asics; necklace- Nordstrom; option earrings- Kendra Scott
Leggings + tee shirt + shacket + lug sole boots
Level up your athleisure leggings and tee with a shacket and lug sole boots for colder months. This look is still casual and starts with a base of athleisure pieces. Boots and the jacket take it up a notch.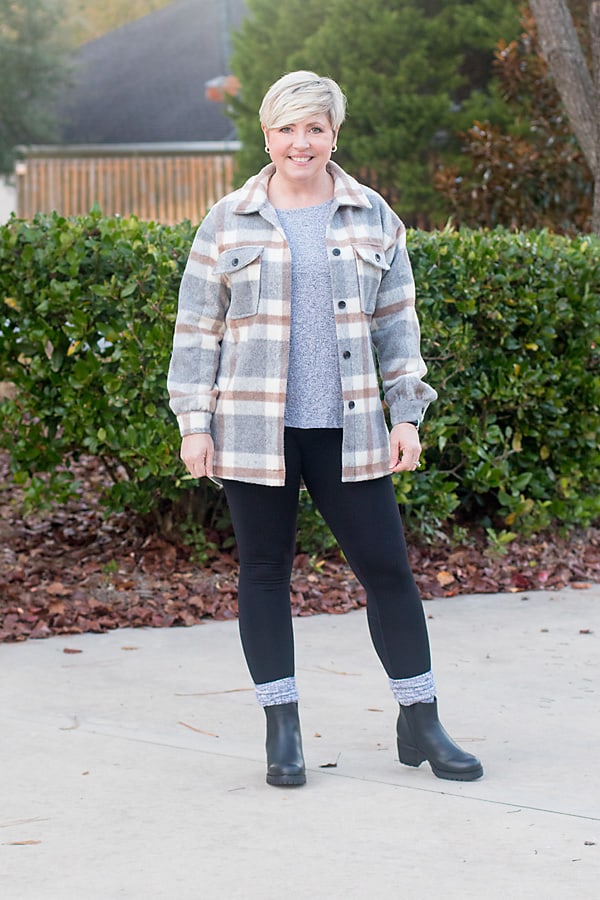 Shacket- Amazon; tee- Old Navy; leggings- option; boots- Mia
Joggers + tee + denim jacket
This athleisure outfit idea is again joggers and a tee, but topped off with a denim jacket for a little structure. Slip on neutral sneakers finish the look.
Denim jacket- Old Navy; tee- Target; cargo joggers- option; sneakers- option
Graphic tee +skort + sneakers
A great option for warmer fall days is a skort and graphic tee. Finish the look with sneakers and a corduroy baseball cap.
Skorts from knit or performance fabrics are great for creating athleisure outfits.
Graphic tee- JCrew Factory; skort- Kohls; similar sneakers- JCrew Factory; cap- Amazon
Crop top+ biker shorts + sporty sandals
For another option on warm days, pair a crop top with biker shorts and sporty sandals. Accessorize the look with a belt bag. Crop tops are available in lots of athleisure friendly pieces like tanks and cropped hoodies.
Are you a fan of athleisure? I'll admit that it had to grow on me, but most fall or winter days you will find me around the house or running errands in something similar to the outfits above.
Get the GYPO Athleisure Capsule Wardrobe for an easy guide on putting together cute athleisure outfits.
This style guide includes coordinating tops, bottoms, shoes, and accessories, an easy shopping list, four weeks of mix and match outfit ideas, and a style calendar! The Athleisure Capsule Wardrobe is perfect for everything from running errands, to lunch with girlfriends, to date night. Plus you'll get a BONUS ten-piece/ten-day workout capsule, essentially getting two capsules in one!