If you want to layer an outfit or just add a little warmth, reach for an Anorak Jacket! The term "anorak jacket" may not sound very familiar to you, but I am pretty sure you have seen these jackets more than you thought.
An Anorak jacket is described as an outer clothing that is long enough to cover your hips, which is also accompanied by a hood to protect your head from the weather's harsher elements. Anorak Jackets are fashionable, and quite comfortable to wear.
Here is everything you need to know about an Anorak Jacket and how to style it in different ways.
What is an anorak jacket?
There are some conflicting definitions and results if you start searching to buy one.
From Oxford- a waterproof jacket, typically with a hood, of a kind originally used in polar regions. From Webster- pullover hooded jacket long enough to cover the hips. They were made to block wind and cold and originally worn by the Inuit people in Greenland, Canada and Alaska. Anoraks were originally made of animal skins.
The consensus is that it's a pullover, typically with a hood. Many also have a drawstring waist.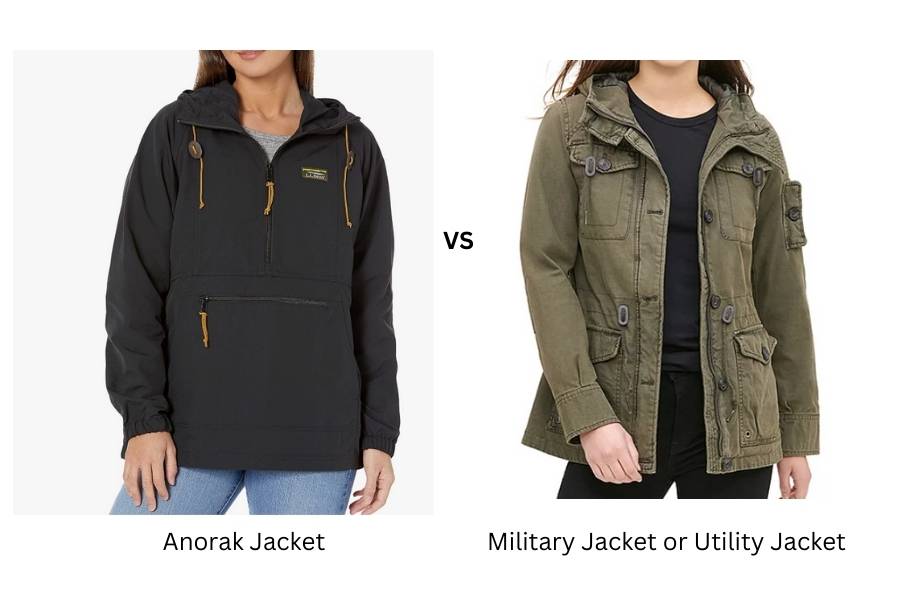 If you see one that zips completely open, it's not an anorak. That's a parka, a utility jacket, or military jacket. However, the fashion industry has mislabeled many a zip up/ open utility jacket as an anorak.
If you want to be technically correct and want a true anorak, you might be better off shopping the men's section, although there are a few out there for women. You will do better to search for pullover hooded jacket as well.
Types Of Anorak Jackets
Below are generally the different types of Anorak Jacket you need to know about, so you'll be prepared for fall and winter:
These are long, full-sleeved, hip-high jackets with a closed front and a small zipper to make wearing and removing easier.
Waterproof Anorak Jackets
This type of jacket stops water from entering. The wettish weather where you have a lot of snow or rain is where Waterproof Anorak Jackets are used.
Drawstring Waist Anorak Jackets
A drawstring waist can give an anorak a stylish look. It's also a flattering style on most people, as it adds a pulled-in waistline to an otherwise bulky jacket.
Lightweight Anorak Jackets
This is water-resistant and lightweight. While its light weight does not compromise on the water gushing in. This type of Anorak is a holder puffer that keeps you warm.
Rugged jacket made using soft shell fabric. It has Fleece Lining, breathable moisture-wicking fabric, and features a waterproof polyester shell, it is durable, waterproof, lightweight, and breathable.
Anoraks Vs. Parkas
A lot of people around the world use anorak and parka interchangeably, but they are not the same thing. Anoraks are thin partially tipped uppers with an emphasis on wind and water protection.
Parkas, on the other hand, are the winter jacket to end all winter jackets. They are thick insulated coats with dense fur lining and weight to match.
Parka jackets also reach all the way down to the mid-thigh level, making them longer than anoraks by a handful of inches.
Lastly, parka jackets are for hardcore winter. They make you feel like you are wearing a quilt with sleeves.
Anoraks, by contrast, feel like a lightweight shield that blocks both the wind and rain from reaching your body.
See also: The Best Fall Jackets for Women
Outfits To Wear with Anorak Jackets
An anorak Jacket is something that is very easy to style. They come in classic black, tan, navy, or bright colors so you're sure to find an anorak to complement your own unique style. To make things even easier for you, I have collected some stylish and effortless anorak jacket outfit ideas for you. Let's check them out.
Army Green Anorak Jacket with Light Gray Sweater
The anorak jacket excels when it is worn as a part of a stylish layered outfit. For example, you can wear a cardigan over a light gray V-neck sweater. Then layer an army green anorak jacket on top of them to create some stylish layers. Pair them with black leggings and a pair of light brown leather mid-calf boots to complete the outfit with style.
Shop the Look:
Wear with Black Lace Shift Dress
Not only that you can build a stylish anorak jacket outfit with pants or leggings, but you can also do that with a dress too. For example, a beautiful and stylish outfit consists of a black mini lace shift dress and an anorak jacket. Complete the outfit withheeled sandals to look more feminine. See this look here with an ivory lace dress.
Shop the look:
Military Anorak Jacket with Black Outfit
A military anorak jacket coupled with skinny black jeans is a desirable style for folks who appreciate fantastic, stylish combinations. Complete your ensemble with a pair of gray leather lace-up ankle boots. Moreover, I consider this to be the most stylish everyday outfit. You may also accessorize your style with bright sunglasses when you are out in the sun.
Shop the Look:
Wear Ripped Jeans with A Vintage T-Shirt Under an Anorak Jacket
Pick distressed jeans with rips and throw on a classic T-shirt or laid-back long-sleeved shirt. Then, put on a black, tan, or army green anorak jacket and finish the outfit with combat boots or sneakers.
Shop the Look:
Short Light Brown Anorak Jacket with White Fringe Scarf
Most anorak jackets you can get from the market are long ones. A short one though makes your outfit look more unique. For example, a short light brown anorak jacket paired with an ivory fringe scarf and a heather gray t-shirt for the top. Pair them with blue cuffed and ripped boyfriend jeans and a pair of retro sneakers to complete the outfit.
Shop the Look:
These are some really nice ways to style an anorak jacket for women. However, one of the best ways to expand your outfit game is to start by imitating beautiful outfit ideas like the ones above. Then you are free to tweak things here and there and make the ideas your own. Also, do make sure to try them all out to see what suits you best!