Hello everyone! Fall is finally here, and for many of us that means the time to break out our favorite jackets. With so many different types of women's fall jackets available, it can be hard to choose which one will work best for you. This blog post will cover some of the most popular jacket styles and how they should be worn based on your personal style.
If you have ever wondered what makes men's and women's jackets different, it's in the sizing and cut. Many of these styles can be worn by men but jackets and coats are made differently to accommodate body shapes of males and females.
A woman's jacket will have narrower shoulders but more room in the bust and tailoring at the waist to accentuate a woman's shape. Also, men's jackets will have buttons on the right while a woman's buttons from the left. This is helpful to know if you are shopping a thrift store where items are more likely to be mixed up.
Women's fall jackets aren't as heavy as winter coats and are great pieces for layering and showing off your fall style.
They are the perfect layer for the in between weather- not warm anymore and not yet cold- and can easily become part of your outfit.
There are a few different types of jackets that you can choose from. Here are 8 fall jackets to consider for your fall wardrobe. Many are trending and popular right now and many are classic and will always be in style.
The first women's fall jacket to consider is the trench coat.
The trench coat has been popular for decades now and comes in both casual or dressy styles depending on your outfit preference.
The trench coat was originally designed for military officers and its belts and shoulder straps were designed for function. Even the classic khaki color had a function and served to conceal an officer.
Trench coats were adopted by Hollywood between wars, and it became fashionable from there. Trench coats still carry their trademarks of function- lightweight and water resistant- but they are also available in a wide variety of colors and style. Trench coats are perfect for both spring and fall seasons.
Wear a trench coat with your work wear for a polished look, or throw it on over jeans and a tee or even over your athleisure looks (joggers and sneakers) for a cool vibe.
Another popular fall jacket is the pea coat.
Technically, this is a coat, but it's shorter than your typical winter coat and usually of wool so it's breathable and still comfortable for chilly fall days.
This type of jacket has been around for years and was originally used by sailors to keep them warm while they were working on deck in harsh conditions. The style was adapted by civilians who worked outside, which made it a common choice among farmers.
The shorter length gives the wearer more flexiblity and movement. Originally for men, it now ranks at the top of women's fall coats.
Generally made of wool or wool blends, a pea coat can be a stylish addition to your fall work wear. Like a trench coat, it works equally well with your business attire or with your sweats on Saturday for running errands. A pea coat will transition you right into winter. Make a statement by donning a peacoat in one of fall's trending colors- fuschia.
Either a trench or pea coat would be a good choice for wearing with a dress to an outdoor fall wedding or other formal event.
The blazer is a perfect jacket or layer for early fall.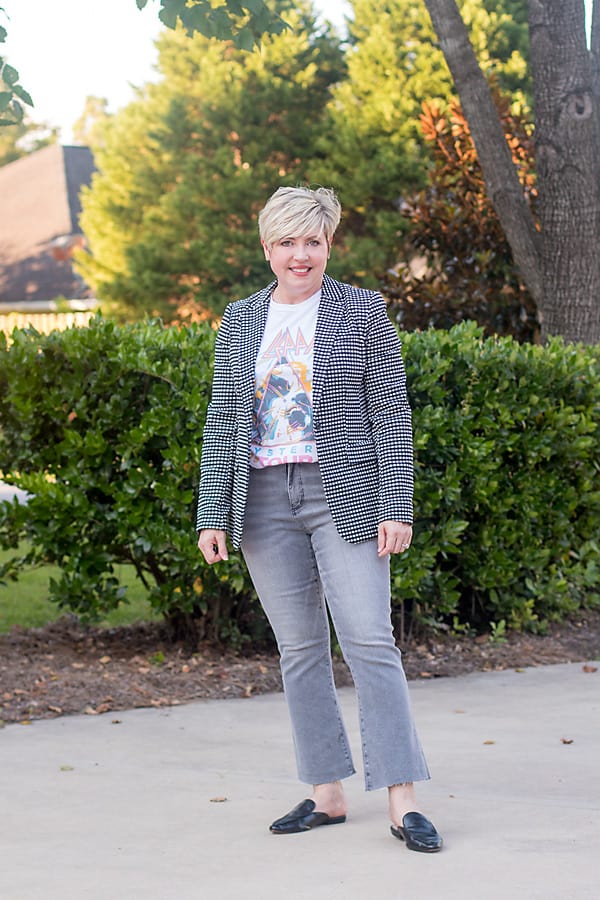 Jeans/ similar blazer/ tee/ similar shoes
It's lightweight but can be just the layer you need for in between weather. A blazer is a versatile transitional piece. Wear a blazer with your dresses and skirts to get more wear out of them in the fall season, or pair it with your favorite jeans and graphic tee.
A blazer is a wardrobe workhorse because it easily goes from work to weekend. Polish off your Monday through Friday outfits and then throw it on with your casual duds on Saturday. I'm a fan of the blazer over a hoodie look.
A field jacket or utility jacket is a great choice for casual fall outfits.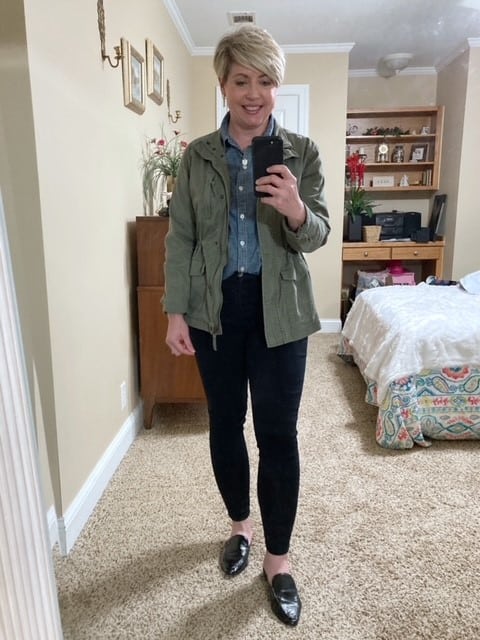 These jackets are usually hip length and lightweight, making them an excellent choice for fall. Women's utility jackets usually have some cinching in the waist to make them more flattering. They otherwise have somewhat of a boxy cut.
You can wear them with jeans and boots, flats or sneakers, with tee shirts or button ups or with casual dresses. Popular colors include olive, navy and khaki, but you can get them in a variety of colors.
You can search the term "anorak" for a field jacket to find more options, although that term is misused. An anorak traditionally does not zip all the way up. A utility jacket is a classic piece that will not go out of style.
The denim jacket is an iconic element of American fashion.
denim jacket/ bodysuit/ similar pencil skirt/ sneakers/ similar sneakers/ similar necklace
Sometimes referred to as a jean jacket or trucker jacket, this jacket is yet another great choice for fall. The original denim jacket has evolved into different styles, colors and trends, but will always be a classic.
Go for an oversized jacket or a cropped one. Pair it with your jeans, joggers or fancy skirts. The denim jacket lends a cool casual vibe to any outfit, but is the perfect light layer for keeping a fall chill at bay.
Some say the moto jacket is less trendy this year, but leather is definitely at the top of the list for fall jackets this year.
A moto jacket by definition is a short, close-fitting leather jacket with zips and studs, often worn by motorcyclists.
They are now worn by pretty much the entire fashionable population, not just motorcylists. You can choose leather or suede or faux leather/ faux suede, or even knit. You can spend as much or as little as you like.
Like the denim jacket and utility jacket, you can pair them with skirts and dresses, or with jeans. While you can certainly zip a moto jacket if you are cold, they are generally worn open to let more of your outfit show.
Puffer jackets have come onto the scene as trendier fall jackets lately.
Jacket/ hat/ tee/ similar jeans/ sneakers
Puffer jackets are extremely lightweight but also warm, making them a great choice to wear in the winter as well as fall. A puffer jacket basically "puffs out" in sections, created by stitching or quilting.
Insulation is sandwiched between two layers and held by the stitching. Search quilted jacket as well as puffer when searching for the perfect one.
Wear a puffer or quilted jacket with casual outfits like jeans and joggers. Some the more refined quilted jackets look a little more polished and lend themselves to completing more dressy outfits.
The controversial shacket came on the scene last year, but it isn't going anywhere.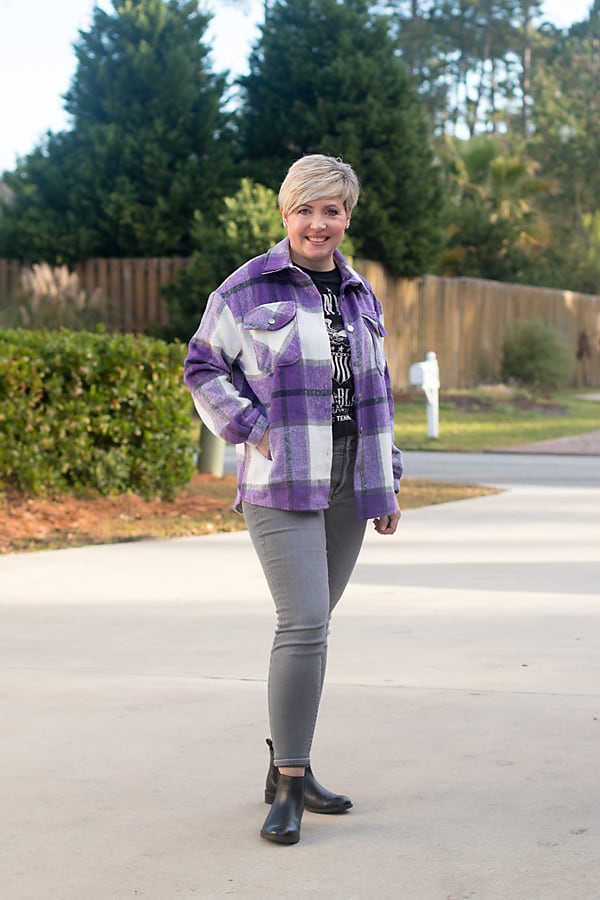 Shacket/ tee/ jeans/ boots similar
It has become more refined and stylish over time, and you are no longer left with the lumber jack look as a choice. They are now made of several materials like corduroy, twill, cotton and flannel.
This is the jacket that you can wear as a shirt or a jacket. You get to decide. The most common way to wear a shacket is over a light shirt like a tee.
Most are a little lighter than a traditional jacket, so the shacket is another excellent transitional piece and a great fall jacket for warmer climates.
These jackets are popular this fall and can be worn with many different types of outfits. What's your favorite fall jacket?