Wondering how to wear a dress when it's still chilly out? You have a pretty dress to wear, but a jacket or coat sends your look straight to frumpsville, right?
Dresses are wonderful pieces of clothing—if you love them, you may want to wear them year-round. Warmer climates during the spring and summer months are certainly great for these stylish outfits. However, it is impractical to just throw on a dress and head out in snowy, cold weather.
Sometimes spring and fall are chilly as well and you need another layer to wear with your pretty dress.
Fortunately, jackets are the perfect accessories to help you slay your dress game without sacrificing warmth and comfort. The right jacket goes a long way in making or breaking the look of your outfit and making it IG-worthy.
If you need some trans-seasonal styling tips, here are 12 outfit ideas for jackets to wear with dresses to inspire your next dress ensemble:
12 Jackets to Wear With Dresses
1. Leather Jacket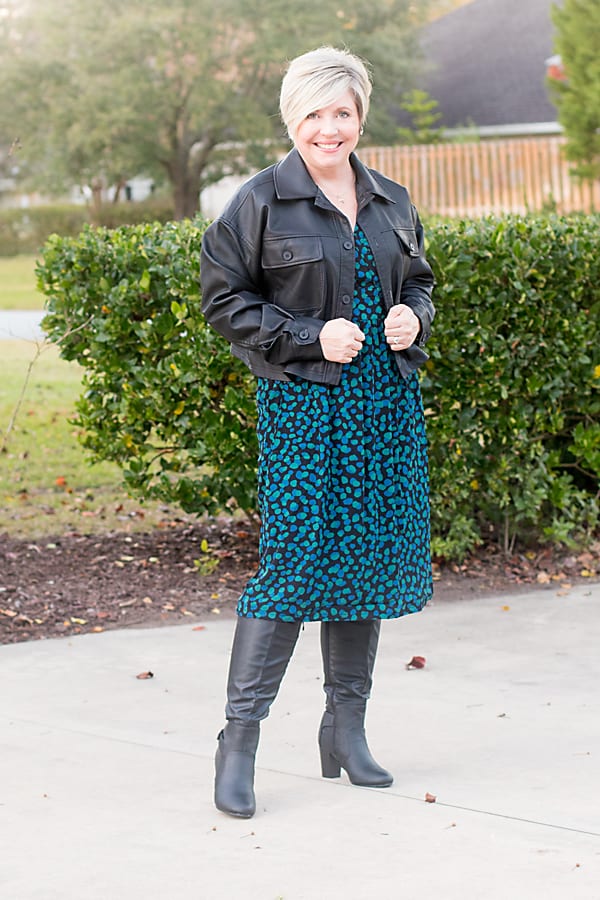 Leather jackets are some of the most stylish jackets that you can wear with dresses. These classic, transitional fashion pieces will never go out of style, so you can wear them any day of the year.
If you want to jazz up a simple floral dress, pair it with a vegan leather jacket in a contrasting color. It will add detail and dimension to your outfit to stand out from the crowd.
You can also wear a little black dress with a cropped leather jacket at parties and other casual outings for a timeless look. Short jackets and short dresses go well together and create a suited, uniform ensemble that looks put together and intentional.
If you love bold moto silhouettes, a leather biker jacket is your best bet. Whatever your personal style, you can easily find leather jackets in different styles to suit your preferred aesthetic and vibe.
Shop Leather Jackets:
2. Trench Coat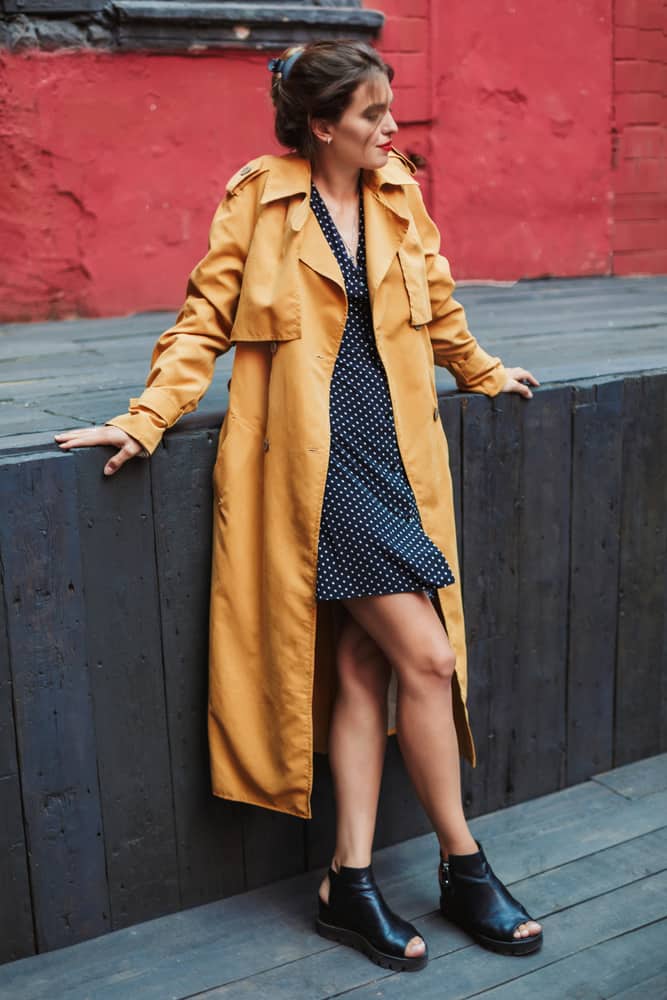 Trench coats are a remnant of World War I—army officers used to wear them with their uniforms for a casual look. Today, they have become a street-style favorite, thanks to leading fashion labels around the world.
These lightweight, long coats are a trans-seasonal staple. And they become a hot fashion essential at the time of year when temperatures go down.
A trench coat is a versatile piece of outerwear that you can pair with all types of dresses. You can match the length of your coat with the length of your dress and wear long dresses, such as a plain long bodycon dress. You can also pair knee-length trench coats with knit midi dresses for a flirty, fun look when it's a bit warmer. A trench coat is one of the best jackets to wear with dresses in the spring.
Shop Trench Coats:
3. Belted Coat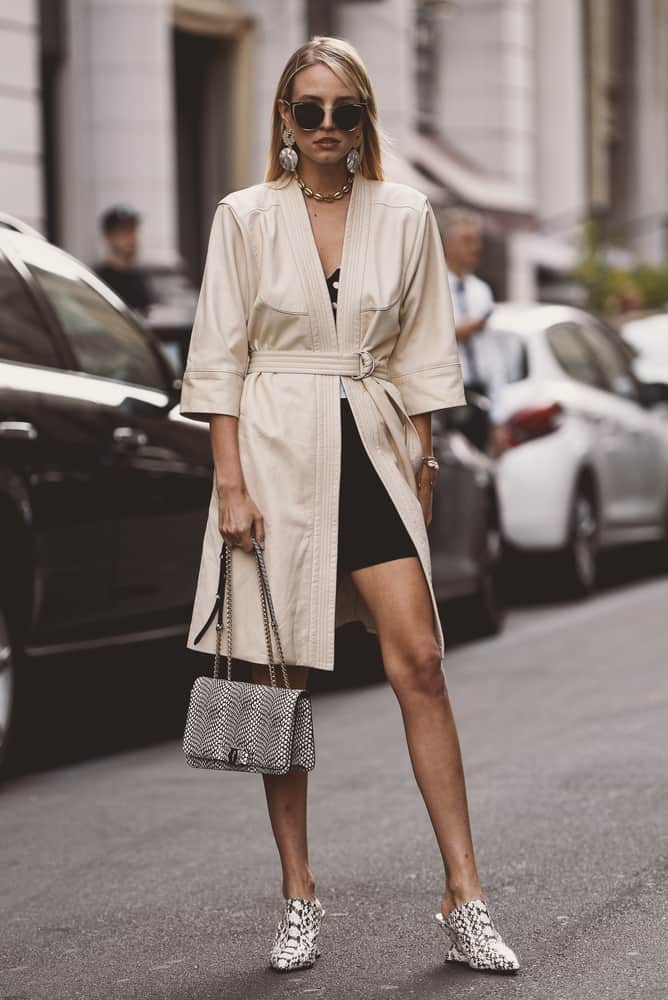 A belted coat is a great option to wear with dresses with flippy hemlines, turtlenecks, or billowy shapes. This capsule item gives your ensemble a classic, contoured look and highlights your figure in a flattering manner. It also ensures much-needed warmth and coziness in cold temperatures.
Wear this lightweight coat in neutral colors with a fitted midi dress. You can also pair belted jackets with a mini-dress for a more modern silhouette.
Shop Belted Coats:
4. Blazer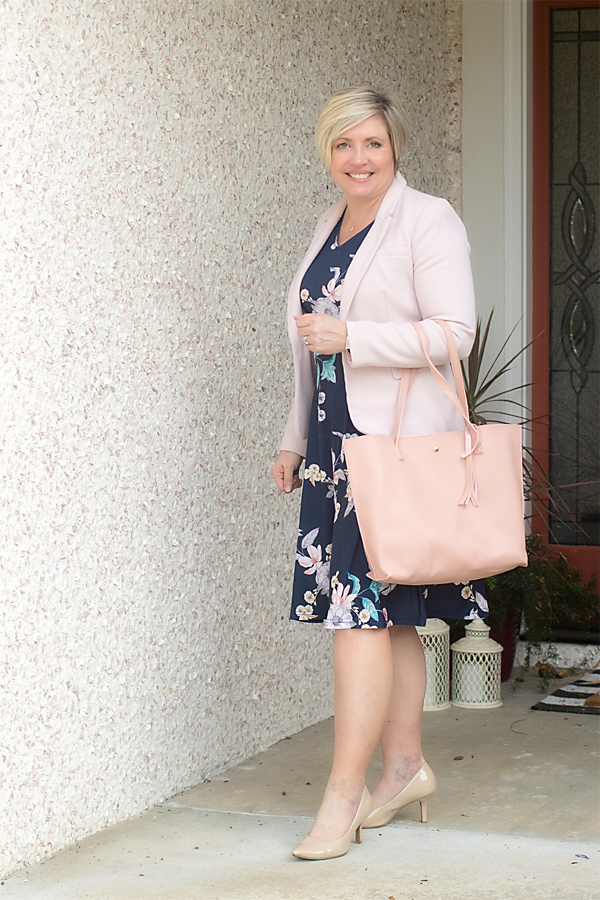 Blazers are timeless fashion pieces that help fashionistas easily transition from day to evening look. You can wear them with any type of dress and create an edgy yet elegant style statement. This simple outfit formula packs a punch and can be worn any time of the year.
If you want to create a polished, professional look, wear blazers with knit maxi dresses for more texture and depth. For date nights, layer a sleek dressy blazer over a silk slip mini-dress—a sweet and romantic ensemble.
Wearing a pale, oversized blazer and a casual dress with an intricate print is also a great outfit idea for a relaxed look.
Shop Blazers:
5. Puffer Jacket
The puffer coat is a fantastic piece of outerwear that seamlessly blends functionality and fashion. This winter must-have goes well with dresses, so you can showcase your style while staying warm and cozy.
When out with friends, pair your puffer jacket with a sweatshirt dress for a fun, casual, and comfortable ensemble. For a more feminine touch, go for a quilted puffer and a floral mini-dress.
Shop Puffer Jackets:
6. Bomber Jacket
A floral bomber jacket is a great way to liven up a plain or pleated dress. This elegant sartorial combination is great for brunch with friends or a day around town. This simple yet elegant combination will help you look confident and stylish, easily amping up your fashion quotient.
You can also pair an androgynous bomber jacket with a thigh-high split dress that oozes sass and poise. This formidable outfit will see you through winter and beyond, all while slaying wherever you go.
Whether you prefer a casual style or love a more polished look, a bomber jacket is a foolproof outerwear option to wear with dresses.
Shop Bomber Jackets:
7. Oversized Wool Coat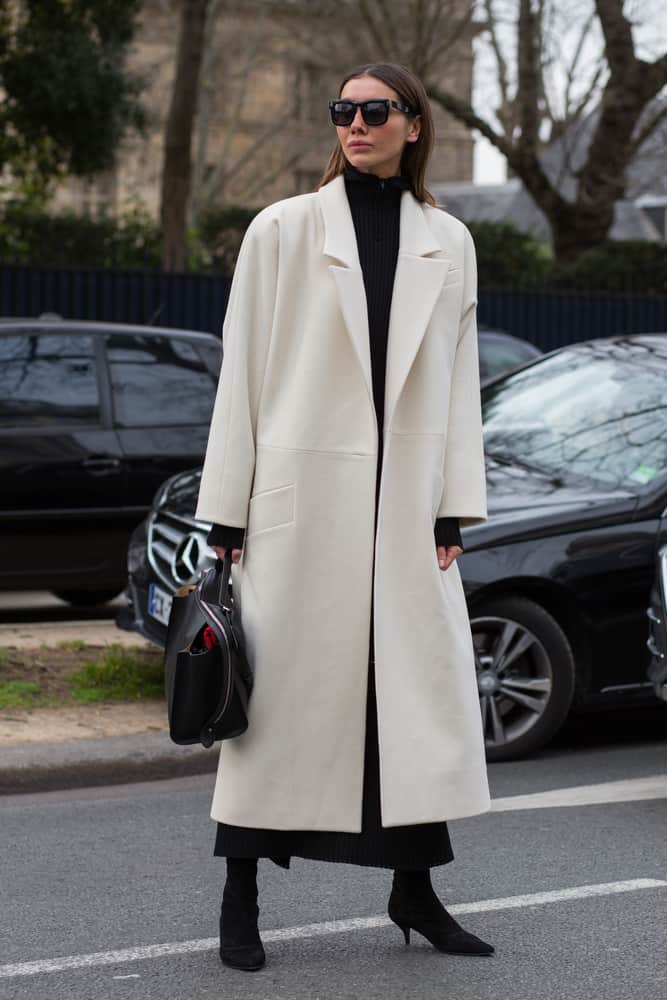 If you're not ready to forgo dresses in cold temperatures, oversized wool coats are a fantastic layer option to wear your favorite dresses without freezing. You can add a point of interest and comfort without overpowering the rest of your outfit.
You can get woolen oversized coats in different styles—double-breasted or single-breasted, and in different colors to match your outfit. If you're dining out in the city, pair a long wool coat with a knit or ribbed dress of a similar length. It adds class and panache to your look as you stay bundled up.
Oversized wool coats are also great for lunch and coffee dates. Opt for an oversized wool coat and a turtleneck midi dress for a laidback ensemble.
Shop Wool Coats:
8. Denim Jacket
A classic denim jacket is a timeless wardrobe staple that is high on versatility and style. You can get denim jackets in a range of exciting silhouettes, such as casual oversized iterations, cropped numbers, and in-between cuts. These jackets will help you take your style game to the next level while providing great comfort.
For a relaxed and comfortable look in the daytime, style a jean jacket with a ruffled frock—this classic combination is effortlessly chic. You can also create a style statement with jean jackets in belted options and leather trimmings that stand out.
Shop Denim Jackets:
9. Suede Jacket
A suede jacket is a seasonless wardrobe essential that you can wear with dresses year-round. It is especially a must-buy for cold weather to keep your layering game on point. A shorter coat will not conceal your dress or make it look frumpy.
Match your suede jacket with a neutral-colored linen or chiffon mini-dress or a floral midi dress for spring, autumn and winter. Enjoy the right blend of style, functionality, warmth, and comfort with this ensemble. You can also buy fringed suede jackets in different colors to match various outfits.
Shop Suede Jackets:
10. Teddy Coat
The transitional weather months call for extra warmth, and a teddy coat is a great way to stay cozy and comfortable. When wearing a teddy coat, consider matching its shade with your dress. This monochrome styling technique is easy to coordinate, and you can stay very fashionable even as temperatures fall.
This kind of jacket comes back in style every winter. So, you can safely choose it to top up your date night outfit. Pair your teddy coat with a slip dress, mini-dress, or midi dress to create a chic and elegant ensemble—you're sure to stay toasty warm.
Shop Teddy Coats:
11. Camel Coats
Camel coats and dresses are fantastic pieces that you can simply throw on and go. It takes minimal effort to put together a combination that looks fluid and purposeful.
A longline camel coat goes beautifully with a midi dress or a maxi dress. Camel coats also allow you to play with texture and print. Pair a teddy-textured or a faux fur camel coat with a tight-knit jumper dress for a laidback and cozy vibe. You can also use the camel shade to break up a dress with a loud or bold print.
Shop Camel Coats:
12. Cropped Shearling
A cropped shearling jacket is one of the best coats that combines style and warmth. Pair shearling coats with one-shoulder maxi dresses or midi dresses. You can also wear a faux fur coat with a slip dress to take the heat up and level up your winter fashion game.
If you're worried that your legs will freeze with a cropped jacket in the winter, go for knee-length boots to augment a short sherpa jacket.This will ensure that you stay warm all day and night. You can also layer thermal shapewear under your dress or add a short sweater under your jacket for extra warmth.
Shop Shearling Jacket:
The Takeaway
There are many types of jackets to wear with dresses that you can choose from. There is also the trucker jacket and the field jacket that you can pair with any type of dress for style and comfort.
When building an outfit, make sure that you pick elements that suit your body type and personal style. Fashion is all about confidence—as long as you love what you wear, you can pull anything off!
We hope that this comprehensive jacket and dress style guide can help you in your search for warm yet fashionable outfit ideas. Choose one or more of the jackets from the list above and mix and match them with all kinds of dresses to create many combinations.