Today I'm sharing a roundup of cute summer tops with sleeves that cover the upper arms.
Let me first say that it's a personal choice to wear sleeveless tops or to avoid them like the plague. If you love your arms, flaunt them. There is no need to cover them up.
While there is nothing wrong with exposing your upper arms, many women aren't comfortable doing so. Some find their upper arms too skinny, or too flabby, or too fat. Some just don't find sleeveless tops modest enough. Feeling confident in what we wear is a major part of looking polished.
So for those of you who want to look your best and don't care for sleeveless tops, here are 7 casual women's summer tops with sleeves.
Cute and Casual Summer Tops with Sleeves
This soft, breathable top features a flatterning v-neck and elbow length puff sleeves. It's a tunic length in a small dense pattern that would also hide a tummy. Tunic tops are perfect for this. It looks great with jeans, skirts, pants or shorts. The puff sleeves and floral print add a playful, romantic touch.
I'm wearing it in a medium in the brown floral color. (I'm 5'2″, 161 lb and generally wear small to medium tops.) I've paired it with Kate Kasin pleated high waist shorts for a dressier vibe. This top is a polyester/spandex blend that feels like a smooth knit. Complete this look with black or neutral sandals and black earrings.
You may also like: 5 Best Tops to Hide A Belly Instantly
Sandals- Tory Burch; less expensive option; less expensive option
This summer top is made from lightweight, breathable chiffon and features pom poms for added texture. It has a lining to avoid being see through. Dress it up or down for cute summer outfits. It has a flow fit and it's not tight at the bottom like some blouses with little stretch tend to be.
I styled it two ways to show it's versatility.
First, with this white chiffon top and a navy A-line cotton midi skirt, you can create an elegant and stylish outfit that complements your personal style. Flowy summer tops in chiffon will provide an airy and graceful feel, allowing you to move with ease and confidence.
Pair the top with a navy A-line cotton midi skirt. The A-line silhouette flatters many body types by cinching at the waist and gradually flaring out. The navy hue offers a classic and versatile look, making it suitable for various occasions. This Kancy Kole midi skirt comes in several colors and features flat front pockets.
Complete the ensemble with a pair of nude or colored wedges, depending on your preference. Nude shoes elongate your legs, while red offers a harmonious color coordination and fun pop of color. Both options will elevate your outfit and make you feel confident and put-together.
The second option is to pair this top with a pair of distressed denim shorts, fun raffia earrings and brown sandals. It's comfortable and casual option.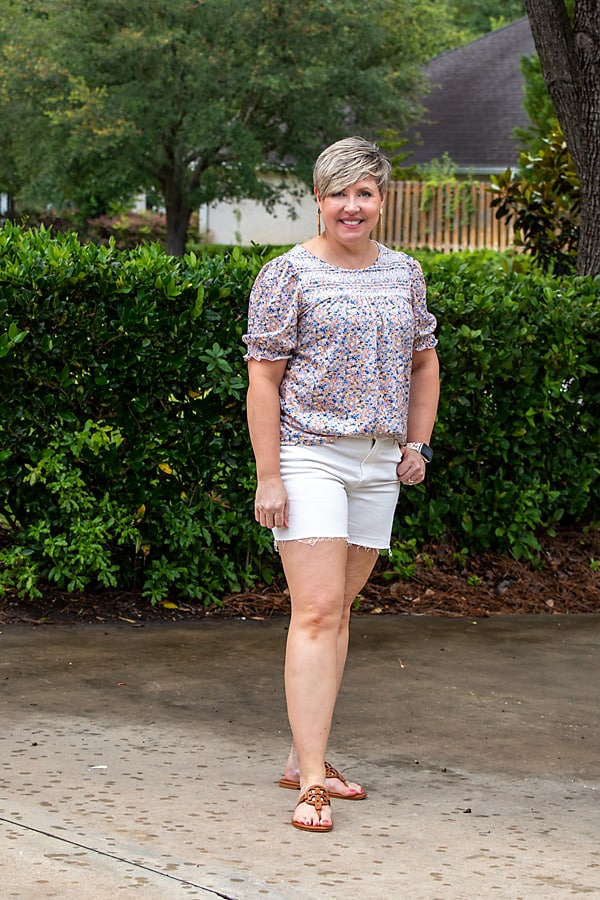 I like to look for tops with a little extra detail for the summer since I likely won't be wearing layers. This one fits the bill with the embroidered top. It comes in solids and prints in a variety of colors. The sleeves provide ample arm coverage and have elastic.
Pair it with denim shorts for a casual look, or pair it with dressy pants or skirts for an elevated casual look. In this casual look, the floral print and embroidery add a touch of femininity and detail to the ensemble.
Pair the top with a pair of denim shorts. Opt for a length that you feel comfortable and confident in, ensuring they are age-appropriate while still maintaining a trendy look. Denim shorts offer a casual and relaxed vibe, perfect for warm weather and a laid-back style. Pair it with white jeans if shorts aren't your thing.
Complete the outfit with a pair of casual sandals that are both comfortable and stylish. Look for sandals with embellishments or interesting details that align with your personal taste. Sandals provide a relaxed and effortless look, allowing you to move freely and comfortably.
Another v-neck floral top with elbow length sleeves for your summer outfits. The v-neck will take the focus away from your arms and highlight your pretty face. This top is a polyester, cotton and spandex blend that's cool and comfortable.
Start with this floral V-neck tunic top that features elbow-length sleeves. This design provides the coverage you desire for your upper arms, while the V-neck adds a flattering touch to the neckline. Floral tops bring a refreshing and feminine vibe to the ensemble.
Pair the tunic top with a cotton A-line midi skirt. Choose a cotton fabric for its breathability and comfort, ensuring you feel at ease throughout the day.
To complete the outfit, opt for a pair of casual low-heel sandals. Look for sandals that offer both style and comfort, with details that suit your personal taste. The low-heel design provides a practical and relaxed feel, perfect for all-day wear.
Loose Fit Eyelet Notch V Neck Tunic Blouse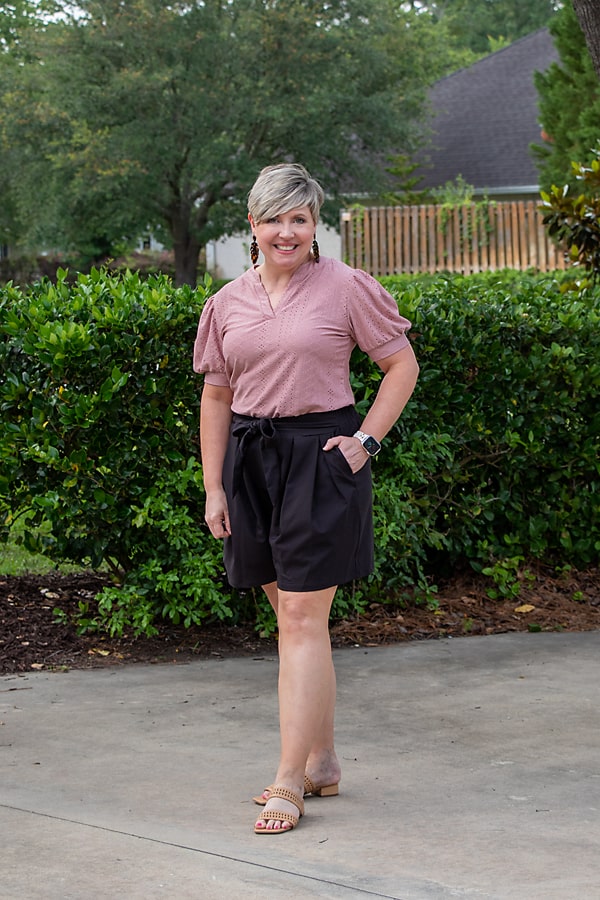 This eyelet top comes in a variety of muted colors and prints, and I love each one. I want it in all the colors. It's a comfortable blend of rayon, polyester and spandex. Pair it with all the neutral bottoms in your closet- khaki, navy, black, grey, olive or white. Pair it with neutral printed bottoms.
This top is paired here with black pleated tie waist shorts, statement earrings and casual low heeled sandals for an elevated casual look. Wear this to lunch, brunch, dinner, a summer baby shower, or other occasion.
Swiss Dot Lace Trim Top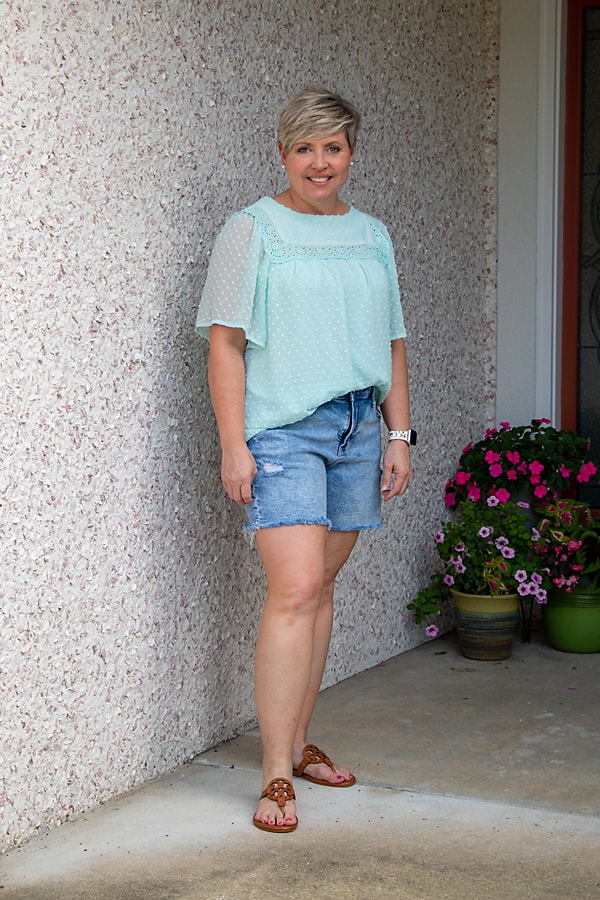 This top is another one that is perfect for dressing up or down. The loose longer sleeves provide upper arm coverage while still keeping you cool. This exact top is no longer available but this one is close in design, as well as this one.
For casual summer vibes, pair it with denim shorts and casual sandals.
This pretty floral tie neck top from Loft also provides ample upper arm coverage. It's 100% cotton to keep you cool in summer and pairs beautifully with jeans, shorts or skirts.
Pair the top with a pair of wide-leg jeans. The wide-leg silhouette offers a relaxed and chic look, providing both comfort and style. Opt for a high-waisted design to accentuate your waistline and create a flattering silhouette. The jeans can be in a classic denim color or a lighter wash, depending on your preference.
For footwear, choose platform espadrille sandals. The platform height adds a trendy and modern element to the outfit, while the espadrille detailing brings a casual and summery feel. The sandals provide both comfort and style.
For those of you who want to rock that confident and polished look without going sleeveless this summer season, consider the options above. These seven casual cute summer tops with sleeves will have you feeling and looking your absolute best. Summer tops are available in an array of style to fit your preferences for the warmer months.