Hello July! I need for time to slow down. It's already time to link up with Tanya and share Prime Purchases again.
Besides our usual subscribe and save order of snacks and beauty products, I purchased a few clothing items (mostly skirts) for my summer wardrobe. Let's get to it.
Amazon Essentials bottoms tend to run small for me so I sized up in this skirt (12). Denim skirts are trending this summer, and I like wearing casual skirts in the summer as much as I do shorts. My older denim skirts don't fit (yikes! maybe I didn't size up all that much?) so I added some new ones to my closet. Some of the midi denim skirts look a bit frumpy on me (I'm 5'2″) but I'm pleased with the length of this one. Knee length is perfect to me.
Maybe I'm being too picky here, and I'm really okay with mixing metals (silver and gold) but since I've been wearing silver jewelry more often lately, I decided I needed sunglasses with silver hardware instead of gold. I ordered these sunglasses from Amazon prime and I love them. I ordered the black and they cut the glare nicely. They aren't too dark, but I do find myself slipping them off to read my phone screen inside a vehicle. They fit well and I'm not really into oversized sunnies but these aren't too over the top.
Twist, wrap or knot midi skirts are also trendy this season. When I want to add a trend I'm not sure of, I often turn to Amazon for a less expensive alternative. I ordered this skirt and this one, and finally settled on the Kate Kasin skirt pictured here. I may order the other skirt in a different color as an option for work. It was a tough decision between the two. Instagram stories voted for the wear to work option and Facebook group voted for this one. I decided that the slip made this one a little more summery and easier to dress up and down. The slit looks a little less frumpy with flats.
The purse is a fun pop of color, but it's so small it will only hold a small set of keys, an I.D. and a phone. My basics include two phones – one for work and one personal, plus credentials, so I always need a slightly larger purse. This one is going back.
I bought a couple of these skirts a few years ago and returned them. I have regretted it ever since. They work for my height (I knotted it in the pic for wearing with flats and running errands, but if I'm careful I can wear it with flats without knotting it), and they are breezy and cool. I ordered this very neutral navy dot print for the summer. It goes with everything.
purse; sandals- option; option
This loose woven blouse skims the body and is great for hiding a tummy in a print like the navy print. This top is super comfortable and I'm making use of it for work and off duty.
Purse- similar
Prettywear Midi Skirts for Women Floral Printed Flowy Ruffle Wrap Skirt with Knot Side
Midi skirts can be tricky for petites, but this high/low wrap keeps you from looking cut off in the wrong place. My closet is lacking in skirts and I've been limping along with the same navy print skirt for a few years, so I decided to add some skirts for the summer. This flirty little number can be dressed up or down. Wrap skirts can be tricky too but this one has plenty of front coverage so you don't have to worry about your skirt blowing apart in the wind.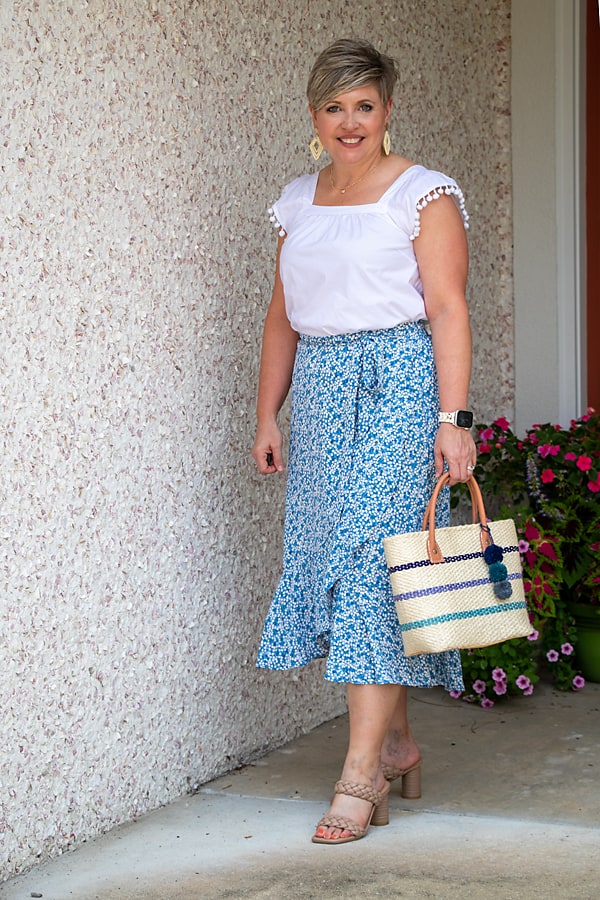 I believe these were available at DSW but I found a better deal on Amazon. They are featured in the Everyday Style summer capsule and I just can't resist a colorful summer sandal. They are also comfortable, which is becoming for imporatant to me than cute, but when a pair of shoes is both, it's a win!
Looking for a lower sugar protein bar? These have less sugar than our go to Rx bars, so I decided to give them a try. All the flavors were good, so we will be reordering these.
What I Read in June
I'm still working on the novel I started, but what I did read I bought from Amazon.
I Quit Sugar: Your Complete 8-Week Detox Program and Cookbook
This book is motivating me to watch my sugar intake. It had gotten way out of hand, even with "healthy" food. I tend to overeat fruit, which can drive up sugar intake.
Just Your Type: The Ultimate Guide to Eating and Training Right for Your Body Type
I'm an endomorph body type. This book was spot on in affirming what I already know- I need to moderate carbs and sugars and keep a balance of cardi and strength training in my routine. I had let the cardio take a back burner to strength training but that's not working for me so I've increased my cardio and getting back into running.
Both books are great reads for putting yourself in check and making sure you are doing the right thing for YOUR body. No diet and exercise program is a one size fits all deal.
Prime Days are a comin'! These are the most epic shopping days on Amazon Prime and they are happening next week July 11-12. Get prepared now by making sure you are a Prime member. Start a wish list and add to it all the things you are interested in so you can quickly find them and see if they are on sale.
Find all of my Amazon product reviews under the tab up top "Amazon Purchases." Be sure to check out this list of Amazon favorites.