Fall has always been a fun time to refresh your wardrobe. Fall work outfits for 2021 are even more refreshing this year after a year of teleworking and sweat pants.
Preparing my fall wardrobe has always been reminiscent of back to school. Back to school was a welcome time for me because it meant a shopping trip and new clothes. My parents didn't have a large income, so I typically got clothing at back to school, Christmas and birthday. As a teenager, I relished those trips to a large mall. I think I hit every fashion trend we've seen lately from 13 to 20- neon, jumpsuits, rompers, oxfords, faux leather, shackets ( I took one of my grandaddy's red flannel shirts in my early 20's and it still hangs in my closet. It was part of that 90's grunge phase), platform shoes, and more. I could go on and on. Remember acid wash jeans?
After graduating college and entering the work force, work outfits became my fashion outlet. Even though I wore skirts in high school and dressed up a lot more than some girls, dressing for a professional office environment was a whole new game.
Just when you think you've gotten your wardrobe streamlined and set, the seasons change. Or the trends change. Or both. A change of seaons can create a little bit of stress, right?
Throw in the fact that many have been "out of office" for over 18 months and are just making the return to a more structured enviroment, and the stress increases. The question arises- what to wear to the office in the fall?
What to wear to the office for fall 2021?
Dressing for the office in the fall doesn't have to be complicated. It's one of my favorite times because the temps drop a bit and layers are more comfortable. Adding a third layer always polishes off an outfit whether it's your work wear or casual outfits.
Having a few basic items in your work wardrobe will make creating work outfits easier. A black and/or navy blazer and black pants are a few items I heavily rely on for work. Think black is boring? Check out Black Doesn't Have to Be Boring (or Scary) for 15 ways to wear black pants to work.
From there, a few elevated basics can help level up your work wear. Think about adding patterned blazers, printed pants, and on trend basics like loafers or mules with chains.
For fall work wear, your basics can be refreshed by pulling in fall colors. This year the trending colors for 2021 are bold, optimistic, and bright. Incorporate them into your work wear and announce your return to the office.
Here are five fall work outfits for 2021.
Navy blazer + navy plaid pants + solid fall color top+ chain mules/loafers
I've had these plaid pants and the navy blazer for years. I've even had a similar colored top for a few years but it was in need of replacing. Enter this v-neck top in adobe (orange). It worked out to be the perfect replacement to my old top. This look has been one of my go to fall work outfits for several seasons, but I brought it into the current season with the addition of chain mule loafers and the circle belt, which remains trendy.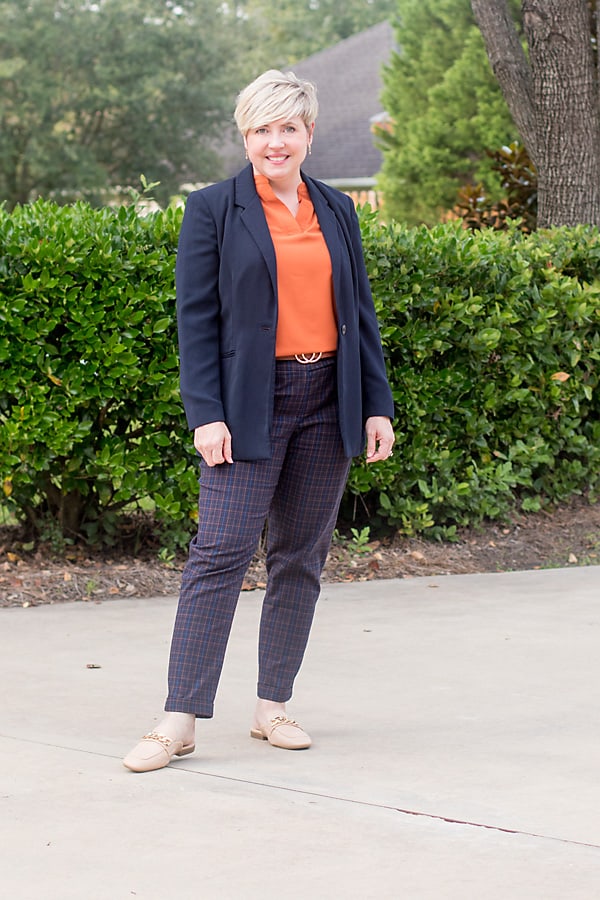 Pants- Loft (old); similar; blouse- Amazon; blazer- thrifted; similar; shoes- Amazon; belt- Amazon
Gingham blazer + solid fall color top+ black pants +loafers
The basic blazer becomes an elevated basic in prints like gingham or houndstooth. I think of gingham for summer, but dark ginghams like black and navy are great for the fall too. Include some patterns in your fall work outfits to keep them fun.
Blazer- Banana Republic- similar; blouse- Lark and Ro; pants- Ann Taylor; loafers- old- similar
Rust/adobe blazer+print top+navy pants + nude shoes
Rust and navy make a great pairing for fall work outfits. The structured jacket is still professional in a bold fall color. Adding a print top in fall colors is also an easy way to bring fall to your office outfits.
Accesories like this tote in bronze are also another way to make your basic pieces seem like fall pieces.
Pants- Loft/old; Blazer-old; option top- Loft; shoes- similar; belt- Amazon
Plaid blazer+ fall color top+navy pants+ mule booties
A plaid blazer screams fall! Pair it with your work wear basics for a stylish fall work outfit. I made this look a little more trendy and modern with the mule booties. This type of shoe works well with trouser leg pants so you can wear your fall boots and booties to work.
Blazer- thrifted; top- old; pants- Loft; shoes- Kohl's
Black blazer+ print top+ fall colored bottoms+loafers/ black shoes
Don't forget to mix it up and wear your fall colors on the bottom. Ground the look and keep it conservative with a black blazer and black shoes.
Blazer- Old; top- Nordstrom; pants- Loft; shoes- Dr. Scholl's
If you are heading back to the office this fall, use these five fall work wear outfits to jump start your outfit planning.