Hello and welcome! I moved this week's Fashion A to Z to Wednesday because Monday was the regular Monday for 9 to 5 Style. We are all the way to "P" and what's more fun than polka dots!
Polka dots are slated to be a hot spring trend this year, and that's one I can get on board with. Polka dots are really classic, but sometimes the fashion industry takes a classic and makes a big deal out of it to call it a trend. Either way, I'm totally on board with polka dots. And yes, women over 40 can wear them. I've seen advice before that says they are too girlish or should be saved for children, but I disagree. It's all about the type of garment and the cut and fit of the garment that make it age appropriate or not, rather than the pattern.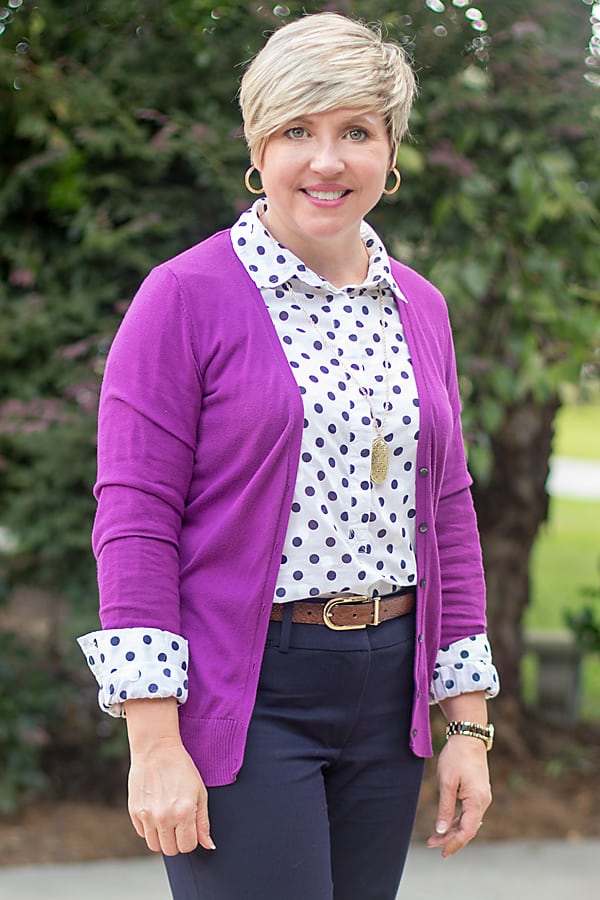 The term polk dot appeared for the first time in women's lifestyle magazine Godey's Lady's Book in its 1857 issue in reference to a scarf. Spotted prints went by a host of other names before being called the polka dot. It's thought that the term is derived from the polka dance.
Initially polka dots were not associated with something so fun as a dance. Before there were machines to produce even patterns, the erratic dots reminded people of rashes and the plague. Then the dance changed everything. Polka dots became common on clothing in the late 19th century in the United Kingdom and the polka dot dress has never really gone out of style.
It was the early 1900's when America was introduced to polka-dotted fabric. Once it was, its popularity spread like wildfire.The print first came to the attention of the public eye in American fashion when Miss America of 1926 was photographed in a polka-dotted bathing suit. Then Minnie Mouse donned a cute polka dot dress with bows. in 1940, Frank Sinatra sang about them with his ballad "Polka Dots and Moonbeams". On and on it goes.
Polka dot are easy to wear with solid pieces, but make for the best pattern mixing! Pair them with florals, stripes, or even plaid in the same color pattern.
Jumpsuit- Amazon
Do you love polka dots?
Shop the pattern: