Easter is a special time of religious celebration. It's also a time for family gatherings and fun activities like brunch and egg hunts. The Easter holiday presents lots of photo opportunities, so you want to look your best.
Whether you are looking for something to wear on Easter morning, to a Good Friday religious service or something for a more casual brunch look, we've got you covered with the best Easter outfits for all of your Easter activities.
Easter generally follows the start of spring, so there are plenty of options. You can go with a classic outfit of pastel colors, or embrace some of the trends of the spring season in bold colors.
How to Dress For Easter: Easter Outfit Ideas
What to Wear to Easter Sunday Church Service
On Easter Sunday, most people opt for more formal attire than their normal Sunday wear, but it's not as much of a tradition as it used to be. Getting a new outfit for every member of the whole family was a tradition for Easter when I was a little girl. As an adult, I've opted for one new piece or new pair of shoes that would work with my existing wardrobe and create a "new" to me outfit, rather than buying a new dress or an entire new outfit.
If you aren't certain about a dress code for a particular church, call ahead to the church office and ask. Our church does not have a dress code and casual attire is fine even for Easter Sunday service. Even with a casual dress code, I'd recommend skipping the graphic tees and distressed jeans on this day.
Easter Dress Outfit
A dress is a perfect choice for Easter Sunday services. Maxi dresses and midi dresses make an excellent choice for Sunday church services.
Choose modesty and leave the super short mini dress for another occasion. Easter Sunday church service should be celebratory but reflective and a little reserved, so dress the part. Don't wear anything revealing or distracting to others attending the service.
See also: 7 Spring Dresses For Women Over 40
This smocked ruffled midi dress is perfect for Easter and for the romantic. The waist is defined with smocking and delicate ruffles trim the body and cap sleeves. Complete this outfit with on trend braided sandals, pearl jewelry and a crocheted cross body bag. The right accessories enhance the look, but keep the focus on the dress. This neckline doesn't need a necklace, so opt for a bracelet.
If the weather is still cool, add a cropped cardigan for church or make this a more casual look for brunch with a denim jacket.
Midi Skirt Outfit
Dress for Easter church services in a midi skirt in a floral print and a pretty white blouse. Coordinate a colorful pair of heels with your skirt.
Closed toe shoes are often a must for cooler climates but have you can have fun with the color. A trench coat can help keep you warm going to and from church.
You can also incorporate some fun accessories to round out your outfit. Opt for a classic pair of pearls or a simple dainty necklace. Top it off with a pair of studs or a statement earring. These drop pearls make a simple statement. This way, you'll enter the church with style and grace without distracting from the ceremony.
Maxi Dress Outfit
Dress- Amazon; similar; blazer- similar
A floral maxi dress topped with a blazer is always an elegant choice for Easter. This combination is perfect for the season, as the floral print captures the bright hues of the season, while the blazer lends an air of sophistication to the ensemble.
To complete the look, add some fun earrings, or a stylish hat or headband. Whatever way you accessorize, you can be sure to look your best for whatever Easter celebration you attend. Plus, you'll love the fact that you can wear this same look throughout spring and summer.
Even petites can rock this look. I'm 5″2. Be sure to check out these tips for wearing a maxi dress if you are short.
Dress Pants Outfit
If dresses are just not your style, a pair of dress pants and a pretty blouse make a nice outfit for Sunday or Good Friday church services. This outfit is a perfect option for how to dress for Easter with pale yellow dress pants and a seafoam green cardigan and coordinating top. Complete it with a pair of sandals with a low heel.
Outfits for Other Easter Events
Casual Dress Outfit
While pretty pastels always work for Easter, you can take a more modern approach with bright colors. This above the knee A-line dress from Target comes in one of spring's most trending colors. It's not too short and can be worn for Easter brunch or and egg hunt. Add more color with a hot pink bag and earrings. The pairing of vibrant colors make the most fashionable easter outfits.
If it's cool out, top it with a white denim jacket. If you need to chase little ones or help them fill easter baskets with eggs and prizes, swap the sandals for a pair of white sneakers.
Wide Leg Jeans Outfit
Hunt Easter eggs in style and on trend with wide legs jeans and three-quarter sleeve blouse. Complete the look with strappy espadrille sandals.
Last, but certainly not least, don't forget a basket! Consider a tote bag with a fun, eye-catching pattern or a bright-colored wicker basket for a classic look — it's a fun way to add a unique touch of your own to the event.
White Jeans Outfit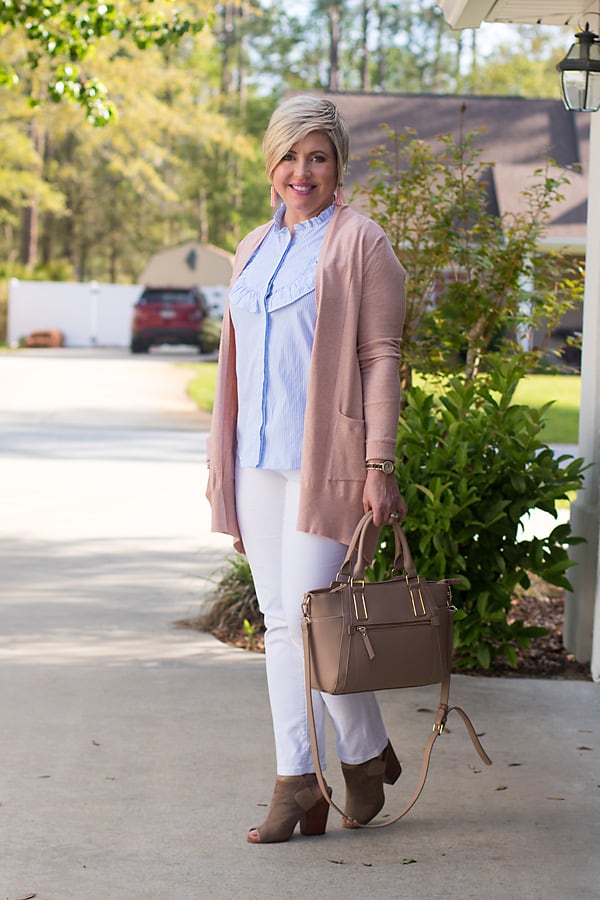 White jeans paired with a sky blue pastel top and pink cardigan also make a great outfit for Easter brunch or other Easter activities. If heeled booties aren't practical, wear this with loafers or mules.
Dressing for Easter is a festive and fun tradition that allows you to express yourself through fashion. Whether you prefer bright, bold colors, classic and timeless styles, or something in between, there are countless ways to make a statement that is uniquely you this Easter. With some thoughtful planning and consideration for your environment, you can have an outfit that is both stylish and seasonally appropriate.
As you dress for this special occasion, remember the importance of being comfortable and confident. Celebrate the holiday in a way that is true to your personal style and make this Easter a memorable one. After all, you only have one chance to make a first impression!