I love it when old and new come together perfectly. This gingham skirt from this season pairs so well with this bow tie tee I've had for a few years.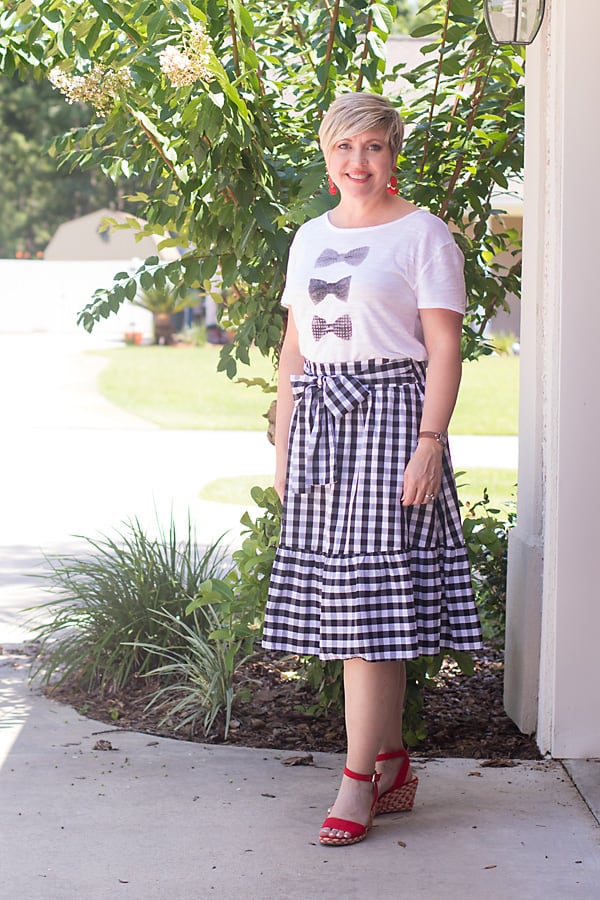 Pin
Pin
Pin
Pin
Disclosure: This post contains affiliate links. I receive commission for clicks and purchases made through them.
T-shirt- Banana Republic (old) option option
gingham skirt- JCrew Factory
More skirt options
earrings- Amazon
I wore this skirt before with a solid blouse, but a skirt almost always pairs well with a t-shirt, and even better with graphic tee. Stay in the same color family and you can pattern mix a gingham skirt all day long!
I tried not to buy these sandals last year, but after leaving them and thinking about them constantly, I went back and got them. I'm glad I did because they have seen a good bit of wear this year and they make me happy. Do you have shoes that just make you happy?
Happy Friday! How is it August already? Oh well, no need to fret about it, just embrace it and move forward.
Here are five thoughts for the Five for Friday:
1.Since it's a new month, I've declared it a personal no spending month. Well, sort of. I will spend money on groceries, gas and necessities. However, I will not be making any new clothing, shoe or beauty purchases unless it's a product I've been using regularly and run out of or see a great sale on this month.
Likewise with clothing, there are a couple of work related items on my wish list and since I know I will wear them regularly, I will allow myself to purchase them if I find them at a great deal. One is actually a replacement for a current item- my cobalt blazer has some sort of stain/discoloration on the collar so it needs replacing. Have any of you ever done a no shopping or spending month?
2. In the same spirit of not spending, I'm on a kick to clean out/eat out the pantry and freezer before I grocery shop. Of course I will have to buy a few perishables here and there, but my goal is to eat what's there before I stuff more in.
We may be eating some interesting meal combinations before this is over. So far this week it's been pretty normal. I've had lots of tuna in my lunches and we had baked oatmeal for breakfast, which used some oatmeal from the pantry and frozen fruit from the freezer.
I also made a granola cereal with some nuts on hand in the pantry. We had fajitas for dinner one night and took care of some beef steak and frozen peppers from the freezer. Would you guys be interested in hearing about how this goes? What meals we make from what's on hand vs. what we had to purchase?
3. My niece asked for a Christmas wish list this week. What?! I guess she does have a point, it's 145 days or 20 weeks. Do you start shopping this early? I like to wait until November.
4.We are in the final days of the Nordstrom Anniversary Sale. Shop through Sunday. Here are some picks still in stock under $50. Check out the rest of my picks here.
5. Guess who else has put new items on sale? Cents of Style has brand new tops on sale for $22.95+ FREE SHIPPING. Use code FRIDAYTOPS. Why did I pick August as a no shop/ so spend month? Look how cute these are.
Pin
Pin
Pin
Hope you have a great weekend!