Do you prefer skirts or shorts for your summer attire? I keep both in my wardrobe, but if I'm not going to be doing any bending or climbing, I'd rather grab a skirt. Skirts are so breezy and cool and they can be dressed up or down.
Shorts are sometimes more practical, but I find them uncomfortable. They tend to be snug on my legs and they want to crawl up when I walk. (#thunderthighs) Nonetheless, I find them a necessary evil. Since I'm debating this issue with you- skirts or shorts? – I styled the same top, shoes and accessories two ways- one with shorts and one with skirts. The only thing that changed in each outfit is the bottoms.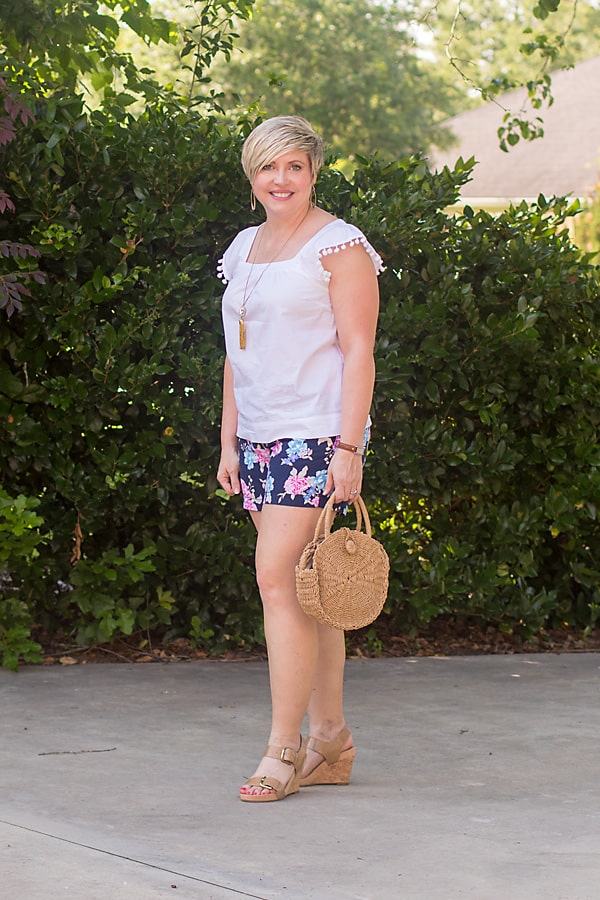 Disclosure: This post contains affiliate links. I receive commission for clicks and purchases made through them.
Top- JCrew Factory option option
shorts- Old Navy option option
necklace- JCrew Factory option option
earrings- option
round straw bag- Amazon
I styled my shorts outfit with a floral print pair of Old Navy shorts. I've had this pair for a few seasons, so they don't have them anymore, but they always have the most fun summer prints in shorts. These would be so cute with the white top.
I styled my skirt outfit with this floral print skirt from Loft. You may remember it and my top from my online shopping haul session. I cannot say enough good things about this skirt. It's a pull on style with an elastic waist. Go eat all the ice cream you want! No one will never know, at least not in this skirt. Putting on a bathing suit may be a different story.
Top- JCrew Factory
shoes- Aerosole
necklace- JCrew Factory option option
earrings- option
bag- Amazon
So, skirts or shorts? That is the same outfit- white top+floral bottoms+neutral wedge. It has a different vibe with each of the bottoms but it is essentially the same outfit.
Happy Friday!!!! It's time for Five on Friday.
It's officially summer. Summer, oh summer. That means hot, humid and instant sweat in places that should not sweat for me. Check out these 9 alternative uses for deodorant.This article doesn't mention it but deodorant is great for the bikini line too to keep you dry and prevent razor bumps after a fresh shave.
2. I guess you noticed I jumped on the straw bag bandwagon. It's pictured above. I got mine from Amazon. It has a shoulder strap but I tucked it inside for the photos above. This one is pretty roomy and I can carry both phones (work and personal), keys, compact, lipstick and sunnies.
3. I got some blood work done yesterday as part of a wellness check. I'm not good about going to the doctor but I decided it was time to get some general lab work done. I hate having blood drawn but the girl who did it was so good I never even knew she stuck me, and I have no bruising!
4. My most recent purchases include a Loft haul. I pulled the trigger and got the tee, shorts and hat from this post. I also got this kimono and this top. Outfits coming to a blog near you soon!
5. Don't miss the Cents of Style deal this weekend, especially if you are looking to get something cute for the Fourth of July. All of the Fourth of July stuff is buy one get one free! + FREE SHIPPING! Code is FREEFRIDAY. Until June 30 you can also take 30% off $100 purchase with code JUNE30. I don't know if the both codes work at once, but either deal is awesome.
Have a great weekend!