A romper (or jumpsuit) is a great piece to have around for easy, one and done dressing. It provides the same ease of a dress but more comfort for those who don't like dresses, or for whom dresses aren't practical. Here are five ways to style a romper. A couple of these ways will take you into fall and you can even substitute a full length jumpsuit for the romper for fall.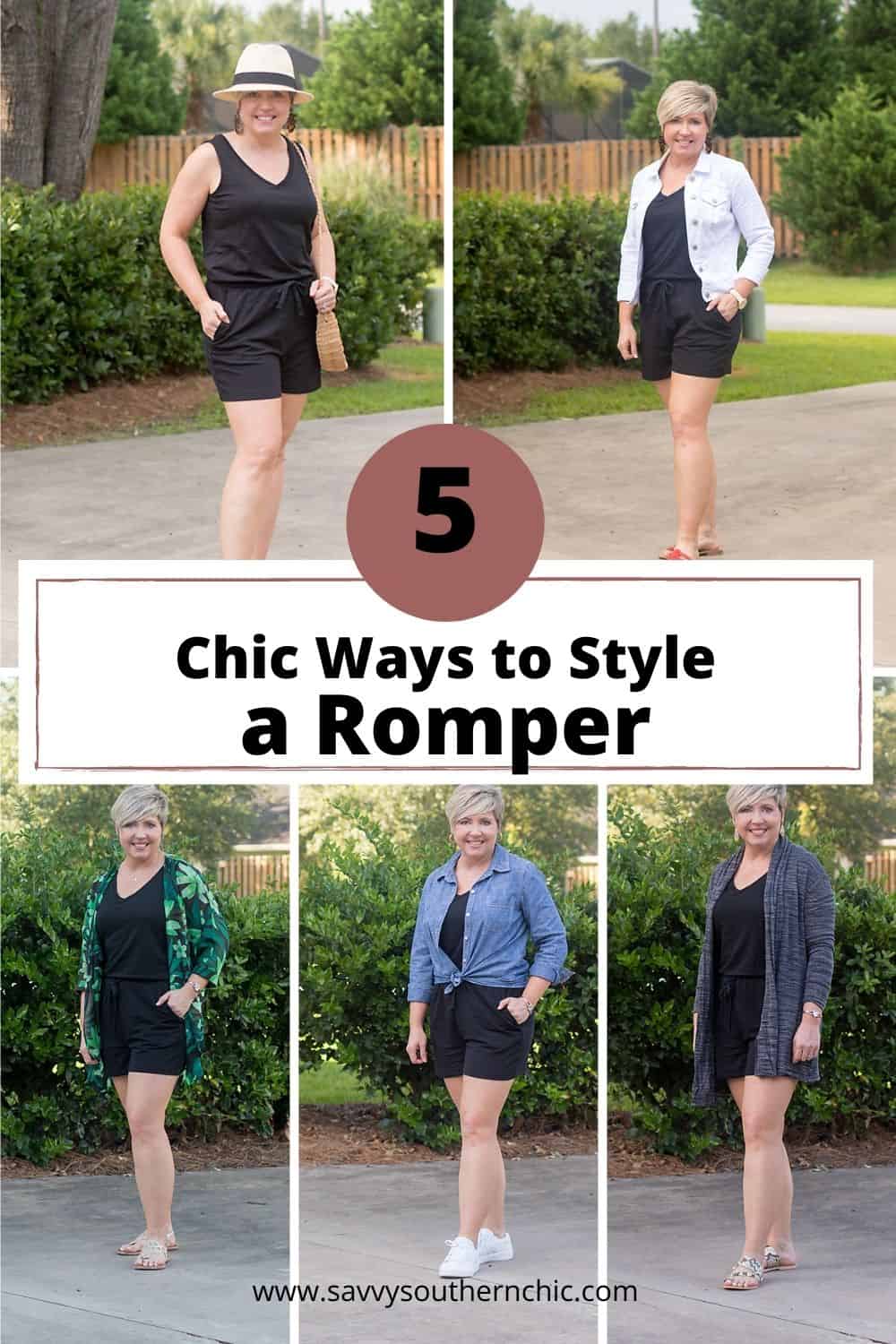 I've styled a black romper from Amazon but you can substitute any color romper you wish. I have really enjoyed lounging around in this romper this summer and would quickly throw on another light layer and run errands in it. It's currently unavailable but there is a romper and jumpsuit in my next favorite Amazon brand, Daily Ritual.
1 Romper + accessories
Just wear it. Add an accessory like fun earrings and a hat to keep it from being too plain. Add some cute sandals like these leopard print sandals. The solid black allows you to play with accessories and shoes and use those pieces to make a statement.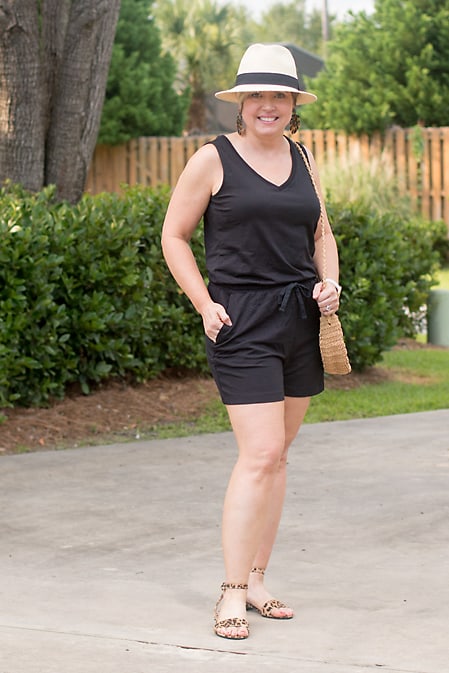 2 Romper + Kimono
A kimono is the perfect summer layer for a romper. Deciding how to style a romper is a breeze with a kimono. A solid color romper allows you to wear almost any kimono you can think of, regardless of the pattern on the kimono.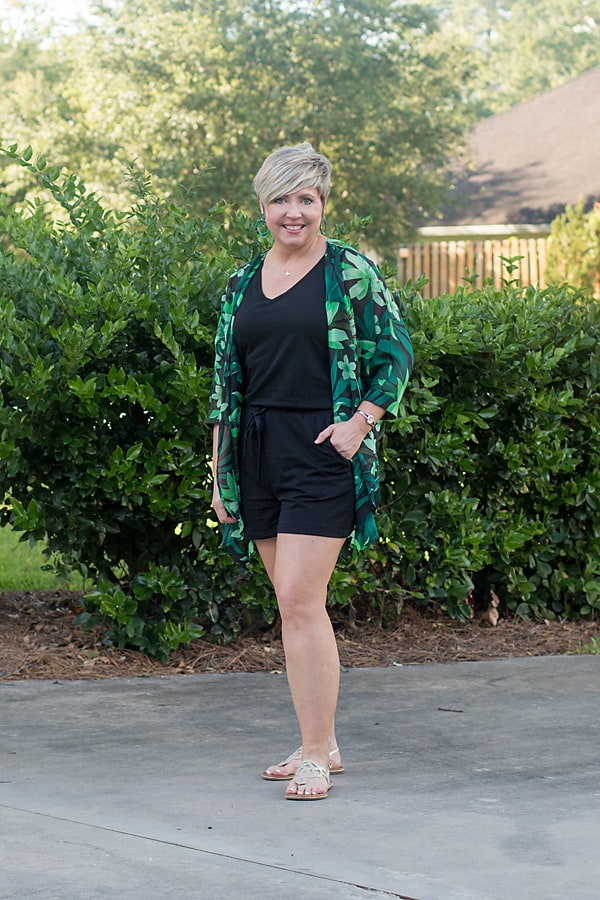 3 Romper + Denim Jacket
If white is too summery for you once fall gets here, switch to a blue denim jacket. You could even switch the sandals to a sneaker or bootie to make this look more appropriate for fall.
4 Romper + Chambray shirt + Sneakers
Throw on a chambray shirt and knot it at the waist. This is an easy way to style a romper for fall. You could also swap the chambray shirt for a plaid shirt to get all the fall vibes.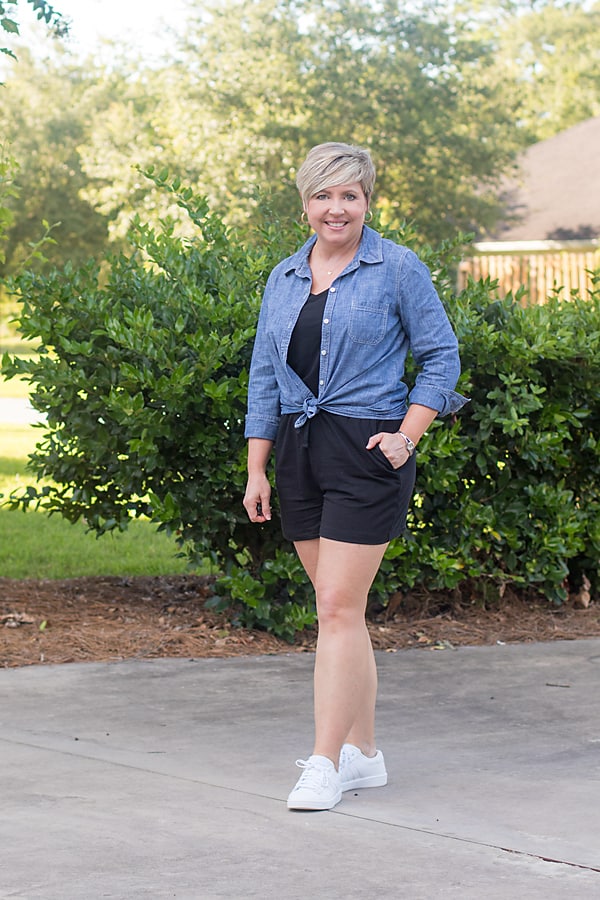 5 Romper + Cardigan
I'll definitely be wearing this cozy combo when the temps drop a little here. A cardigan gives the romper all the fall feels.
All of these looks are pretty casual looks. Reach for a romper as an alternative to shorts and a tee for your next adventure or outing. Substitute sandals for booties for easy fall looks.
You may also like 17 Stylish Ways to Wear a Striped Tee This Fall
DON'T MISS OUT!
Subscribe to my daily feed or to the weekly newsletter to get each post as its posted or a link to the each week's posts along with exclusive subscriber content in the weekly newsletter. Make sure you check your junk email after you subscribe and add me to your email safe list.