A striped tee is an item I consider a closet staple.
It's one of those basics that makes building an outfit so much easier. Day to day dressing is pain free with the right mix of basics. Solid tees also have their place with closet staples, but stripes add a little more interest. If you don't have one, consider adding a striped tee to your closet now. It's life changing!
Need convincing?
Here are 17 ways to wear a black and white striped tee for fall.
Beige cardigan+ tee+ olive jeans +sandals A perfect outfit for early fall when you can still wear sandals.
Black cardigan+tee + skinny jeans+loafers I've always worn these loafers to work and never worn them with jeans, but after putting this together you can bet I'll be wearing these loafers with jeans this fall.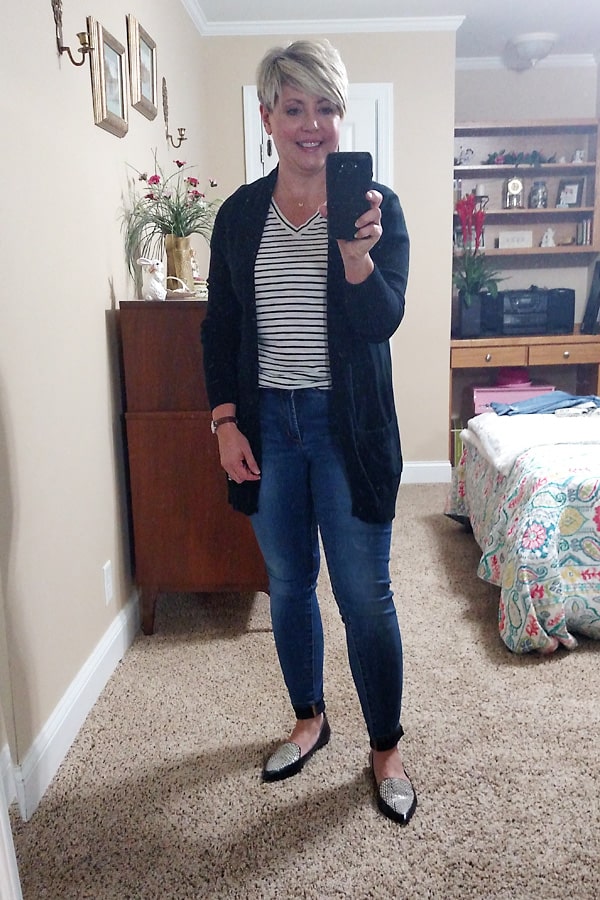 Moto jacket+ tee+skinny jeans+booties- Take the outfit above from day to night with the swap of the jacket and shoes. Hello date night!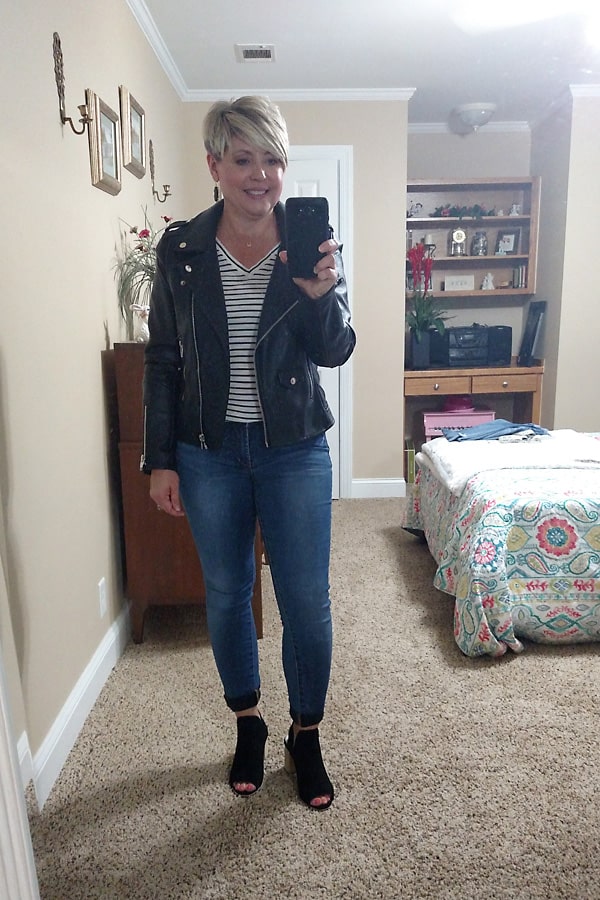 Grey cardigan+ tee+leggings+sneakers A super comfy weekend outfit
Black cardigan + tee+ grey jeans + loafers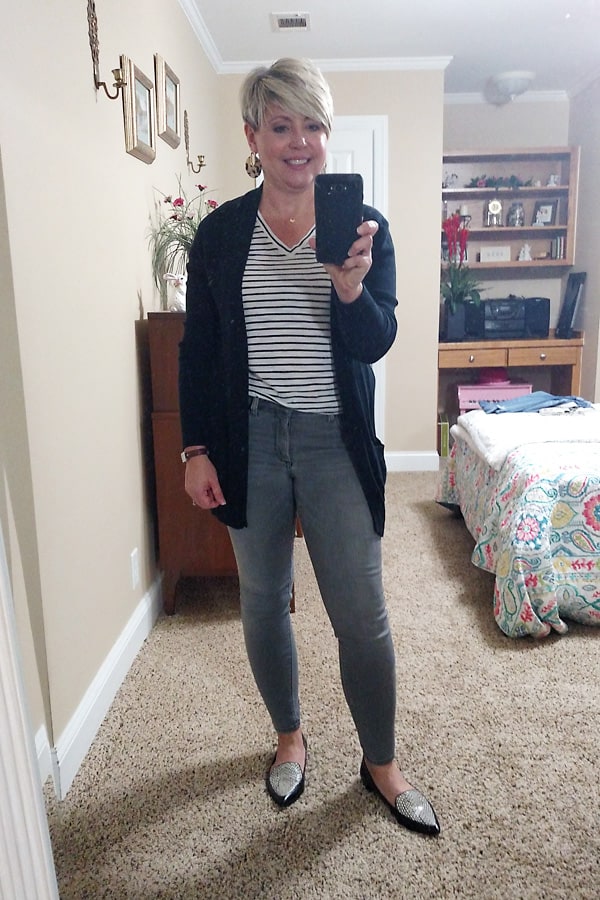 Maroon cardigan+ tee+skinny jeans+booties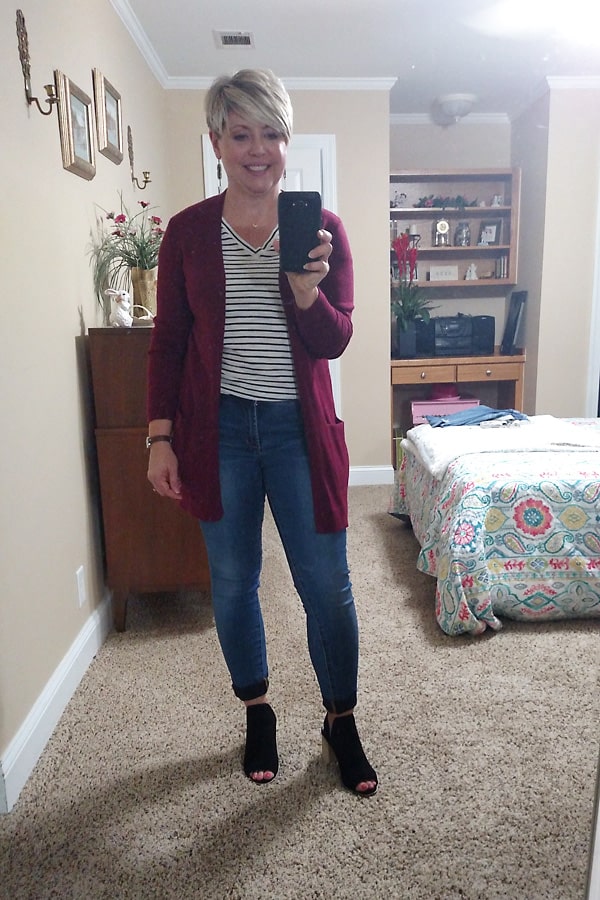 Beige cardigan+ tee+skinny jeans+leopard shoes– Choose flats or sneakers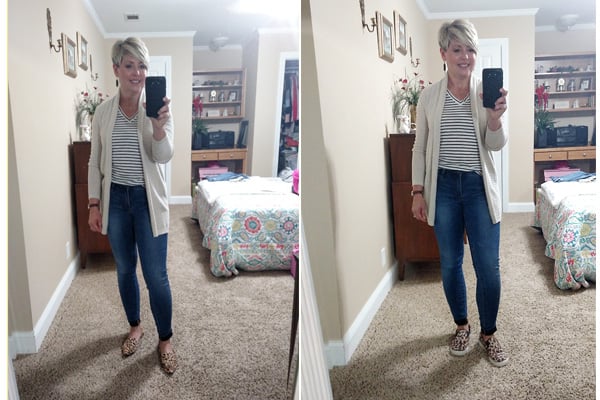 Black moto jacket+ tee+grey jeans+ booties
Taupe moto jacket+tee+skinny jeans+taupe booties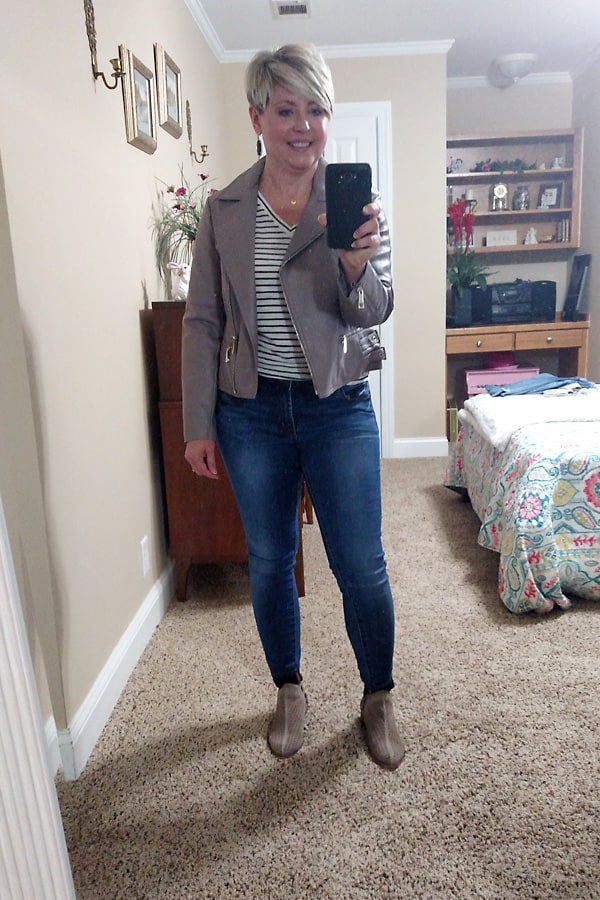 Taupe moto jacket+tee+olive jeans+taupe booties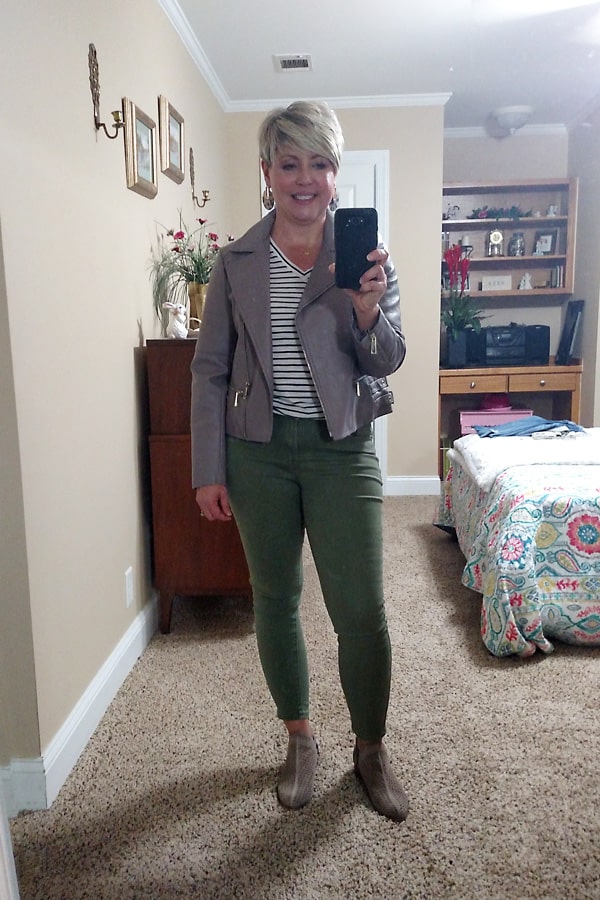 Maroon cardigan+tee+boot cut jeans+leopard booties+scarf- Don't be afraid to pattern mix with your stripes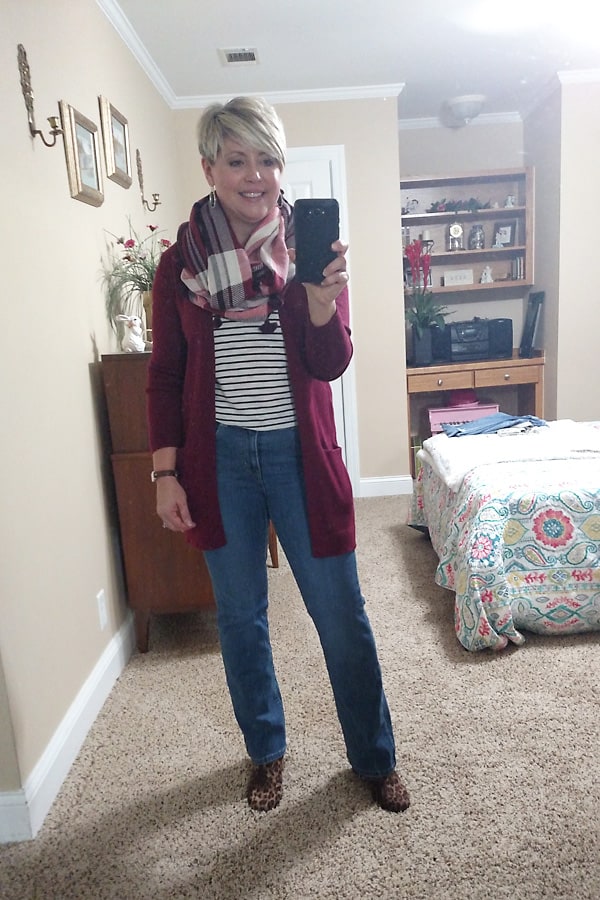 Maroon cardigan+tee+black jeans+cognac booties+scarf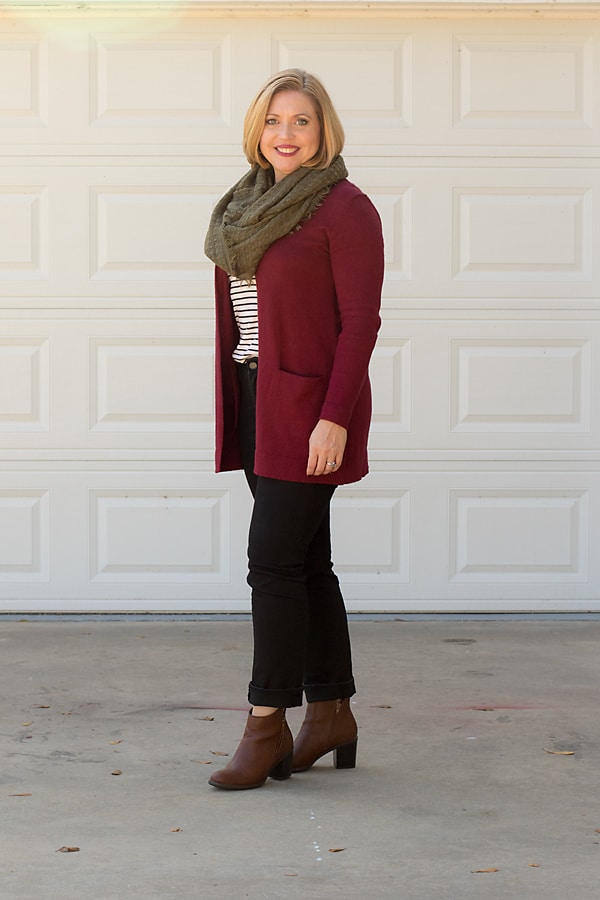 With Utility jacket+boot cut jeans+sandals (heels) Add a pop of color with your shoes.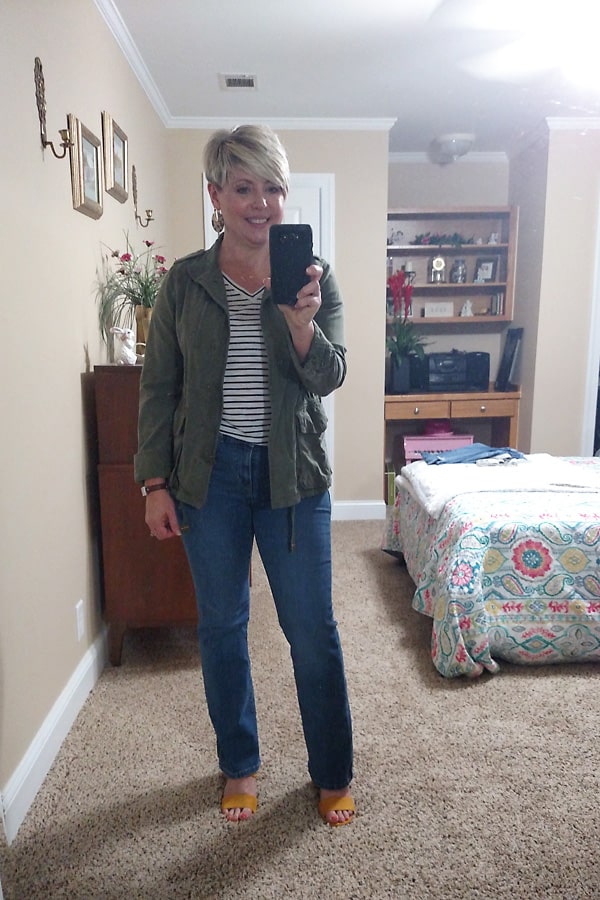 Red blazer+striped tee+grey pencil skirt- Take your tee to the office with a blazer and pencil skirt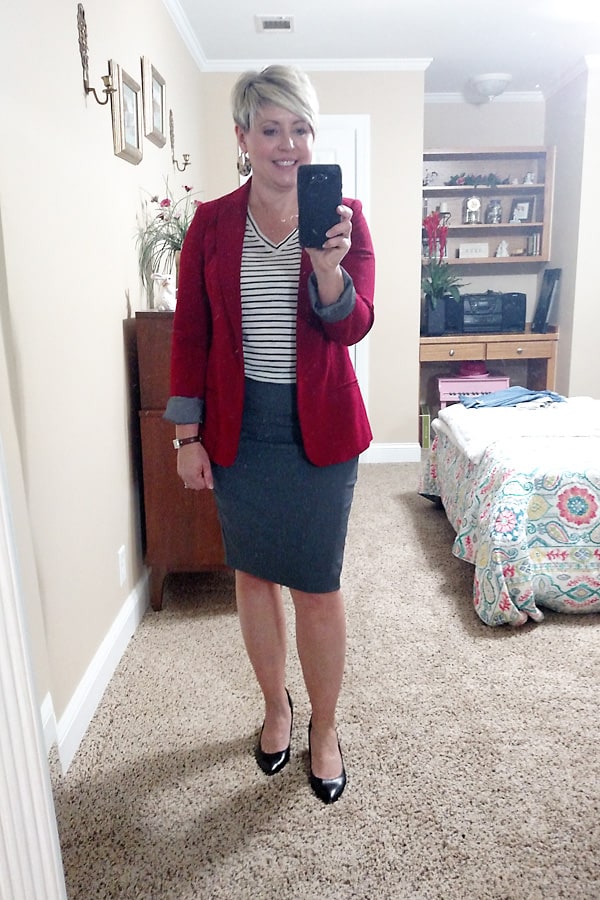 Black blazer+tee+khaki pants+leopard flats- Another work appropriate look for a casual office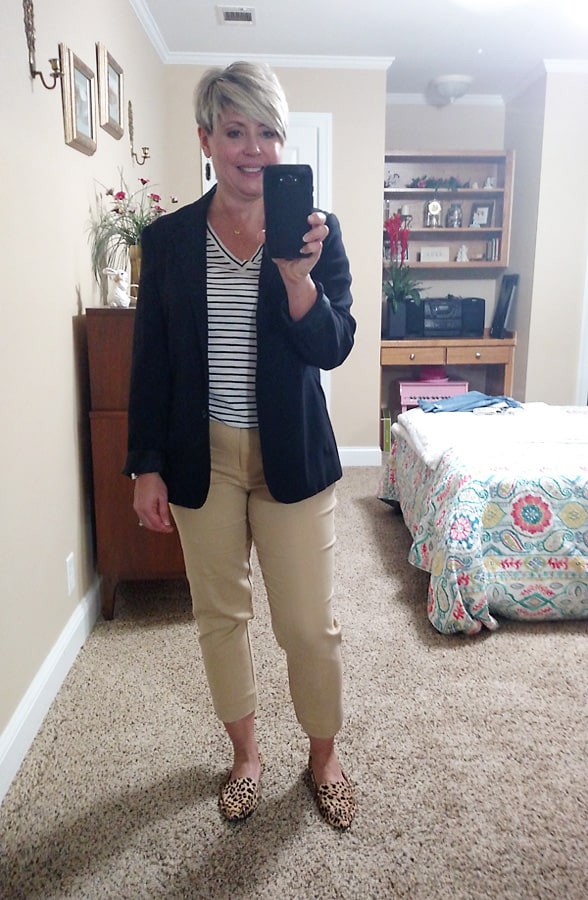 Moto jacket+tee+floral skirt+booties- Dress it up and pattern mix with a floral skirt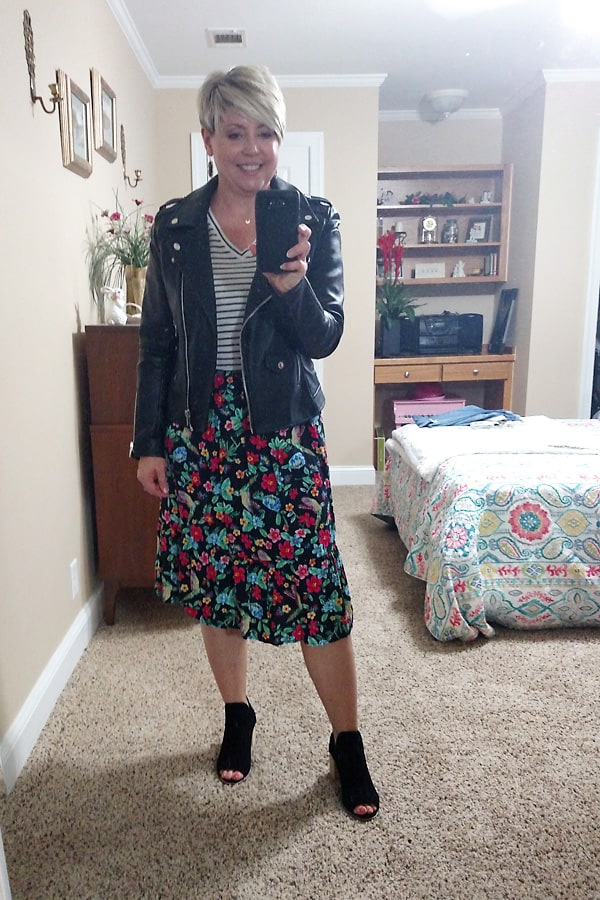 Denim jacket+ tee+joggers+sneakers- Add some interest to your weekend atheleisure with a striped tee
I can think of still more ways to wear a black and white striped tee:
Light denim jacket+tee+black jeans– I skipped this one because it seems to be the most popular blogger look for a striped tee. I'd wear it but I didn't need to show you something you've probably seen a million times!
Denim jacket + leopard bottoms (pencil skirt or pants) + tee
Striped tee+burgundy jeans+any topper or shoes from above
Whew! Now that's over 20 ways. What a versatile piece.