One of the hottest style trends of summer 2021 is the paperbag waist.
It was one of the first trends I embraced back in 2013 when I first started blogging about fashion. I had a paperbag waist skirt. I ultimately got rid of it because it was always a tad short and it probably got too small in others areas. Over the past couple of years this trend has come back full force and it's everywhere. You can find this style trend at almost every retailer.
What is a paperbag waist?
Picture a drawstring bag that leaves some fabric scrunched up at the top once you cinch it in. That's pretty much what a paperbag waist looks like. Lots of folds and ruffling at the waist. There will be a ruffle of fabric above the waist making any garment of this style high waisted. You may also see this style listed as tie waist if it includes a tie style belt. It's been credited as being an '80s trend but I'm not sure of the proper origin.
Who can wear paperbag waist pants and shorts?
Anyone that wants to! Let's get that out right away. Of course, they are going to look better on some body types than others.
It can be a difficult trend to wear but a fun and comfortable one. The waist is generally elastic and stretches and moves with you for comfort.
An inverted triangle will love the balance these fuller bottoms create by maximizing the bottom half and creating balance with a wider top half. An hourglass body type can pretty much wear anything they want and the waist emphasizing detail is your friend. Apples will be the body type that most wants to avoid this trend since it will accent one of your problem areas. Pears have to be careful. It will bring attention to the wider bottom half, but I'm going to share some tips and tricks to help with that. Also, those of us who are short waisted/ short torso will struggle with this trend since it is a high waisted garment. Also, anyone with a tummy (regardless of shape) beware that the high waist garment may accent the tummy. I just recently invested in a pair of these to combat that problem with my high waist pants.
How to Wear Paperbag Pants
Pants- Loft Outlet; similar top- JCrew Factory; sandals- Target/old; similar; earrings- Amazon; sunglasses- Nordsrom/Quay
These pull on paperbag waist pants from Loft Outlet (now available in navy instead of khaki) work well for me because the silhouette is a little slimmer than some and the waist does not tie. I'm not forced to pull them all the way up and tie them at my natural waist. I can pull them down a little to address the short torso issue.
A few more tips for wearing paperbag waist pants:
Tuck in your top.
Make sure the top is fitted vs flowy or voluminous.
Draw the eye up- with color or statement accessories.
You can also create a monochromatic look in the same color so your bottoms don't create such a stark contrast against what's on the top half of your body.
Wearing a Blazer or Jacket with Paperbag pants
You can wear a topper like a blazer or jacket with paperbag waist pants, but keep balance in mind. Go with a cropped jacket/ cardigan or with a long lean blazer. I added my favorite summer blazer- my white linen blazer (similar). The pants are a linen blend as well, so this paperbag waist pants outfit is perfect for summer. The linen helps keep you cool.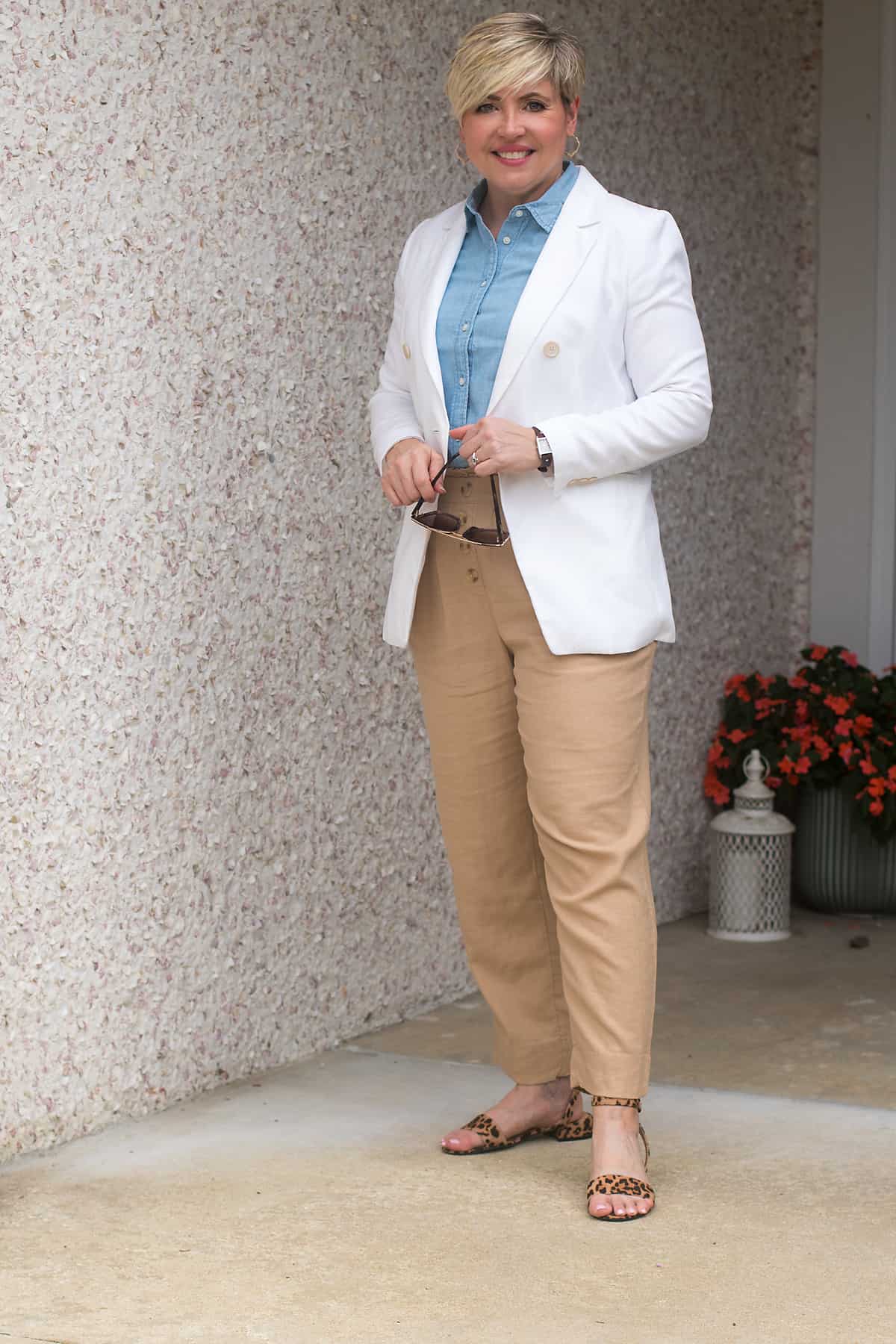 Shop pants:
Tie Waist Shorts Outfit
Shorts- Old Navy; top- Old Navy; sandals- Kohl's; hat – similar; earrings- Kendra Scott; necklace- Gorjana
These linen blend tie waist shorts from Old Navy are super comfortable but a little more tricky for me to wear. They do create a lot of volume on the bottom and I have to tie them pretty close to my waist.
I'm using some of the tricks above to make them more wearable for me. I'm drawing the eye up and creating a little more balance with the hat in the first outfit. Below, I'm using color to draw the eye up and I've paired this outfit with a wedge sandal to lengthen the leg. This also dresses up the shorts a bit vs the casual outfit above.
If you are stuck on what shoes to wear with paperbag pants and shorts, don't be. You can wear any shoe that fits the aesthetic of your outfit. Use shoes to dress up or dress down the look. I do recommend a little heel instead of flats if you are petite, although I am wearing flat sandals in one of these looks.
Ideally, these shorts would look better with a more fitted top. I'm on the hunt for a fitted tank or bodysuit to pair with them.
You may also like: The Must Have Accessory For Your Summer Outfits
Top- Similar; shorts- Old Navy; earrings- Kendra Scott; shoes- similar
Shop shorts:
What are your thoughts on this trend? Will you be creating summer outfits with tie waist or paperbag pants and shorts?
Please pin it if you love it!