Happy Prime Purchases Link Up Day! It's the first Tuesday and time to link up with Tanya. I love this link up because I love to see what everyone else found on Amazon. There is a never ending supply of stuff!
So who shopped Prime Day? I did! And I saved a bit on some of the things we routinely buy and splurged on some things on my wish list. The hubby got into the Prime Day shopping too, so let's get started. This might be a long list.
1 10 pcs Bow Knot Headband These were not a Prime Day purchase. I purchased these after Prime Day passed. I actually bought three similar sets and narrowed down my choice to this set after they arrived. I liked the patterns in this one best and some were the same from set to set, but with a different part of the fabric showing. These are the MOST COMFORTABLE headbands I've ever worn. I have been wearing them non stop all weekend, and I forget I'm wearing them. THAT comfortable. I'm all for using accessories to add interest to summer outfits.
This top was a purchase during June from Loft. It's fabulous! Light and cool. Apparently it's almost sold out in white but it's available in a gorgeous pink and a chambray.
2 It was time to replace my supply of Tinkle razors. I use these for my eyebrows and for dermaplaning.
3 Steve Madden Travel Sandal- I have been crushing on these for two years now. I finally bought them when the price dropped and love them so far.
4 Meat claws- A Prime Day purchase. I haven't tried them out yet, but shredding meat with forks wears me out so I hope these make the job easier.
5 Tru Skin Vitamin C and Retinol Serum– I already use the Vitamin C and love it. I'm excited to try the Retinol. This was a Prime Day Deal.
6 UGREEN 2.5″ Hard Drive Enclosure USB 3.0 The hubby bought this and was able to take the hard drive out of his laptop that died and salvage all his stuff. It works like a plug and play external hard drive.
7 Jackery Portable Power Station Explorer The hubby purchased this on Prime Day at a good deal. We will use it for camping and during storms.
8 mysoft Womens Slide Sandals Cork Footbed Prime Day purchase. I ordered these in brown/7-7.5. I received a 8/8.5 and I'm pretty sure the color is cyan. I kept them because I cut the tags. I tightened up the straps and I can wear the 8 just fine. The cyan color is okay too but I may repurchase them in brown at some point. They are relatively comfy for a knock off sandal.
9 Maybelline blushed nudes palette– Another Prime Day purchase. It was just a little over $5 bucks.
10 BALEAF Women's 6″ High Waisted Biker Shorts Another prime day purchase. I'm still searching for the perfect length. I have a similar pair in 9 inch (too long) and these in 5 inch but the 5 seems to creep up too much. I wore these to workout yesterday and they worked much better.
11 BEIJOEY 100% Mulberry Silk Pillowcase I love silk pillowcases for the benefit to my hair and skin so I snagged another one during Prime Day.
More purchases not pictured:
HULISEN Kitchen Sink Sponge Holder I'm still working on organizing the kitchen. This had been on my list for a while and popped up as a Prime Day deal.
SOJOS Classic Square Blue Light Blocking Computer Glasses I also decided to give blue light glasses another try. I ordered a pair last year and they were such cheap quality that I returned them. These are the same brand as my favorite sunglasses, so the quality is good. I bought them as a Prime Day deal. The jury is still out on whether or not they make a difference.
LouKeith Womens Tops Sleeveless Halter Racerback It's soft and a decent weight and quality. Halter style tanks are my go to for a tank.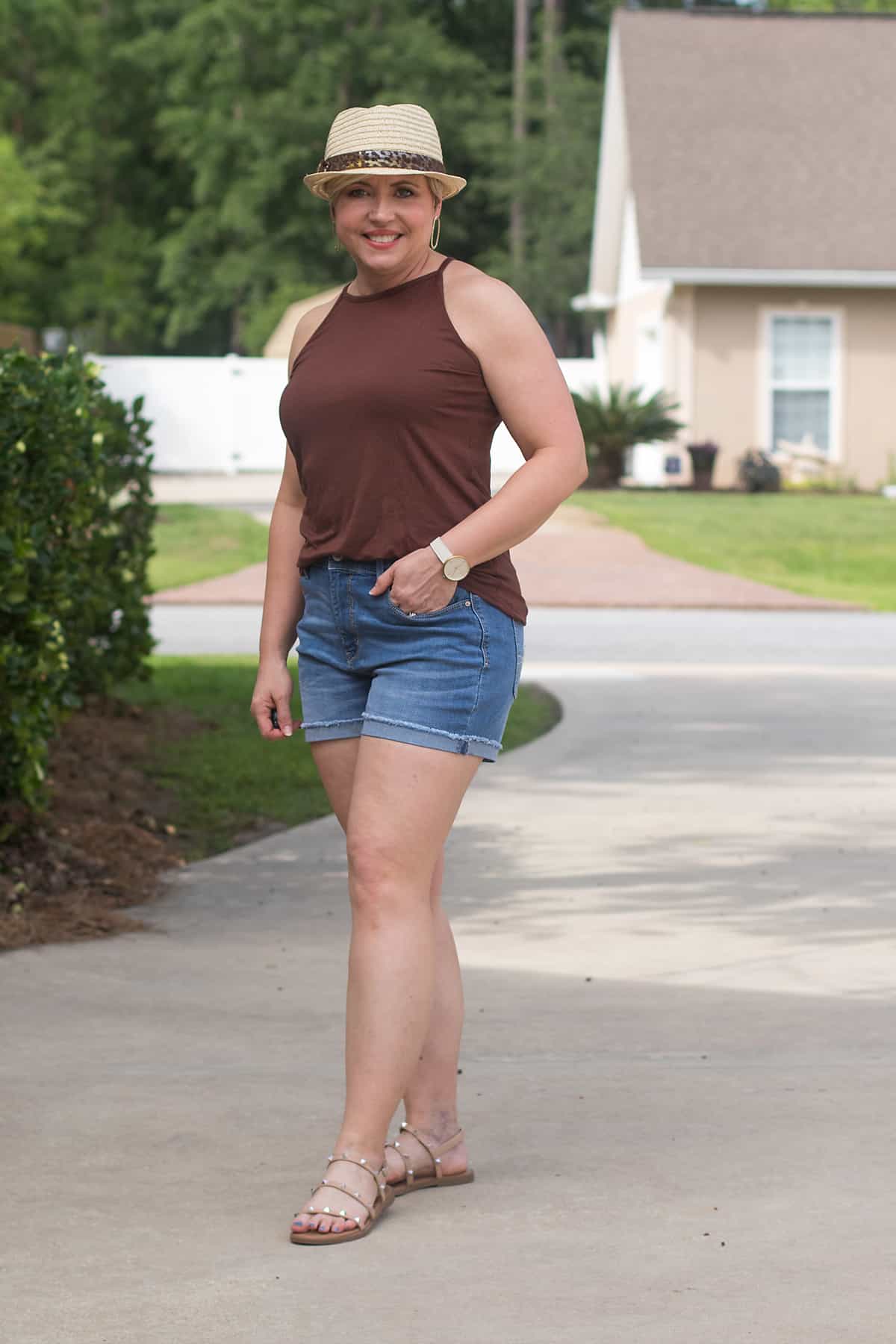 The sandals pictured are also a June purchase from Kohl's. A much less expensive way to get the look of the Steve Madden sandal.
Essence masacara– It's already a steal but you bet I stocked up when it was on sale during Prime Days.
I also purchased ALL THE STRAW accessories– rattan earring set, belt set (which personally I found to be a bit cheap in quality but… probably worth the price) and rattan/straw headband set. Yes, more headbands!
The hubby also ordered some Pedialyte (for the hot days he works outside), and some silicone washers. Yes, we really do buy almost everything on Amazon. He also ordered some green tea in bulk.
I can't wait to hear about your Amazon purchases.