Sweet summertime! It's here! Unofficially, but Memorial Day seems to kick off summer. And along with it comes the question of what clothes should be in a summer capsule wardrobe? It can be especially daunting for the woman over 40 who wants to stay cool in the summer heat but wants to remain modest and avoid crop tops and short shorts.
Don't worry- you don't have to sacrifice style to dress for the summer months.
I published this list of summer wardrobe staples last year and it remains my go to list, with some updates for 2023. Everyone will have different needs based on personal style, lifestyle and location, but these are some basics most everyone can use or tweak to make the best of your summer capsule wardrobe.
Summer wardrobe staples
Let's get something out of the way given that a lot of my list of summer wardrobe essentials includes shorts. I find no reason for women over 40 to avoid shorts. It's all about finding the right pair of shorts for your bod type, no matter the age of your body. Find your sweet spot for length ( I wear 4, 5 and 6 inch shorts) and leg opening (not too wide and not too tight), and enjoy wearing shorts.
See also: The Best Shorts for Older Women
1-Denim shorts
or a denim skirt if you are just anti-shorts. A pair of denim shorts and a t-shirt or tank top is a basic summer uniform for women of all ages. Add some interest with cute shoes and a hat or some other accessory.
Denim shorts have been a fashion staple for decades, and their enduring popularity speaks to their timeless appeal. They offer a casual classic look that can be effortlessly stylish. Their classic style make them the perfect choice for a summer capsule wardrobe.
I still wear jeans at times in the summer as well. A lighter wash cropped pair will give you summer vibes and can be part of your summer wardrobe staples.
Or go boho with boot cut jeans with wedges. Summer is not the time for clingy skinny jeans, so experiment with a looser cut, fit or style for summer when wearing jeans.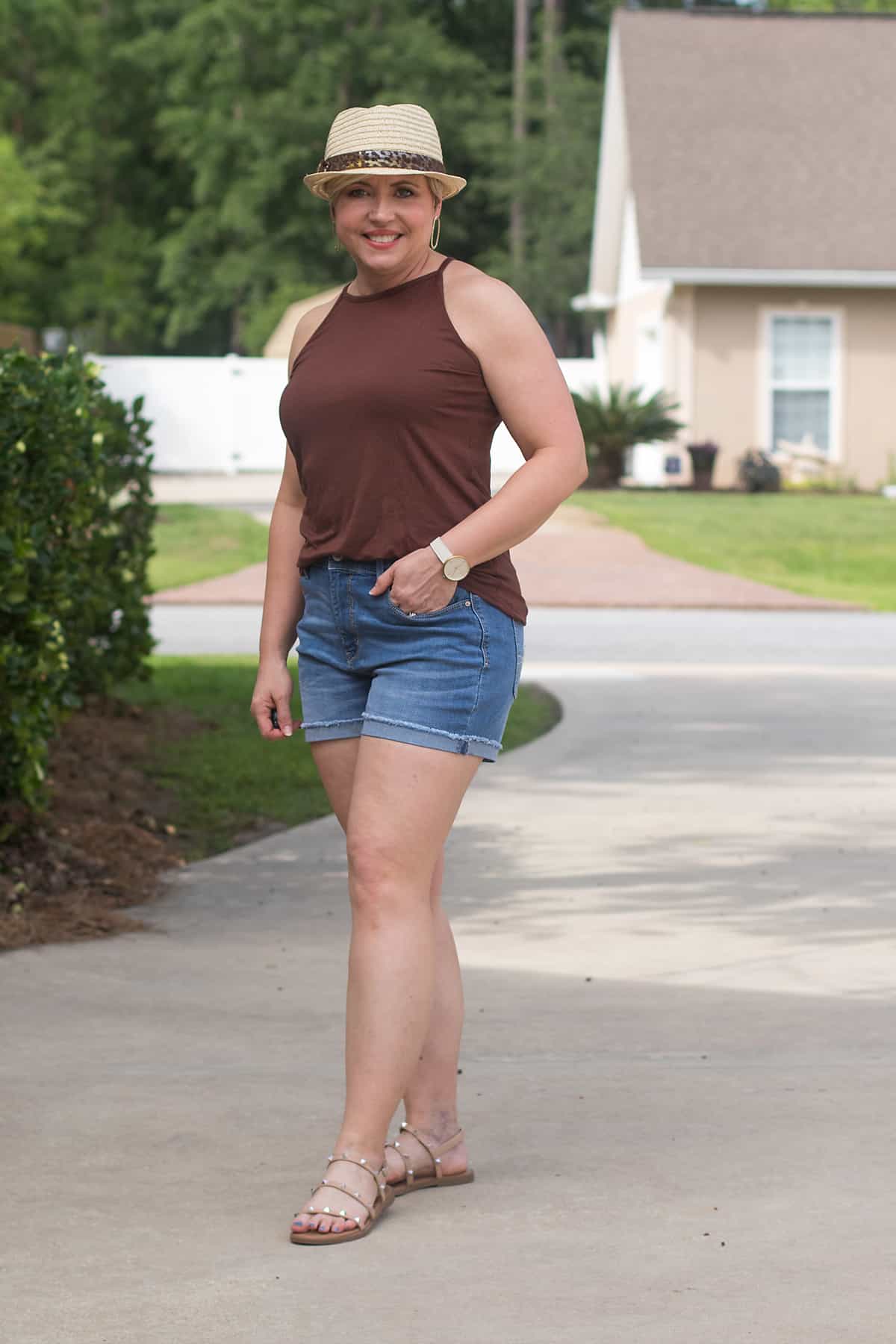 Tank- Amazon; shorts- Target; similar; shoes- Kohls; similar hat- old/ similar; earrings- Kendra Scott
2-Neutral color shorts or bottoms
Neutral colors like olive, beige, black, navy or grey will work well with the rest of your wardrobe. For summer, pick light colors that will make you feel cooler on a hot day.
The understated nature of neutral colors allows them to seamlessly blend with almost any color palette, making them an ideal choice for mixing and matching. Whether you're aiming for a minimalist summer wardrobe, or want to make a bold statement, neutral colors make versatile pieces that effortlessly complement other items.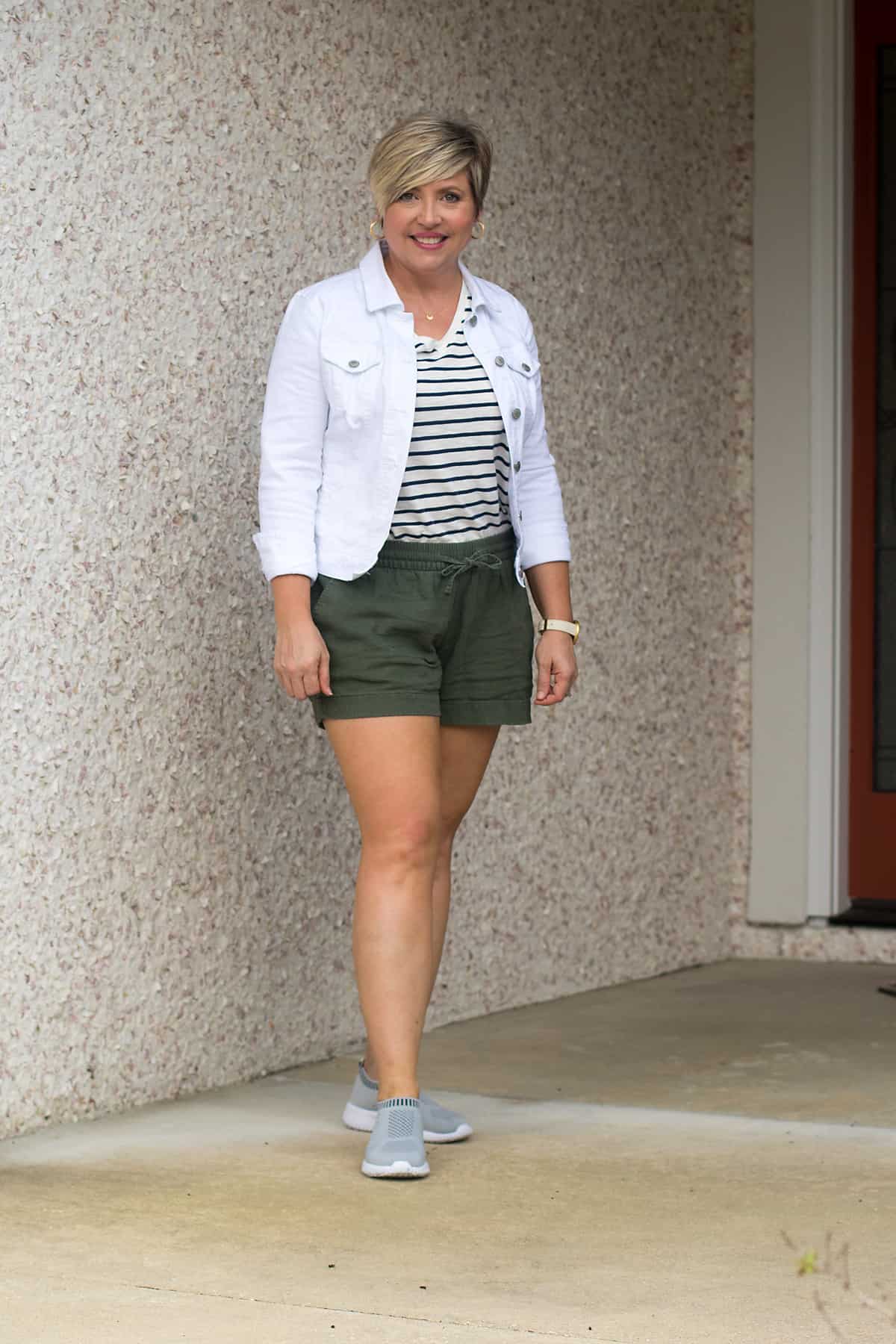 White denim jacket- Old Navy; option; shirt- Old Navy; sneakers- Amazon; shorts- Old Navy
3-Patterned or print shorts ( or skirt)
I'm including stripes here. The point is to have a patterned (not solid color) short or skirt in your wardrobe to mix things up a bit. Skirts can be just as comfy and cool as shorts. Having a patterned piece is an easy way to add interest to your outfits.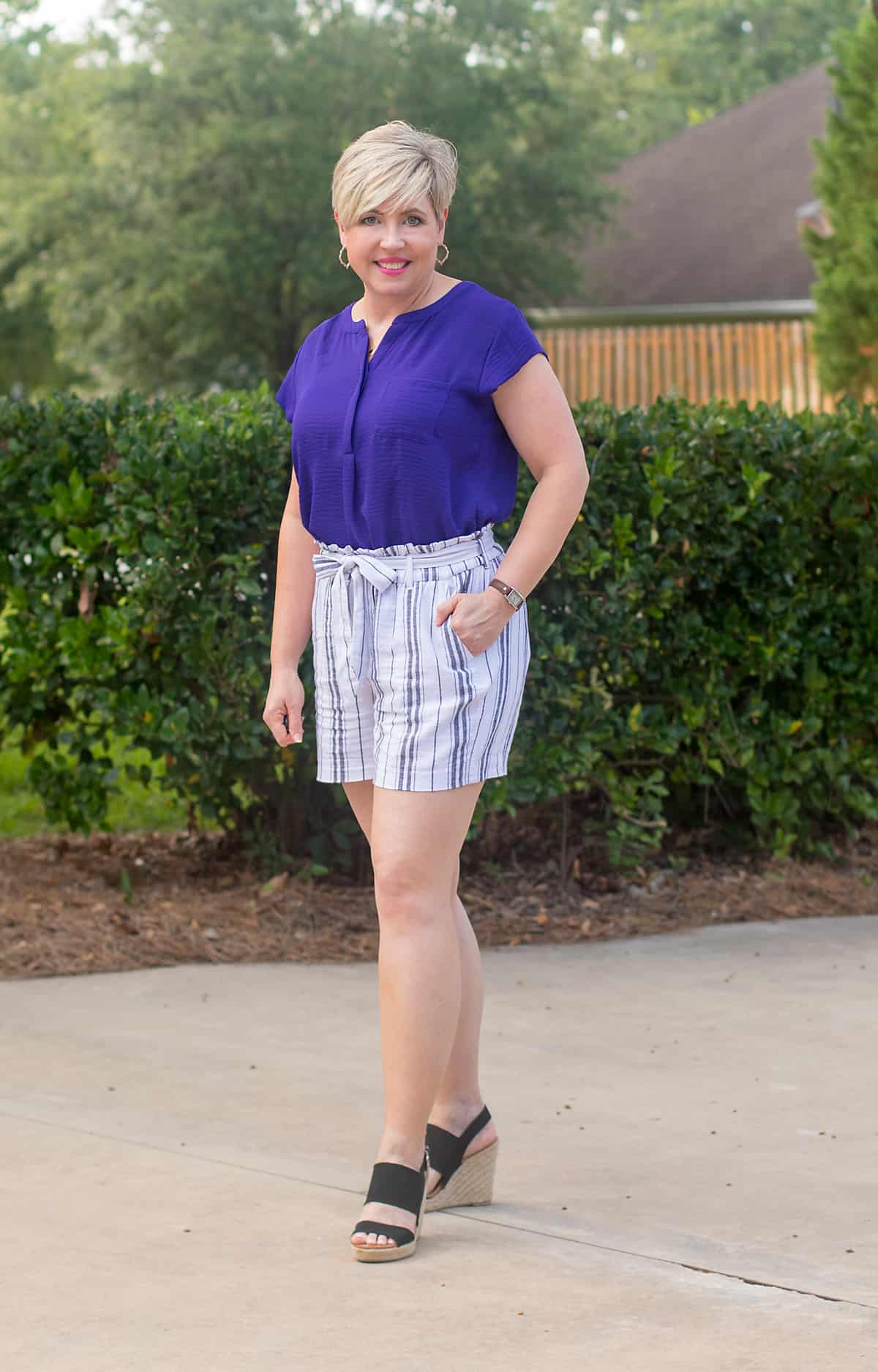 Blouse- old- shorts-Old Navy; option; option wedge sandals- old; earrings- Kendra Scott
4-White bottoms
Shorts, jeans, skirt or cropped pants. White bottoms are definitely one of your basic summer wardrobe staples as white screams summer and goes a long way in creating summer outfits. Flowy wide leg white trousers are trending for summer 2023.
Add a top with red or blue stripes and you've get a nautical outfit.
While white can make you look bigger, especially on the bottom, it's not to be avoided. Create an all white outfit or pair it with lighter color tops instead of dark colors to lessen the contrast and deemphasize a larger bottom.
Mind your fabrics too. Don't wear too tight garments in white (or any color for that matter) and choose fabrics that hug or skim the body but don't cling. It can take some trial and error and lots of shopping to find those magical white jeans, pants or shorts but there is a pair for everyone.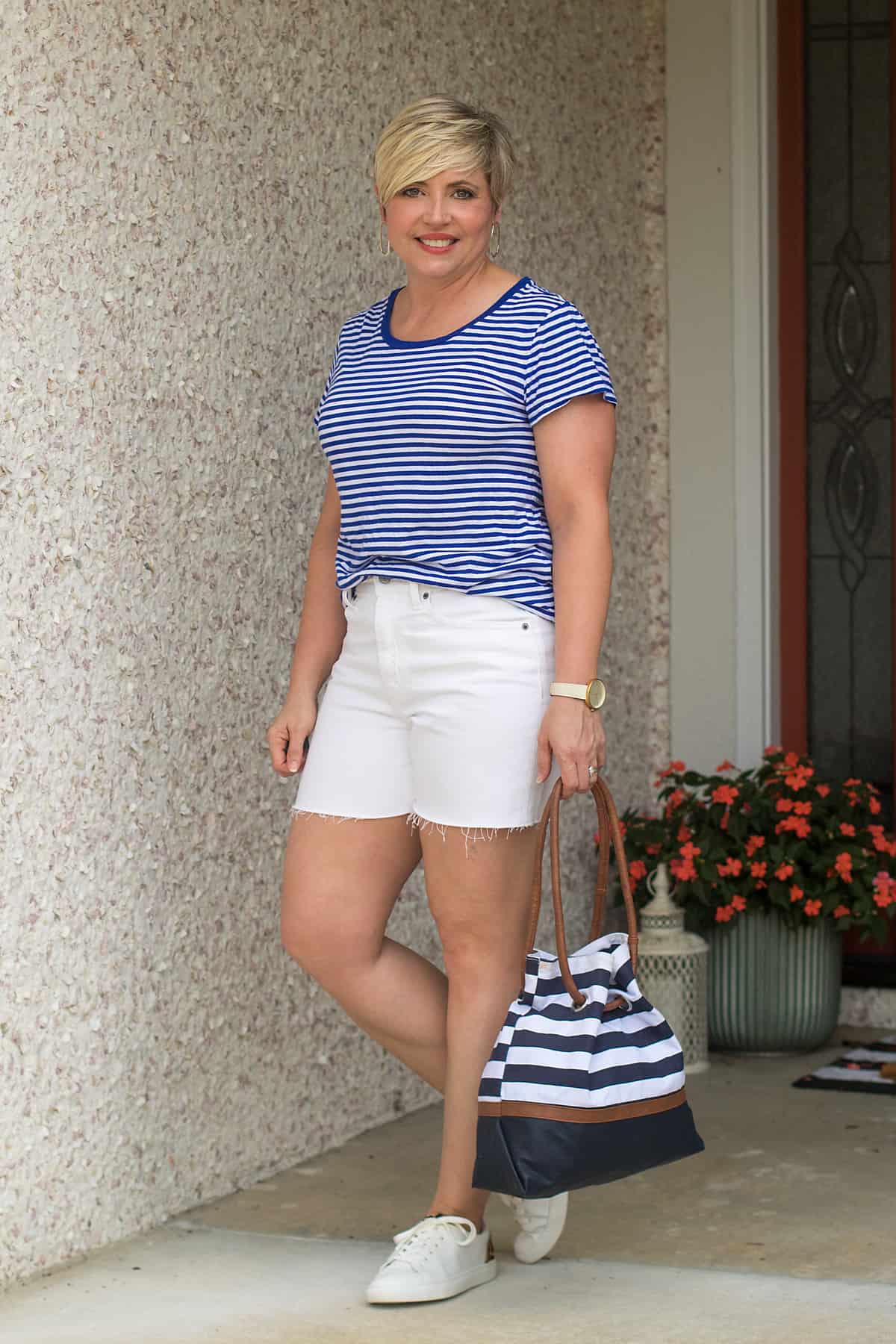 Shorts- Old Navy; sneakers- JCrew Factory; purse- option; option; t-shirt–Gap/old
5-Bright bottoms
Be adventurous and add a pair of bright color pants or shorts to your summer wardrobe. For those that don't wear shorts, a pair of cropped pants in a fun color like coral or kelly green is a great option. Colored bottoms are a fun way to wear a color that you can't normally wear next to your face.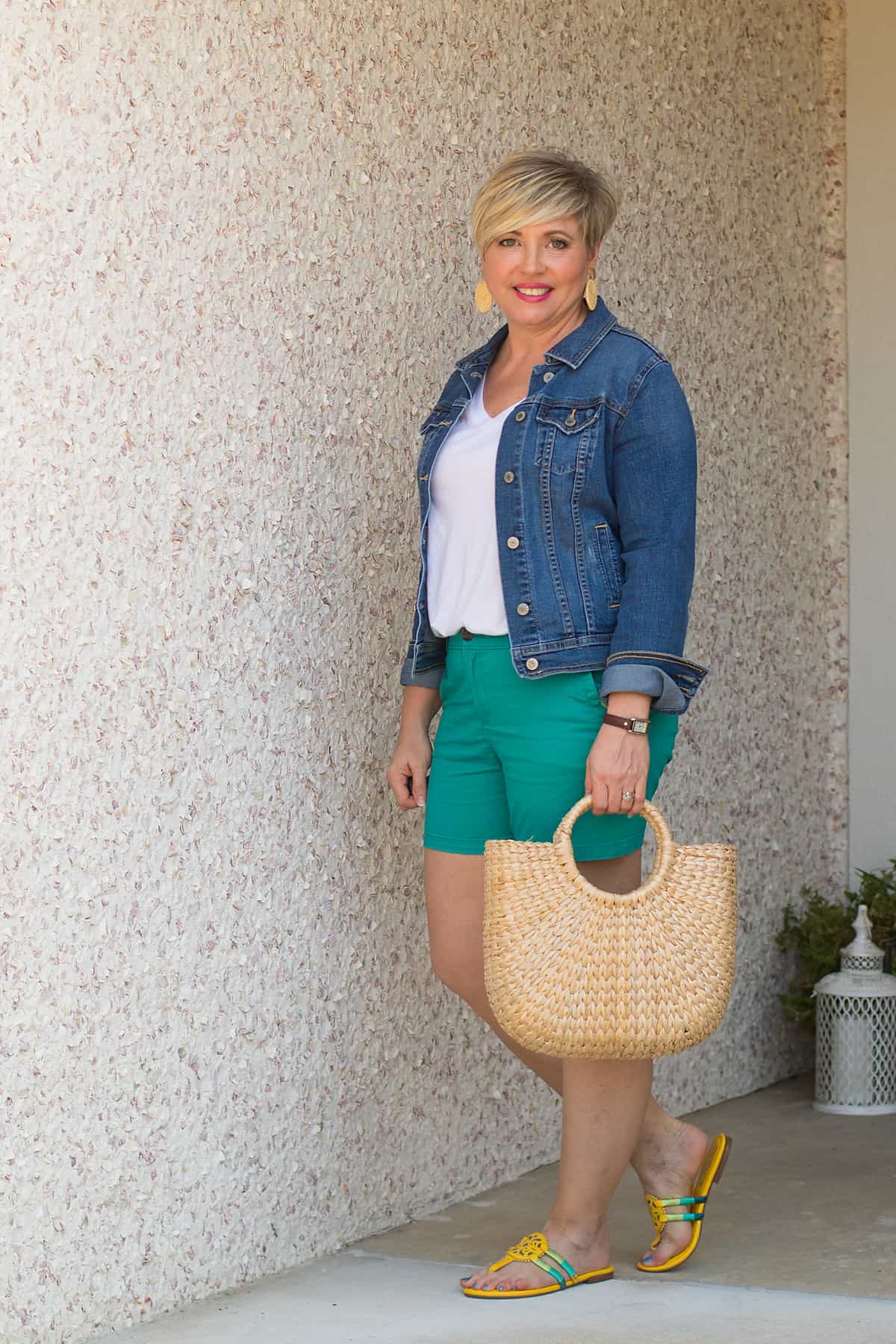 Shorts- similar; sandals- option
6- Neutral t-shirt
A white t-shirt is a good idea for a capsule wardrobe. If white isn't a great color for you, pick a neutral that works for you. Grey, beige, black and navy are other good options.
This humble garment serves as a blank canvas, allowing you to express your personal style and creativity in countless ways. Its simplicity and clean aesthetic make it a great choice for your warm-weather capsule wardrobe. It's also one of those seasonless pieces that works year round. A neutral t-shirt can effortlessly elevate any outfit, whether it's paired with jeans for a casual look or worn under a blazer for a more polished ensemble.
In addition to a plain t-shirt, a striped t-shirt or graphic tee make great summer capsule pieces.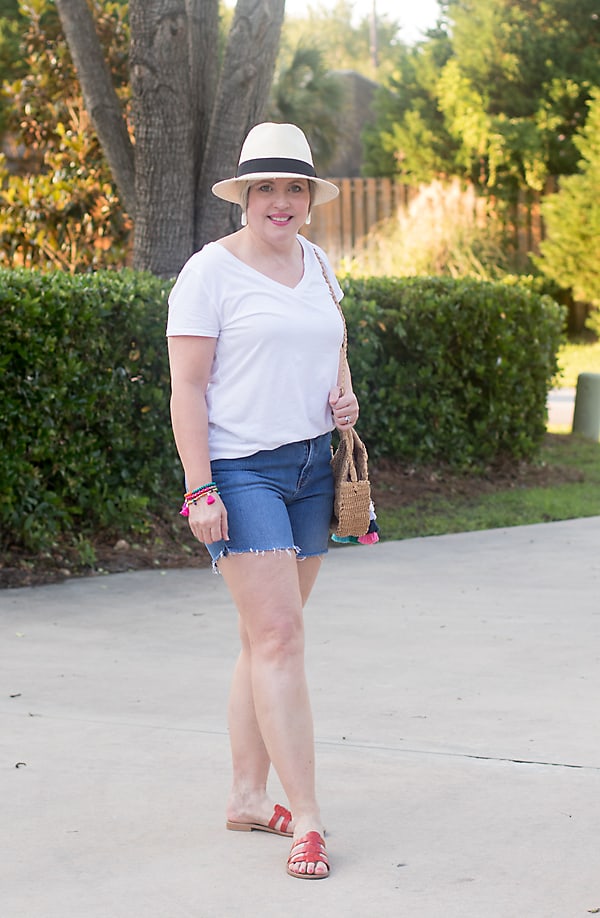 7-Tank tops
Tank tops are great layering pieces to have in your summer capsule wardrobe. Layered looks are difficult to wear in warm weather. You can throw on a lightweight button up over a tank top for a stylish layered look. Another great way to wear a tank top is under a kimono.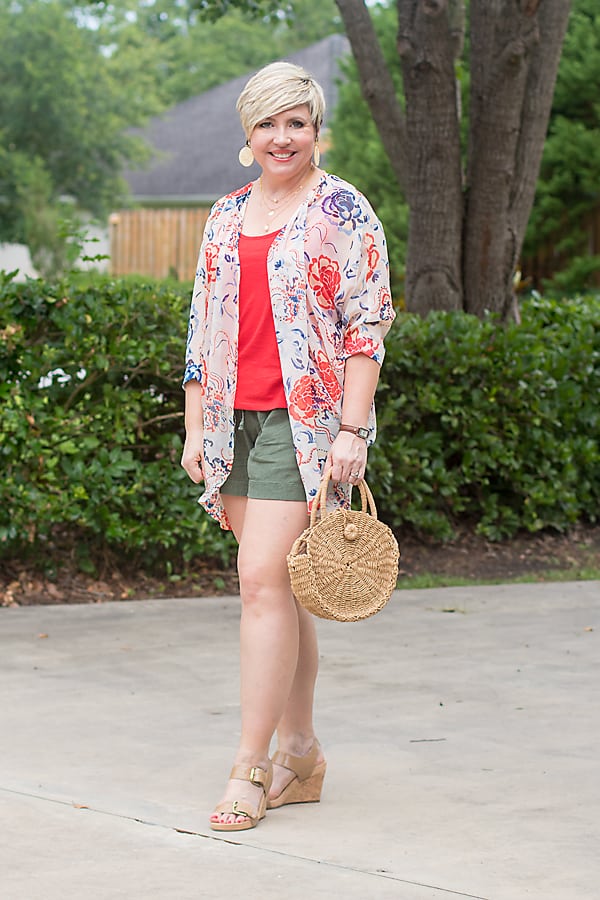 Kimono- Amazon; tank top options
8 White button up
A white button up in a slightly oversized fit makes a great piece for a summer wardrobe. It can be worn with skirts, shorts or as a layer over tank tops.
Alternately, a light blue or blue striped button up makes a great piece if white isn't your color.
Consider picking one in natural fibers like linen or cotton to stay cool in hot weather.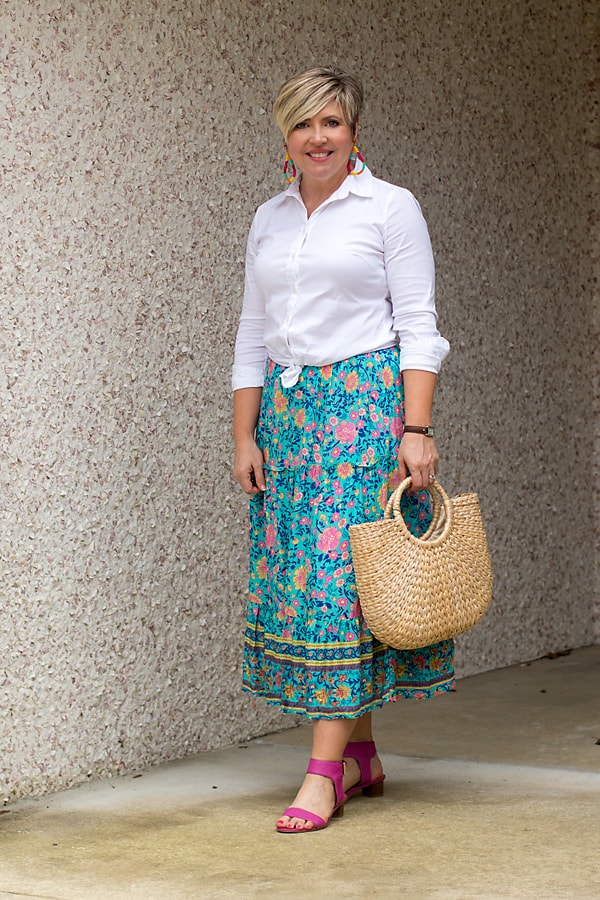 Maxi skirt- Amazon; purse- Amazon; shirt options
9-Floral top
Try a fun tropical print or pick a floral that color coordinates with your bright bottoms. You can also wear a floral top with your denim, white and olive or neutral bottoms.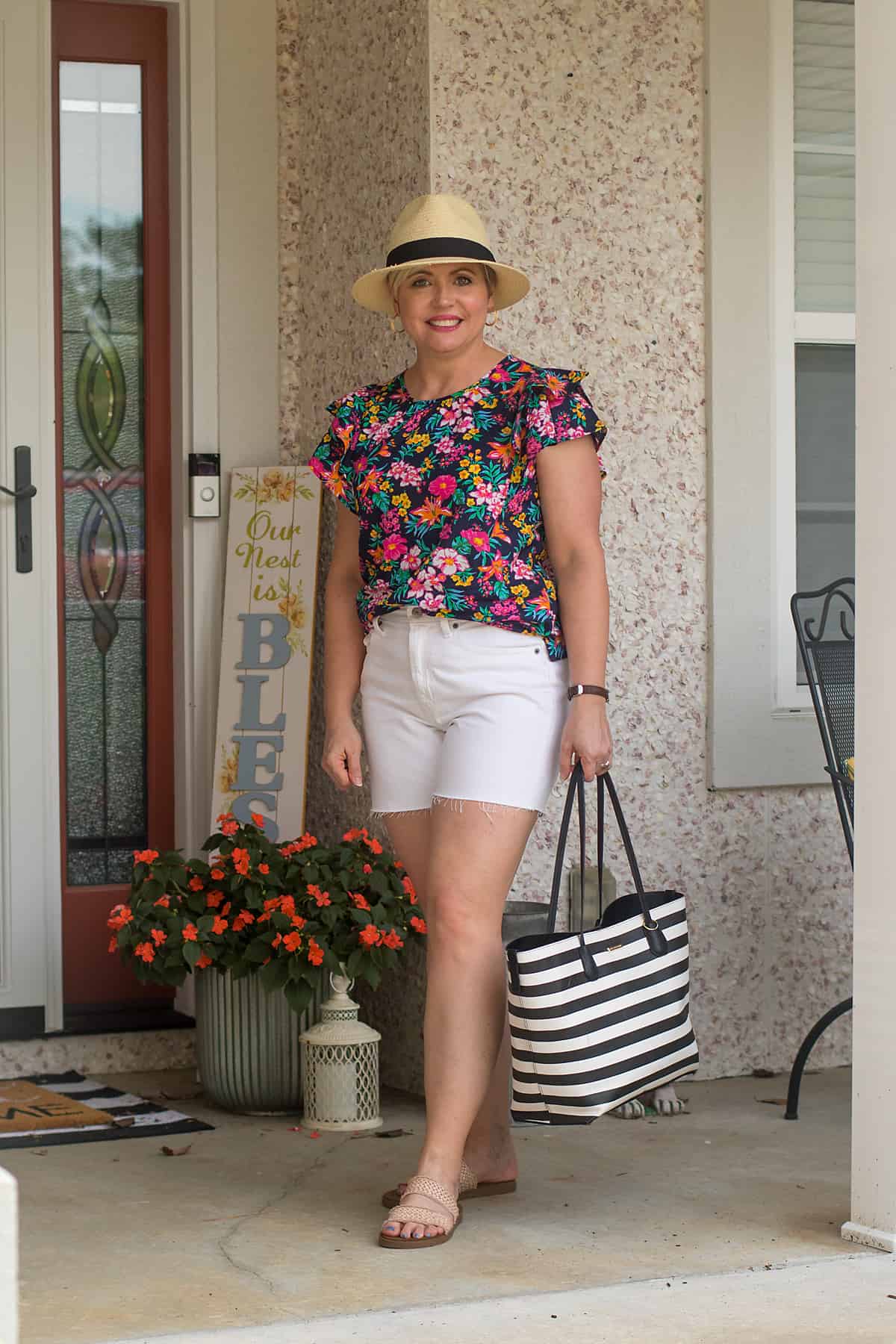 Top- option; option; shorts- Old Navy; shoes- Yellow box; option; option tote- Old/ option hat-old; option
10-A Key Summer Wardrobe Staple -Dress
A dress of some type should always be included in your summer wardrobe staples. (see nine styles and the body shapes they flatter) A flowy dress can keep you cool on the hottest of days.
Getting dressed in the summer couldn't be simpler with a one and done dress. I love t-shirt dresses in the summer because most are cotton and are very cool. I usually wear slip shorts under mine.
Black is trendy right now, so your little black dress might be a great option. It can be worn for different occasions.
A maxi dress is also a great choice for the summer and can be dressed up or down. There is no right or wrong choice for a summer dress. Choose the one that fits your body and lifestyle, and have a nicer one on hand for weddings and more formal events.
Dress- Target; purse- Target; shoes- Tory Burch
11-Romper or Jumpsuit
Another one and done way to get dressed in the summer. A knit romper can be a cool comfy choice and a black jumpsuit can take the place of a dress when the occasion calls for dressy outfits.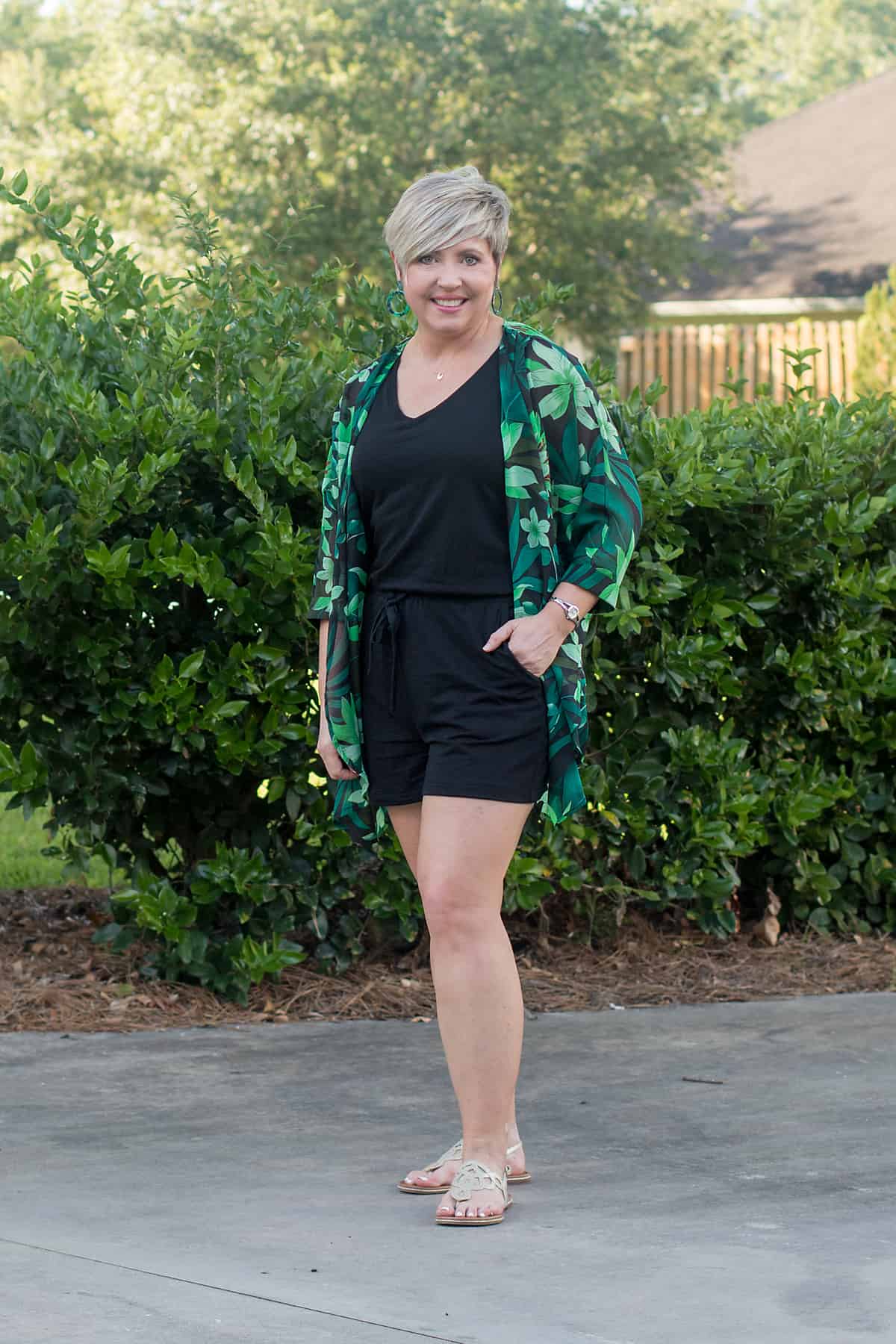 Romper- Amazon; kimono- Amazon; similar; sandals- DSW
12-Kimono
A kimono is great for throwing on over tanks and shorts, and even dresses. It's a light layer than can add interest to summer outfits when layering is otherwise out of the question. A kimono can also function as a swimsuit cover up. It's the perfect summer piece for layering in different ways.
13-A linen blazer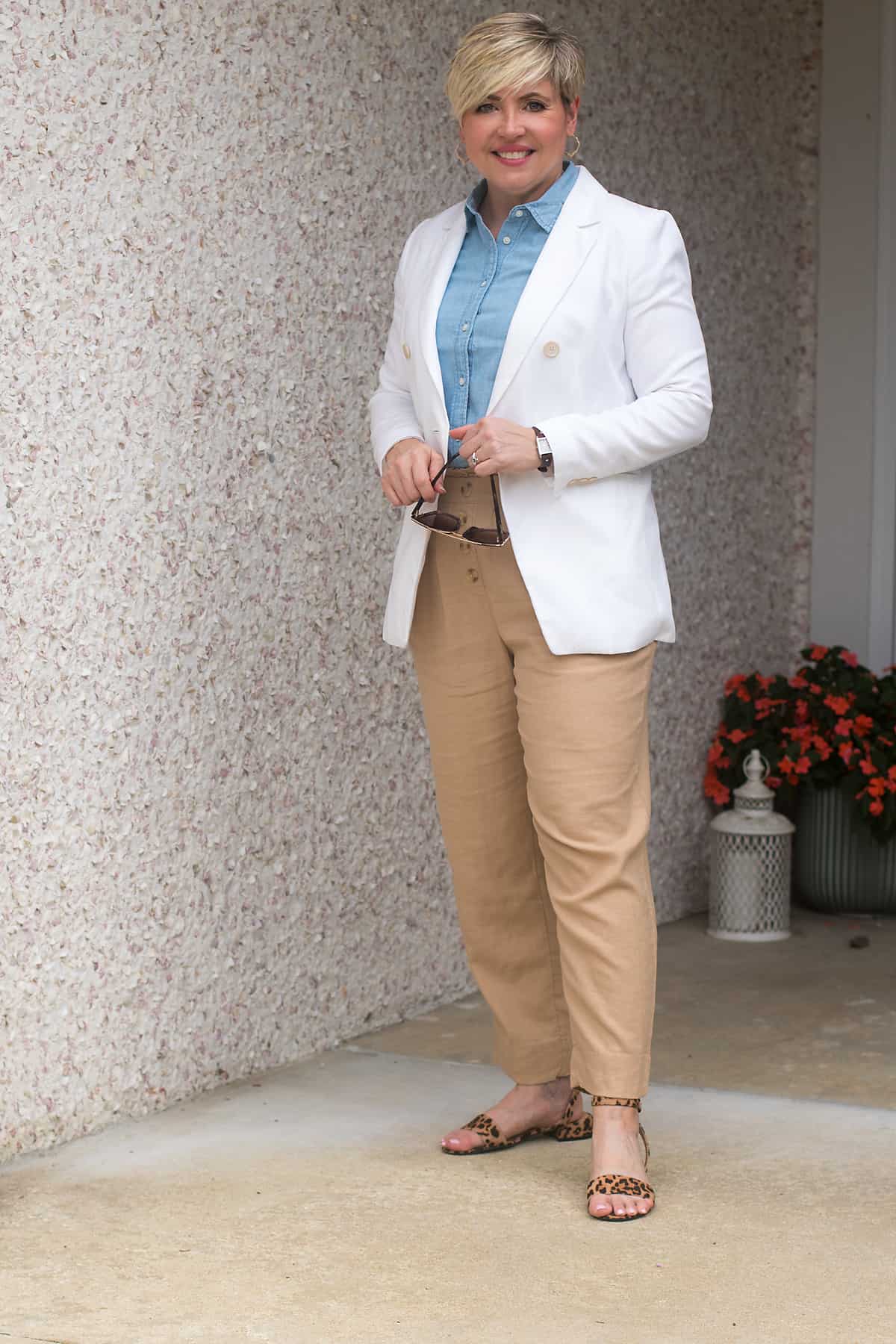 Sometimes you need some sleeves and a layer. A linen blazer is the perfect summer layer and a must have summer wardrobe staple. Linen is breathable, conducts heat away from the body well, and absorbs moisture. Throw it on over a dress or jumpsuit for a dressier summer outfit, or wear with shorts for a more casual vibe.
14-Denim jacket
Sometimes you find yourself indoors in air conditioning that's a little too chilly, or in some places, outdoors in the evening when there is a chill. The casual vibe of a denim jacket pairs well with summer outfits and wards off a mild chill. Consider a white denim jacket for more summer vibes.
15-Swimsuit
Go ahead and find a fabulous swimsuit. Even if you don't spend much time in one, when vacation comes around or the occasion for a swimsuit, you won't have to fret over the perfect suit. Swimsuit shopping can be a dreaded chore, but if you participate in summer activities, chances are you need one.
16-Neutral Wedge or Heeled Sandal
A wedge sandal is a great choice for outdoor events when you need to dress up but don't want to sink into the grass. Block heel sandals can be a great choice for those scenarios as well.
Wedges look great with shorts and a neutral color will generally lengthen the leg. A sandal with some heel is an important part of a summer wardrobe for dressing up on occasion.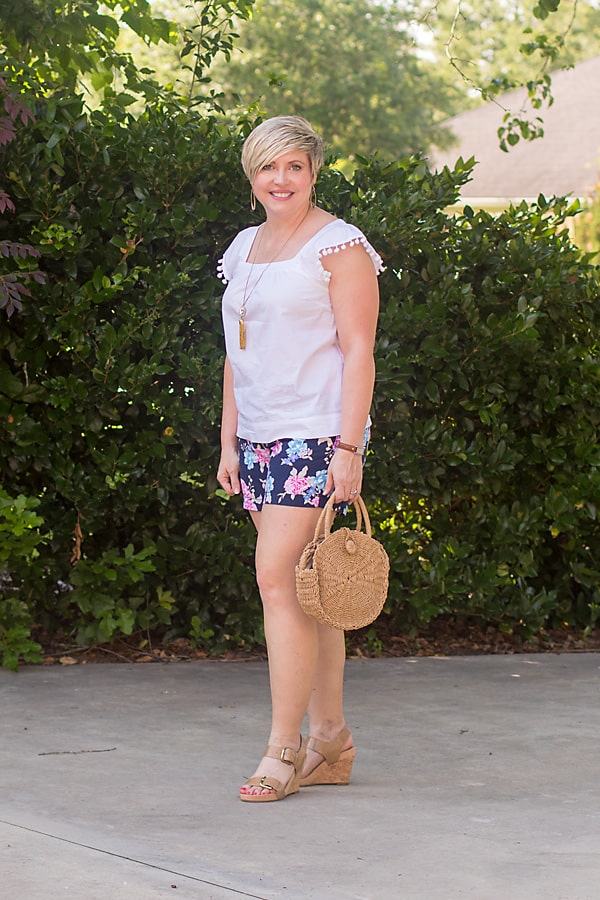 17 Flat sandals
Cute sandals make summer outfits interesting. Your plain t-shirt and shorts combo becomes the cutest outfit of the season when you add an interesting pair of sandals. Whether you prefer straps or simple slide ons, the options abound. I recommend a neutral pair to establish your basic summer wardrobe, but from there you can add in color and patterns.
18 Sneakers
Given a choice, I will always opt for sandals, but sometimes you need a little more coverage for your feet or a little more cushioning for walking. A cute sneaker fits the bill. Sneakers look great with shorts and dresses. White sneakers are perfect for summer and have become a year round wardrobe staple.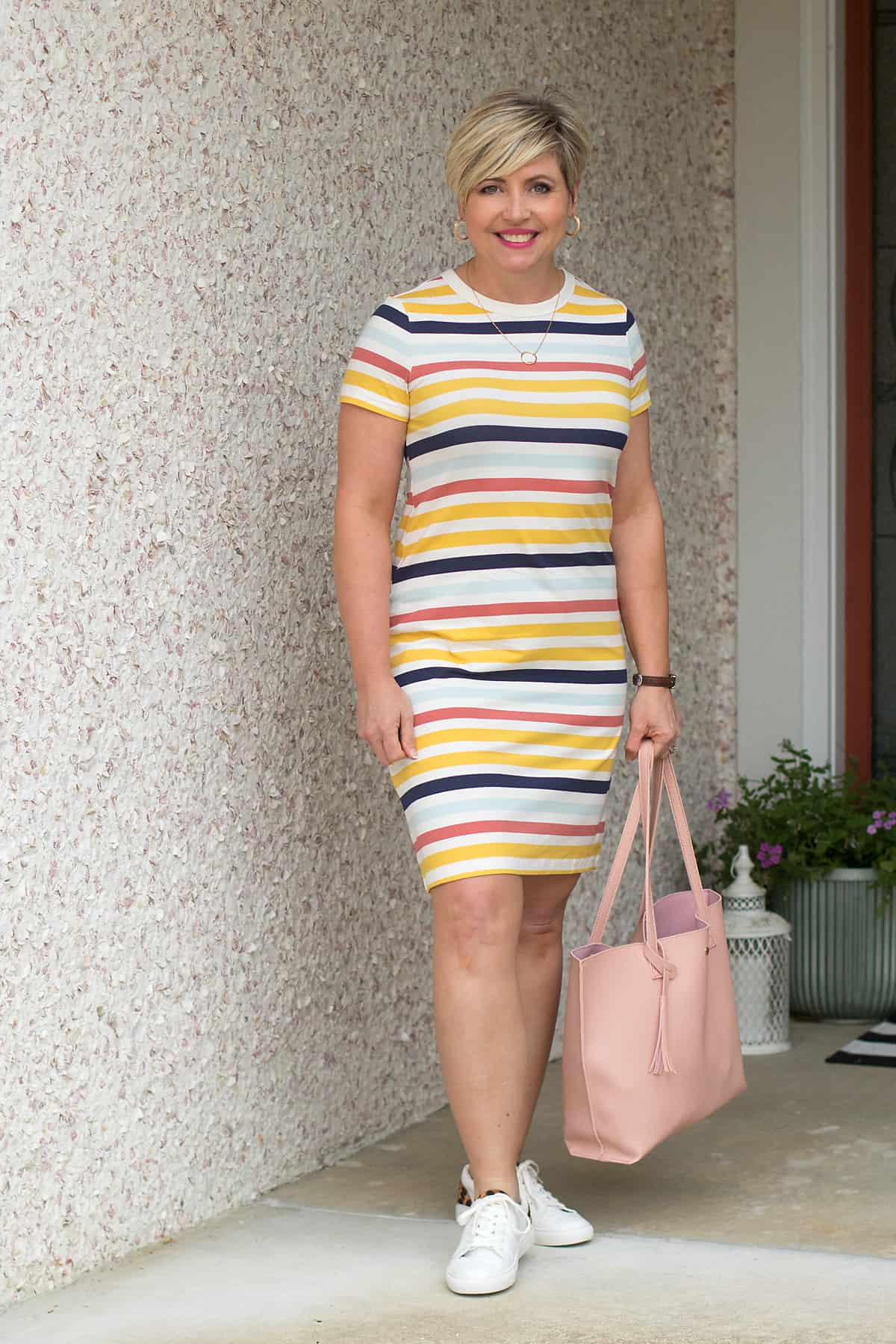 Sneakers- JCrew Factory
19 A straw hat
Not only for sun protection, a hat is a summer essential for adding a cuteness factor to those summer outfits. If you don't think you can wear one, you can! Check out How to Look Good in a Hat and 25 Ways to Wear A Summer Hat for proof and inspiration. Something about a hat completes a summer outfit.
20 Statement earrings
It's usually too hot for a lot of jewelry, so a pair of fun statement earrings can add a lot of punch to an outfit. I love wicker and rattan earrings for accessorizing summer outfits. They are so light yet add a lot of visual interest.
Top- Old; shorts- Old Navy; tote- old; similar; option; earrings- Amazon
21 A fun tote (or summer purse)
Accessories work overtime in the summer and your bag or tote should not be ignored as a complete part of the outfit. I prefer a tote so I have room for a few extras in the summer. A straw tote or bag or striped tote are classic summer choices. They go so well with the more casual vibes of summer attire. A crossbody bag is a great choice for being handsfree and when you don't want to carry too many things. A great light white, beige or light neutral will go with almost anything.
22 Sunglasses
Don't forget sunglasses. They serve both function and fashion. Sunglasses protect your eyes, and when it's too hot for makeup, sunglasses hide the imperfections and you still look put together. Some prefer larger oversized sunglasses, but my favorites are these classic square mid size sunglasses.
23 Hair accessories
Don't even tell me you can't wear hair accessories over 40. Yes, you can.
Just like everything else, you have to find the right fit for you- for your hair style, face shape and the aesthetics of the outfit. Choose classic and sophisticated instead of "cute" if you are older.
A headband is an accessory that women with short or long hair can wear. A clip instead of a scrunchie can be used to create a sleek ponytail. Even a barrette is a great way to hold back or accent bangs. Just like sunglasses, earrings and purses, hair accessories can take summer outfits up a notch in the absence of layers.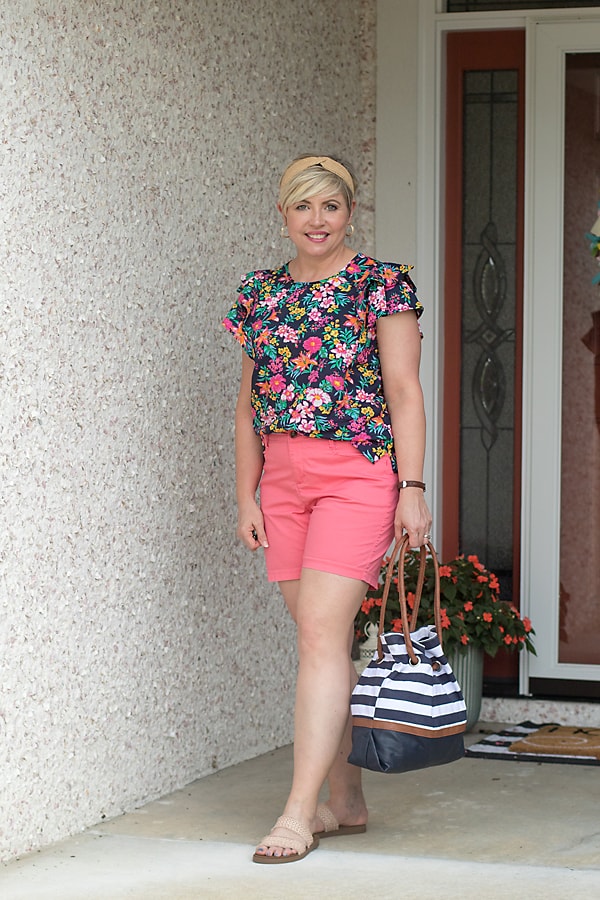 Headband- Amazon
The Summer Wardrobe Staples
Even if you aren't into capsule wardrobes, you will pretty much have your own summer capsule wardrobe set with this list of staples. You can create numerous mix and match casual summer outfits suitable for women over 40. You can add in a few summer trends if you want, but the basics will always work together to create stylish outfits for the summer season.
What are your must have pieces for great summer style?