Spring is such a glorious time full of new life, color, and the opportunity to clean out our closets and freshen our wardrobes. Lighter layers are appropriate but sometimes the weather can shift back and to from winter to spring, especially in early spring. This makes having a few spring wardrobe staples necessary to dress with the ebb and flow of the season.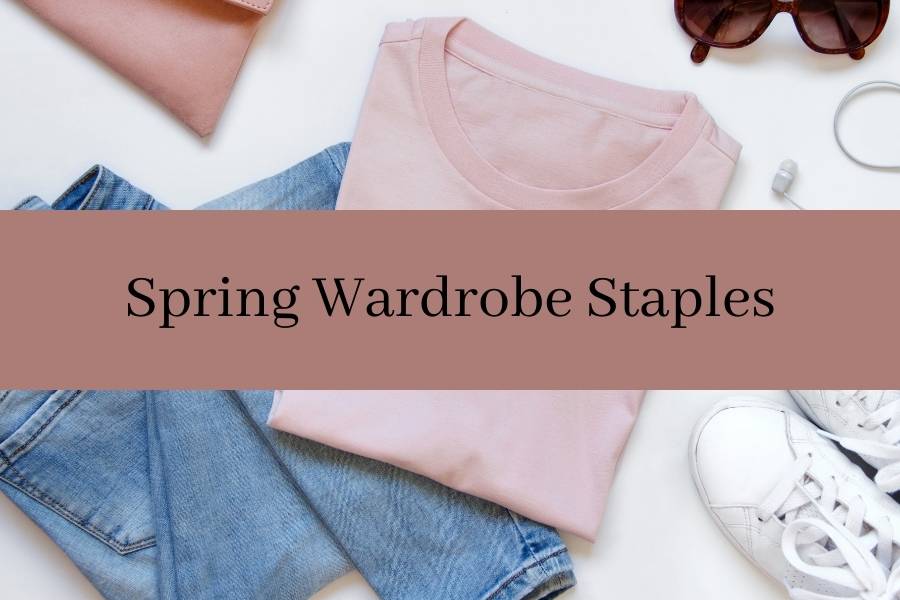 Look no further than this article for the must have spring wardrobe staples you need to update your wardrobe and stay stylish this Spring. This isn't about fashion trends, but rather a list of spring wardrobe essentials that are the building blocks of your daily looks.
This post was originally published in 2021. Links and updates have been made for 2023.
These are my recommendations for a casual wardrobe but what is actually essential for you may vary based on your climate and lifestyle. Feel free to modify this list to fit your own needs.
Women's spring outfits vary from location to location and climate to climate. Some of us spend spring in sweaters and jackets and some of us can jump right into shorts and tee shirts. These are broad categories of the most versatile items to have for spring, but the specific items you choose to complete your own list with will vary by your personal style and body type. Choose pieces that reflect your individual style.
Not sure what your style is? Check out this post on determining your own unique style personality.
What are the must have spring wardrobe staples?
These are core pieces that will work with other spring trends and colors, as well as work with each other to complete a spring wardrobe. If you prefer a minimalist approach to your wardrobe, these essentials would come close to completing a spring capsule wardrobe.
1 Denim jacket (and other lightweight jackets)
A denim jacket is a great piece to have year round for fluctuating temperatures but it's especially helpful to have around for spring.
A medium to light wash looks great with white jeans. A denim jacket can bring a casual vibe to spring dresses.
Related: 15 Ways to Wear a Denim Jacket For Spring
Similar top/ denim jacket/ white jeans/ similar sandals/ purse/ sunnies
The utility jacket is another great light jacket and spring wardrobe staple. Temperatures are still cool and the extra layer is still needed in early morning and late evening.
Related: 5 Worthwhile Spring Jackets for Ladies for Instant Style.
An olive utility jacket can be treated as a neutral and worn with most anything, but you might want to mix it up and pick a fun colored utility jacket like this pink one. See also 7 Ways to Wear a Pink Utility Jacket
I've owned two utility jackets- one replaced the first one. Both were from JCPenney. I purchased the first one for $25 because I wasn't sure I'd really wear it. It has become a "go to" jacket for spring and fall. I'd happily invest more than $25 in one.
A drawstring in the waist or some gathering in the back will give it some shape.
Blazers or a sweater blazer are another good idea. If you live in colder climate, a leather jacket would still be an option for spring. A good topper is one of the most important spring staples. A third piece or topper is one of the best ways to make an outfit look complete.
Shop Jackets:
2 Rain Jacket or trench coat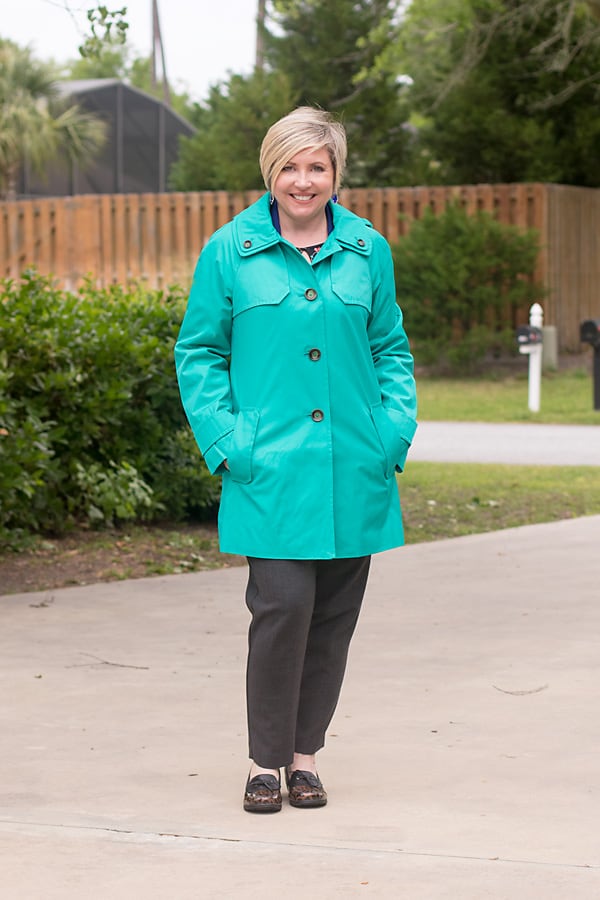 I went for years without a proper raincoat but I quickly realized it was something I had been missing once I added one to my closet. It's a necessity some days, so you may as well be stylish in it. A trench style in fun color can improve a rainy day, or choosing a neutral trench coat will keep you looking polished even over the most casual of outfits.
3 T-shirts and tanks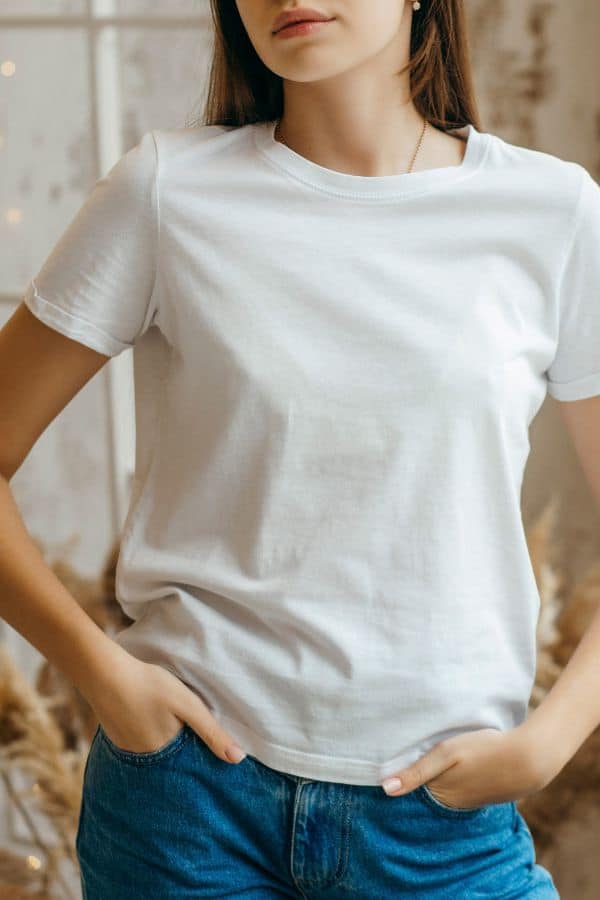 On its own, a white t-shirt isn't such an exciting piece but it's a great base to ground other spring pieces. It can be worn year round. The white tee can be paired with everything from your most basic pants to your dressiest skirt.
My favorite budget white tee (or any color/pattern) is from Target in a scoop or vneck. If you want a more substantial, 100% cotton fitted tee, this one from Everlane comes highly recommended. Caslon makes decent tee shirts as well.
In addition to white-t-shirts, you may want to have a few in neutral colors like grey, navy or black. Tank tops in any of these colors are great for layering under shirts and lightweight jackets on warmer days.
4 Striped tee
A striped tee is a fun piece to have in your spring wardrobe staples. Layer one under your denim or utility jacket, pair it with jeans, joggers, or dress down skirts with a striped tee. While a basic black and white striped tee shirt or navy and white tee shirt will work, you can get spring vibes in a colorful striped tee.
If stripes aren't your thing, consider having a graphic tee as a closet staple. Sometimes graphic tees are trending and sometimes not, but they are never really out of style.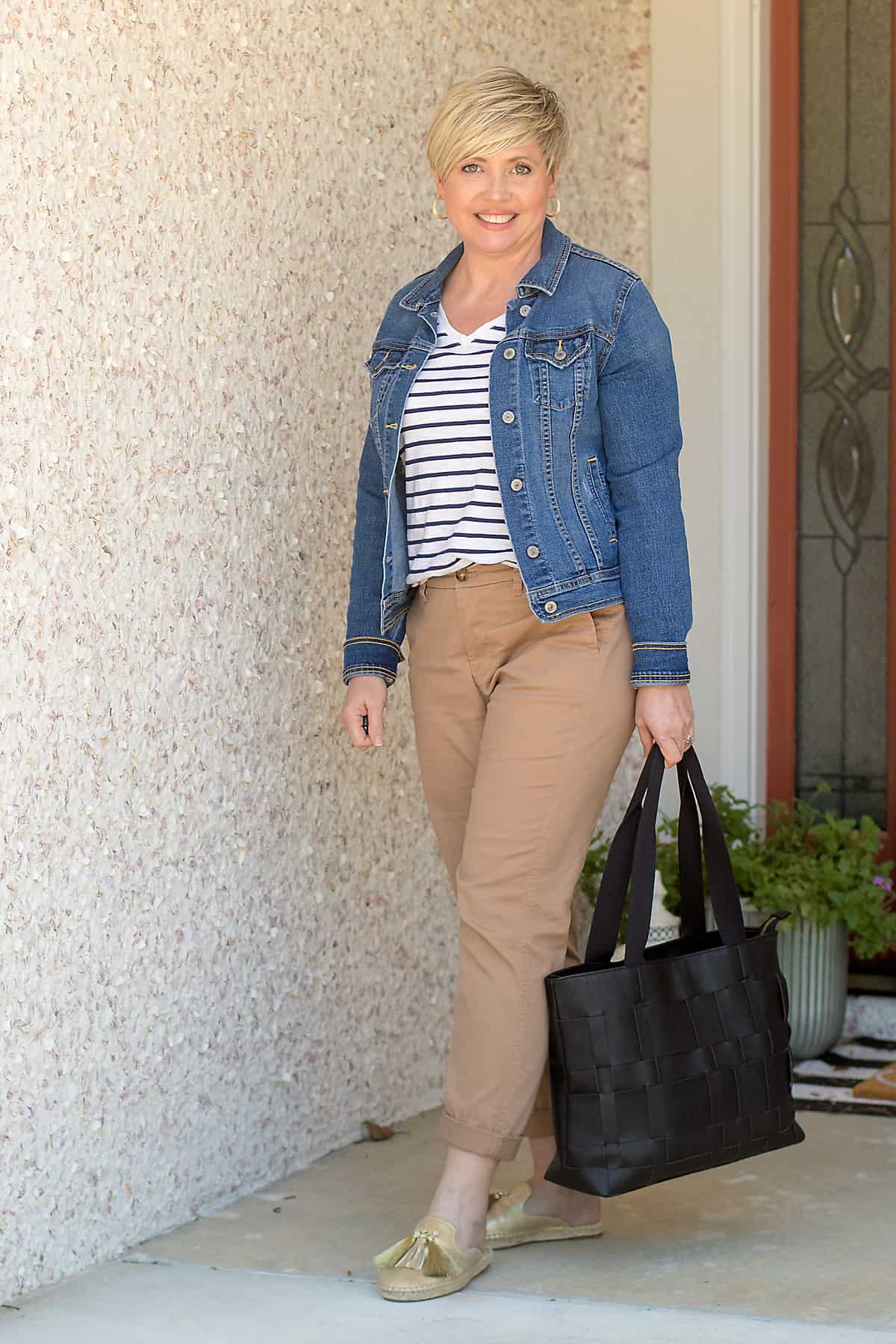 5 Camisole
Your climate might dictate a long sleeve layering tee in place of a camisole, but a camisole is a great piece for us southerners. A camisole is great for layering under a sweater or cardigan or even a blazer so we can keep layering in spring without melting.
Our spring season gets pretty warm. An ivory cami or even a floral print one goes a long way in your spring wardrobe. It's also a great piece for date night outfits in any season.
6 Cardigan
No season is complete without a cardigan. I even keep a lightweight cardigan around in the summer for chilly indoor air conditioning.
The cardigan in soft spring colors is a must have on the list of spring wardrobe staples. It's cozy for chilly mornings and easy to remove when the afternoons warm up.
If you want to be trendy, add a cropped or chuncky v-neck button up cardigan to your closet this year.
7 Spring sweater
There are still some chilly days in spring so don't pack away the sweaters just yet. A bright cheery or soft pastel sweater is essential for spring. A sweater is the perfect piece for a cool spring day outfit.
In Change Your Clothes, Change your Life: Because You Are Worth It, George Brescia recommends a cashmere sweater for it's instant polish and noted that lighter weaves can be worn into spring. I have yet to invest in cashmere, but it's on my list.
It's not cashmere, but the JCrew Factory Teddie sweater is my favorite and always comes in the best spring colors.
8 White denim or white pants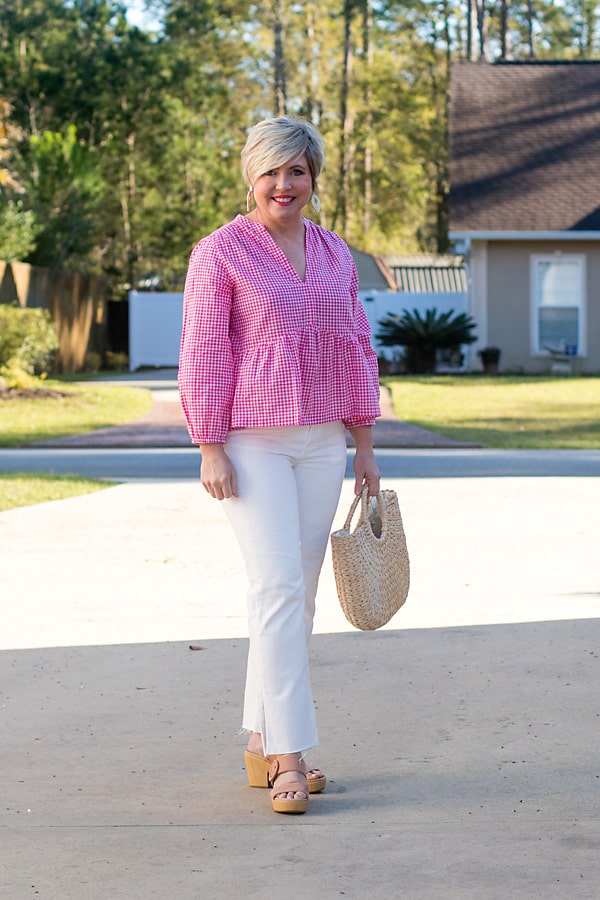 Jeans- Gap
White jeans are a refreshing change from winter's darker colors. If you have shied away from wearing white jeans in the past because you think they are hard to keep clean, show all you lumps, etc. let this be the year you invest in white jeans.
I do recommend buying a higher quality brand when buying white jeans because the material will be a bit thicker and more flattering. My favorite brand is NYDJ but I also wore a white pair from Loft for years. I wear their curvy fit.
If denim isn't your preference, white pants work too. Again, this is an item in which you want to look for high quality so they aren't too thin and don't show all the bulges. White bottoms work well with all of the trending bright colors (link) as well as with neutrals.
9 Your favorite pair of jeans
Dark wash jeans will forever be classic and all around flattering for most women. Light wash jeans have been having a moment for a couple of years and are also very much in style. Like white, lighter washes are a refreshing change for spring and pair well with all the spring pastel colors.
A variety of washes and leg styles are on trend this year. (update link) No matter what your jean style preference is- skinny jeans, straight, wide leg – you can't go wrong. I caution you that skinny jeans are not the most trendy or stylish jeans right now, but if you still can't give them up, that's fine too. Incorporate some other trends with them to keep them looking modern.
Wide leg jeans and pants are the trending thing this year.
10 Mules/loafers/ballet flats
Pack up the heavy winter boots and pull out the loafers, mules and ballet flats. They make a great in between shoe when it's not quite time for sandals and open toe shoes. Mules became my go to shoes during the pandemic because they are so easy to slide on and off. Check out this article for some history on mule shoes.
Ballet flats are having a moment this year.
11 Sneakers
I'm laughing at myself for including sneakers in this list of spring wardrobe staples because I went for years convinced that I only needed my running sneakers and I did not wear sneakers for anything else. I was more than happy to wear all the other cute casual shoes but eventually sneakers grew on me and I have several pair in several styles.
White sneakers are a perfect addition to your closet and are extremely versatile.
12 Spring dresses
Spring is for pretty dresses. I don't get the opportunity to wear dresses much but spring brings so many occasions for wearing dresses- Easter, weddings, baby showers, and Mother's Day events.
It's not a bad idea to have at least one pretty dress in your closet. Spring dresses tend to come in lots of florals and are usually a little more flowy than fitted.
For an affordable spring dress, try this one from Old Navy.
Boots- Amazon
13 Lightweight tops
Top- Old Navy
Spring is the time to shed the layers and wear pretty tops that shine on their own. A floral top will usually have several colors that will give you multiple options for pairing it with different color bottoms and your favorite jeans. Solid tops in bold colors are a great option too. Whether you choose long sleeves or short sleeves is totally up to you. Many of you prefer arm coverage, so lightweight long sleeve tops definitely have a place in spring weather and it's the perfect time to wear them.
See Also: The Best Sleeves for Big Arms
14 Tote
These last two items are purses. I don't change purses often but I do like to change with the season. A classic tote in cognac, taupe or blush will make a great addition to all your spring outfits.
A tote is my go to for day to day because I chunk everything in it when I'm going to the office, including a water bottle and snacks.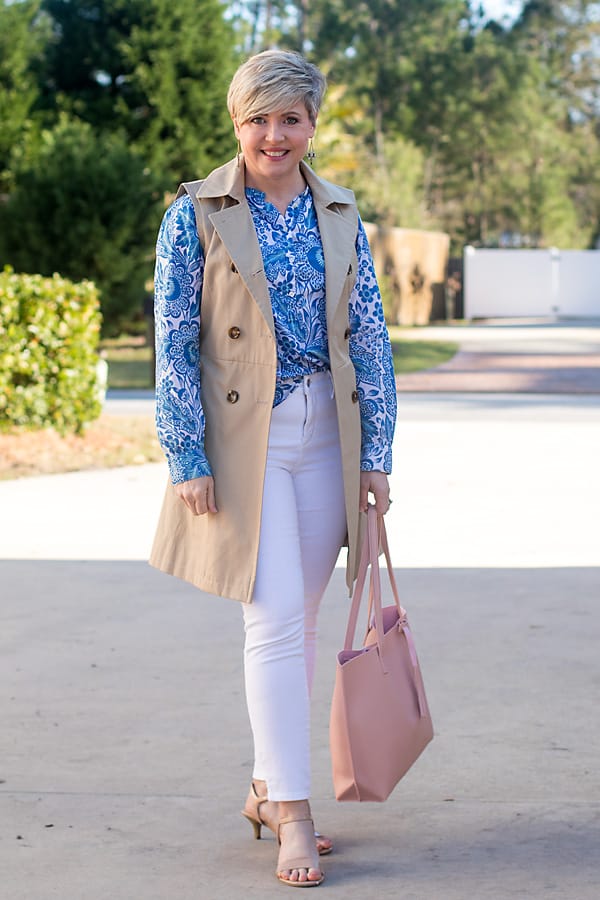 Blush tote-Amazon
15 Crossbody
When you want to lighten the load and only carry a few personal items, a smaller crossbody purse is a great choice. Choose a lighter color like taupe or blush for spring.
Finally,
When it comes to sprucing up your wardrobe for the new season, the key is to refresh staple pieces with a few special items. A few new pieces can give your wardrobe the update it needs, including minimalistic basics, lightweight layers and romantic blouses. With these wardrobe staples, you can look forward to a season of fashionable, put together looks.
Which of these items do you have in your closet and which will you be adding?