It's summer and that means no more hiding under layers of clothing. It means wearing clothes that show more skin, and for some, showing body parts that you are no longer proud of, like the upper arms. Upper arms can be an area that tends to store fat and lose muscle tone quickly as we age. If your big arms, or maybe just flabby arms, have you stressing over wearing certain summer tops, relax a little and know that there are options out there.
We are going to discuss the best sleeves for big arms in this article and look at some stylish summer tops that will allow you to cover that problem area and still look fabulous. We will also look at other ways to minimize larger upper arms that have nothing to do with sleeves.
The first rule to remember when trying to minimize the appearance of large upper arms (or any other area you want to minimize) is that you should never have a horizontal line across the largest part.
Any clothing or accessory that creates a line across something is going to draw attention and make it look bigger- belts with large tummies, tops and jackets that end at the widest part of hips, hem lines that stop at the largest part of the calf, and sleeves that cut straight across the biggest part of the arm.
For arms, the biggest offender is the standard basic knit t-shirt that creates the perfect line mid upper arm. Not so perfect if you are uncomfortable with your upper arms.
What are the Best Sleeves for Big Arms?
These sleeve types and the following tips apply to tops and dresses.
Elbow length sleeves
If you wear short sleeves that hit mid upper arm, chances are they are going to be too tight. Too tight of a fit on any part of the body is not flattering. This includes your basic tee shirt or knit top. It might fit, but most t-shirt sleeves fall at the part of the arm you are trying to minimize.
Pick t-shirts with elbow length sleeves instead. This striped slub V-neck t-shirt is a great choice as the fit is not too tight. If you are worried about the stripes making your arms look bigger, opt for a solid color.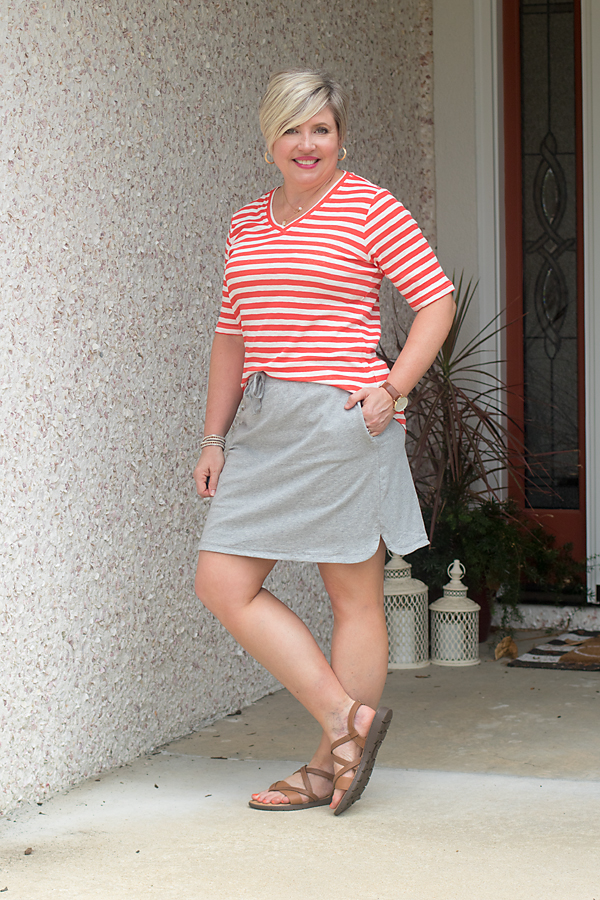 Top- Macy's; skort- Macy;s; wrap bracelet- similar
Wider, looser fit sleeve
This elbow sleeve tunic has a flowy, ruffle sleeve. It allows plenty of room for arms and air flow to keep you cool. This tunic is one of the most comfortable pieces I've ever put on. I paired it with a slim white denim skirt. Try it with slim ankle pants or fitted Bermuda shorts too.
This top comes in solid colors with lace elbow flutter sleeves also.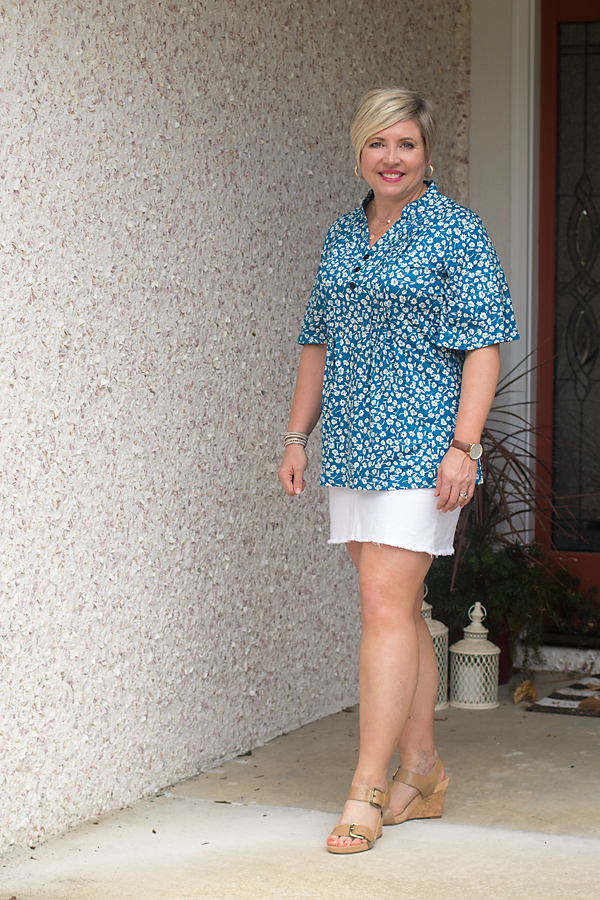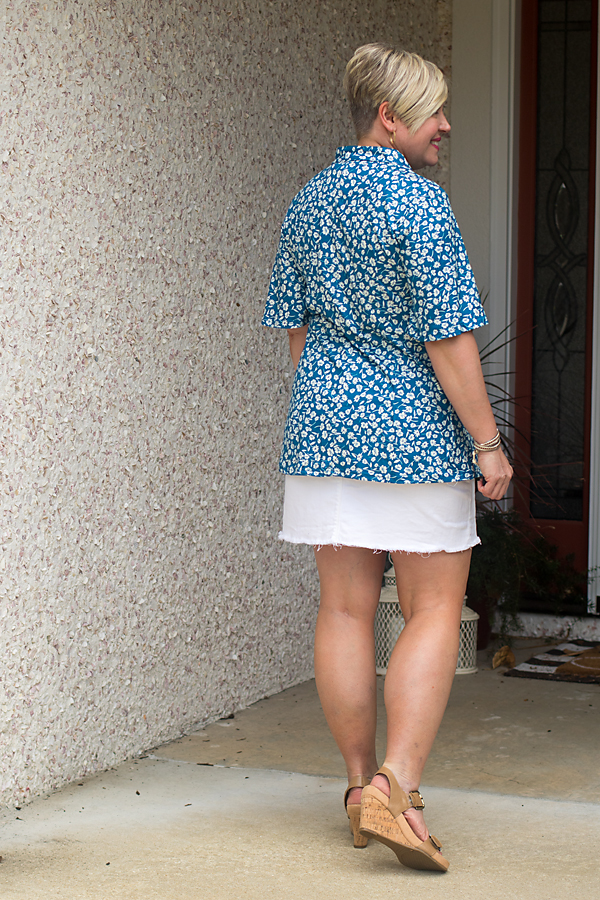 Top- Amazon; skirt- similar; similar wedges
Shop elbow sleeve tops:
¾ length sleeves
A three-quarter length sleeve ends at a slim part of your arm and gives an overall slimmer appearance to your whole body. It's a win/win situation.
Your upper arms are covered and your overall appearance is trimmed up a bit. Three-quarter sleeves are universally flattering and easy to find in stores. They are one of the best sleeves for big arms.
This printed tab sleeve top is a three-quarter length sleeve that has bonus details that help with large or flabby upper arms. The roll tab sleeves create a focal point that draws the eye down and away from the upper arm. This print sold out, but these are similar in other fun prints for summer.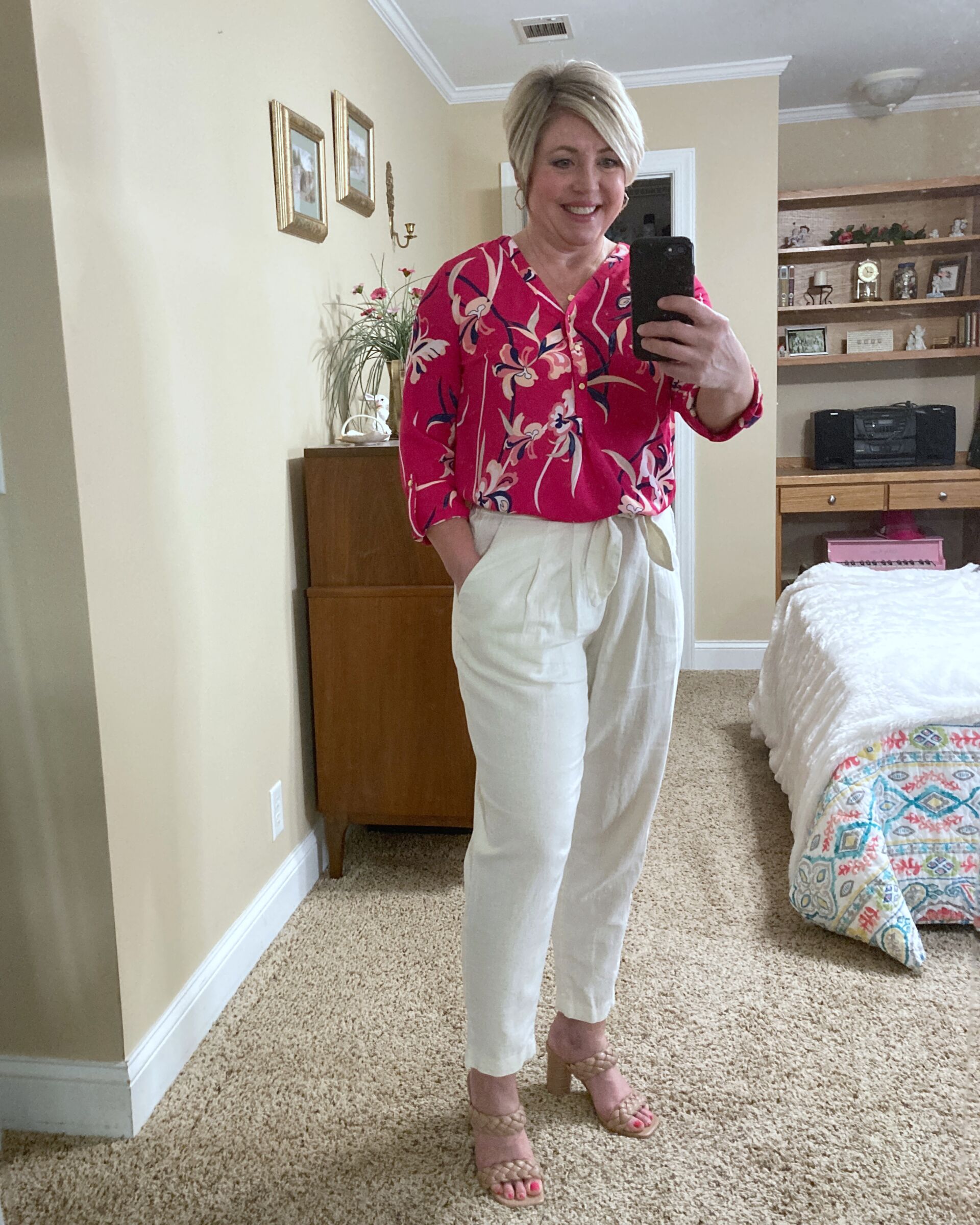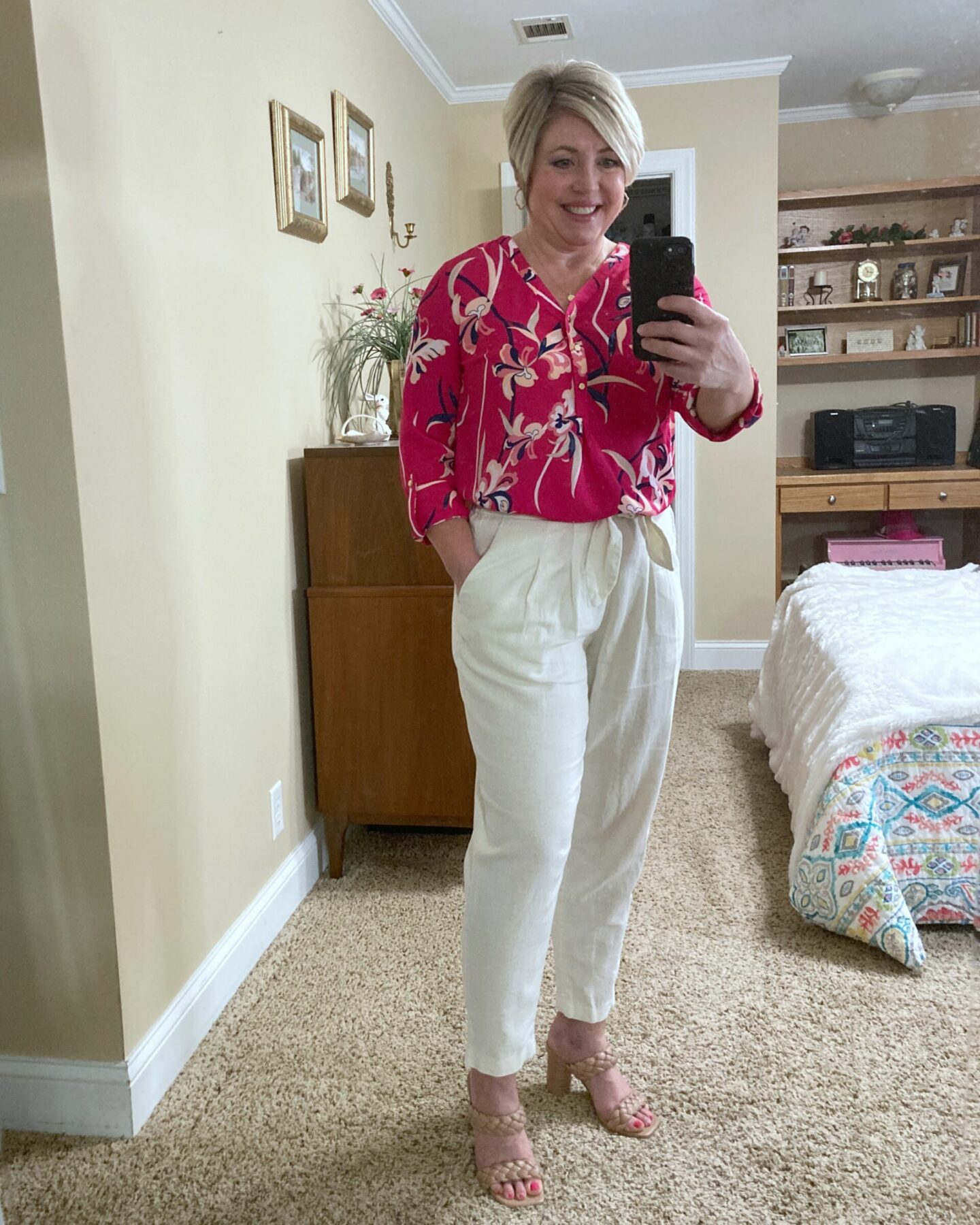 Similar top; pants- Target; shoes- Target
Another great option is this ¾ tie sleeve top. The ties at the bottom provide a little detail that draws the eye away from the upper body. A little flounce, ruffle or cute cuff at the end of a three-quarter sleeve top will also do the trick.
Shop three-quarter sleeves:
Long Sleeves Rolled Up
Go for light weight cotton or linen button up blouses and roll the sleeves up to about ¾ length. This tip holds true for any time of the year, not just summer. Rolling or pushing the sleeve up a bit will always help keep you from looking frumpy or stuffy.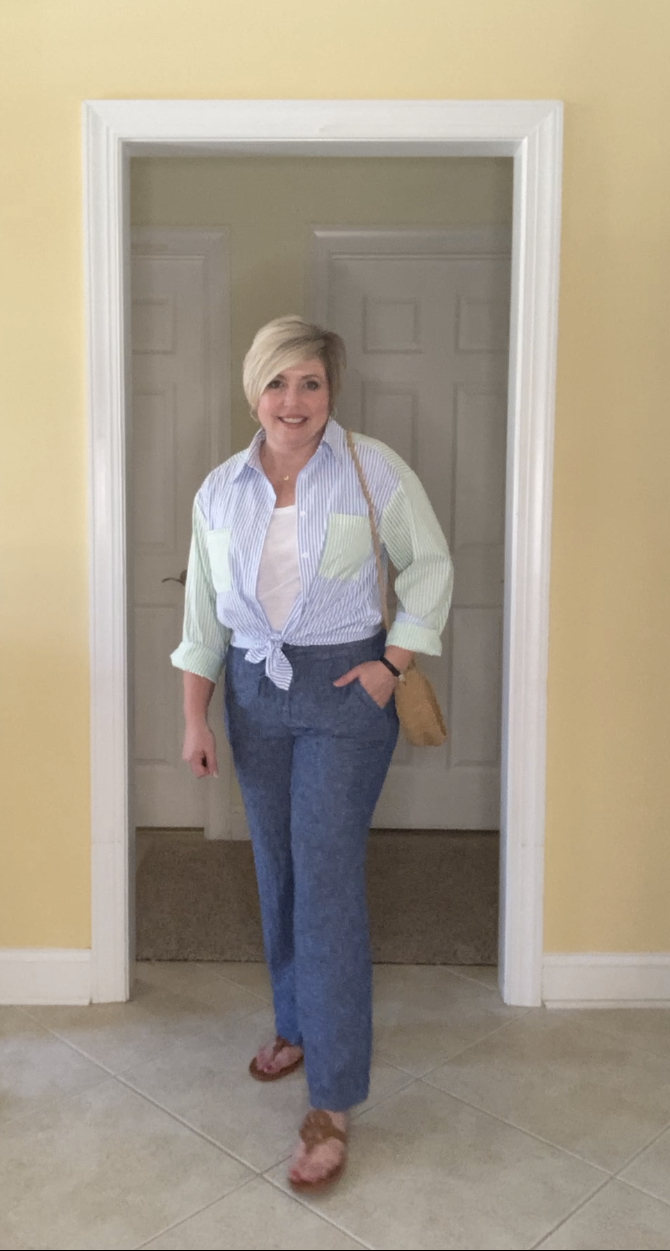 This blouse is a cool cotton/polyester blend that feels like silk. The summery blue and green stripes make it versatile to style. See six ways to style it in this reel:
Kimono style blouses
A kimono sleeve is cut as an extension of the body of the top and are loose and flowy. They provide lots of ease at the armhole. This smocked waist top features three-quarter length kimono sleeves. The sleeves are sheer.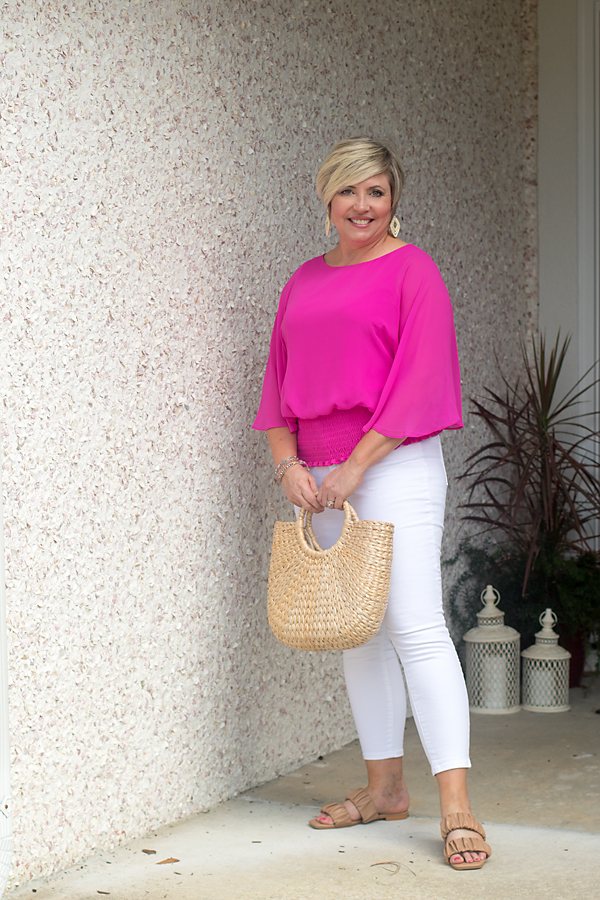 Top- Macys; jeans- similar; earrings- Amazon; purse- Amazon; sandals- Amazon
Shop kimono sleeves:
Cover your upper arms with a layer.
A lightweight cardigan, kimono or jacket will do the trick.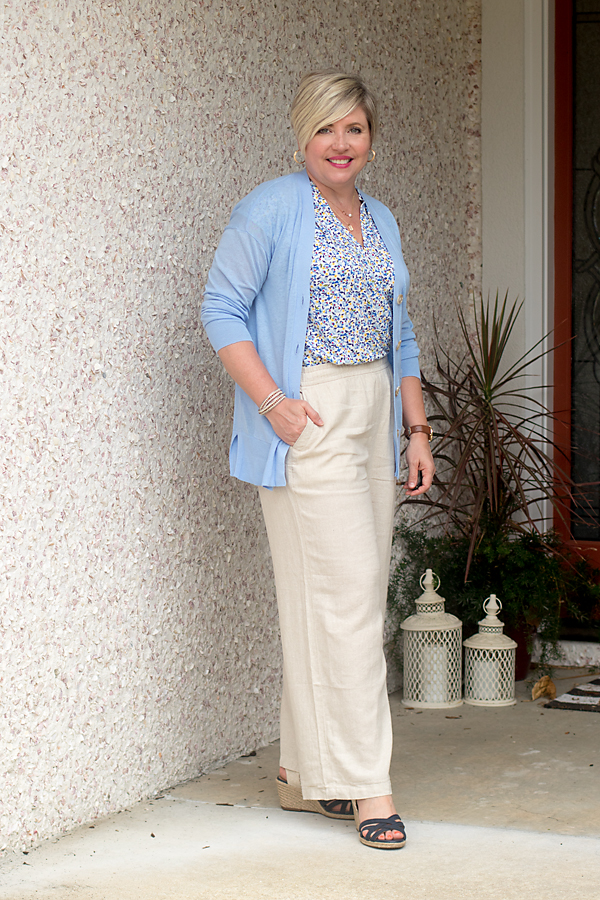 Cardigan; top- Nordstrom Rack; pants- Old Navy; shoes- similar
This cardigan from Loft pairs nicely with a sleeveless or flutter sleeve top and will ward off any indoor A/C chill. It's also light enough to tolerate outside while running errands or dining in the shade.
A kimono is my favorite summer layer. Wear those tee and tanks that aren't so flattering and add a kimono.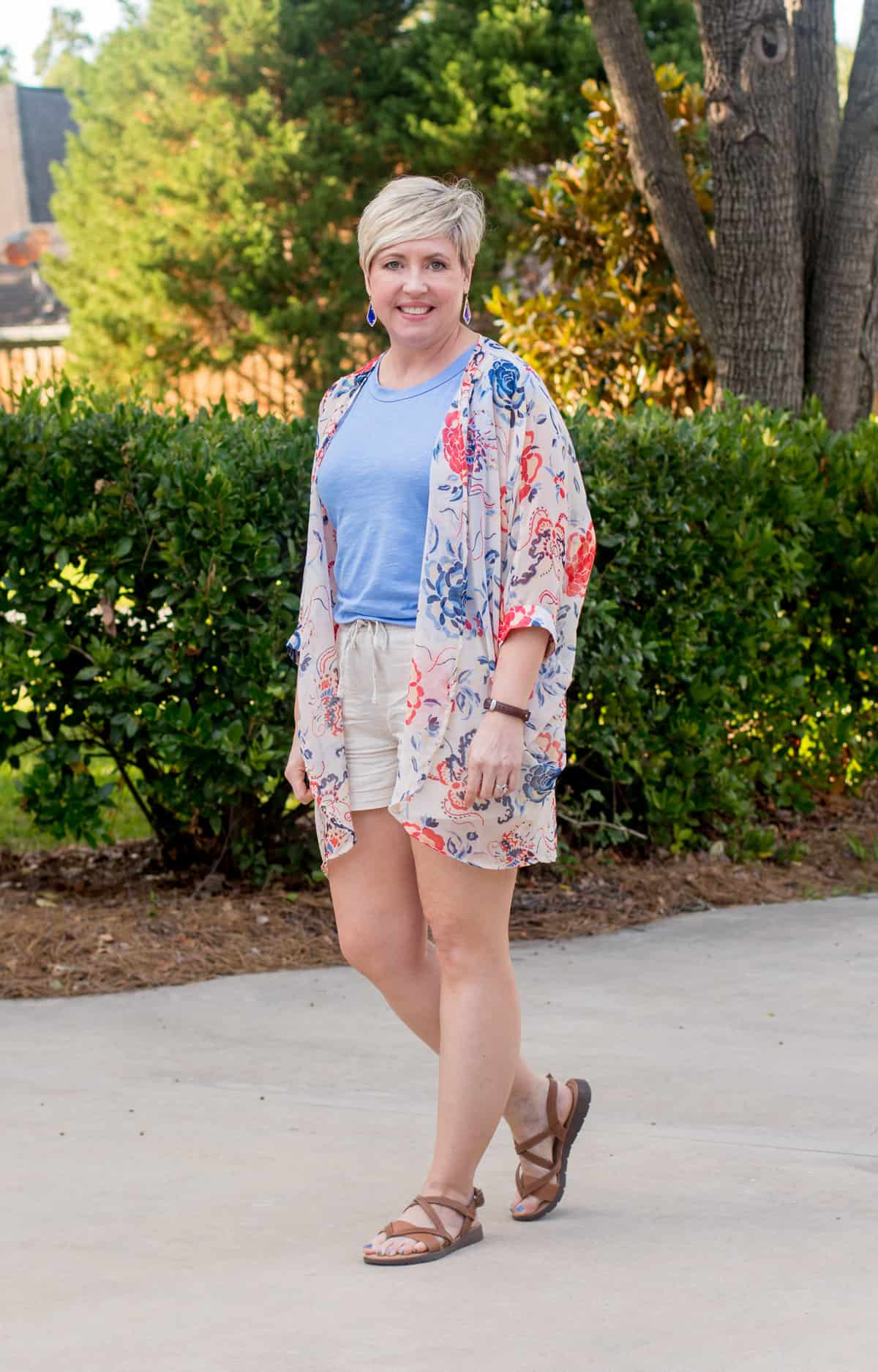 If you live in a mild summer climate, you can cover your arms and have a cute summer outfit with a denim jacket. I tend to drag one around with me for cold restaurants and stores.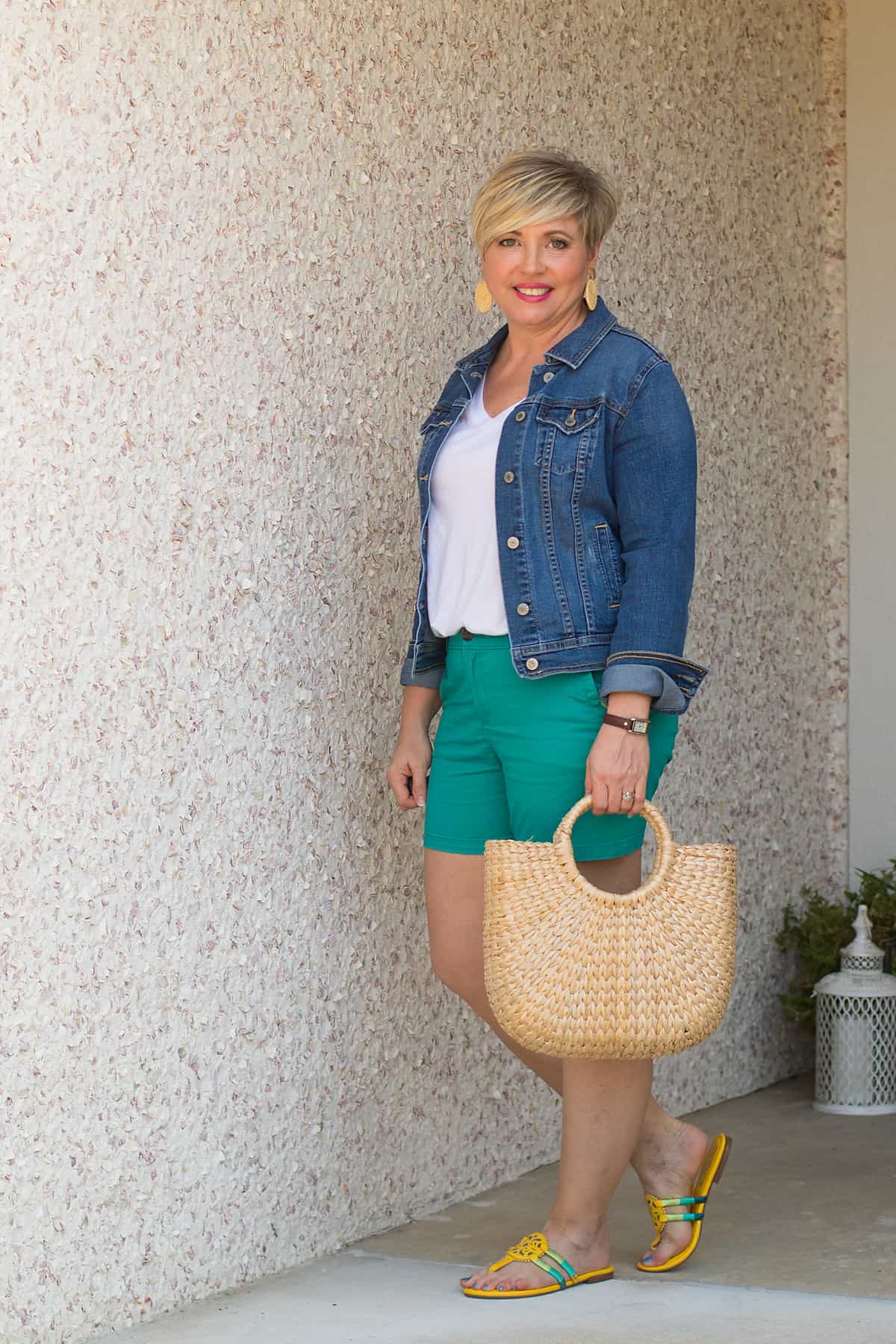 Long sleeves that aren't solid
Sheer, cut outs, lace, crochet – You can still wear long sleeves in the summer. Sleeves that are sheer, have cutouts, lace or crochet will keep you cooler and will look elegant for an evening out.
Off shoulder tops
Bring the attention up to the shoulders with an off the shoulder top. Most women have beautiful shoulders, so show them off.
This floral off shoulder top is lightweight and pairs beautifully with a skirt.
Top– Amazon
Also check out Cute Summer Tops with Sleeves (That Cover Upper Arms)
Other ways to minimize large arms
Get a proper fitting bra!
This is so important that it should have been at the very top of this article. If your bra is too small and you have spillage or it's digging into your flesh at your armpits, it's going to draw attention to the larger part of your arm. A proper fitting bra with make you look slimmer all over.
Accent your waist
Draw attention down by wearing a cute belt or top that has an interesting waist detail and your arms will take a backseat.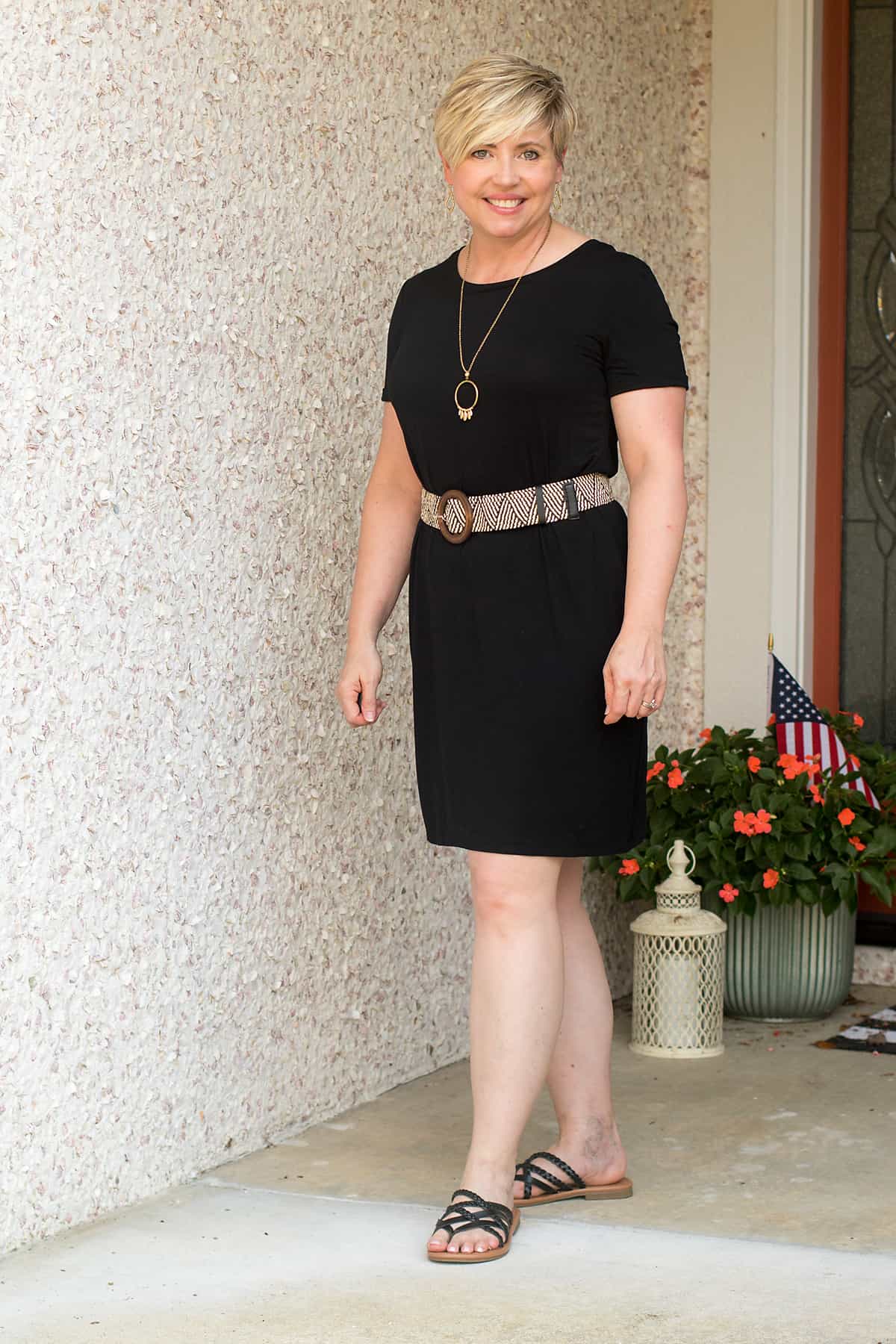 Statement earrings
Draw attention up to your face with a statement earring.
Choose earrings that flatter your face if you really intend for this to be a focal point. Wear round or square earrings if you have a long face and longer, thinner earrings if you have a round face. Your earring shape should be opposite your face shape.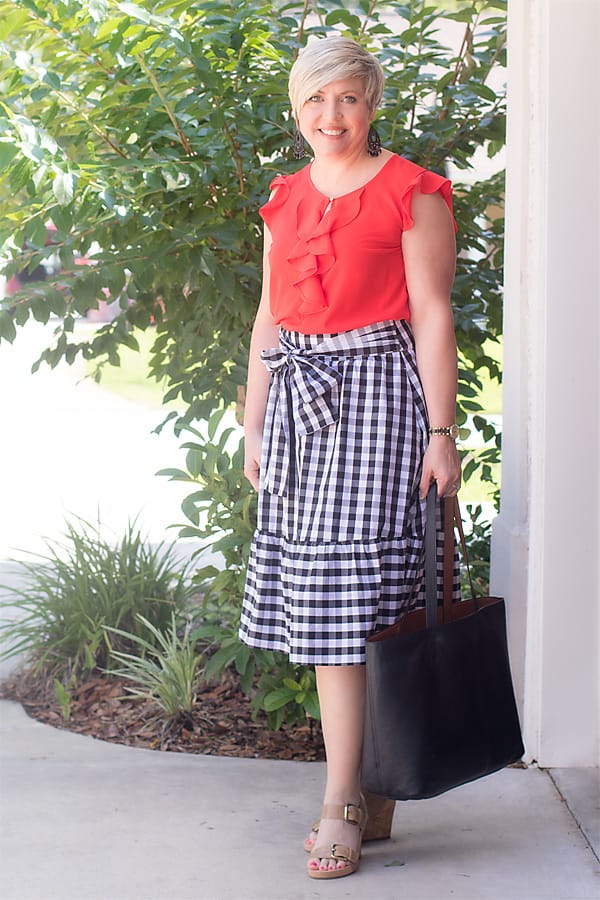 Statement necklace
Another way to draw attention up and away from your large arms is to wear a statement necklace.
Bracelets
A stack of bracelets or a unique colorful bracelet will draw the attention down to the slimmer part of your arm. You can have a lot of fun with bracelets and really elevate a look.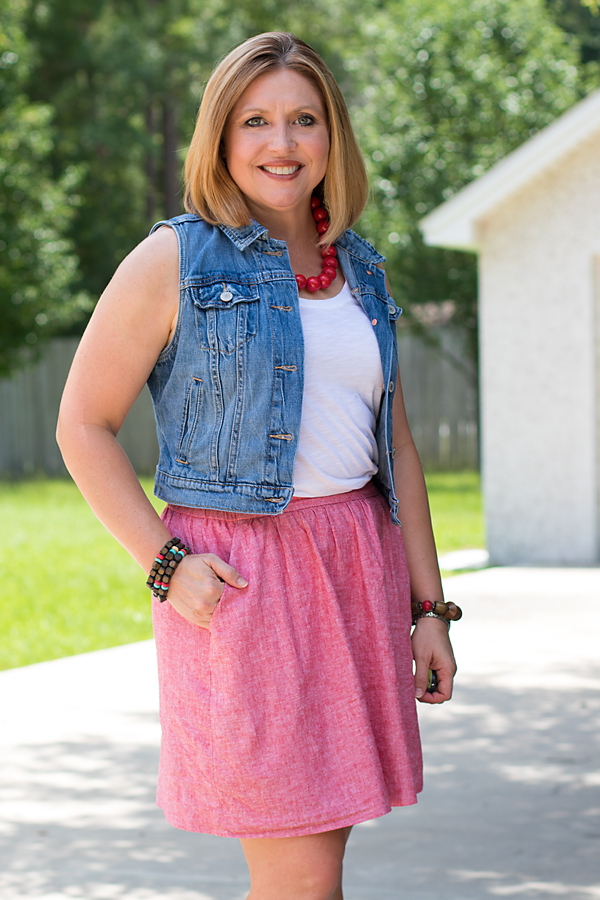 Shop statement earrings and bracelets:
Accent the lower half
If you want to wear a sundress or sleeveless dress, or one that doesn't fully cover your big arms, wear one that accents the lower half of your body or lower third. A dress with a ruffle hem will accomplish this.
See also 13 Tips for How to Wear a Sleeveless Dress with Big Arms.
Both the buttons and the ruffle hem serve to draw the eye down on this cute dress from Loft.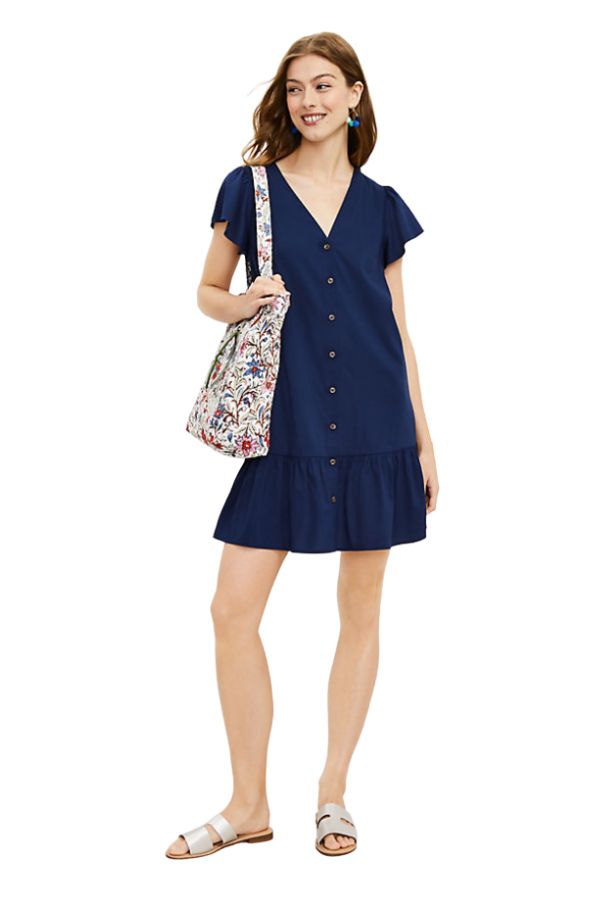 Necklines matter too
The neckline you choose will help bring focus to your collarbone and chest area and your pretty face and away from your arms.
Some necklines that draw attention from big arms:
V-neck A universally flattering neckline for most women.
Scoop Rounded lower cut neckline. This neckline will lengthen the neck and flatter the collarbone. Good for small or large busted women, athletic, hourglas and pear shaped bodies.
Sweetheart Lengthen a short neck and chin and can balance a square jaw.
Square Also flatters a square jaw and works for short necks and those with a larger bust.
Sleeveless tops
The wider the strap, the better when choosing a tank top to wear if you are uncomfortable with your arms. Another option is to go with a sleeveless top in your most flattering neckline and color.
Sleeves to avoid for big arms:
Short cap sleeves These tend to stop a very unflattering place on the arm. They can serve to create a "sausage casing" effect.
Tight fitting sleeves Sleeves that are tight fitting can also create a casing effect and make your arms look bigger.
Tops with large attention drawing patterns like large florals, large dots or large stripes. Remember, the point is to take attention away from the upper arms, not draw it to the arms.
Armed with all this knowledge, you should be able to take on summer tops with confidence. Choose your best neckline, most flattering color and a sleeve type that accomplishes your outfit goal, and be proud of those arms, no matter their condition. Your arms lift things and are attached to the hands that serve you and serve others!