When the temperatures and the humidity rise, it can be almost unbearable to head out into the heat. Triple digit temperatures are no joke and we are heading into that time of year when Mother Nature starts pushing those numbers.
It can be hard to even care about fashion during these times, but it is possible to stay stylish and cool during hot weather.
Here are my favorite ways to dress for hot weather.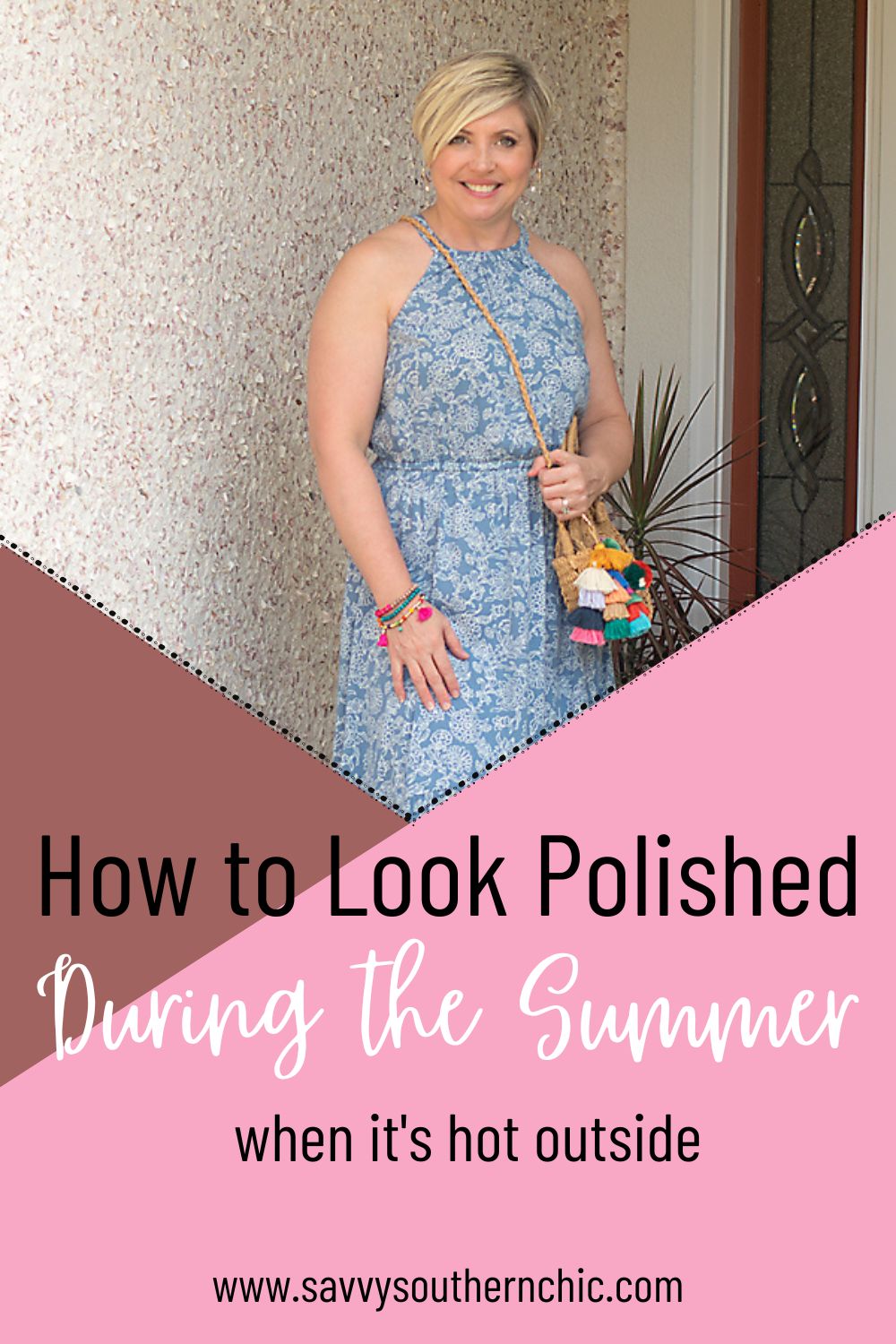 Sandals and slides make basic outfits stylish in the summer.
Free the piggies! If my toes and feet can feel some air flow, I'm so much more comfortable.
Wear sandals and make them cute. Those $1 Old Navy flip flops are for the beach, pool and campground shower. I don't consider them to be shoes. Wearing a stylish sandal or shoe will level up even basic shorts and tees.
Socks and closed toe shoes can make your feet hot during the summer, so opt for sandals when it's appropriate. When sandals aren't appropriate, opt for shoes that are breathable and get some moisture wicking socks.
Top- Nordstrom Rack; shorts- Amazon; hat- Loft; sandals- Amazon; earrings- Amazon; option bag- Amazon
Skirts and dresses are great options for stylish and cool summer outfits.
When it's hot, skip anything that clings. Tight or fitted clothing will be uncomfortable and you will look uncomfortable. Looking uncomfortable is not stylish.
I favor skirts and dresses over jeans. They are breezy and cool. If thigh rubbing or sweat dripping is an issue, wear slip shorts under skirt and dresses.
Related: 11 Casual Summer Dresses and Skirts From Amazon (That Will Take You Stylishly to the End of the Season and Beyond)
Related: 6 Chic Casual Ways to Wear A Midi Skirt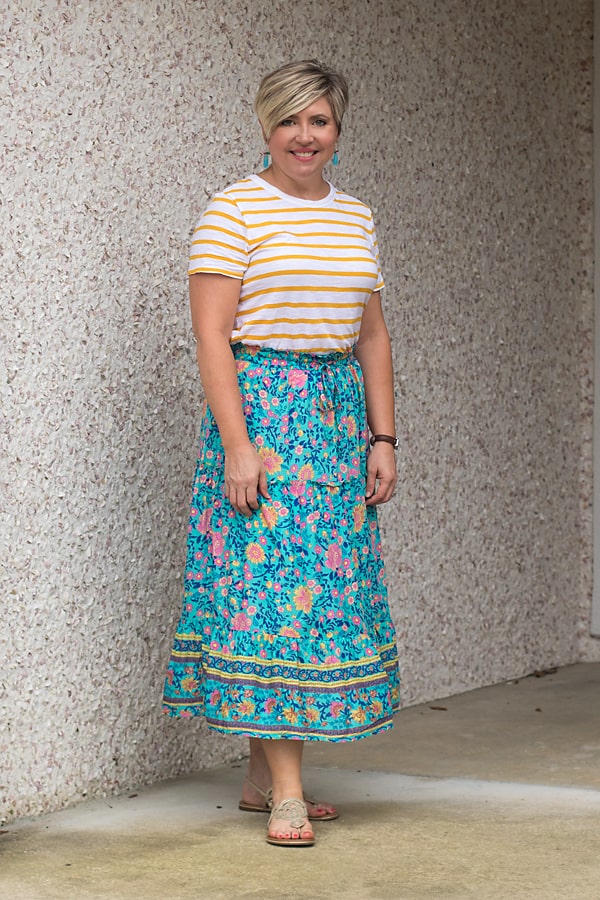 Skirt- Amazon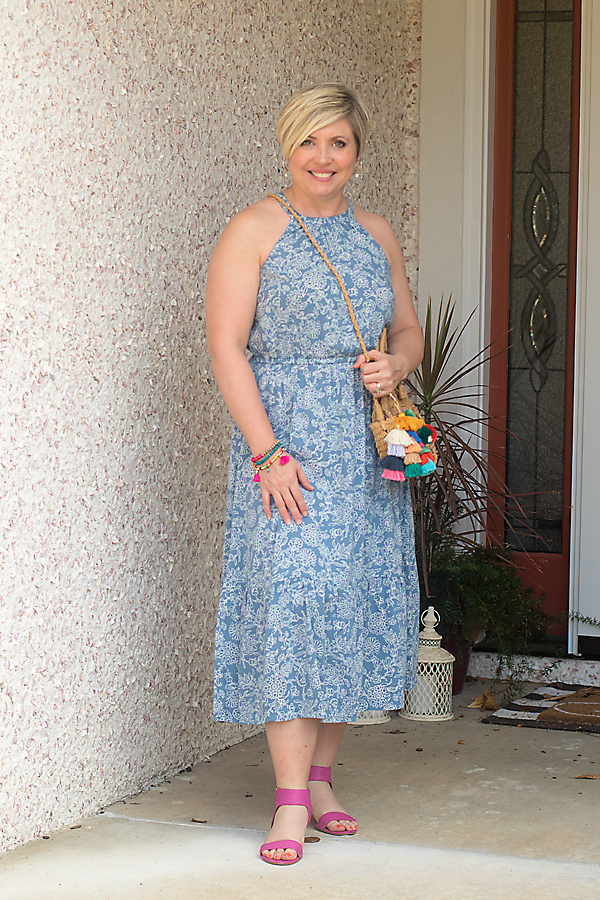 Similar dress; purse; tassel; similar bracelets; similar sandals
Kimonos and tanks make stylish summer outfits that keep you cool.
A tank will keep you cool but if you are self conscious of your upper arms, a kimono is great way to cover up while staying cool. A kimono is a great way to add that third layer.
If you aren't comfortable wearing shorts, pair a kimono and tank with straight cut skirts, crop pants with a slimmer silhouett, or lighter weight denim or white jeans.
Related: Fashion A to Z: K for Kimonos
Shop kimonos
Loose-fitting clothing is your best option for staying cool in the summer.
When putting together summer outfits the goal is to have as much airflow as possible.
Opt for cropped, wide-leg pants, loose shirts, oversize blouses, and dresses and skirts with room to breathe.
You may not be comfortable going sleeveless, but you can look for loose, flowy sleeves. A looser-fitting sleeve will still allow for air flow while providing upper arm coverage.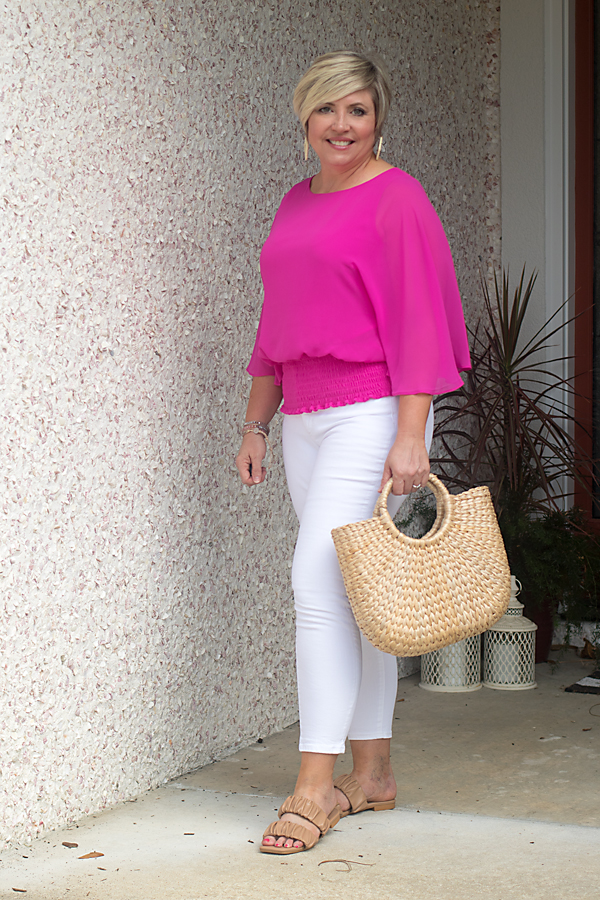 Top- Macy's; jeans- Loft; sandals- Amazon; straw tote- Amazon; earrings- Amazon
Wear breathable and natural fabrics.
Cotton, linen and rayon. Polyester will stick and is not your friend for hot weather. Seersucker, chambray, eyelet, and jersey are great options for staying stylish and cool during hot weather.
Linen shorts: options
Wear light colored clothing.
Light colors and white clothing will reflect the sun's rays and heat.
Spice up your basic outfits with statement earrings.
When it's too hot for layers and lots of accessories, a pair of fun statement earrings can bring a simple outfit of shorts and a tee up a level. Statement earrings or one statement piece will help you look polished without a layer or topper.
Earrings- Amazon; shorts- Amazon
Have the right mindset about getting dressed.
Don't make it a chore. It's still an expression of your personality. Keep in mind the message you want to send with your summer outfits the same as in any season. Just because you are wearing less layers and clothing doesn't mean you can't be stylish.
Go back to your three words that define your unique style personality and make sure the pieces you pick fit those descriptors.
Pay attention to the fit of your clothing.
While you should ditch the fitted clothing and wear flowy, loose fitting clothes to stay cool, this doesn't mean you should wear clothes that are too big.
Wearing clothes that fit your body is critical to looking polished, especially when you don't have a topper to finish off an outfit, provide some structure, or to hide flaws. Don't wear baggy or saggy clothing. Make sure you are buying those looser clothing items in the proper size and not too big.
Pay attention to the condition of your clothing.
Stretched, faded and worn clothing never looks polished.
Also keep in mind that a lot of these summer fabrics will loose their shape mid to late day because they are lighter and lack structure. Pair one of these lighter (and likely lesser quality) items with a piece that has a little more structure.
Linen will wrinkle and you just have to accept that. Beyond linen, make sure your clothing is wrinkle free and in good condition.
Add some structure to your outfit.
When wearing a loose, flowy outfit, add some structure with a structured satchel or tote. A belt is another way to add structure.
Switch it up with color or pattern on the bottom.
Pair a basic top with statement bottoms.
Most people wear basic bottoms and patterned or statement tops. Switch it up.
Wide leg crop pants in a pattern or print with a plain top are a great way to achieve this.
Pants- Loft; hat- Gap; bag- Amazon
Change your hair and make up.
Skin and hair need different products in he summer than in winter.
Don't avoid makeup but lighten up and go for waterproof mascaras and eyeliners that don't run.
Try out a fun hair accessory. A headband or clip is another great way to polish up an outfit without a third layer.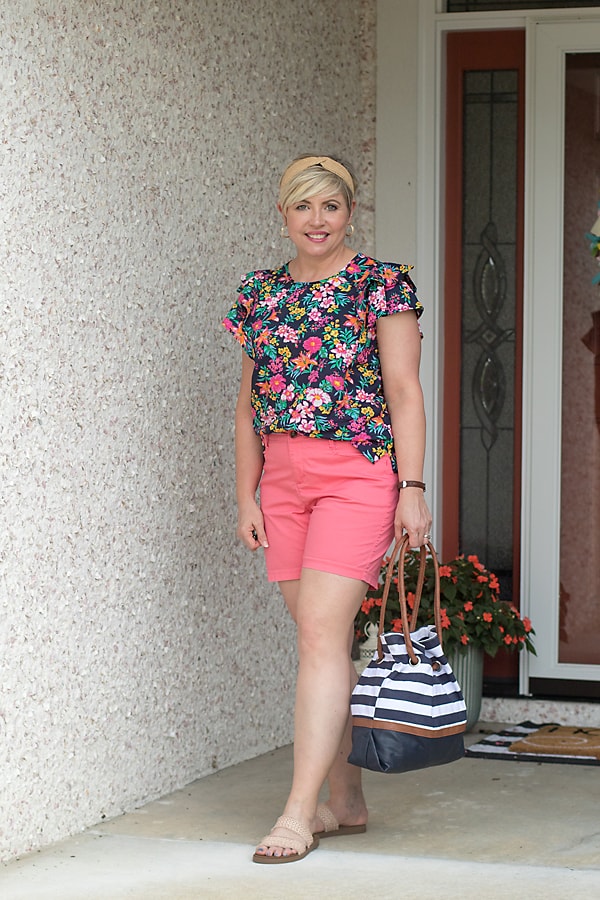 Headband- Amazon
It's easy to stay stylish and cool during hot weather with one of these tips. What's your favorite way to stay stylish and cool during hot weather?
If you love this post, please pin it and share it!
DON'T MISS OUT!
Subscribe to my daily feed or to the weekly newsletter to get each post as its posted or a link to the each week's posts along with exclusive subscriber content in the weekly newsletter. Make sure you check your junk email after you subscribe and add me to your email safe list.