Do you like to read books written for the season you are in? Beach reads for the summer? Winter and holiday themes for the winter? Or do you like the opposite- escaping to a tropical place in the dead of winter through a book? If you like holiday themed romances and Christmas stories, here are my favorite holiday romance books to get you in the mood for the season.
Most of these are light hearted, easy to read rom-com novels. They have a touch of humor and lots of sappy feel good romance.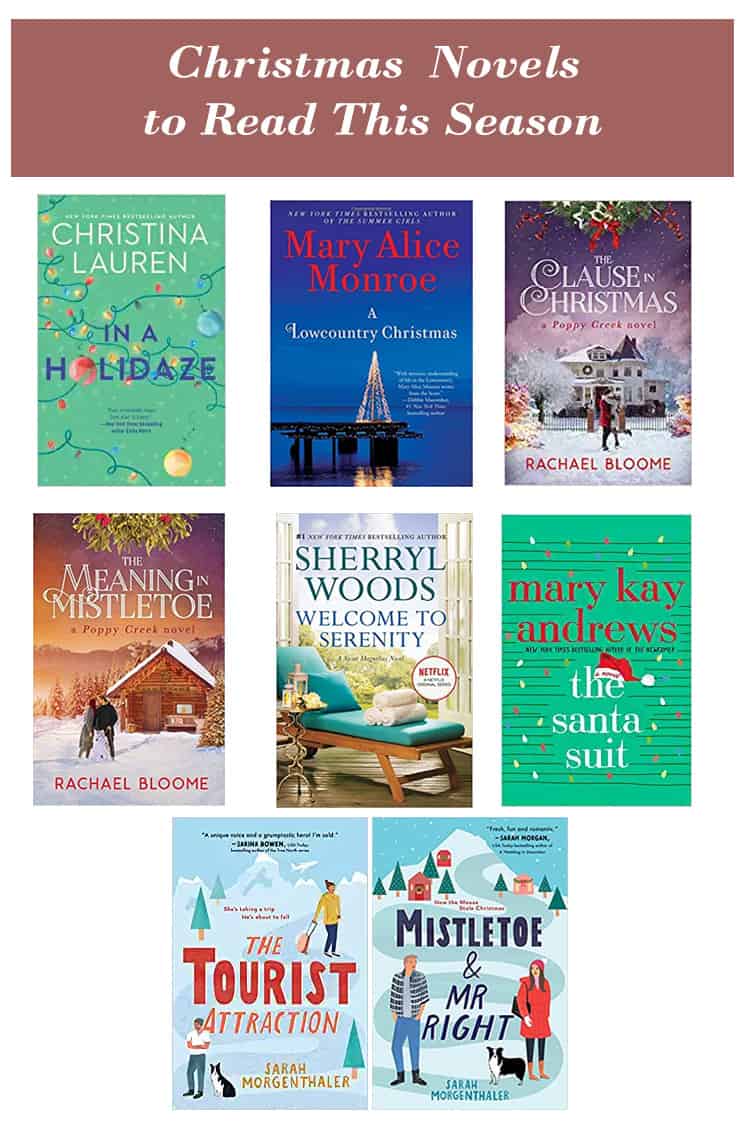 In a Holidaze by Christina Luaren– This is a groundhog day type of story about Maelyn Jones "She's living with her parents, hates her going-nowhere job, and has just made a romantic error of epic proportions.
But perhaps worst of all, this is the last Christmas Mae will be at her favorite place in the world—the snowy Utah cabin where she and her family have spent every holiday since she was born, along with two other beloved families. Mentally melting down as she drives away from the cabin for the final time, Mae throws out what she thinks is a simple plea to the universe: Please. Show me what will make me happy. The next thing she knows, tires screech and metal collides, everything goes black. But when Mae gasps awake…she's on an airplane bound for Utah, where she begins the same holiday all over again."
This was funny and a bit of a roller coaster once Maelyn figures out her to get her true love.
A Low Country Christmas by Mary Alice Monroe – Not a romance, but a good family story. This is the story of Taylor, a marine coming home for service at Christmas time and his struggle with PTSD. If you have read the Lowcountry Summer series, Taylor is a familiar character, but this book can stand alone. Taylor's little brother is having some struggles of his own, as are their Mom and Dad, but all find the true meaning of Christmas in the end. This one will definitely tug at your heart.
The Clause In Christmas by Rachel Bloome
This is adorable! So much that I'm now hooked on reading the whole series. Cassie inherits a cottage from her estranged grandmother. There is a catch. She has to complete a Christmas calendar of activities to receive the inheritance. The bad news is Cassie hates Christmas and has never celebrated. The good news is that there is a handsome attorney assigned to oversee her compliance and assist with the activities. Not only does Cassies's heart change, but she is instrumental in changing the hearts of others.
"Who knew something as simple as a topiary draped in lights and colorful baubles could evoke such an emotional response?"
The Meaning in Mistletoe by Rachel Bloome The Clause in Christmas is the first in the Poppy Creek series and this is number 4. You can read them out of order, although there might be a few spoilers if you read the more recent ones and go back to the first of the series. Kat Bennett goes to Poppy Creek to meet her sister she's never met and to get an item that belonged to their mother in hopes of saving the women's shelter where she works and lives. What she finds is Jack Gardner and more hope and salvation than she bargained for. I never wanted a Christmas wedding but there is one in here and they are fun to read about .
Welcome to Serenity Book 4/ Sweet Magnolias Sherryl Wood
"When Jeanette Brioche helped launch The Corner Spa in Serenity, South Carolina, she found a whole lot more than professional satisfaction. She discovered the deep and loyal friendships that had been missing from her life. But even the Sweet Magnolias can't mend the terrible rift between Jeanette and her family or persuade her that the holidays are anything more than a season of misery.
Pushed into working on the town's much-loved annual Christmas festival, Jeanette teams up with the sexy new town manager. Tom McDonald may be the only person in Serenity who's less enthused about family and the holidays than she is.
But with tree decorations going up on the town square and a bit of romance in the air, Jeanette and Tom take a fresh look at the past and a hopeful look into the future. Together they discover that this just may be a season of miracles after all." I love this entire series. You can also read this one out of order at the risk of a few spoilers once you go backwards to catch up. This one might be worth reading out of order if you love reading about the magic of Christmas and how it can spark romance and heal hearts that are normally saddened by the holidays.
The Tourist Attraction (Moose Springs, Alaska #1)- Sarah Morganthaler This is a cute rom-com about Graham, an Alaskan native who really dislike tourists and Zoey, a tourist, who steals his heart. At the end of her two week vacation, they have to decide if this is a fling or the real thing. There are lots of other subplots and moving parts to the story, but all fun. All the characters are just adorable. It's not a Christmas story but it is the first in a series and worth the read.
Mistletoe and Mr. Right ( Moose Springs, Alaska #2) Sarah Morganthaler- Lana Montgomery (Zoey's friend from book 1) is a rich girl who happens to own most of the town and she is everything the town resents- money and change. However, she falls for Rick Harding, a local, and he falls for her. They have to decide if their two lifestyles will really work together in a relationship and Lana has to decide between what might cost her family money and her love for the town and best interest of Moose Springs. This is also an adorable story with some action scenes built it. So many of these characters and their stories could be developed to take this series further. This one is set during the Christmas season and it's one of the cutest holiday romance books.
The Santa Suit- by Mary Kay Andrews
"When newly-divorced Ivy Perkins buys an old farmhouse sight unseen, she is definitely looking for a change in her life. The Four Roses, as the farmhouse is called, is a labor of love―but Ivy didn't bargain on just how much labor. The previous family left so much furniture and so much junk, that it's a full-time job sorting through all of it.
At the top of a closet, Ivy finds an old Santa suit―beautifully made and decades old. In the pocket of a suit she finds a note written in a childish hand: it's from a little girl who has one Christmas wish, and that is for her father to return home from the war. This discovery sets Ivy off on a mission. Who wrote the note? Did the man ever come home? What mysteries did the Rose family hold?
Ivy's quest brings her into the community, at a time when all she wanted to do was be left alone and nurse her wounds. But the magic of Christmas makes miracles happen, and Ivy just might find more than she ever thought possible: a welcoming town, a family reunited, a mystery solved, and a second chance at love." This was super cute and well put together. It will have you smiling a lot and maybe even shedding a tear or two.
Be sure to check out 19 Plus Bookish Gifts for Book Lovers from Amazon and Etsy.
Linking up here