Feeling good about your body and knowing how to accentuate your best features can make you feel more confident and empowered. Every woman is unique, with her own body shape and size. Regardless of these factors, all women should embrace and appreciate their bodies.
Knowing your figure allows you to be more practical when shopping for clothes because you'll know what cuts and lines look best on you and complement your body. If you have the same body type as Cameron Diaz, Hilary Duff, Gwyneth Paltrow, or Kate Hudson, this is for you.
Here's a guide to dressing the rectangle body type and putting together rectangle body shape outfits.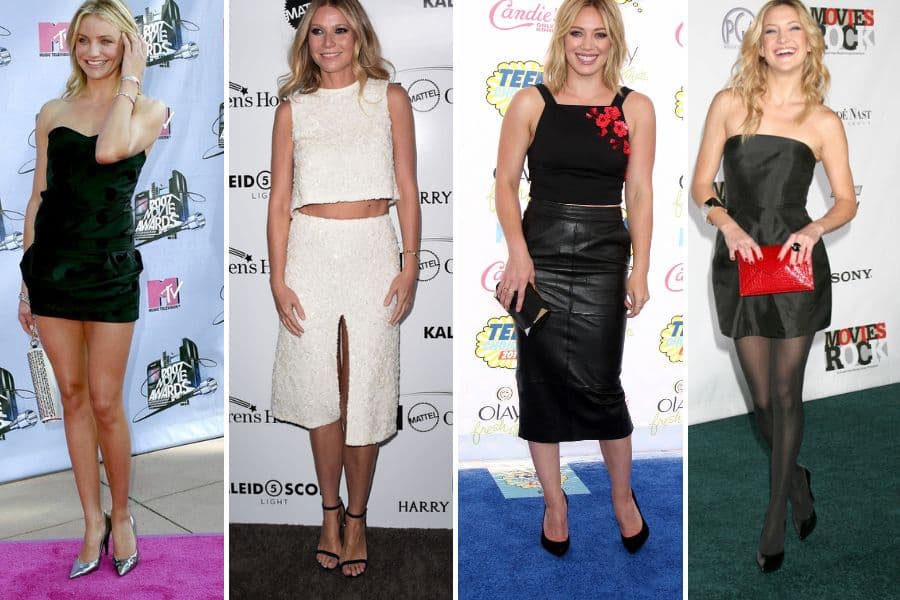 Knowing Your Shape
A rectangular body shape is also called a "banana shape" or a "straight shape," primarily because you have straight hips and a predominantly straight lines in terms of body width. Whether have an athletic build or leans towards the plus-size rectangular body shape, both will still share the common characteristic of your hips and shoulders having the same measurement.
Additionally, women with rectangular bodies usually have a moderate to generous bust, a smaller waist, and a relatively flat bottom. As a bonus, this body shape also has great legs and slim thighs.
When it comes to body type, size doesn't matter because your shape—which arises from your bone structure and body frame—makes all the difference. And the truth is, rectangular-shaped women will never have that hourglass figure, but with smart sharpening hacks through the right set of clothes, you can have a sexy, curvier, and pleasing shape.
Perks Of A Rectangular Body Shape
Each body shape has its own advantages that you can further work on to enhance your figure. For those with rectangular body shapes, here are some reasons to celebrate yours.
You have slender thighs and hips, perfect for wearing skinny jeans.
You have a well-balanced upper blody and lower body portion thanks to similar shoulder and hip measurements.
Your weight—even your extra weight—is evenly distributed.
Because of your strong shoulder line, any type of clothing looks great on you.
Your thighs and hips always provide a slender silhouette.
You can wear a variety of styles.
Styling Tips for Your Rectangle Body Shape
The goal when styling your rectangular body shape is to achieve an illusion of curves.
With that in mind, these three styling tips can make you look and feel great about your shape.
1. Always Define Your Middle.
Enhancing and defining your waist is imperative to improving and breaking the lines of your rectangular body. You have to emphasize your waist to make it more visible. Given your straight shape, cinching your waist more can give you that much-needed illusion of a more defined waistline.
You can easily wear a belt to shift the focus to your waist and avoid clothes that are busy on the midsection. You'd also want to play with different cuts to create curves through your clothing choices.
2. Create Your Curves.
Since you don't have that natural curve, use clothes strategically to create it. First, toss out all your shapeless clothes and invest in well-structured garments to achieve that curvier look.
You can either invest in adding volume on your upper half or your bottom half but at different times. It's always at the top or bottom for you to create that balanced and pleasant look.
3. Play With Prints, Textures, And Colors.
Dark and basic colors like black, dark gray, and navy blue are wardrobe staples for all body shapes, but be bolder and have investment pieces with bright colors, prints, and textures. The exciting patterns and colors can add interest and draw attention to your top or bottom. Play with patterns and colors to add visual interest to your outfits. Horizontal stripes, diagonal lines, and bold prints can help create the illusion of curves.
Pick fabrics that have a bit of structure and texture, like tweed, corduroy, or jacquard, to add dimension to your frame when creating rectangle body shape outfits.
Flattering The Figure
With these three stylish and doable tips as your primary guidelines, it is time to go through your wardrobe to sort out what you need and then invest in new pieces that can flatter your figure.
The Best Top For Rectangular Body Shape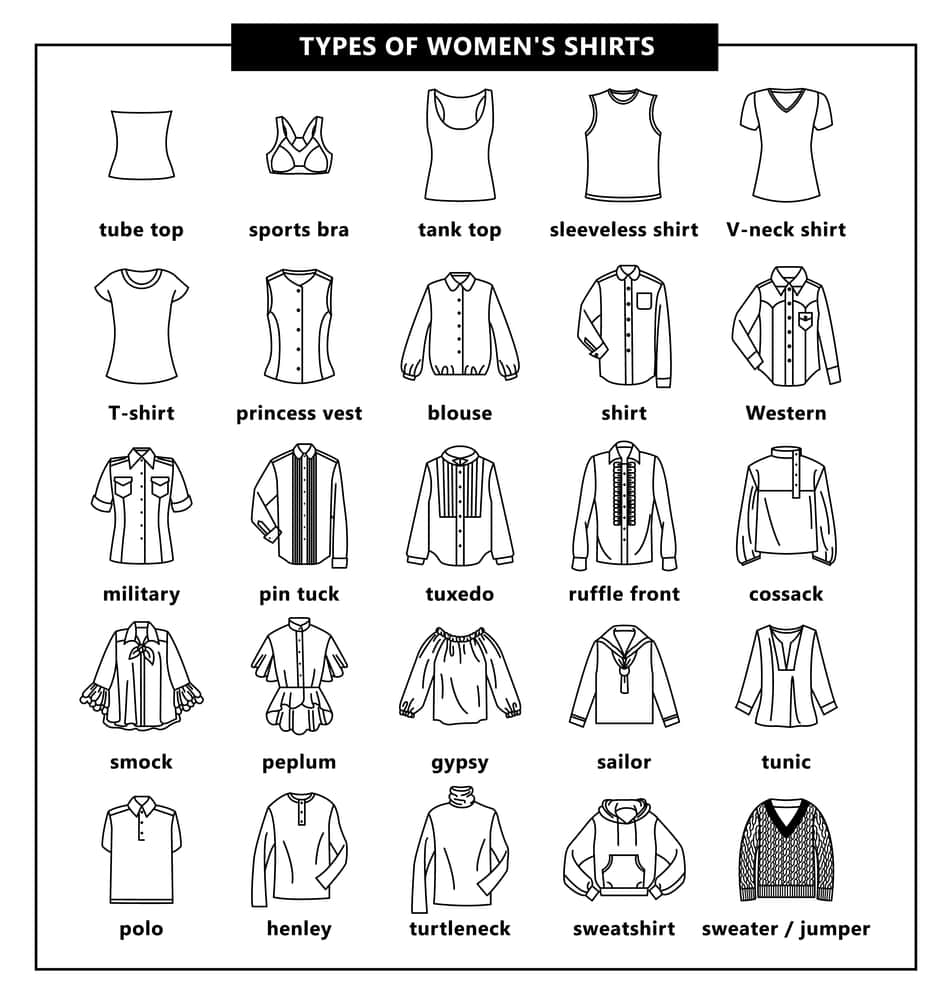 Invest in tops that will help draw attention to your neckline. An open neck is flattering, drawing attention to your neck and upward to your face.
Hence, some blouses that are recommended for you include:
Scoop neck tops: These are easy to wear and effortlessly elongate your neck.
Off-shoulder pieces: These add a feminine and playful vibe to any outfit, and the sweet shoulder reveal gives the illusion of curves.
V-neck shirts: A deep or a shallow V can highlight your collarbones.
Tops with interesting collars: The details on the collars can help draw attention to your face.
Sweetheart necklines: This cut resembles a heart's top and creates curves to give you that girly look.
Bateau tops: Also called boat necks, they help focus on your shoulders and then go upwards to your face.
Choose tops with ruffles, embellishments, or peplum details to add volume and shape to your upper body.
The Best Pants And Jeans For Rectangular Body Shape
Whether you're picking out casual jeans or professional pants, you must remember that your goal is to define your shape.
Sure, your top choice can help you decide on your bottoms, but a general guideline is to wear bottoms that add or create curves to your silhouette.
So, say hello to your new BFF, pants with details in the back area like embellishments, statements, or even just pockets.
Always have a couple of these staple pieces in your wardrobe:
Straight cut: Well-tailored straight pants highlight and add volume to your legs.
Flared: This is a more feminine way to balance your body shape, but go for a mid-flare, not the exaggerated bell bottom ones that would make you look like you are about to do a Latin dance.
Printed: These add intrigue, texture, and volume to your OOTD, but pair it with a more subtle top.
High-waisted: They can make your legs look longer and provide the illusion of a narrower waist.
Skinny: This is always a good choice, especially if you have slender legs, because it will make you appear tall, and it can break the straight figure.
Slim-fit: If you don't have the confidence to wear skinny jeans, opt for a slim-fit cut because it provides an illusion of curves.
You may also like: How to Find the Best Fitting Jeans for Your Body Type
The Best Dresses For Rectangular Body Shape
For casual and formal dresses and even jumpsuits, the principle is to accentuate your waist and highlight your best features, including your legs and shoulders.
These are the best options you can consider:
Fit and flare: This dress style highlights your waist and provides a fuller look on the skirt, which helps balance your rectangular body.
Wrap dresses: This works for almost all body shapes, so a classic wrap dress is a must.
Empire line dresses: This dress style is another win for a straight body. It provides an impression of a more tapered waist.
Shift dress: Avoid a shapeless shift dress. If you opt for shift dress, choose one with some waist definition and added details around the bust, hips, or hemline. This can include embellishments, pleats, ruffles, or pockets, which help create the illusion of curves and add visual interest.
The Best Skirts For Rectangular Body Shape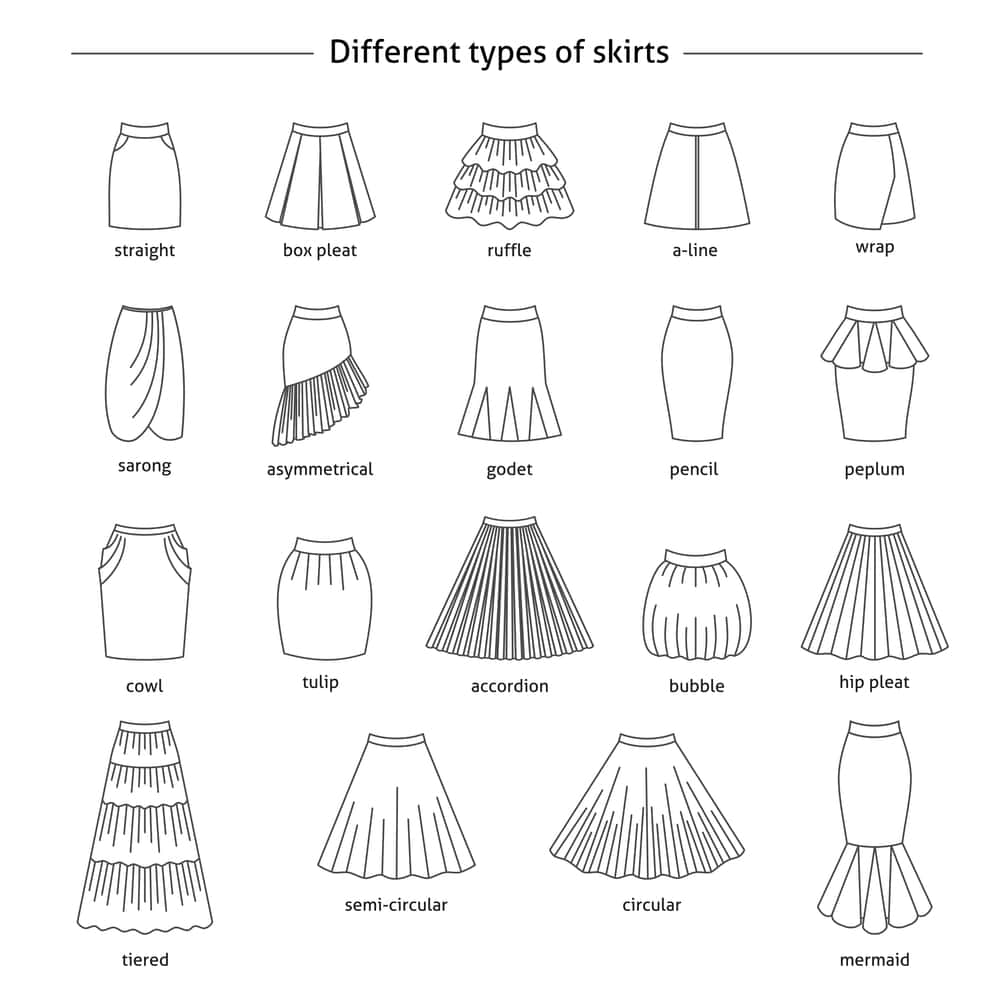 When selecting skirt styles for a rectangle body shape, the goal is to create the illusion of curves and define your waist while maintaining balance. Here are some skirt styles that can flatter a rectangle body shape:
A-Line Skirts: A-line skirts gradually widen from the waist to the hem, creating a flattering silhouette by adding subtle volume to the hips. They help create the illusion of curves and balance out the proportions of a rectangle body shape.
Wrap Skirts: Wrap skirts are fantastic for defining the waist and adding curves. The adjustable wrap style cinches in the waist and allows you to control the fit, making it a versatile choice.
Skater Skirts: Skater skirts are fitted at the waist and flare out at the hips, which can help add volume and create the appearance of curves. They're playful and can enhance your proportions.
Pleated Skirts: Pleated skirts can add movement and texture to your outfit while also giving the illusion of curves. Look for skirts with pleats that start at the waist to draw attention to the narrowest part of your torso.
High-Waisted Skirts: High-waisted skirts sit at or above your natural waistline, creating the appearance of longer legs and a defined waist. They can help balance your proportions and add curves to your hips.
More Skirts That Flatter
Tulip Skirts: Tulip skirts have a unique shape that mimics the petals of a tulip flower. They wrap around the hips and taper in slightly at the hem, creating a curvier look.
Pencil Skirts with Detailing: While pencil skirts are typically associated with highlighting curves, choosing styles with interesting detailing around the hips or hem can add visual interest and the illusion of curves.
Ruffled or Tiered Skirts: Skirts with ruffles or tiers can add volume and movement, which can enhance your proportions. Look for styles where the ruffles or tiers are positioned around the hips.
Bias Cut Skirts: Bias cut skirts are cut diagonally across the fabric's grain, allowing the skirt to drape gracefully over your curves and create an elegant, feminine look.
Printed Skirts: Opt for skirts with bold prints, patterns, or horizontal stripes. These can create the illusion of curves and add visual interest to your outfit.
Remember, the key is to experiment with different styles to see what you feel most confident and comfortable in. It's always a good idea to try on various skirt styles to find the ones that best suit your personal preferences and showcase your rectangle body shape beautifully.
Rectangle Body Shape Outfits
Let's put this to practice with some outfit ideas for rectangle body shapes.
Peplum top + straight leg jeans
Dress up for date night or a night out with the girls in a pretty top with a sweetheart neckline and a peplum hem. The added fabric creates volume and shape around the hips, helping to visually enhance and create the appearance of curves. For rectangle body shapes, which often lack defined curves, the peplum can be a great tool. Pair it with straight leg jeans to provide a clean and balanced silhouette. This complements the naturally balanced proportions of a rectangle body shape.
Straight leg jeans have a vertical line that runs down from the hips to the ankles. This elongating effect helps to visually lengthen the legs, making you appear taller and more streamlined, particularly if you are petite. It works great too if you are tall and want to play up your lean, tall body.
Tie Waist Jumpsuit + Platform sandals
A tie waist will help accent the waist of a rectangle body shape and the pockets on the top and bottom create more volume and help to maintain balance for your body shape. The tie waist cinches at the waist, creating a focal point and emphasizing this area. The tied waist detail adds volume and shape, which can make your waist appear curvier and more defined. Wear this for brunch, lunch or errands.
Jumpsuits are a one-piece outfit, which can make getting dressed a breeze. They offer comfort and ease of wear while still allowing you to look stylish and put-together.
Blazer + scoop neck tee + straight leg jeans
A combination of a cinch waist blazer, scoop neck tee, and straight leg jeans can work wonderfully to enhance and flatter a rectangle body shape.
A cinch waist blazer is designed to cinch in at the waist, creating a defined and tapered silhouette. This type of blazer adds curves to the waist area to create the illusion of an hourglass figure. Also, the cinch waist draws attention to the narrowest part of the torso. This creates a focal point and adding feminine definition.
A scoop neck tee draws attention to the collarbone and décolletage, adding a touch of femininity and softness. The neckline widens the upper body slightly, which helps balance the proportions for rectangle body shapes. The scoop neck can create the illusion of a fuller bust and add gentle curves to the upper body.
Choose tees in colors or patterns that complement your personal style and can add visual interest to the outfit.
Straight leg jeans provide a clean and balanced silhouette that suits the even proportions of a rectangle body shape. A mid-rise or high-rise style can help visually elongate the legs and create the appearance of a more defined waist.
Tucking the tee partially into the jeans or cinching it with a belt can help create waist definition. This will also add interest to the outfit.
Final Thoughts
Your rectangular body is not a limitation when trying the latest fashion trends. Your body is a blank canvas you can be creative, comfortable, and have fun with.