It's still very hot here but soon enough many of you will be transitioning to fall. It can be an awkward time with a mix of cooler temps and warm weather. What are you supposed to wear to battle the fluctuating temps and transitional weather? How do you create fall transition outfits that work with the weather and are still stylish?
Embracing the shift from hot summer days to the approaching coolness of fall can be a bit tricky. It's still pretty warm, but you know colder days are coming. Figuring out what to wear during these mixed-up days can feel puzzling. How can you look stylish when the weather can't make up its mind, and you need to wear a mishmash of clothes to stay comfortable?
Having the right clothes for this time of year can make putting together fall transition outfits a breeze. Transitioning from summer to fall requires adding versatile pieces to your wardrobe that can be layered and mixed and matched to adapt to changing weather.
You don't have to put away all of your summer pieces. They can be mixed and matched with your fall wardrobe to create transitional looks and fall transition outfits for those early fall days. Here's a list of key pieces to consider adding:
The Pieces You Need for Summer to Fall Transition Outfits
Lightweight Sweaters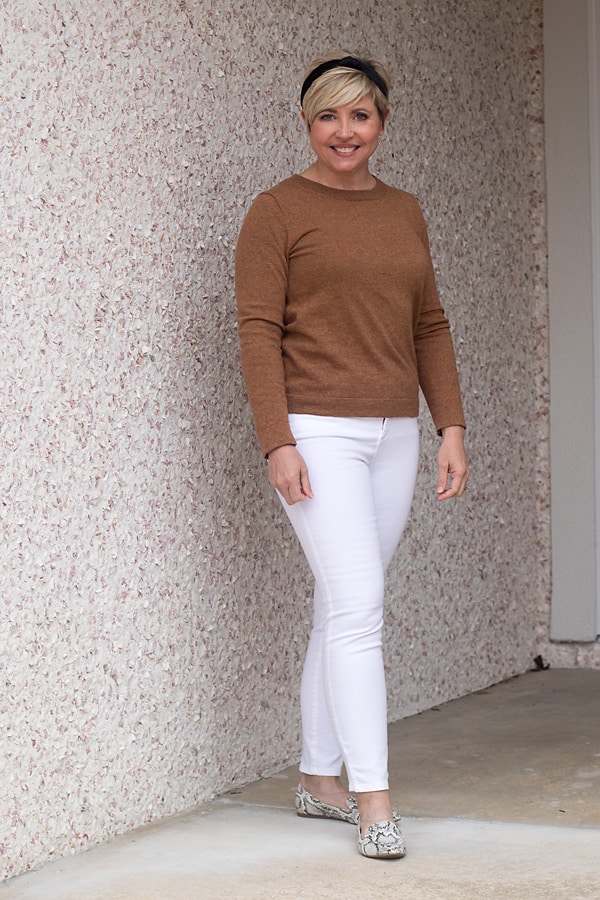 Choose sweaters in lighter fabrics like cotton or lightweight knits. These can be worn alone on cooler days or layered over tanks and tees as the temperature drops.Opt for a lightweight sweater in a versatile color like beige, gray, or soft pastels. A V-neck or crew-neck style works well for this transitional period.
Sweaters work well with a variety of options for the bottom half. On warm days, a lightweight sweater works great with a pair of denim shorts for casual transition outfit at the end of summer. A cotton sweater works well with white pants or jeans for the end of summer. Pair up a sweater with a midi skirt for cute fall outfits.
Cardigans
A cardigan is a versatile layering piece. Opt for a neutral-colored one that can be easily thrown over dresses, a sleeveless top, or a white tee. Look for one that's not too chunky, so it can easily be layered. Put on the cardigan over your base layer. You can choose to button it up or wear it open for a relaxed vibe.
If it's a longer cardigan, you can even belt it at the waist to create a defined silhouette. Pay attention to the length of the cardigan in relation to your pants or bottoms. If you're wearing longer cardigans, opt for slimmer pants or slim fitted skirts and dresses to balance the proportions.
Long-Sleeve Top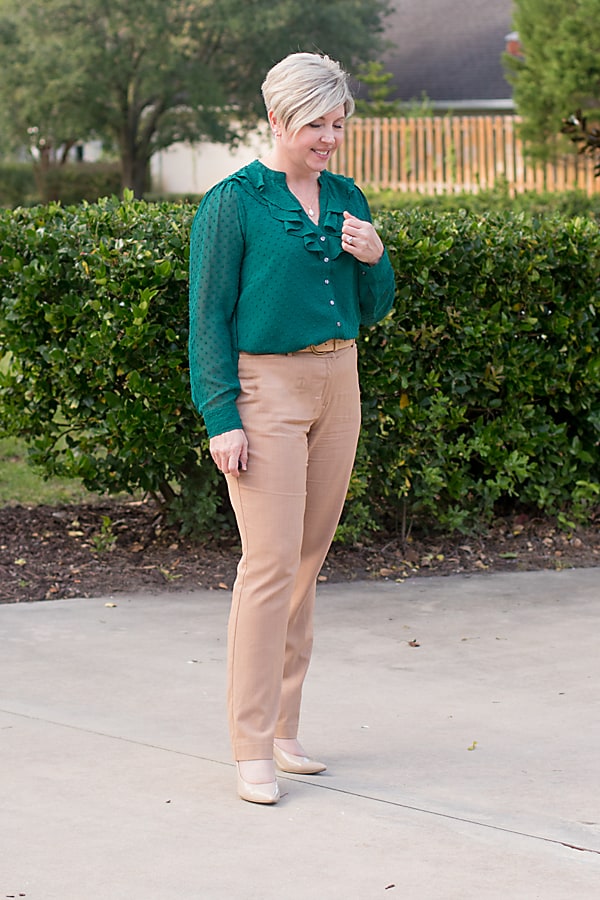 Long-sleeve tops in various colors and patterns are essential for fall transition outfits. Pair them with jeans, trousers, or skirts. Sometimes long sleeves are all you need to ward off a slight chill. A pretty blouse with long sleeves in fall colors is a great way get into the fall spirit.
Denim Jacket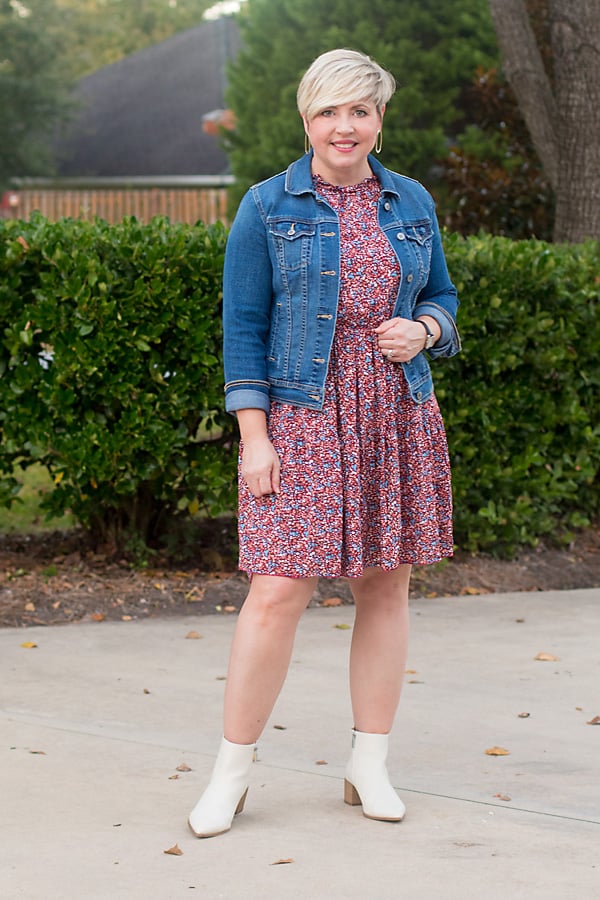 A classic denim jacket or jean jacket is perfect for adding warmth without being too heavy. It pairs well with dresses, skirts, jeans, and various tops.
For a chic fall transitional look, Start with a classic denim jacket in a medium wash. This shade tends to be more versatile and pairs well with a range of colors. Layer the denim jacket over a dress. Choose a lightweight, short-sleeved dress in a fall-appropriate color or print. Florals, muted tones, or even a subtle plaid can work well for this transitional period.
For a laid-back look, you can leave it unbuttoned or buttoned up halfway. Rolling up the sleeves of the jacket can add a touch of casual charm.
Trench Coat or Light Jacket
A lightweight trench coat or jacket is ideal for those early fall days when the weather can still be quite mild. Choose a style that works well with both casual and slightly dressier outfits.
Pair it with a lightweight polo sweater and ankle pants. Choose mule loafers to complete this fall transitional outfit.
Transitional Dresses
Look for dresses in mid-weight fabrics that can be worn on their own during warmer days and paired with tights and boots as the weather gets cooler. Your summer dresses can be used for fall transitional outfits as well. Pair them with light jackets, ankle boots, or with other layers like a button up shirt or with a sweater over your dress.
Jeans and Trousers
Invest in a good pair of jeans in a versatile wash. Also, consider adding a pair of tailored trousers for a more polished look. Jeans are essential for the fall season and for transitional style. Choose a pair and cut that fits your personal style.
Layering Camisoles
These can be worn under blouses, dresses, or cardigans to add warmth without bulk, or to keep from adding too much warmth under a cardigan on those warmer days.
Button-Up Shirts
A classic button-up shirt is perfect for layering. Wear it open over a tee or camisole or buttoned up under a sweater or jacket. You can wear them under short-sleeve dresses, jumpsuits, or vests. A chambray shirt is one of those wardrobe staples that works in any season. A button up chambray makes a great layer for early fall.
Pair of Shorts
Don't put away all of your summer favorites. Keep your denim shorts out for those warm days and pair them with sweaters and long sleeve tops in late summer. You can even wear your shorts with an oversized blazer for fall.
Also consider swapping fabrics like linen shorts for heavier fabrics when transitioning to fall. A pair of leather shorts, a camisole and that blazer make a great fall transitional look, especially for date night.
Ankle boots
Ankle boots are a great footwear option for transitioning seasons. They can be worn with dresses, skirts, jeans, and more. While a cute pair of sandals make a great summer outfit, ankle boots are the go to for fall.
Shoes can make or break an outfit. During this transitional phase, ankle boots are a great choice. They give off fall vibes while still being comfortable for slightly warmer days. If it's not too cold yet, you could also go for closed-toe shoes like stylish loafers or ballet flats or even white sneakers. Ankle boots in neutral tones like brown or tan add a touch of fall flair, while white sneakers keep it casual and modern.
Midi skirt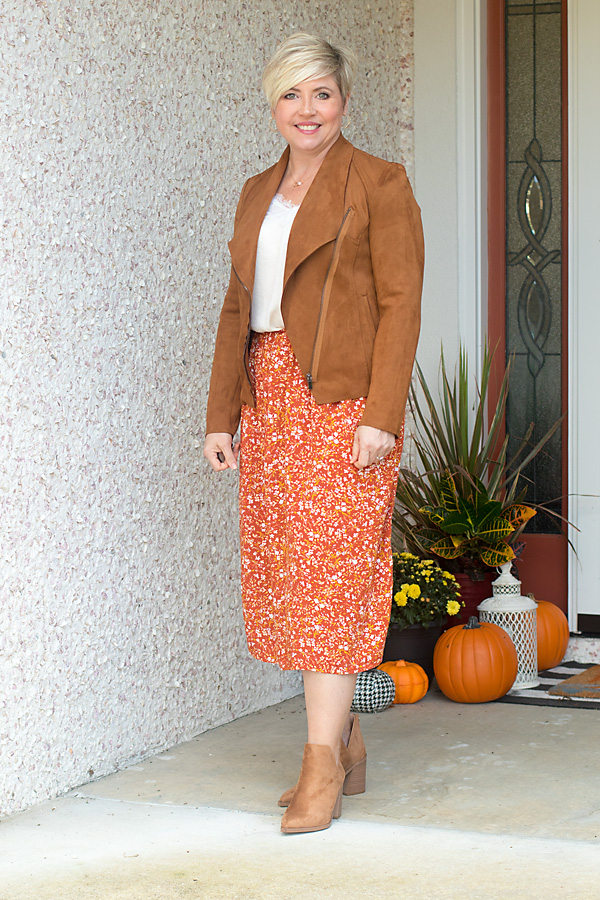 A midi skirt is a fantastic choice for transitioning from summer to fall. Its versatile length allows for easy styling, and you can adapt it to the changing temperatures. Choose a midi skirt in a fabric that's suitable for both summer and fall, such as lightweight cotton or a flowy material in a fall-appropriate color or print.
Begin by wearing your midi skirt with the lightweight sweater or knit top. Tuck in the top for a polished look or leave it untucked for a relaxed vibe. Add the layering jacket or cardigan over your top. Wearing it open allows for easy adjustment as the temperature changes throughout the day. Choose between ankle boots or flats, based on your personal style. Ankle boots add a touch of sophistication, while flats keep it comfortable and casual.
Tank Top
This summer staple makes a great transitional piece. A knit or ribbed tank top will give off more fall vibes than a plain tank. Wear them under button up shirts, light jackets or blazers. Wear them alone with jeans or trousers.
Accessories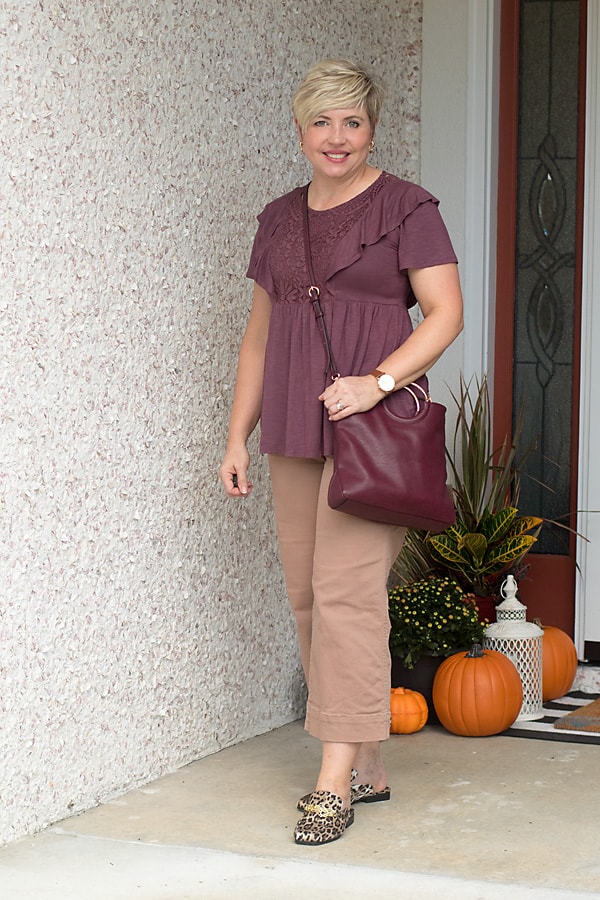 Don't forget the power of accessories. Scarves are not trending right now but they still make great pieces for a fall feel.
As the weather cools down, tights can extend the life of your summer dresses and skirts. Leather bags or a crossbody bag in a fall color can help to transition your summer wardrobe to fall. A great hat in felt or a beanie can also add fall vibes to an outfit.
You may also like: 9 Cute and Easy Fall Outfits with a Wool Felt Hat
Remember to choose a color palette that's adaptable, with a mix of neutral and versatile colors that can be easily combined. By investing in these transitional pieces, you'll be able to create stylish and comfortable outfits that seamlessly take you from summer to fall.
For more on fall transitional outfits, check out 9 Easy Style Tricks To Transition Summer Clothes to Fall.