Fall is on the horizon. When the temps start dipping in the early morning and late evening, you start itching to wear fall outfits.
But you also know it' s not sensible to pack away all of the summer clothes just yet. Fall season can take it's time arriving fully in some areas, and the last days of summer and first days of fall can still be quite warm. The weather can be unpredictable. These easy style tricks on how to transition summer clothes to fall will make dressing for this in between time a breeze.
Knowing how to transition your clothes from summer to fall will maximize your wardrobe as well. You can extend the wear of both summer and fall pieces by mixing pieces from your summer wardrobe with fall fashion into outfits for early fall. There is no need for new clothes for the new season if you can't wear them yet.
Transition Outfits from Summer to Fall with Color
One of the easiest ways to transition from summer to fall is to start adding richer fall hues to your outfits. You can also start dressing in the fall color trends. This year brigth colors remain part of the fall palette so the switch from summer to fall will be more subtle.
Wearing fall colors in cooler clothing is a great tactic for dressing for fall when it's still hot. Switching your color palette to fall colors is the first thing you should do to transition to fall.
Here a deep short sleeve plum top and rich brown crop pants give fall vibes.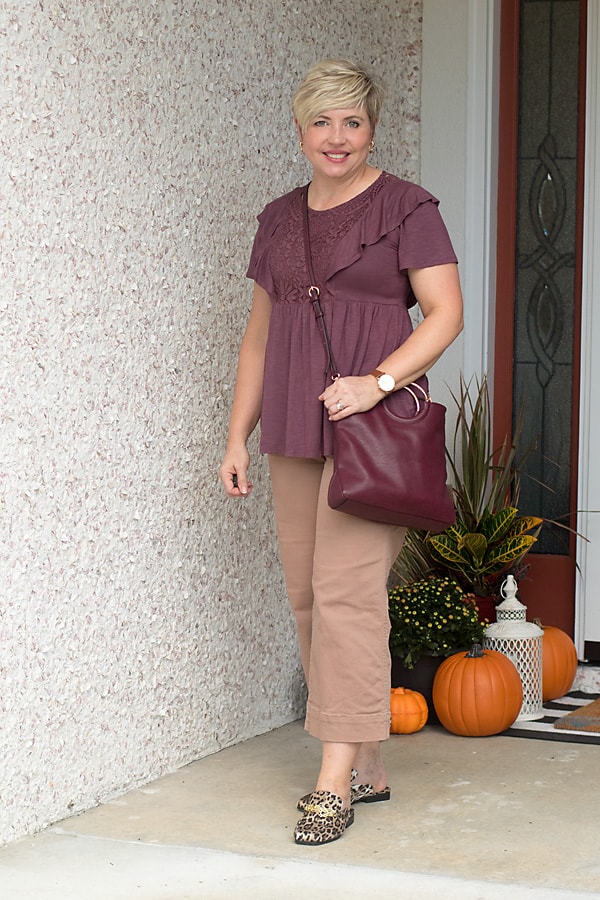 Wearing fall colors is the best way to transition your fall work wear. Add a spicy color like orange to basic black and add a plaid blazer.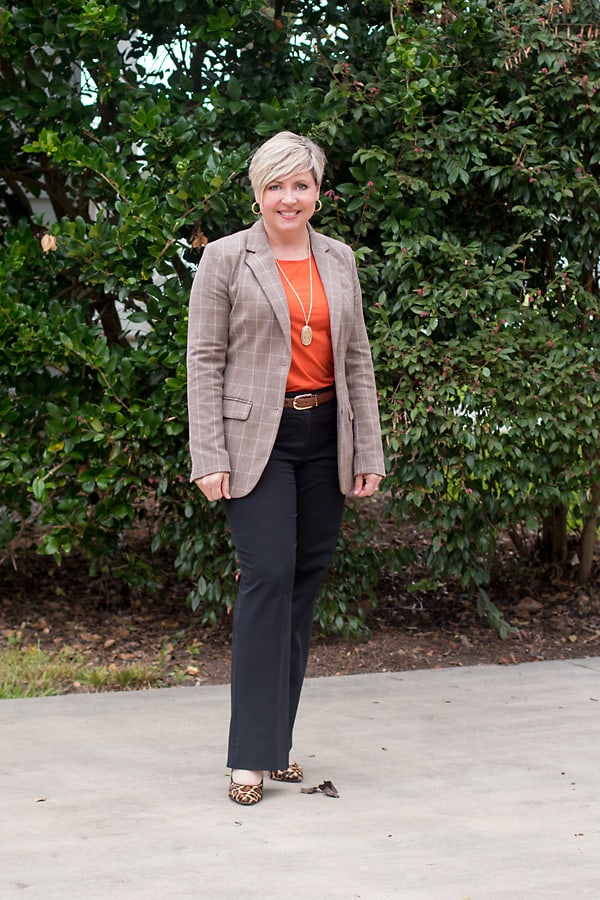 Sometimes all you need to do is swap one or two pieces to take your summer work wear to fall. The white blazer was replaced with a fall mustard color blazer and the nude pumps were swapped for darker pumps to create a fall work outfit.
Transition summer clothes to fall by adding a light layer to the outfit.
Add a layering element with a light jacket or a cardigan. A simple summer outfit of a white tee and denim shorts becomes a fall outfit with the addition of a cardigan.
Adding a light cardigan is the perfect way to wear a summer dress in fall.
Other light layers that bring fall vibes to outfits are a denim jacket, blazers, and vests.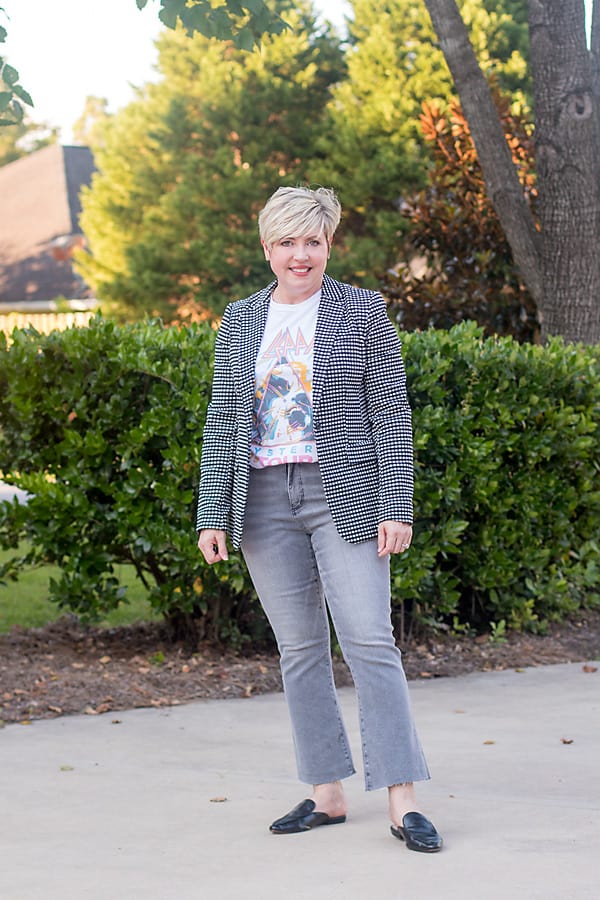 Blazer- similar
Swap sandals and open toe shoes for loafers, mules and booties.
Closed-toe shoes will give fall vibes to an outfit. Swapping sandals for ankle boots is another easy way to transition summer dresses to fall. Select ankle boots in a neutral shade or comfortable flats. Ankle boots work well for transitioning seasons and add a fall vibe to the outfit, while flats keep it relaxed.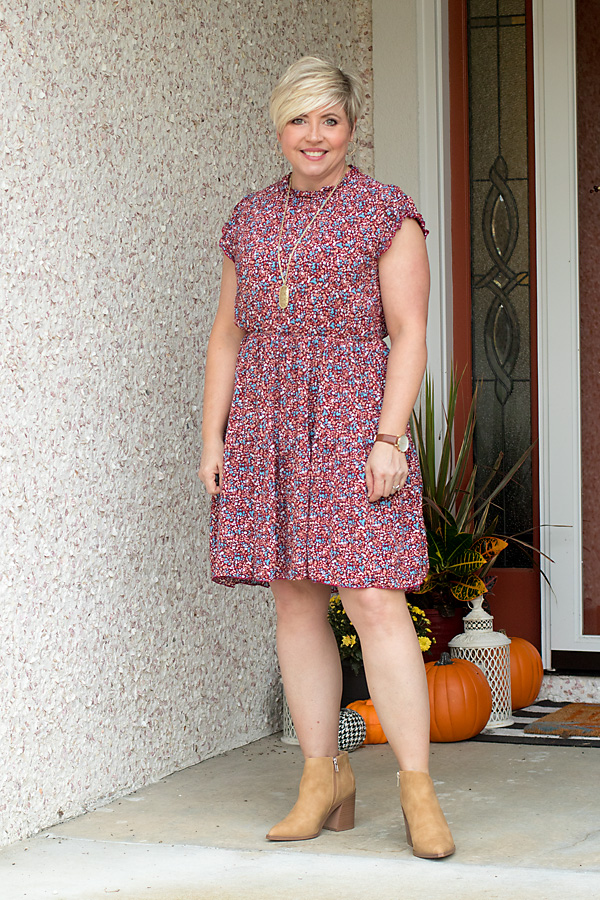 Add some texture to your outfits.
The easiest way to add some texture to give fall vibes to summer outfits is to use your accessories and shoes to do so. Suede, leather, flannel, velvet and faux fur will give fall vibes to your outfits.
Throw on a leather jacket with your favorite summer dress.
Swap wicker and rattan purses and belts for suede and leather purses and belts. Add suede shoes to your outfits.
Swap wicker and rattan purses and belts for suede and leather purses and belts. Add suede shoes to your outfits.
Summer to fall transition outfits can include summer items like t-shirts, shorts and skirts paired with accessories that add texture and weight to the look.
See also 9 to 5 style- summer to fall transitions for more on using texture in your outfits.
Incorporate fall patterns into your outfits.
Plaid, houndstooth, animal prints and quilted items will give your outfits a fall vibe. Dark moody florals also indicate fall.
Tying a plaid shirt around your waist with a summer dress or shorts and a tee can elevate a simple summer outfit to a fall outfit. You can also opt to wear a plaid shirt with a tank, shorts and sneakers on a warm fall day.
Shirt- Old Navy
Add some length.
Using length strategically in your outfits can be an effective way to transition from summer to fall. Here's some simple ways to incorporate different lengths to create stylish and season-appropriate looks:
Long Layers with Shorter Pieces: Combine longer layers, such as cardigans, duster coats, or lightweight trench coats, with shorter pieces like skirts, shorts, or cropped pants. This creates a visual contrast that's both stylish and practical for handling fluctuating temperatures.
Maxi Skirts and Dresses: Maxi skirts and dresses can be excellent transitional pieces. Pair them with short-sleeved tops or tanks during warmer days and add layers like lightweight jackets or sweaters as the weather cools down.
Midi Skirts and Dresses: Midi lengths are perfect for transitioning. They offer a bit more coverage than shorter options while still maintaining a breezy feel. Combine midi skirts with short-sleeved or sleeveless tops, and add cardigans or light jackets when needed.
Layered Hemlines: Incorporate layering through hemlines. For example, wear a longer blouse or tunic over skinny jeans or leggings. This creates an interesting visual dynamic and provides added warmth.
Cropped Tops with High-Waisted Bottoms: If you still want to wear cropped tops during the transition, pair them with high-waisted jeans, trousers, or skirts. This adds a touch of warmth to your midsection while maintaining a trendy look, and makes a perfect end of summer look.
Knee-high boots: As fall progresses, consider knee-high boots. These work particularly well with dresses and skirts, extending your outfit's wearability into cooler months.
See How to easily transition a casual summer outfit to fall for a take on swapping the same shade of shorts for jeans of the same color to go from summer to fall.
Another idea- pair a sweatshirt or hoodie with bike shorts.
Go darker to transition summer clothes to fall.
Trade your light color neutrals or light color backgrounds for darker colors. Light equates to summer, but dark and moody signifies fall and winter.
Using darker colors in your outfits is a great way to transition from summer to fall, as these shades evoke the cozy and warm feeling of the season. Here's how you can incorporate darker colors to create stylish fall-ready looks:
Rich Jewel Tones: Incorporate jewel tones like deep emerald green, sapphire blue, and amethyst purple. These shades are vibrant yet carry a sense of autumnal elegance.
Deep Earthy Hues: Opt for earthy tones like chocolate brown, rust orange, and deep burgundy. These colors mimic the changing foliage and create a warm, cozy vibe.
Neutral Darker Shades: Utilize darker neutrals like charcoal gray, navy blue, and rich taupe. These tones are versatile and can serve as the base of your outfit.
Monochromatic Outfits: Create monochromatic looks using various shades of the same dark color. For instance, pair black jeans with a charcoal gray sweater and black ankle boots for a chic and cohesive ensemble.
Darker Denim: Swap out lighter denim for darker washes. Dark jeans or denim skirts immediately lend a fall-appropriate feel to your outfit.
If you still want to wear sandals or slides, choose black leather or dark cognac brown to give the look a fall vibe.
Add a hat.
Choose a hat made from fall-appropriate materials like wool, felt, or tweed. These textures inherently evoke a cozy and warm sensation that aligns with the fall season.
Opt for hats in colors that are reminiscent of the fall landscape. Earthy tones like deep browns, warm oranges, rich burgundies, and mustard yellows can instantly add an autumnal touch to your ensemble.
Select hat styles that are commonly associated with fall, such as wide-brimmed hats, fedoras, berets, or slouchy beanies. These styles not only provide a sense of comfort but also contribute to the overall fall aesthetic.
Hat- similar- Amazon; dress- Amazon
Switch up your makeup.
Fall is a good time to switch up your make up routine. Summer may be the time for less coverage or bright lips when it comes to makeup, but fall calls for richer colors and more coverage. This year makeup trends are straying from the traditional, but make up can still be a great way to add fall vibes to an outfit.
Paint your nails in a rich fall color to add fall touches to summer outfits.
These are all simple and easy tips to transition summer clothes to fall. Even though you may be ready to pile on the cozy sweaters, the weather may not corporate. Ease into fall and give your summer outfit fall vibes by incorporating one or two of these tips.