Ever see a garment you like on someone else, but don't exactly know what the style was called?
You want to search for something similar, but you have no idea what to tell a salesperson or what to plug into an online search? What are those sleeves called? What style of jeans are those?
Don't fret it! I'm revamping my A-Z series on fashion terms right here on the blog. We are starting with A-line skirts and how to wear an a-line skirt outfit.
This post contains affiliate links. I make a small commission from your purchases through these links. Thanks for your support.
I first published this series in 2019-2020. It's all still relevant information but it could be presented a little better, so I'm revising and republishing it.
All the kids are going back to school, so why shouldn't we take some time to learn or refresh our fashion skills and knowledge?
Let's jump right in and kick this off with A for A-line skirt.
What are aline skirts?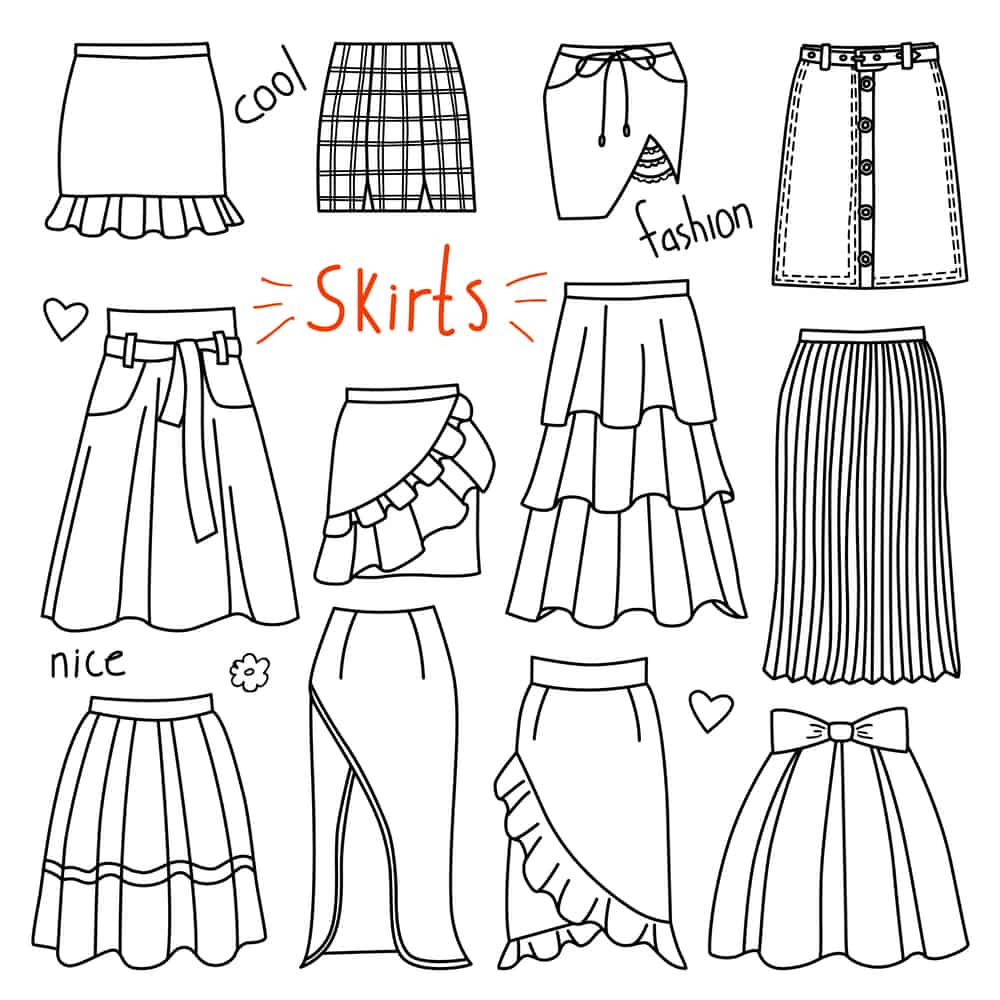 An A-line skirt is one that has a wider hem and gradually flares from the waist and a fitted hip. The key is "gradual". If it makes a huge sudden flare, you've got a fit and flare skirt. Think of the A line as a triangle shape, just like the letter A.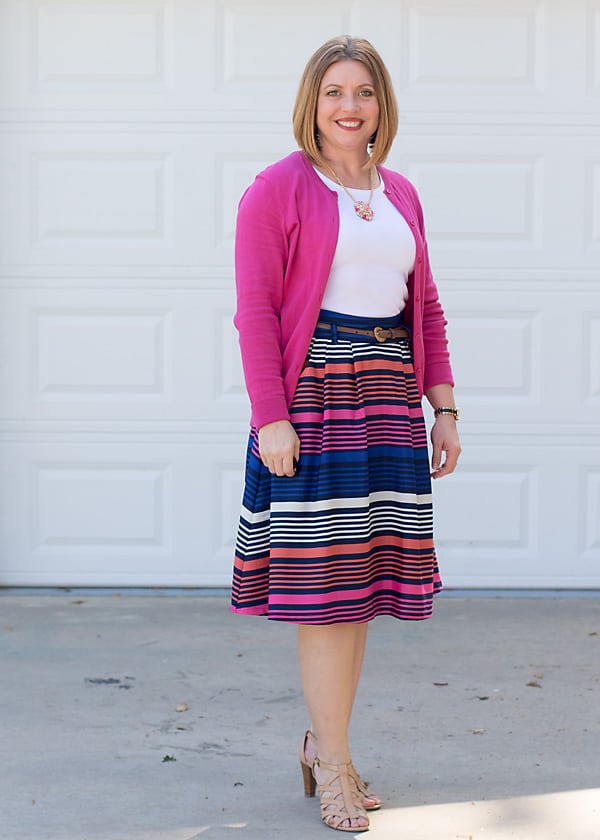 What's the big deal about an A line skirt?
It's classic! It will always be around. You may see it in some trendy colors or prints, but the cut will always be classic.
An aline skirt adds a feminine touch to an outfit that just can't be accomplished with jeans or trousers.
An aline skirt outfit can easily be dressed up or down. There is no need to sacrifice comfort. Sneakers and flats look great with a casual aline skirt outfit. Dress it up with heels and accessories.
Speaking of comfort, the non-restrictive style is one of the most comfortable styles to wear.
An aline skirt flatters and accents the waist. They are great for hiding wide hips and other bumps and bulges.
An aline skirt pairs well with a variety of shoes. The length of the skirt will affect your choice of shoe, but they work with flats, heeled sandals, pumps, sneakers, ankle boots and tall boots. Shorter aline skirts can be worn with flats or heels, but if you are petite, opt for a heel with a midi lenght aline skirt.
It has been said that an A line skirt is universally flattering, and while it does work well for some pear shapes, there are a few things to consider.
The weight of the fabric, the length, and the width of the hem will be the determining factors on whether or not it is truly flattering. Petites will want to wear this type of skirt in a shorter length, especially if it's a wider skirt with lots of fabric.
Heavy fabric and pleats can add bulk when you don't want it, and smoother, more fitted A lines can emphasize a large tummy since it will be more fitted in that area.
The skirt below is a smooth cut but heavy material. It makes it a little harder to camouflage a larger tummy.
Related: 5 Ways to Easily Camouflage Wide Hips
Not all a-line skirts are the same.
Not all a-line skirt outfits will flatter every body.
The short, gathered a-line skirt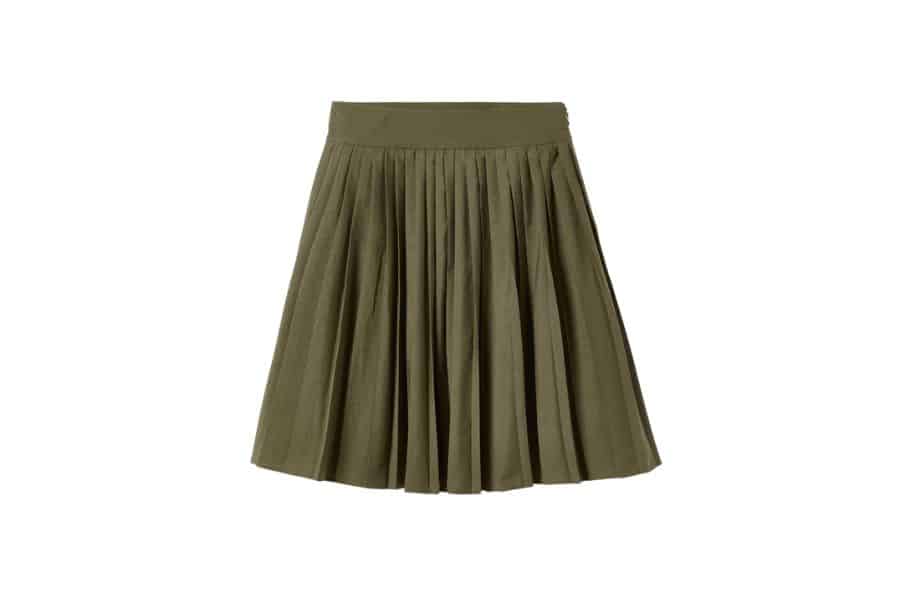 If you have narrow shoulders and large hips or a large tummy, you should avoid the short, gathered a-line skirt. These can add more weight and volume to an already large area.
If you are short, the wider hem will make you look shorter. If you have large, chunky legs, the shorter gathered aline will also make your legs look larger when worn with flats. If these are problem issues for you, opt for a skirt without gathers or pleats.
If you have broader shoulders and narrower hips, go for it. this type of a-line skirt will help balance your body.
The flippy flimsy a-line skirt
This skirt is made of 100% viscose. It's flowy, flippy, and flirty. Just darling.
Unless you have a large, jiggly behind and thighs. Then you are going to need shapewear to pull off this skirt. The material doesn't contain or compress the body, so everything jiggles freely and every bump shows.
Those with slimmer hips and straighter figures look best in this type of a-line skirt.
The slim narrow a-line skirt
This type of a-line skirt flatters those with wider and narrower hips. It can be tricky for those with a larger tummy because it fits closer to the body at the waist, but belting a top over the skirt can be a work around.
The narrow a-line skirt tends to be a bit longer in length and can be elongationg and slimming. You may want to opt for heels with this skirt, especially if you are petite. The best length is usually knee length.
The longer A-line midi skirt
One of the most feminine and flattering skirts in an a-line cut is the longer, fuller skirt that falls just at or below the knees.
The midi skirt, falling between the knee and mid-calf, is also popular. The midi skirt in an a-line cut can be flattering as well when chosen in the right length. When the length is even slightly off, it can be frumpy.
The choice of shoes greatly affects the look of a longer a-line skirt. Petites will want to choose a heel, if even a low heel, to avoid frump.
The more volume and weight in the skirt, the more delicate the shoe should be. Chunky shoes will add more visual weight. Avoid doing this if you already have thick calves and ankles.
See also: How to Style a Floral Old Navy Midi Skirt 5 Ways
A longer a-line skirt or midi skirt is the perfect a-line skirt for work.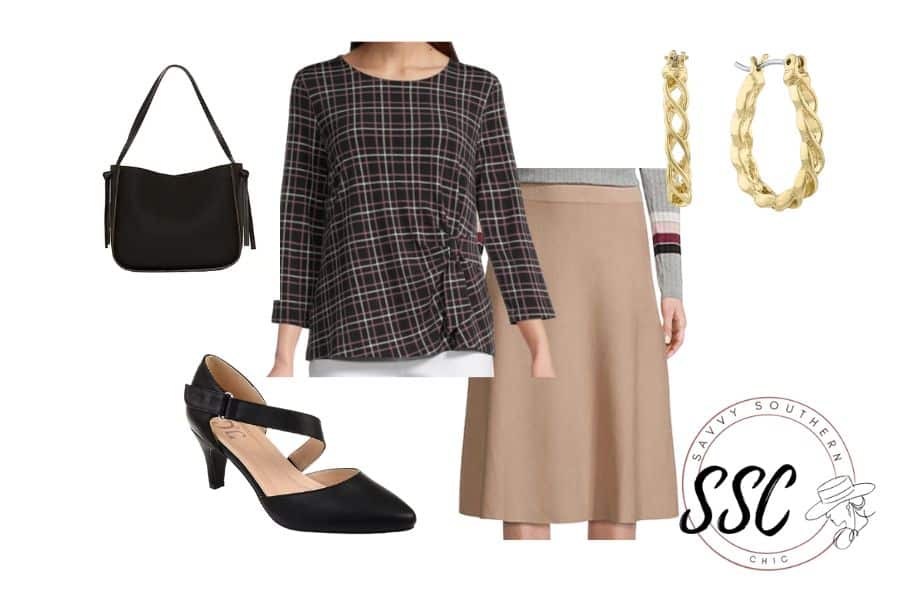 What tops to wear with an a-line skirt?
The key to wearing an A-line skirt is to always wear a more fitted top and tuck it in. If you don't tuck, you will appear shapeless, as the bottom of a blouse will likely fall where the skirt starts its gradual flare.
By "fitted" I mean semi-fitted and not blousy, or over-sized. No need to stick to body con, hugging tops. Just make sure they fit the body well.
Make sure to tuck and highlight the waist, or in the alternative, wear a blouse like the one below that is fitted at the waist. You can also wear some tops out over an A line skirt if you belt them.
A top like the plaid one above can work with a slimmer cut straight a-line skirt with no pleats or gathers, as long as the top doesn't create a line across the widest part of your hips.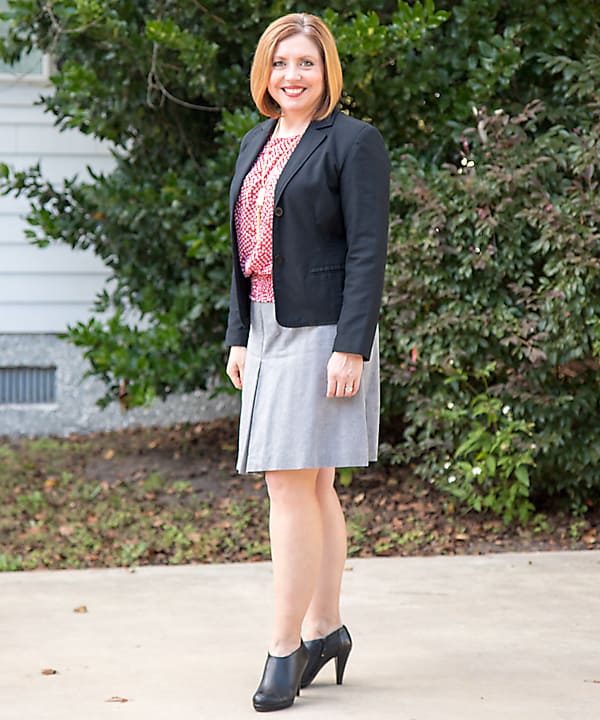 A crop top can be another option if you are comfortable in a crop top. It will allow the flattering waistline of an a-line skirt to remain visible.
A tee shirt can be worn knotted at the waist with an a-line skirt for a casual a-line skirt outfit.
A button up shirt or blouse can also be knotted at the wait of an a-line skirt.
For a smooth, form fitting top, try creating an a-line skirt outfit with a body suit.
Sweaters can be worn with a-line skirts but be sure to tuck in at least a little to maintain the waistline and shape.
If you opt to wear shapewear, a heavier, thicker top can be tucked into the shapewear under the skirt to avoid adding bulk.
Try wearing a fitted tank or camisole and a fitted cropped cardigan with an a-line skirt.
A cropped jacket also works with a-line skirts
Pay attention to the length of the jacket or cardigan. If it meets the widest part of the hip on an a-line skirt or the part where a fuller skirt starts to get wider, your shape will become lost. The wide line created by the hem of the jacket or topper will make you wider.
When putting together an a-line skirt outfit, take a long hard look in the mirror. Do you have balance?
Those of us with wider hips may want a top with puff sleeves or shoulder detail to balance out the fullness on bottom. Remember to keep the body of the top fitted or semi-fitted regardless of the sleeve detail.
Tops to Wear With A-line Skirts
You should now know why some a-line skirts work for you and some look frumpy. A well put together a-line skirt outfit can be feminine and flattering, so don't shy away from them. When you have the perfect one for your body shape, an a-line skirt can be a go to classic item in your closet.