Funerals are a difficult and often upsetting environment to be in, especially when it's your first time attending a funeral. And questioning what you should wear to a funeral is probably the last thing on your mind.
However, even though attending a funeral can be an emotional experience, it's important to dress appropriately. Funerals are a way to commemorate our loved ones' memories and share our condolences with the immediate family members — the focus should thus be on the deceased and the grieving family.
It's important to be respectful of our clothing choices. Wearing appropriate attire is a sign of respect.
Here is a complete guide for appropriate funeral clothing to make the day easier for you.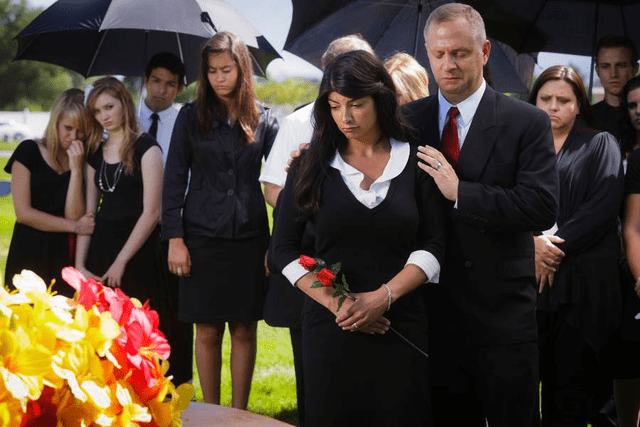 Last summer I had to attend the funeral of a family member. I could have opted for some of the things that I wear to work and found something suitable to wear, but I wanted to wear something different. My search for something to wear left me disappointed because I have so few dresses now and so few skirts that fit. Trying to narrow them down to something appropriate for a funeral left me with almost no choices.
To avoid being stuck in this situation when you have to attend a funeral, consider these tips.
What Is Appropriate Clothing For A Funeral?
When looking for appropriate clothing for a funeral, it's best to stick to conservative clothing. Black clothing is a safe bet.
Although you should know that while black clothing has traditionally been the formal funeral etiquette, but it is not a mandatory color. You can opt for other dark colors like brown, navy, or dark green.
However, cheerful or flashy colors are a strict no, as are any over-the-top, garish prints. Stick with conservative colors.
And if the memorial service or "celebration of life ceremony" is held at an alternate venue, the family of the deceased may request guests to wear specific colors and may even have a personalized theme that they might ask you to follow.
Do's And Don'ts Of What To Wear At A Funeral
Funerals may not necessarily be formal events, but there are still certain rules of etiquette, including the clothing, one must follow to be respectful. Here are some pointers to help you out with this somber occasion.
What You Should Wear:
Your outfit must be subdued and respectful.
Dress like it is a formal event.
Dress according to the location. If the service you are attending is kept hotel, garden, beach, etc., the dressing will be much more relaxed.
Black must be your first choice, but if you don't want to wear black, go for other darker shades.
Wear one-piece dresses that are knee-length or longer.
Wear sandals, boots, or dress shoes. Avoid athletic shoes.
Avoid jeans.
Cover your shoulders.
Items to Avoid:
No capris or shorts.
Avoid skirts and dresses with high slits.
Do not wear heavy makeup.
No swanky footwear or flip-flops.
Don't wear extravagant jewelry.
No above-the-knee hemlines, plunging necklines, see-through outfits, or revealing clothes.
Avoid bright colors and flashy clothing.
No spaghetti straps or strapless dresses.
What Should Women Wear To A Funeral
If you are in a clothing crisis and cannot decide what to wear, here are some outfit suggestions that can help.
1. The Classic All-Black Outfit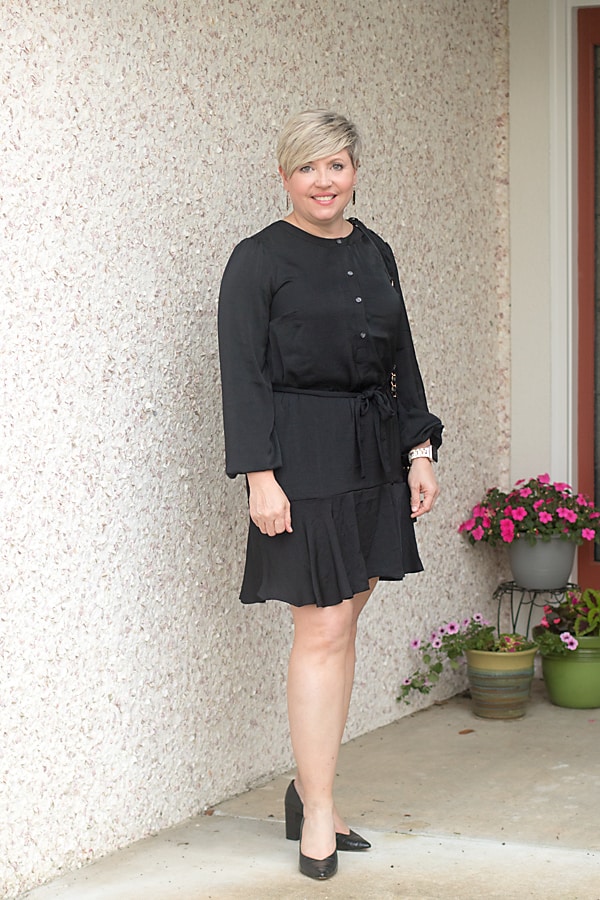 Funeral outfits need to be smart, sophisticated, modest, and comfortable. Traditional funeral attire in the United States includes black. If you are wearing a dress, choose a midi dress or dresses with long hemlines so you do not have to worry about the dress riding up.
The dress may have any sleeve length and can even be sleeveless, especially if it's summer. But do not wear strapless dresses. You can also carry a light jacket or shawl in case it gets chilly.
Simple, delicate accessories, such as a thin gold or silver chain, stud earrings, and pearl bracelets, are fine. Carry a small purse, and sunglasses, and wear pointed-toe heels.
The dress pictured is knee length but I would not advise wearing one any shorter. Just below the knees would have be a better option. Closed toe pumps keep the overall look modest. For summer, a very simple heeled sandal would be a great shoe option, but don't get carried away with strappy sexy sandals.
2. Balance Your Outfit With A Blazer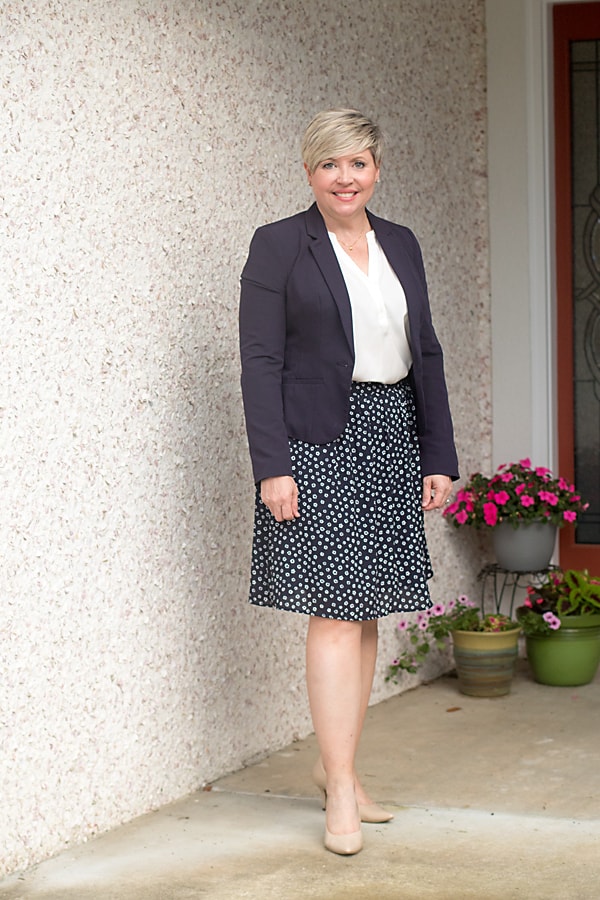 Blazer- option; blouse- Banana Republic Factory; nude pumps- option
If you are worried about your outfit not being funeral-appropriate, you can simply layer it with a blazer.
A blazer offers a tailored shape to your ensemble, which makes even casual outfits like trousers and t-shirts look more elegant. They are also a good idea for winter funerals when it is not too cold.
So, if you have a non-black dress with muted shades and a subtle floral print, a blazer is the perfect way of smartening up the outfit.
Keep the accessories to a minimum with simple stud earrings, a small clutch bag, and sunglasses. Use classic wedge pumps to give the outfit a more formal appeal.
3. An Elegant Look With A Pencil Skirt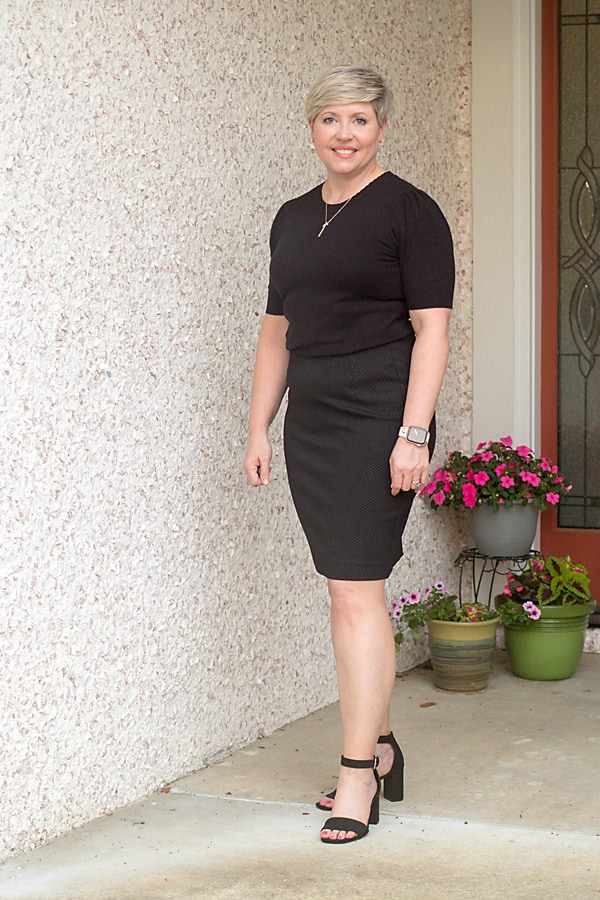 Sweater tee- Loft; pencil skirt- option; option sandal – option
Skirts are one of the best options for dressing up for a funeral. There are many types of skirts, and each type can be paired with different types of tops according to the occasion.
For a funeral, a pencil skirt is a smart, form-fitting choice that you can pair with a patterned blouse, sweater, or a tailored formal top.
You can complete the outfit with formal shoes and a small purse. We also recommend wearing stockings/ panty hose to add more formality to your outfit.
This look features a pencil skirt with a subtle dot pattern with a short sleeve sweater tee. Simple single strap sandals complete this look.
I added this to my closet last year after realizing how few options I had for a funeral or semi formal event. A pencil skirt is a versatile item that can be dressed up or down for a variety of situations and events.
4. Traditional Black Dress Alternative
Dress- Amazon; sandals- Target; similar option
If you do not have a black dress in your wardrobe, you can choose other dark-colored dresses that are simple and modest.
Choose flowy dresses with long hemlines that do not hug your body. You should also be careful to avoid plunging necklines.
Complete the look with nude sandals, a sling purse, hoop earrings, and a watch.
5. Jumpsuit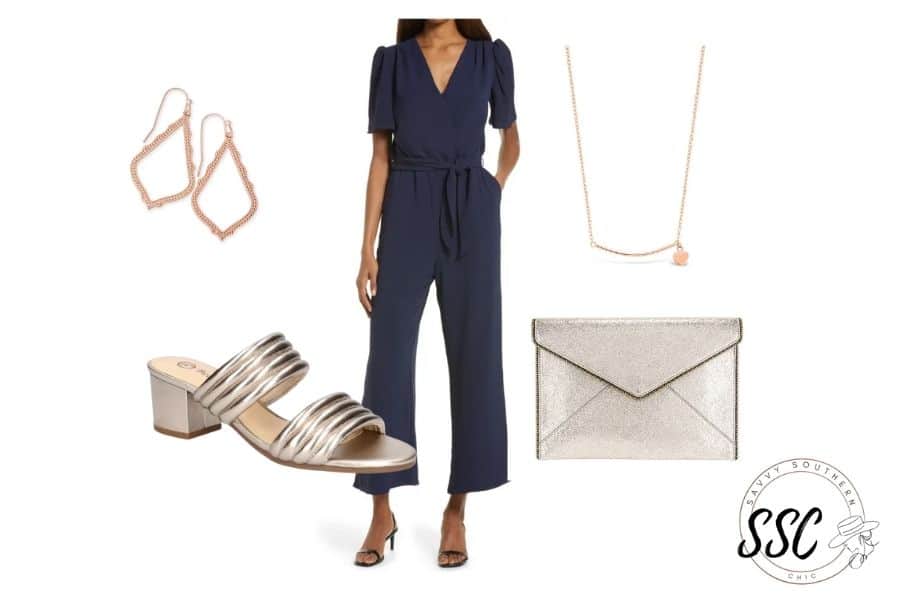 Jumpsuits are another good option, especially for longer services as you can comfortably walk, move, and sit in them. And while you may think jumpsuits are too casual, there are many formal jumpsuits you can look for.
Jumpsuits look elegant and smart and are especially useful for women who are in the immediate funeral party. You also don't have to worry about pairing it with anything else.
The jumpsuit can be sleeveless or have short or full sleeves depending on the climate, and sleeveless jumpsuits can be accessorized further with delicate bracelets or watches.
6. Tailored Suit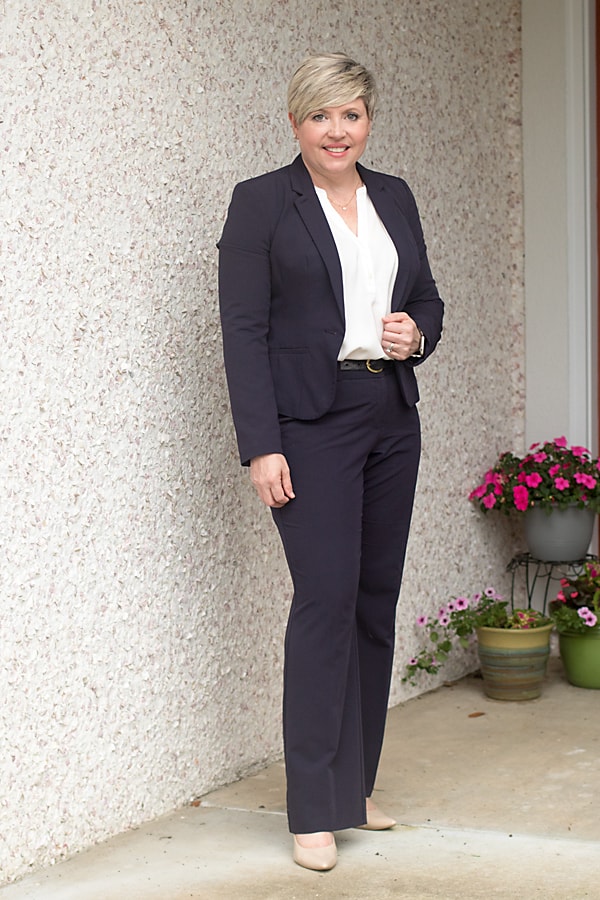 A suit with minimal jewelry and heels makes for a good funeral outfit. The suit must be well-fitted and comfortable.
Opt for a black suit with a white shirt or whatever light-colored shirt you have at hand.
You can also wear navy blue or maroon suits with complementary shirts underneath. Wear a delicate gold chain and pendant and pair it with delicate stud earrings.
7. Turtleneck And Midi Skirt
A turtleneck paired with a midi skirt is another modest outfit that works well for funerals.
Use a dark-colored skirt with a top of a complementing color. This outfit is best for older women and also for women who are a part of the congregation. Just make sure the skirt isn't too short. Keep it at or below knee level.
Complete the outfit with suede pumps and small hoop earrings.
8. Shirt and Black Pants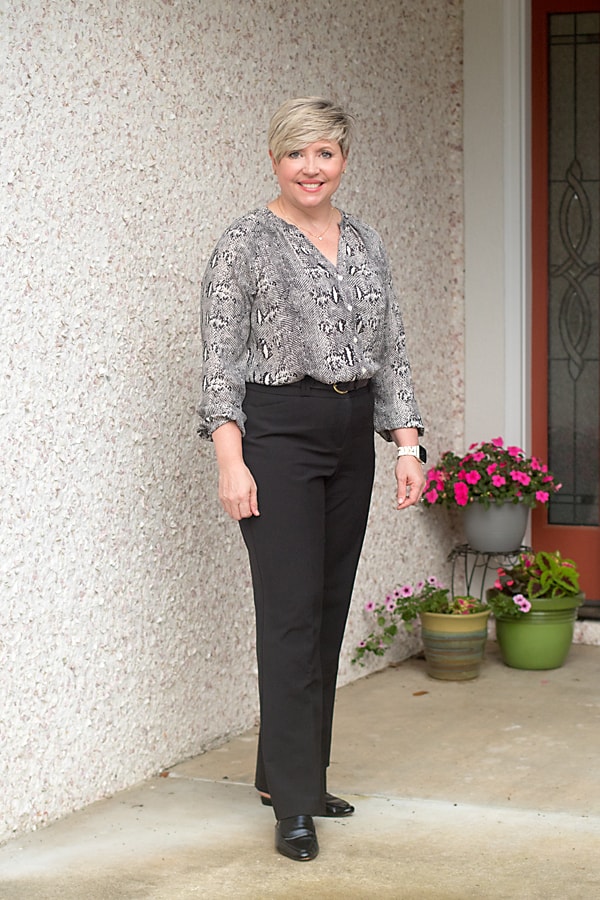 Pants- Macy's; blouse- similar; mule loafers- similar option
This is a simple and elegant outfit that is easy to put together and found in almost every wardrobe.
It goes with the black theme of funerals and can be worn by the funeral party as well as guests. Accessorize with hoop earrings and heels or dressy flats.
Pants For Funerals: Appropriate?
Now that we've gone over some classic outfits for funerals, you may be wondering whether pants are a good idea for women to wear at funerals.
The dress code at funeral generally prohibits jeans, even black jeans; however, long trousers are a good choice. Although skirts and dresses are preferred, tailored trousers are an excellent choice if you are more comfortable wearing pants.
This is because funeral wear has become more casual and does not follow the same strict rules as earlier.
Pants are also a great option for wearing to a "celebration of life" event as these events typically tend to be more lenient about the outfit and are often more casual.
You can wear wide-legged as well as slim-fit pants as long as you pair them with appropriate tops. Dark-colored pants are a safe choice. You can pair them with a shirt and a jacket, so you can wear the same outfit at later dinner commitments as well.
Pantsuits have also become increasingly acceptable, so if you have one, you need not buy a new outfit. Pantsuits are also an ideal option when the service is kept at a church as you need to cover your shoulders as well.
It is important to note that what is acceptable for wearing at funerals has evolved a lot, and the general idea is to just be respectful of the deceased.
Can I Wear Navy to A Funeral?
Navy is often a better choice for older women than black when choosing a color that is more flattering. While the focus of a funeral isn't about you, you may still want to look your most presentable. Navy and dark navy is an appropriate choice for a funeral. Several navy options have been presented in this article.
A navy suit is a great option for a man that doesn't have a black suit. Dark grey is also a suitable option.
The key thing to remember when option for navy instead of black is that the clothing should still be simple and plain. Don't get carried away with patterns or wear bright colored shirts with navy. Pick a neutral or muted color shirt.
What Should Men Wear To A Funeral
Funeral attire ettiquette for men restricts attire to suits in dark colors. However, as funeral outfits have become more relaxed, men also have more options to choose from.
Here are the most common funeral outfits for men:
1. Traditional Black Suit and Tie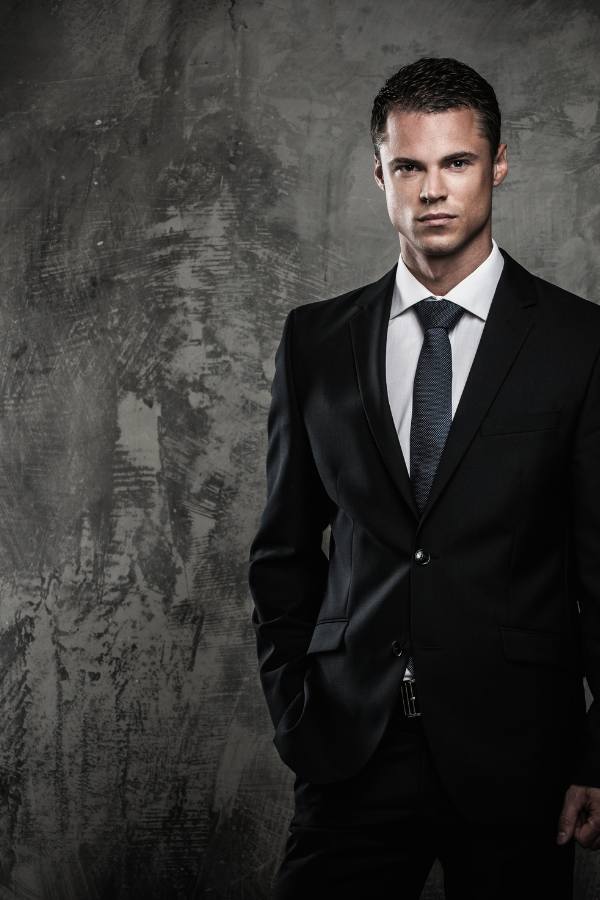 This classic outfit includes a black blazer and pants with a white shirt and black or appropriate-colored tie. Although you can substitute the white shirt with a black shirt or any other color of your liking.
Additionally, if you don't have a black suit, gray, brown, and navy blue suits are acceptable as well. Complete the outfit with dress shoes,
2. A Dress Shirt And Pants
If you are looking for a more casual look, you can wear a dress shirt with trousers and add a tie.
You can also use chinos or khakis with a dress shirt and add a sweater for colder months.
With this in mind
While no one wants to think of outfits for funerals, it is still an important component of this important day. It's best to choose outfits that show our respect for the deceased and our love and support for their near and dear ones.
Take a look through your closet and see what you can put together. Don't be caught off guard when you unexpectedly need to dress for a funeral. Take these ideas and prep some outfits now so you will be prepared. Don't let the task of finding what to wear to a funeral add stress to the day.
I had to attend a funeral last week but after putting together this post, I was better prepared to find an outfit in my closet.
We hope this article helps you find the appropriate outfit to wear to a funeral and takes some of the stress off this difficult day.