It's the time of year to don a red dress. Red is festive and traditional for the Christmas holiday season. It's also appropriate for Valentine's day, or maybe you just want to wear a red dress for date night. Red is powerful bold color and you want to let your red dress take center stage. This begs the question- What color shoe to wear with a red dress?
Keep reading to find out what shoe colors make the perfect shoes to pair with a bold red dress. Don't hesitate to wear a beautiful red dress because you don't know how to pick shoes to wear with it.
First, take into account that there are different shades of red. Red is one of the primary colors on the color wheel. From bright vivid reds to dark, burgundy reds, to reds with hints of orange or rusty brown, there is a shade of red for everyone. Once you find the right shade of red for your skin tone and for the special event, then your can focus on the best shoe color.
What Color Shoe to Wear with a Red Dress in Bright Warm Tone Reds and Blue Undertones
Bright reds and reds with cool blue undertones pair well with black pumps, nude and beige shoes and gold or silver shoes. Animal prints in leopard and grey snakeskin also work well.
These are all great alternatives to hunting down a pair of red heels or a pair of red shoes to match the shade of your dress. Let's conside this classic look with three different shoes.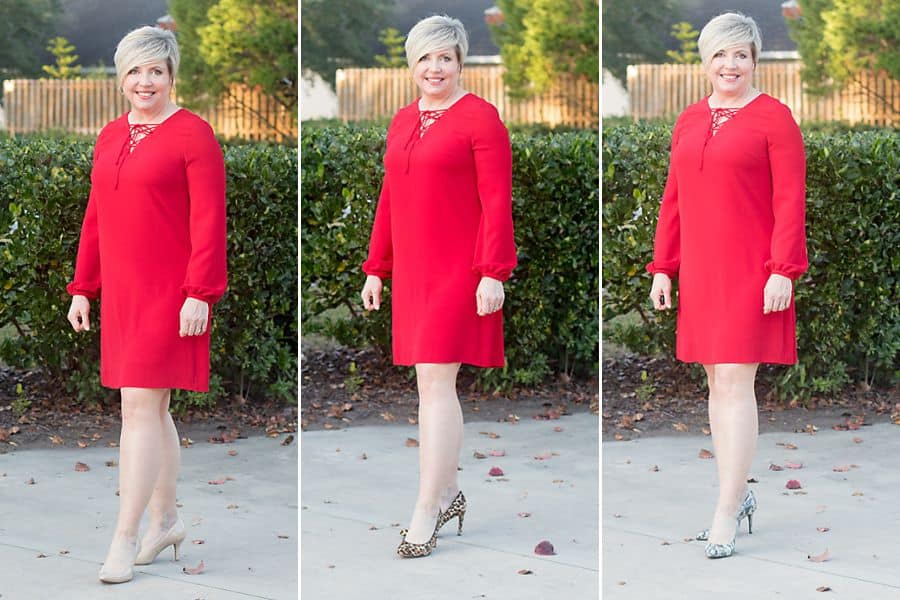 Dress- old/ similar
With nude heels
A nude pump, especially one that works with your skin tone, is a great choice. Nude shoes are the best way to let the red dress shine without bringing too much attention to your shoes.
You likely have a nude, beige or neutral shoe in your closet so this is an easy go to. Nude heels also make your legs look longer, so they are a great choice for petites.
Need a comfortable nude heel for standing at an event? The Cole Haan Grand Ambition Pump has been rated the most comfortable nude heel by several sources, including Woman's Day. I own a couple of pairs of Cole Haan shoes and they have been well worth the investment because of their comfort straight out of the box.
If you are looking for a nude heeled sandal that will match your skin tone, Naturalizer's Vera Heeled Sandal comes in 8 shades of nude. You are sure to find one that matches and the 2.5 inch block heel is easy to wear. Lulu's also has a highly rated sandal option.
With leopard print pumps
Pumps- Vince Camuto; similar; similar
We consider leopard one of our neutral colors now with its mix of tan, brown and black. Leopard pumps are a great option to wear with red. Choose leopard to go with your daring date dress. Create a strking evening look with a red dress and leopard heels.
My leopard heels are from Vince Camuto, another brand I love for comfort.
With grey shoes
Snakeskin pumps- Karl Lagerfield
Grey or grey snakeskin pumps are another good idea. The next time you wonder what shoes to wear with a red dress, look for grey or snakeskin shoes. Candy apple and cherry reds look good with grey. It's also the best option for cool toned pink and purplish reds.
What Color Shoe to Wear With a Red Patterned Dress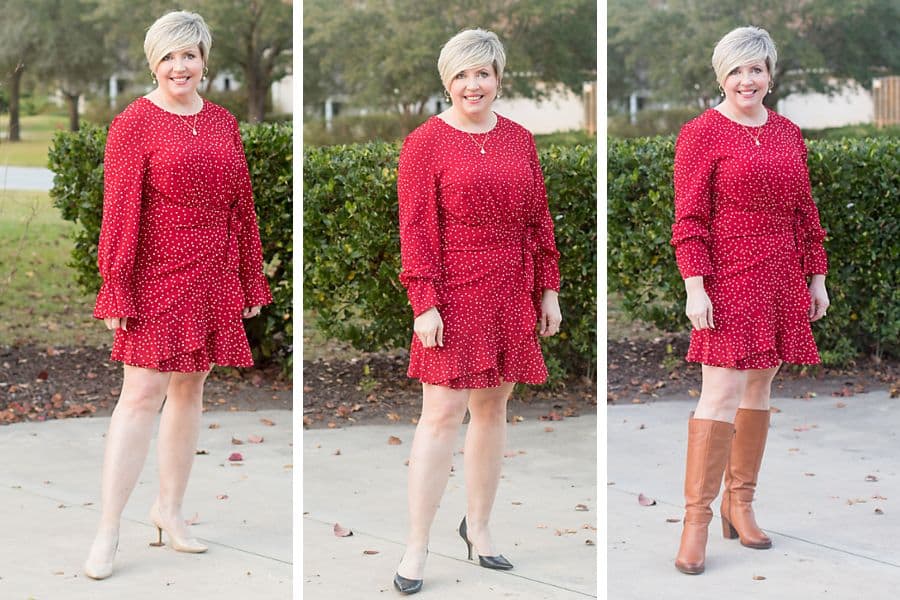 Dress- Amazon
If your red dress has a pattern or another color in it, consider the overall color and vibe. A red dress with a small white dot pattern still translates as mostly red. A red dress with a large black pattern would be a different story.
This red dot ruffled dress in a sligthly darker red pairs well with neutral colors. Let's look at it with three different colors of shoes.
Nude Heels
Once again, nude shoes prove to be one of the best color shoes to pair with red.
Black Heels
A pair of black heels or shoes are always an option. Just make sure the black shoes don't create too much contrast. A similar option to the ones I'm wearing these d'orsay pumps from Sam Edelman.
A d'orsay pump shows a little more skin and is a sleek stylish option that helps to lengthen the leg in spite of the contrast the black creates. Another good option for a black pump is the Franco Sarto racer sling back with a low heel and highly recommended for comfort.
Cognac Brown Shoes or Boots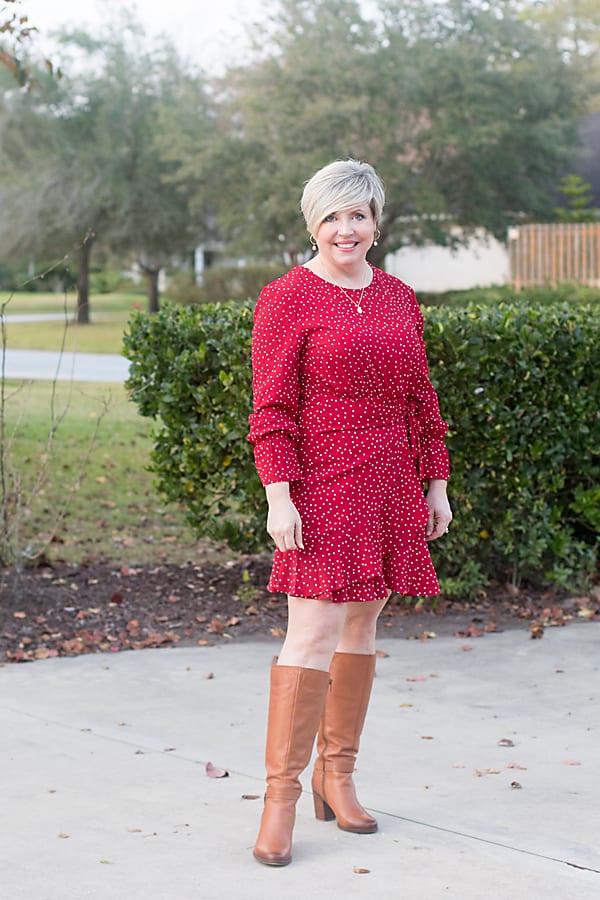 Boots- Naturalizer- similar
Red and brown are a great pairing. A dark brown or cognac brown is a good choice. Boots are a great alternative when you want to go with a casual red dress look. Tall boots lean more to the dressy side, but make a great compromise between dressy and casual. Brown is a more casual shoe color.
What Color Shoe to Wear with a Orange Red Dress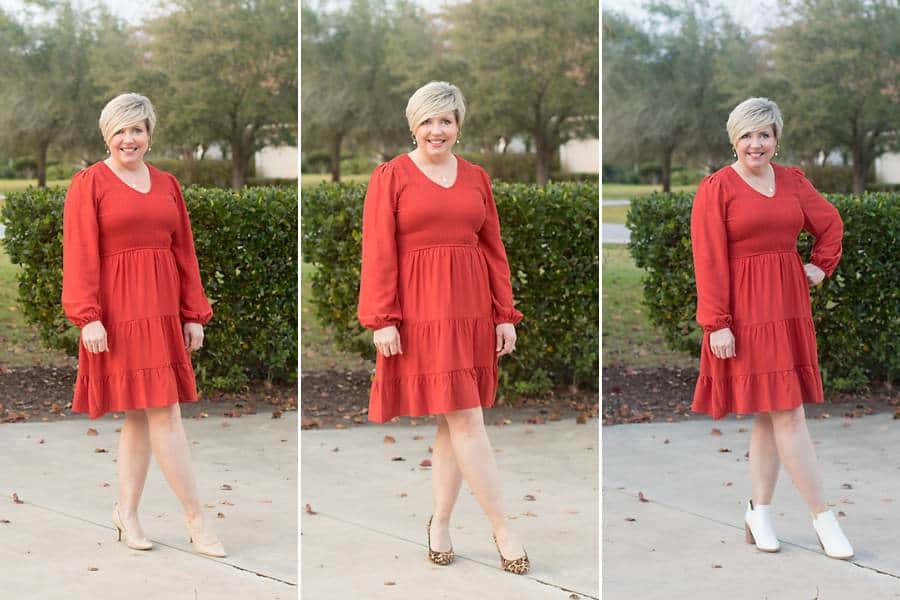 Dress Amazon
Some reds have orange or brown undertones. These are a great color for the fall. Take a look at three options for the color of shoes to wear with this shade of red.
Nude Heels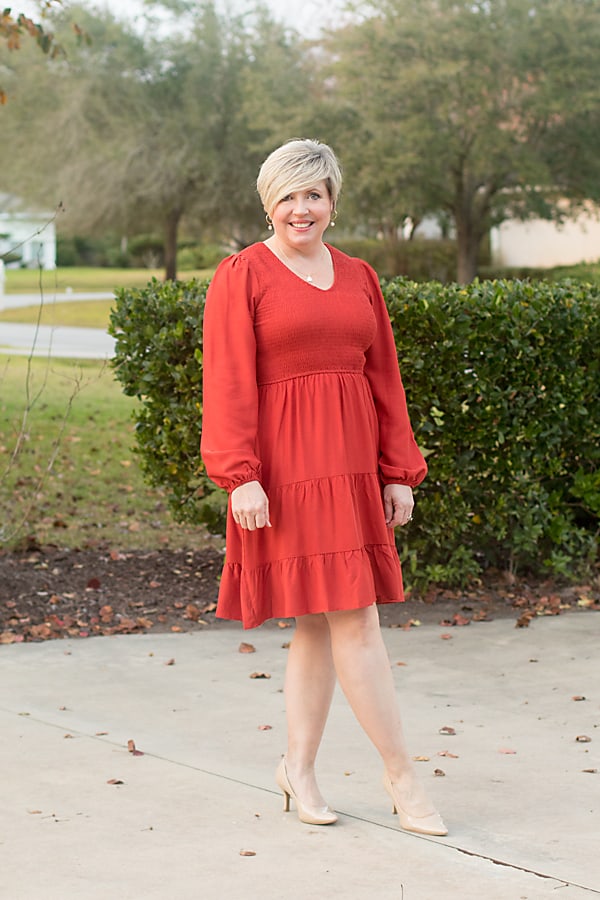 We just can't get past the nude heels. Nude is the right color for almost any shade of red. A nude heeled sandal is also a great choice for a red dress outfit.
Leopard pumps or shoes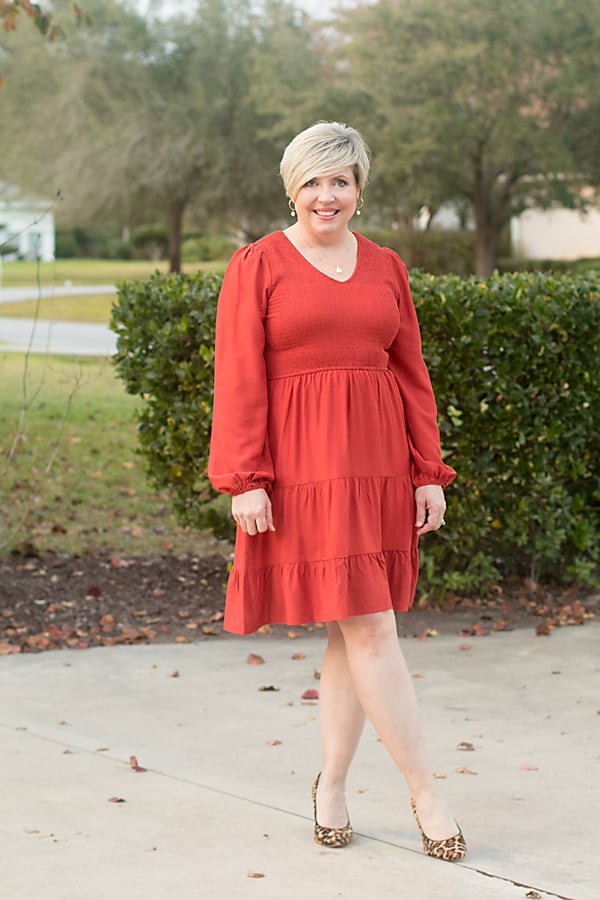 Leopard print with its tans and browns is also a great choice for paring with the orange and brownish reds. Since the red in this shade tends to be a bit more muted, leopard shoes are a great way to make a statement.
White shoes
Boots- Amazon
This smocked red dress has more of a casual vibe so I paired it with white ankle boots. White shoes can certainly be paired with a red dress. For a casual dress, you could also choose a pair of white sneakers. White is a great color choice for a red dress when dressing for a patriotic holiday like the Fourth of July.
As a matter of personal taste, I would wear a pair of white strappy sandals rather than white pumps with a dressier red dress. Like black shoes, white can create a lot of contrast.
The Best Shoes to Wear With a Red Dress
We have discussed six colors of shoes to wear with a red dress- nude, black, brown, grey, leopard and white. Whether you choose ankle boots, pumps, low heels, casual sandals, heeled sandals, flats, or sneakers, these colors will work with your red dress.
If your style is bold, you can also opt to wear a red dress with its complementary colors and wear green shoes. You can create another bold look by pairing a red dress with blue shoes.
Create a racy look by wearing a red dress with red shoes. Keep the shoes in the same tone of red as the dress.
Other factors in deciding what shoe to wear with a red dress include the occasion and type of event you are going to. If it's a formal event, and you are wearing a red cocktail dress, you might opt for gold heels or shoes. Silver is another great metallic to wear with a red dress for formal events or holiday celebrations.
If the event is a casual gathering, you might choose a red sweater dress and black boots or white boots. Go more casual in the day time by pairing your red sweater dress with sneakers and a denim jacket.
The type of shoe as well as the color can affect your overall look. Choosing the right shoe can help you get the right look for the occasion.
Pin it for future reference.