Planning a trip to an amusement park? How exciting!
While comfort must be your number one priority, who said you have to compromise on style while enjoying the rides?
Here are some comfy, cool, and cute dressing choices that can keep you looking and feeling your best, even on that crazy gravity coaster.
Choose Comfortable Clothes
Summer months are the best season to enjoy outdoor activities and that's why amusement parks are the favorite go-to destination for a short but fun trip.
But remember it can get extremely hot outside. That's why what to wear to an amusement park is so important. Choose moisture-wicking fabrics to stay cool and comfortable.
Do not forget your most important accessory: sunscreen. (This is one of my favorites.)
Throw in a pair of shades, a comfy pair of shoes, and a hat for some extra coverage. You will need to shield yourself from the sun in every way possible. Sun protection is a must.
Some other tips to remember are:
Carry hand sanitizers (many parks nowadays offer one but it is better to carry one, just in case)
Pack light snacks
Cleaning wipes (for cleaning seats before riding)
Refillable water bottle
Cap
Sunglasses
Band-aids for nicks and scrapes
8 Cute Amusement Park Outfits
We have curated eight cute theme park outfits. From enjoying your rides in the day to watching fireworks at night, these outfits will keep you going all day.
For tips on how to dress for your road trip to your theme park destination, check out 5 Tips for Putting Together a Road Trip Outfit.
The Classic Tank Top With Denim Shorts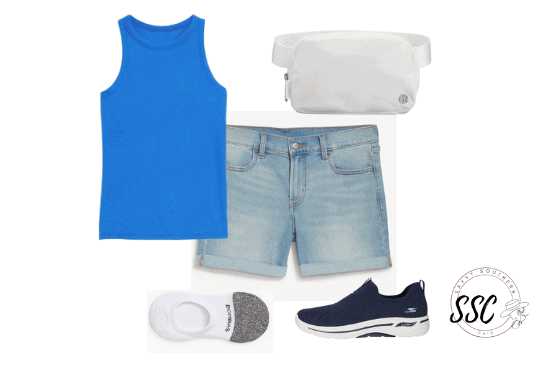 You can pair a cool and comfy tank top with denim shorts and complete the look with lightweight, worn-in shoes. Throw in a crossbody bag or a fanny pack to carry your essentials and you're ready to roll. A small backpack works well for carring essentials too.
Avoid flip flops as they can fall off during rides and also give you harsh tan lines.
This outfit is great for dry rides and amusement parks where you have to walk a lot or stand in long queues.
Here's a quick style checklist for this look:
Tank Top
Denim Shorts
Shoes
Socks
Crossbody bag
The Flirty Summer Dress
Polka-dotted and floral printed dresses are summer essentials and they work great for amusement and theme parks. But don't skip dresses for the fear of flashing while riding roller coasters. Use medium-length dresses and wear a pair of biker shorts underneath for extra coverage.
Pair your easy-breezy outfit of the day with sandals for the ultimate summer look, but avoid boots as they can make you feel uncomfortable.
Accessorize with a big-brimmed hat and sling bag for added functionality. This look works well for dry rides too.
Here's a quick style checklist for this look:
Summer Dress
Shorts
Sandals
Headband/Scarf/Hat
Sling bag
The Sexy Swimsuit with Shorts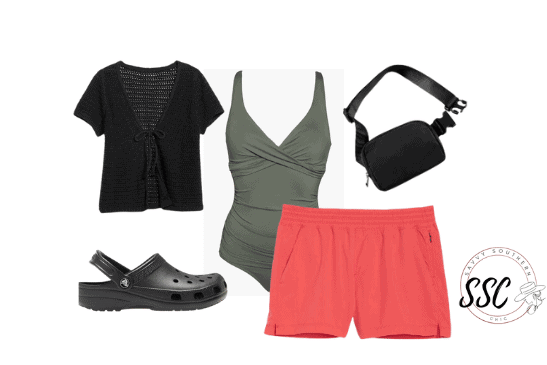 If you are visiting an amusement park with water rides, wear a one-piece swimsuit and pair it with shorts. A crochet throw over your shoulders would be cute too. You can slip out of your shorts and shrug when going into the water.
Complete the outfit with a pair of Crocs and you are good to go. Add a belt bag to store all your belongings and you don't have to worry about securing it when hopping on rides.
If you are going to enjoy the water rides, avoid jeans to save yourself from wearing heavy, soggy clothes all day. Always remember to carry a change of clothes.
P.S. Carry an extra pair of socks and avoid white clothes that become see through when wet.
Here's a quick style checklist for this look:
Swimsuit
Shorts
Shoes
Belt bag
Shrug/Jacket
The Chic Crop Top with Skort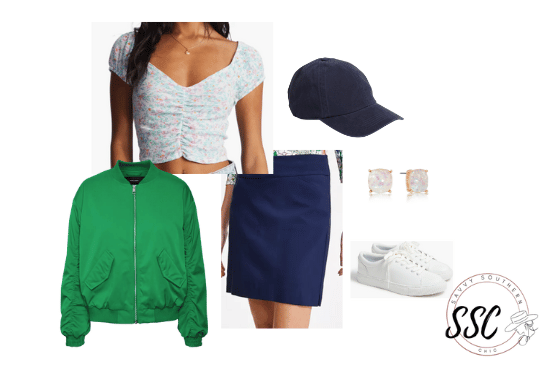 If you're a style diva then your amusement part look should also be one for the books. That's why pairing a crop top with a skort and a baseball cap can make you look Insta-worthy. Throw on a bomber jacket for added oomph, especially if you are visiting a location that has cool mornings and warm afternoons.
This outfit works well from day to night plans.
Here's a quick style checklist for this look:
Crop top
Skorts
Bomber Jacket
Sneakers
Backpack
The Sporty Graphic Tee with Cycling Shorts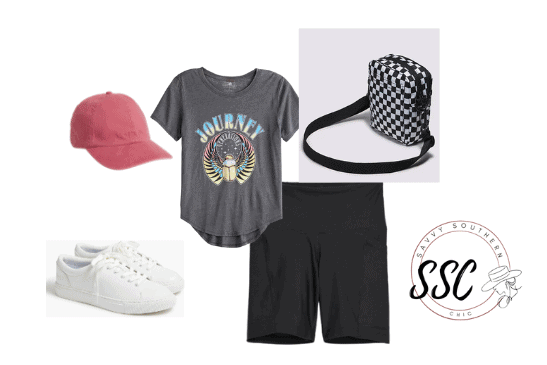 Graphic tees are a great choice for summers because they're so comfortable yet chic at the same time. Pair a graphic tee with cycling shorts for a sporty look that can keep going all day long. Wear a baseball cap for protection from the sun and good walking shoesso you don't end up with sore feet at the end of the day.
Go for a crossbody bag for the ultimate cool chick vibe and enjoy your day in the sun.
Here's a quick style checklist for this look:
Graphic tee
Biker/cycling shorts
Tennis shoes
Baseball cap
Crossbody bag
The Casual Oversized Tee with High-waist Shorts
Loose clothing is great for summer outings. So pair a cute oversized tee with some high-waist shorts, wear a baseball cap, sports shoes, and complete the look with a purse. A high pony looks good with the attire and keeps the hair away from your face.
It is a cool look that is practical and comfortable. You can style your outfit with many accessories like dainty chains and bracelets.
Here's a quick style checklist for this look:
Oversized t-shirt
High-waist shorts
Sling bag
Sneakers
Scrunchie
Accessories
The Laidback Cami with Joggers
One of the best theme park outfit ideas is pairing a camisole with joggers, because you can wear it to just about any weather. Throw a cropped jacket for some extra coverage and you're all set to have some fun at the amusement park.
Joggers also offer you ample freedom to move freely and prevent chafing of the inner thighs
Here's a quick style checklist for this look:
Cami
Joggers
Shoes
Backpack
Sunglasses
Bandana
The Old School Jeans and Tee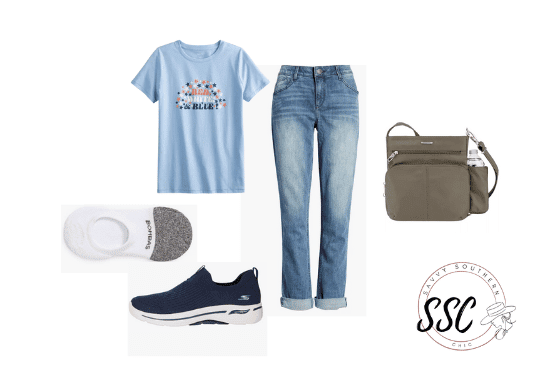 If you are visiting an amusement park at night, you will need a little more protection as it can get chilly out there. So, for a night look, pair a top with jeans, shoes, and a bag. A crossbody bag with anti-theft features is a great idea in a crowded park. You can also carry a light jacket or a cardigan in case it gets too chilly.
Here's a quick style checklist for this look:
Top
Jeans
Socks
Sneakers
Crossbody bag
Remember, there is always a probability of encountering rain. Unexpected rain can ruin your plans and your outfit.
As a precautionary measure pack rain ponchos when visiting an amusement park. If you forget to pack one, you can always buy one from the park. But what they sell at parks is usually more expensive.
If you absolutely want to show off your outfit while wearing a raincoat, go for transparent ones so your stylish outfit is still visible.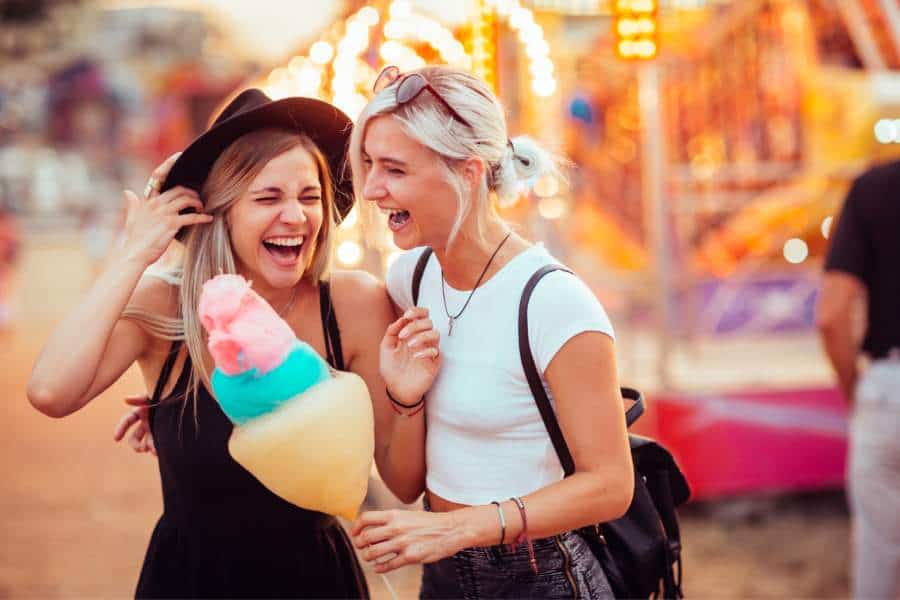 Visiting an amusement park brings out the fun and adventurous spirit in all of us. To get the most out of the experience, it's important to decide on the type of outfit that you feel most comfortable and confident in, whether it be a dress, top and jeans, skort, or shorts and a tank top.
Whatever your style is, remember that comfort and safety should always be a priority. With this in mind, you can relax, have fun, and make memories that will last a lifetime. So dress for the occasion and don't forget to have some fun. With a little bit of planning what to wear to an amusement park, you can look stylish and feel confident while enjoying the day.
You may also enjoy: What to Wear to the Lake for a Stress Free Weekend