Have you been on the fence about faux leather leggings? I've had a pair of faux leather leggings for about five years now. I've found them to be versatile and easy to style. They can easily be part of your everyday wear. There is no limit to ideas on what to wear with faux leather leggings.
They are a fashion trend that just gets stronger and stronger. Skinny jeans might be on the way out but faux leather leggings are in. You can sub a pair of faux leather leggings for the bottoms in many of your skinny jeans outfits.
Go ahead and get yourself a pair. Here are 19 outfit ideas to help you style them in different ways for different occasions.
Both black and chocolate brown leggings are styled. Scroll all the way down for the brown outfits.
You can splurge for spanx leggings if you like, but I enjoy the more affordable options I own a lot more. Spanx are great leggings and are loved by many.
However, the best faux leather leggings are the ones you are comfortable in and will actually wear. When I tried the Spanx leggings, I found them to be too tight for my liking. I own a pair by Hue that has great compression, nice stretch, and a comfortable fit.
My very first pair of faux leather leggings was a nod to the trend with a faux panel leather front and regular knit in the back. Later I upgraded to the Hue full faux leather leggings. Don't be afraid to look for modifications that work for you and your comfort level.
I also added the social media famous $15 Walmart faux leather leggings to my closet this past fall. They are a great product for the price and not as thick or hot as my Hue leggings. The thinner Walmart leggings are better suited for our mild climate.
What to Wear With Faux Leather Leggings
Faux leather leggings can be dressed up or down, making them the perfect wardrobe staple for the fall season and winter season. Depending on the shoes and tops you pair them with, you can create an edgy look or a casual look. You can express your own personal style easily with the many ways to wear faux leather leggings.
Some great tops to pair with faux leather leggings include:
a graphic tee
An oversized sweatshirt
A White button up
An oversized sweater
Layer up your faux leather leggings outfits further with:
A long coat
a leather jacket
long duster cardigans
A denim jacket
A trench coat
See also One Dozen Long Shirts That Are Perfect to Wear With Leggings for a list of the best tops to wear with leggings.
Black Faux Leather Leggings Outfits
With an animal print tunic top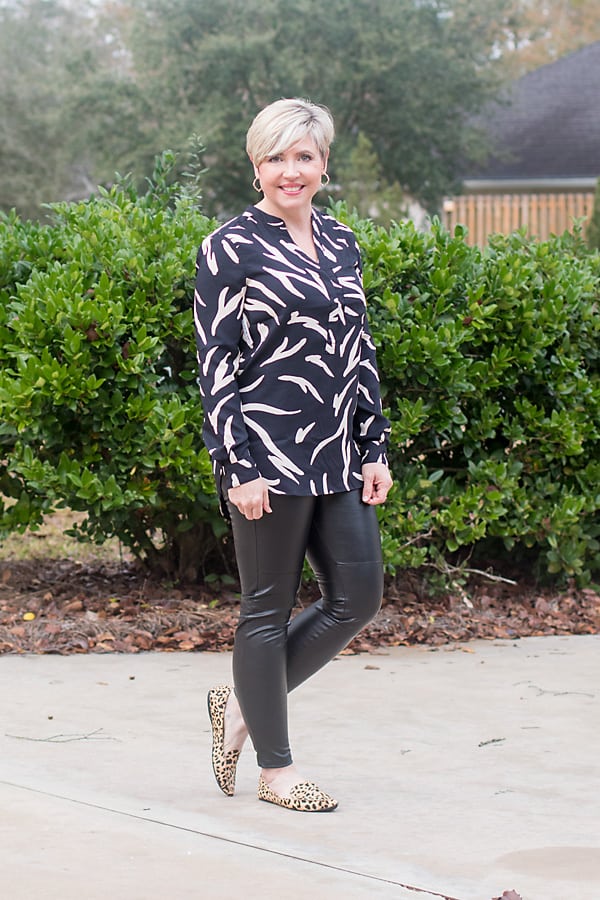 For an elevated chic look that's perfect for a brunch, baby or bridal shower, or other small gathering, pair black faux leather leggings with an animal print tunic top and flats.
This zebra print top is a great way to add a little interest. This long sleeve top is a henley style with a longer back, making it perfect for leggings.
With a solid tunic top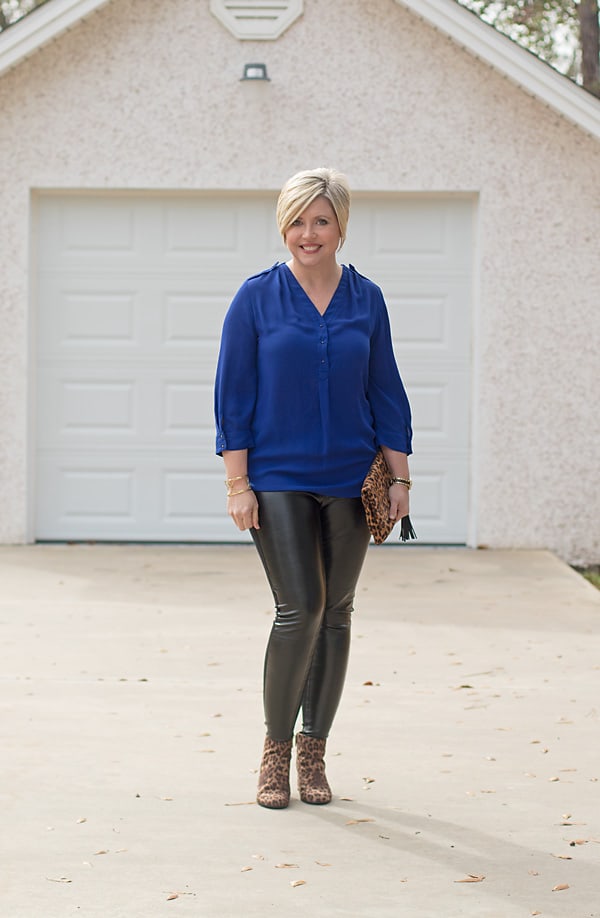 A bright solid tunic top is another great option for dressing up a pair of leather leggings. Add leopard print ankle boots for a fun touch.
With a Plaid Shirt and Black Cardigan
Another great way to create a dressy outfit with faux-leather leggings is to pair your leggings with a plaid shirt and black cardigan. Add a bit of edge with peep toe booties. Another option for dressing up the look is a black blazer instead of the cardigan.
With a V-neck tunic sweater for date night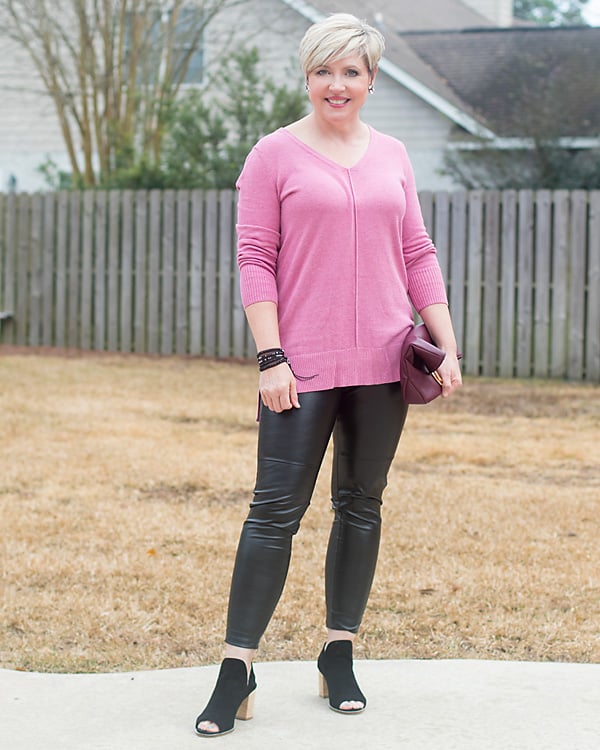 Throw on your favorite vneck tunic sweater for a date night look. Go with a sligthly looser fit in the sweater to keep it classy.
Add a couple of accessories like a coordinating clutch and wrap bracelet and you are ready to go.
With a long cardigan and ankle boots
Keep it all neutral with a brown cardigan and ankle boots but add a pop of color with a solid top or tee for a striking outfit.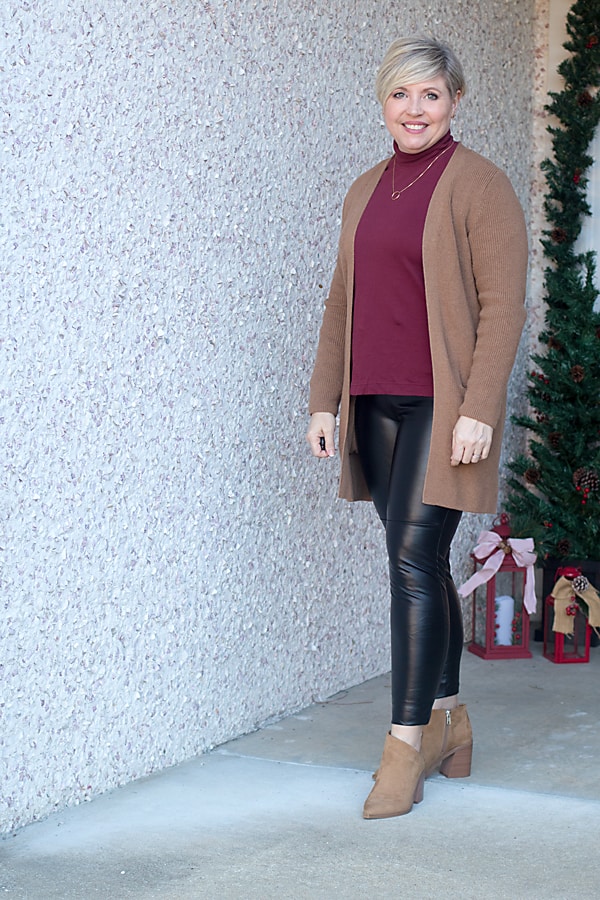 With a solid tunic top and flats
You can easily upgrade legging and a tunic top with cute flats and a necklace.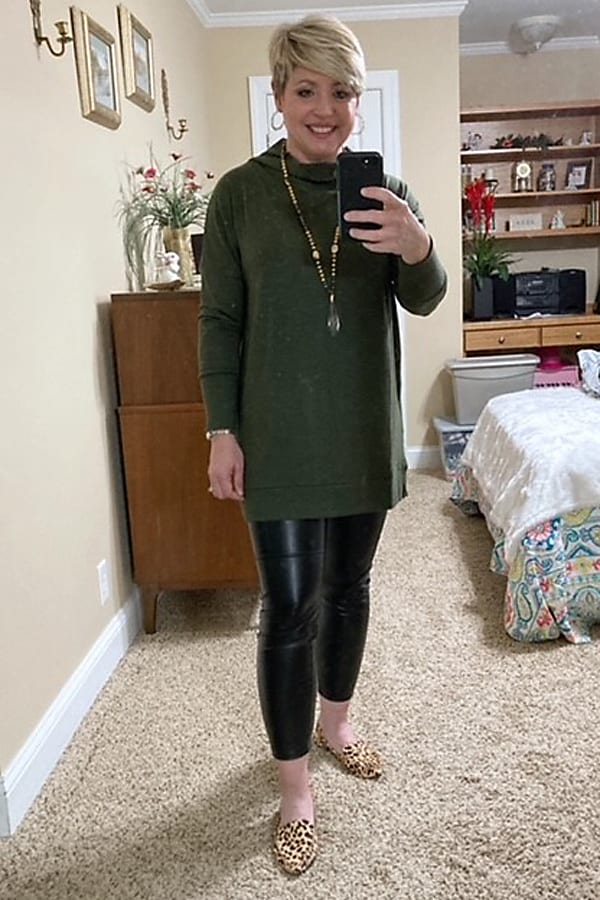 A fun day time look with faux leather leggings
Create a fun day time look for early fall or winter with a plaid tunic and cardigan. Go with chelsea boots for all day comfort. Add a hat for a fun touch to the outfit.
With a buffalo plaid shirt and sneakers
Create another comfortable day time look with a long shirt in buffalo plaid and slip on sneakers. Grab a tote and you are set for a day of running errands.
With a graphic tee and winter boots
Layer your long shirt over a graphic tee and finish the look with lace up winter boots trimmed with faux fur. The faux fur is a fun touch (and practical) in winter months. Combat boots would look great with this look too.
Night out leather leggings outfit
That same long plaid shirt with your leggings instantly becomes an outfit for a night out with the addition of a pair of heels. Opt for leopard print pumps for a little more pizazz.
More leather leggings with faux fur boots outfits
Choose a bright color plaid shirt and top it with a black cardigan. The bright colors add a little cheer to a dreary winter day.
Create an all black column with a black tee and dress it up a little bit with a patterned cardigan. Leopard print makes a good choice.
Faux leather leggings outfits with sneakers
With a sweatshirt and sneakers
Grab your favorite sweatshirt or striped sweater and white sneakers. For more warmth in the cooler months, layer on a cardigan and plaid scarf.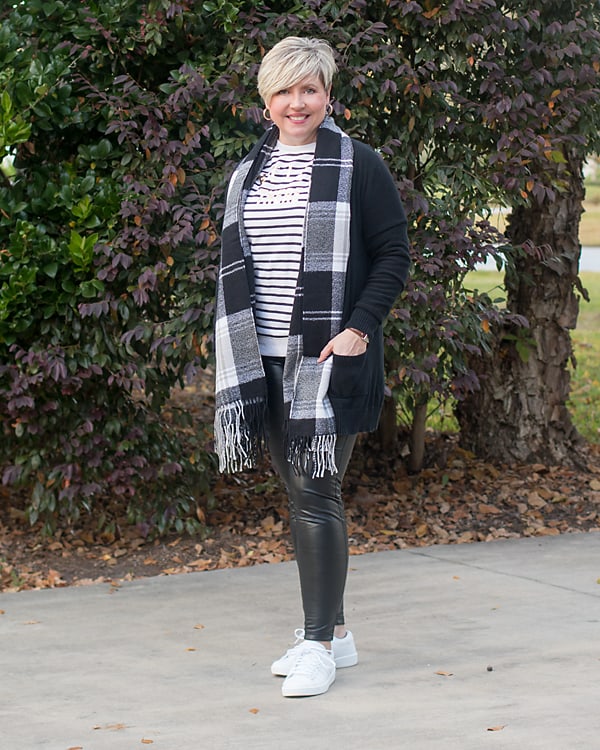 With a camel cardigan and striped tee
Same idea, just change the color of the cardigan. Swap your all white sneakers for ones with a little pattern or detail, similar to these sneakers with leopard accents.
With a solid tee and plaid scarf
Use the same formula from above- black leggings + top + cardigan + plaid scarf + sneakers– but swap the striped top for a solid one.
Scarf- JCrew Factory; sweater- Gap Factory; sneakers- JCrew Factory
With riding boots and a cardigan
If sneakers are not your jam, wear your faux leather with riding boots or tall boots. The same basic tee + cardigan + scarf formula works here too.
Outfits with chocolate brown faux leather leggings
With a plaid blazer and mule loafers
If you work in a creative office or casual work place, you can take faux leather leggings to the office with a button up shirt and plaid blazer. A blazer is also a great way to level up leggings for brunch or out of office meetings.
With a hat and tall boots
Faux leather leggings are perfect for a chilly fall day. Style a brown pair with a colorful striped cardigan, felt hat and tall heeled boots.
Cardigan- Walmart; boots; hat- similar
With a tunic sweater and clogs
Keep it simple with a long vneck tunic sweater and clogs. Brown and shades of blue pair beautifully together.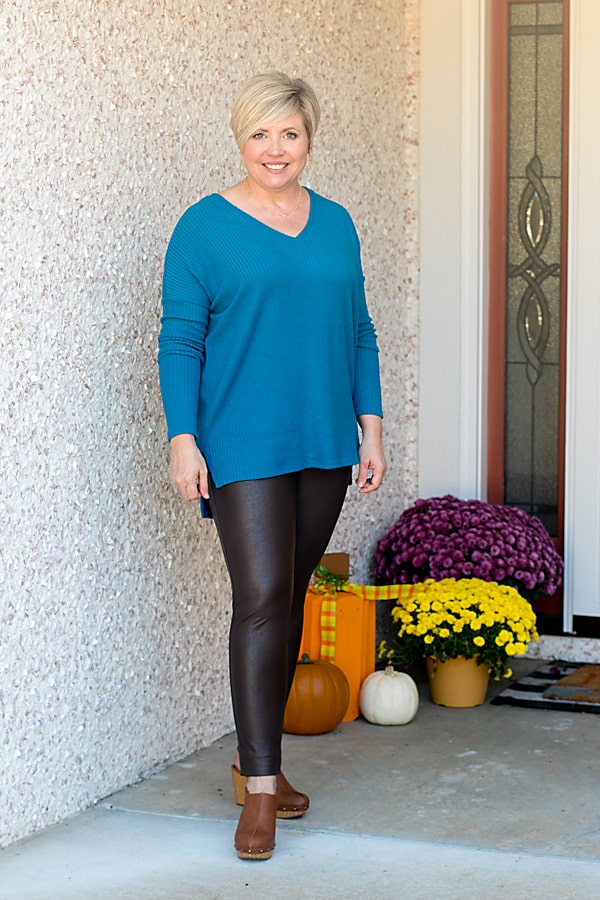 Clogs-option
If you don't have faux leather leggings in your closet, go ahead and get a pair. The next time you reach for leggings, reach for a faux leather pair and level up your style.
Pin this post for future inspiration.