If the three words you choose to define your style are "classy, tailored, and posh" or "crisp, clean and preppy" your style personality is preppy style. Preppy outfits make you feel the most confident and happy.
This article on preppy style is the next installment in the series on unique personal style where we are exploring fourteen different style personalities. The purpose of this series is to help you define your unique personal style and provide focus for creating outfits that you feel amazing in. You'll also get style ideas for preppy outfits.
Let this be your essential preppy style guide.
What Is Preppy Style?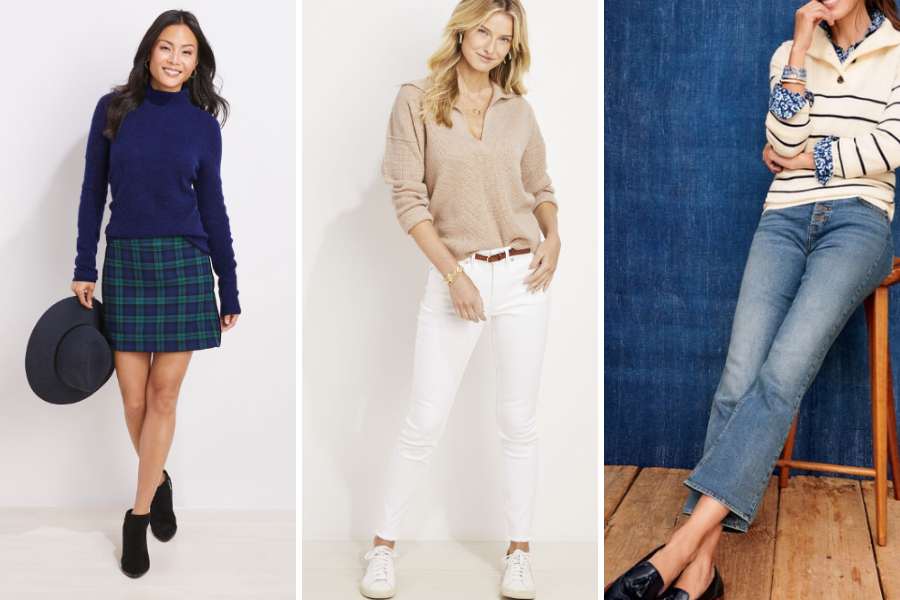 It's often thought of as a school girl aesthetic.
Preppy is generally associated with Ivy League students' clothes — think high-end, neat, and perfectly tailored. People who have a preppy style are typically seen as well-off and belonging to upper-class, wealthy families.
Some would also associate this style with conservative and classic statements.
The preppy style is thus a combination of crisp, well-put-together pieces, such as a collared shirt with khaki pants for men and pleated skirts or dresses with cardigans or tweed jackets for women.
In the early 2000s, the hit teen drama Gossip Girl took the fashion world by storm, primarily Blair Waldorf's iconic preppy looks. The chic plaids, patterned tights, sleek skirts, and blouses — the wardrobe was to die for!
The preppy style is a unique style of fashion that keeps it simple, chic, and often understated. And believe it or not, your wardrobe probably already has more than enough clothes for you to try a preppy style!
Where did the preppy style come from?
The preppy style emerged in the 1920s when wealthy families sent their children to private schools. These academic institutions adapted uniforms inspired by the traditional English dress style. And the students would continue wearing their preppy clothes even after graduating.
Fast forward to the 1950s, the preppy style symbolized the American lifestyle, status, and success. It was also when preppy-style clothing brands Tommy Hilfiger, Ralph Lauren, and Brooks Brothers came into play.
Preppy style really took off in the 80s when The Official Preppy Handbook was published. It's a tongue in cheek guide to prep schools and how certain groups should dress. It sold more than a million copies.
Remember popping your collar in the '80s? All the cool kids did it, not just those in Ivy League schools.
For a closer look at preppy style through the years, take a look at Jackie Kennedy, Brooke Shields, Princess Di, Katie Holmes and Reese Witherspoon.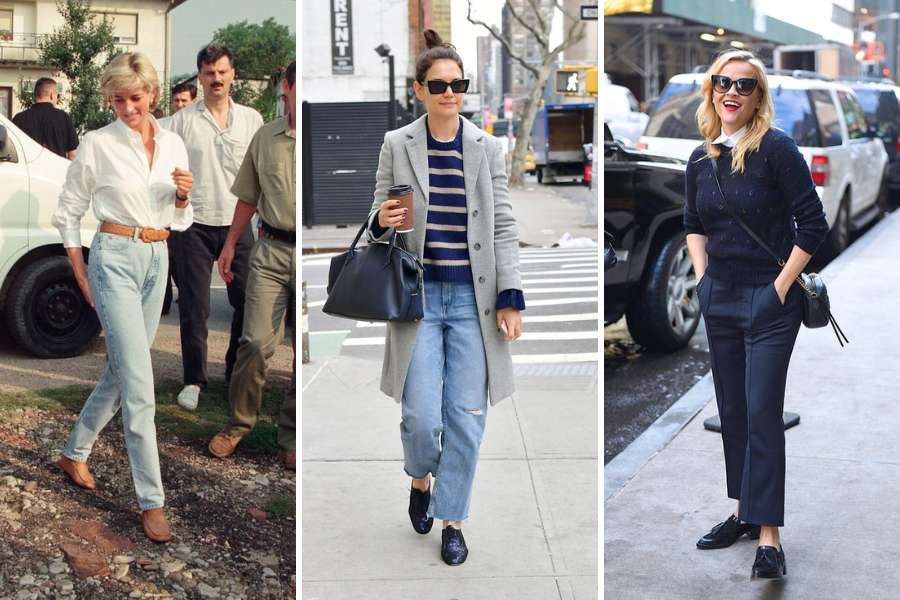 Is Preppy Back in Style?
If preppy style is your style personality, then it's never out of style. It's a timeless look. The clothing and elements of preppy style are pretty classic and you will always find pieces and vibes from this fashion style trending.
Preppy style, or academia, has made a big comeback in recent seasons and is sticking around for 2023.
Sweater vests? Loafers? Polo shirts? Check! All trending. Collegiate-inspired style has been part of recent trends.
What does preppy style say about you?
Preppy style can carry a stereotype of "better than you" "from old money" or "entitled." However, those are just stereotypes. Preppy style can say you are confident in your clothing choices.
You don't care much about trends. You stick with what works for you and that's classic preppy pieces.
Preppy style says you take a healthy pride in your appearance and in looking neat and tidy.
The Elements of Preppy Style
To achieve that preppy style, you'll need to put together a balanced combination of these elements.
#1. Silhouettes
A significant feature of the preppy style has a structured silhouette with long lines and slim cuts. The outfit may or not be layered, but all the components are well-coordinated, creating a seamless and effortless look.
#2. Patterns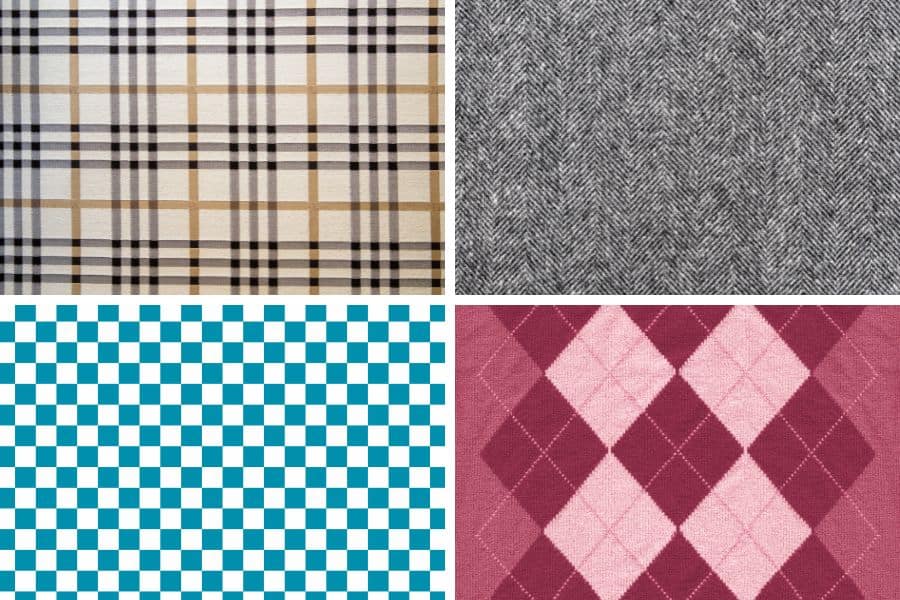 Argyle
When you think of the preppy style, knitwear with argyle patterns often takes center stage. This is a classic that can be used in dresses and skirts alike and is primarily seen in knitted vests and pullover sweaters.
Checkered
The checkered pattern is a classic that you can use on blazers, shirts, vests, skirts, and dresses. It's also easy to pair this pattern with bolds or solids to create a statement style.
Plaids
A popular pattern primarily seen in women's pleated skirts and matching blazers, plaids are a timeless pattern that complements a casual outfit as well as formal, dressed-up styles. Just like the checkered pattern, plaids pair well with solids.
#3. Colors
The classic preppy style incorporates primary colors like black, navy, nude, beige, and white. However, a more modern take on the preppy style can often include various pastels. It is a surprisingly versatile style because you can use any color palette and let the pattern and style do the talking.
#4. Materials or Fabrics
Tweed
This is the best material to create that textured and luxurious yet effortless look. You can get herringbone, tartan check, or solid weave tweed and exude glamor and richness. A tweed jacket is a must have for preppy style.
Knits
Knits give off a professional look, especially when you have the collars of your shirt visible on the neck. You can use your cashmere crewneck or chunky V-neck varsity sweaters and layer them with plain blouses or dresses to achieve that preppy style.
What is preppy style clothing?
"Preppy clothes are built to last since they certainly won't go out of style." — Lisa Birnbach.
Recreating the preppy look doesn't require an entire shopping haul. Take a look at some essential clothing pieces and accessories you can use to achieve a preppy style.
Many of these may already be in your everyday wardrboe. Pair them together for outfits with a preppy aesthetic.
#1. Blazers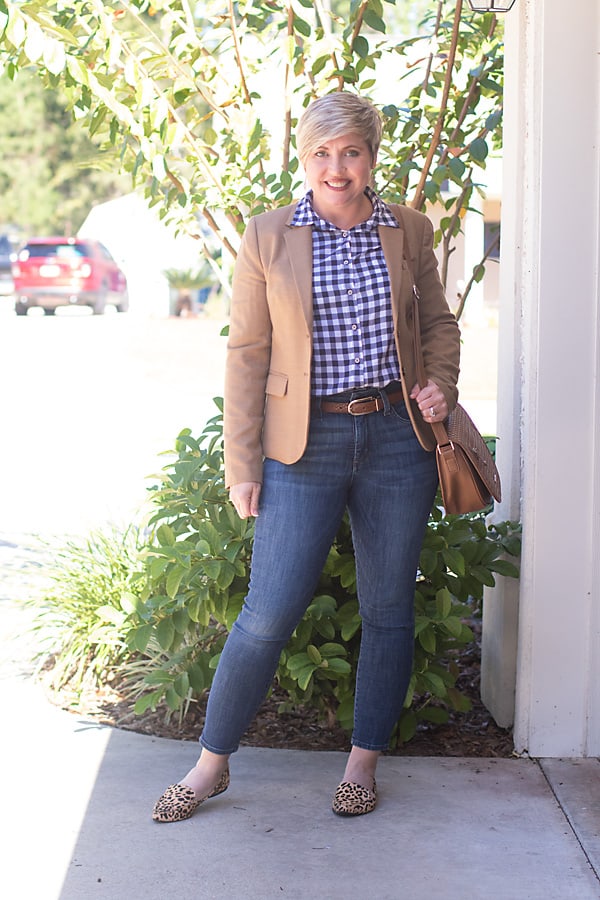 Blazers are the ultimate symbol of the preppy style, especially if the blazer is made from flannel, tweed, or wool. Opt for a double-breasted and oversized blazer, and consider adding an oversized belt or a link belt to cinch it at the waist.
For men, you can use a blazer over a button-down polo or short-sleeved collared shirt. For that university look, pair the blazer with a knit vest over your collared shirt.
Bonus points if you have a navy blazer.
#2. Collared Button-Down Shirts
A plain white button-down shirt (or oxford shirts) is a must-have to perfect the preppy style. A crisp button-down shirt automatically gives your OOTD instant class and sophistication.
For both men and women, investing in a plain shirt is a great idea since it can work as the foundation for any outfit. Pair it with trousers, short skirts, or even long maxi skirts. It goes with anything and everything and is very easy to layer with other clothing.
It's also a good idea to invest in other basic colors like black, gray, and navy blue, which you can easily mix and match with your khakis and blazers.
#3. Cable-knit sweater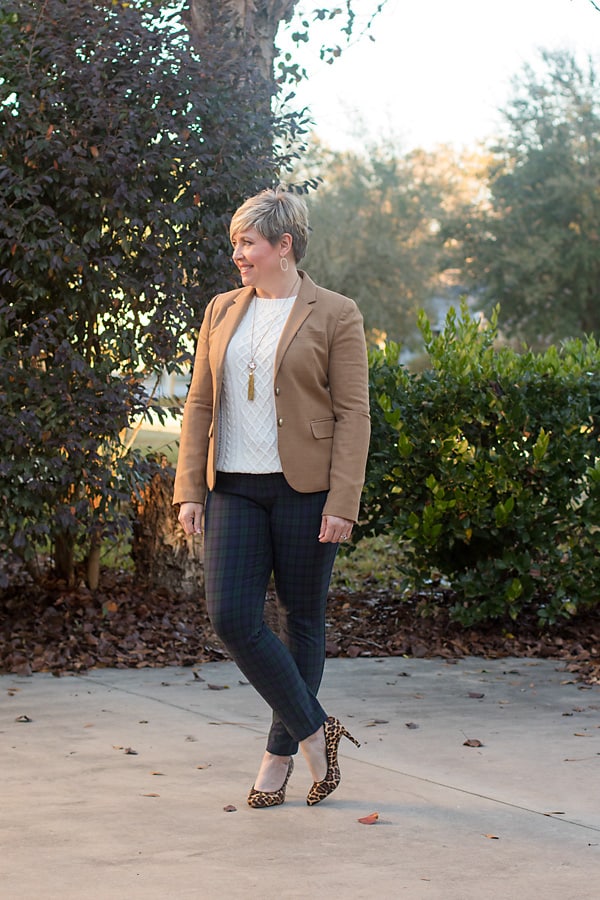 Stay cozy and warm as well as stylish during the winter with a cable-knit sweater. Cable-knit adds just enough detail and texture to elevate your preppy look.
#4. Argyle sweaters
Argyle is a trademark pattern of preppy style. The easiest way to create preppy outfits is to don an argyle sweater.
#5. Tartan Skirt
Plaid skirts are a must have for preppy outfits. Pair a tartan skirt with a crisp button-down, blazer and loafers for the ultimate school girl aesthetic. Pair it with your cable knit sweater and boots for a more conservative nod to the look.
#6. Sweater Vests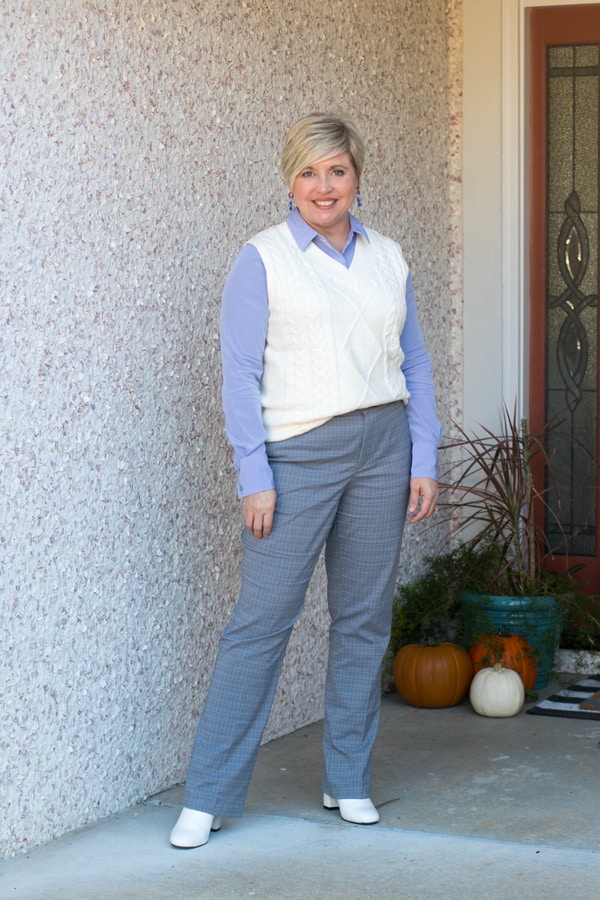 Blouse- Kohl's; sweater vest- Amazon; pants- Kohls
Trendy fashionistas have been borrowing these from the preppy style for the past couple of years. If preppy style is your style personality, they will stick with your wardrobe long after the "trend" ends.
#7. Stripe rugby polo shirts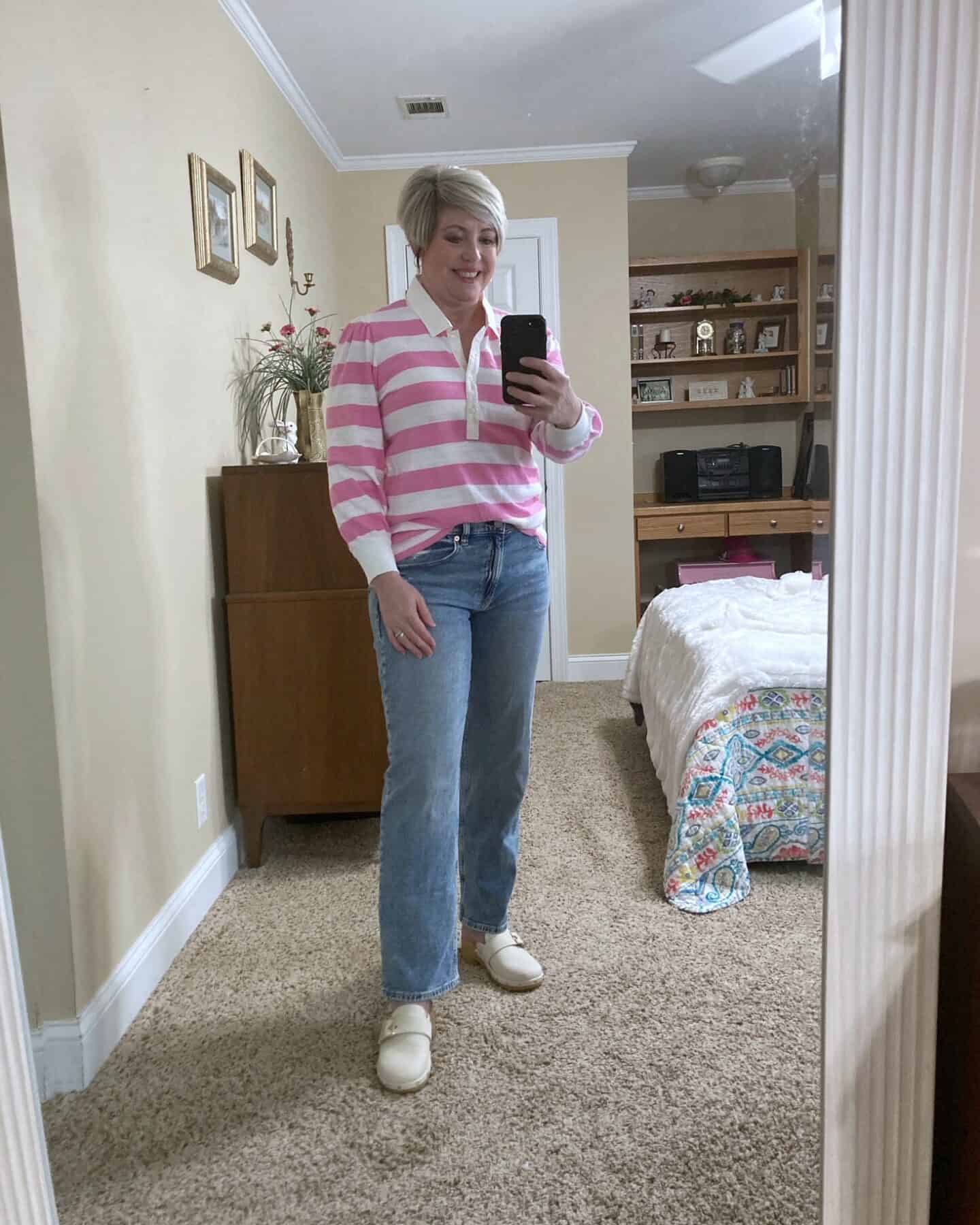 Shirt- Loft- similar
These have been having a moment as a trend in modern fashion, but will also be a classic staple for preppy outfits. Wear them with jeans and sneakers, or take the prep factor up another notch by pairing them with khakis.
Shoes to Wear with Preppy Outfits
Classic white sneakers- Low profile sneakers like Keds and Sperry sneakers work best for this aesthetic
Mary Jane shoes
Oxford shoes – A more masculine shoe but females who follow an androgynous style may wear these for preppy vibes.
Boat shoes- Canvas or leather shoes with a rubber sole for wearing on a boat deck
Loafers/ penny loafers
Ballet flats
Accessories for Preppy Outfits
#1. Pearls
For women, pearls are the one piece of jewelry that can help you nail the perfect preppy look. Whether it's a small pair of pearl studs, a single-strand pearl necklace, or a delicate pearl bracelet, pearls are crucial to complete your preppy style.
#2. A structured satchel
Accessories are simple and understated. A structured satchel will pair well with the tailored lines of a preppy outfit.
#3 Headbands
Again, simple is the way to go. A leather or cloth wrapped headband can be all the finishing touch you need for your preppy outfit.
Doable and Practical Preppy Outfits for you
Take inspiration from these preppy outfit ideas and adapt them to your own style. Remember, part of the style is letting your own personality and confidence come through.
#1. Matching Mini Skirt and Blazer + Basic Tee
This classic OOTD should be in every woman's closet who wants to perfect the preppy style. A outfit of a short, pleated skirt and blazer in plaid or tweed paired with a plain black or white shirt is iconic.
For a more formal look, pair it with some boots or classic high heels. You can easily transform it into a casual look by replacing your shoes with a pair of loafers or white low sneakers.
#2. White Polo + V-Neck Knit Sweater + Khaki Bottoms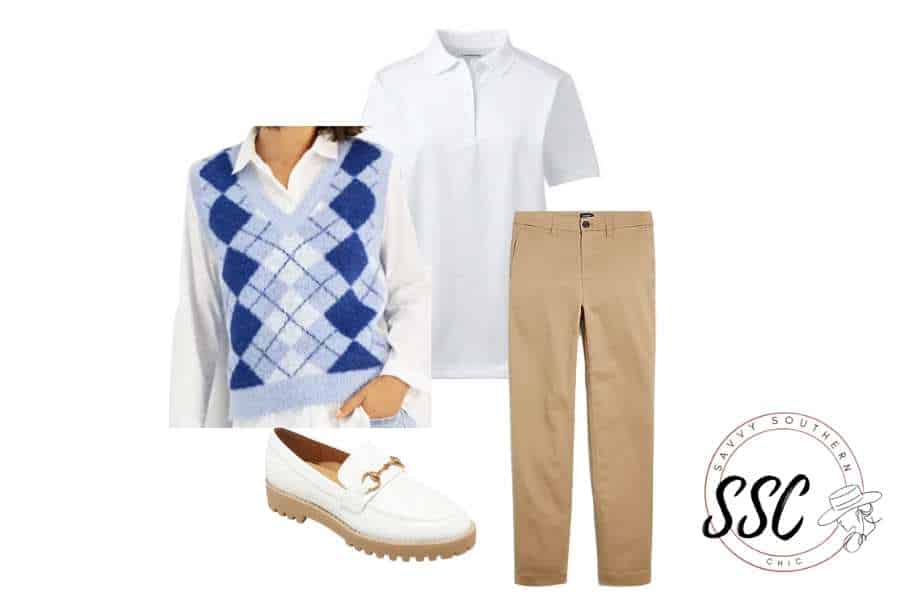 Layers are standard in a preppy style, and the classic academy uniform look never goes out of style.
Start with your favorite white polo and layer it with a V-neck knit vest or jacket and some khaki bottoms. Add a scarf and a trench coat, and you're all set!
#3. Striped Shirt + Jeans + Camel Coat
This is a casual outfit oozing with preppy style. Pair your favorite jeans with a striped shirt, and warm up with a lightweight coat.
It's a comfortable outfit for running errands or walking around town by pairing this ensemble with loafers or ballet flats, or you can switch it up with heels or boots for a night out.
Where To Shop For Your Preppy OOTDs
Embrace preppy fashion by investing in some staples and statement pieces. Check out these US retailers to find the trendiest preppy clothes today:
Preppy Style on A Budget
The preppy style looks expensive, but that doesn't mean it has to burn a hole in your pocket. Rummage through your closet, and you'll find pieces you can easily mix and match to curate unique outfits.
If you need to add a few preppy pieces on a budget, conside these retailers:
Preppy Style Over 40/ Over 50
Are you too old for preppy outfits? Nope!
While the terms "school girl" and "collegiate" suggest this is a style for younger people, any age can wear preppy outfits. You might want to skip the pleated mini skirt, but many of the other pieces are perfect for the woman over 40 or woman over 50 who wants a tailored yet fun style.
Use this guide to perfect the classic clean, youthful look. Choose your pieces carefully, and you'll achieve those preppy aesthetics effortlessly.
Pin this post!