When you want to dress well, it's important to look beyond just styles and trends. Knowing your body type plays a major role in determining what will and won't look good on your frame. One of the most common body shapes is the inverted triangle, also known as the strawberry shape. Inverted triangle body shape outfits are easy to put together for a flattering silhouette when you know the tricks.
So, if you look at yourself in the mirror and notice you have broad shoulders, a narrow waist, and smaller hips, you most likely fall under the strawberry-shaped body. Don't get confused over whether you have what you consider small hips or large hips. The key factor here is that your shoulder width is your largest horizontal measurement, and that number is larger than your waist or hips.
In this article, we take a closer look at how you can work with your inverted triangle body type and look your best!
What is the Inverted Triangle Body Shape?
If you have an inverted triangle body shape, you might be glad to know that you share this body frame with numerous Hollywood actresses and models, including Naomi Campbell, Cindy Crawford, Angelina Jolie, and Catherine Zeta-Jones.
Also known as the V or Y shape, it is one of the most sought-after figures among women primarily because it showcases an athletic yet feminine form.
Characteristics of an Inverted Triangle Body Shape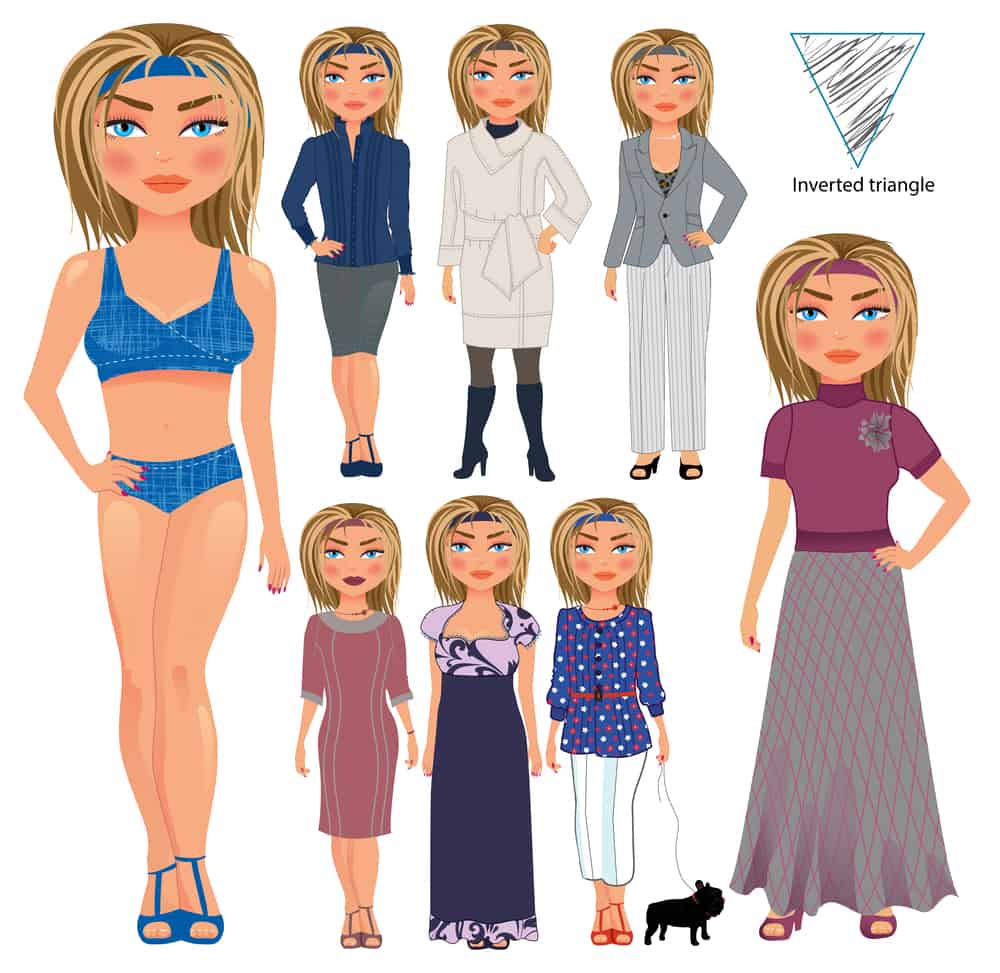 If you have an inverted triangle body shape, you typically look more athletic, thanks to your wide shoulders, narrow hips, and narrower waist.
This body type often has a more emphasized top half, minimal waist definition, along with a strong shoulder line, together creating a V-shape silhouette. You may or may not have a larger bust, but your upper body is overall wider and more prominent compared to the lower half.
See also: An Easy Guide to Determining Your Body Shape
Take a look at some of the most prominent features an inverted triangle body shape will have:
Broader shoulders
Small or large bust
Minimal to no waist definition
Narrow hips
Muscular legs
A flat bottom
You probably have great legs
Best Outfits for The Inverted Triangle Body Shape
The strawberry or inverted triangle body type has some of the best features. Women with this body shape don't need to make their shoulders look less broad, don't need shoulder pads, and have long legs and arms to flaunt. These characteristics often make it easier to style this body type. The goal is to dress in a way that brings balance and brings the bottom half of the body more in proportion to the top half.
Here's a quick guide on the best styles of clothes to complement this body shape:
Tops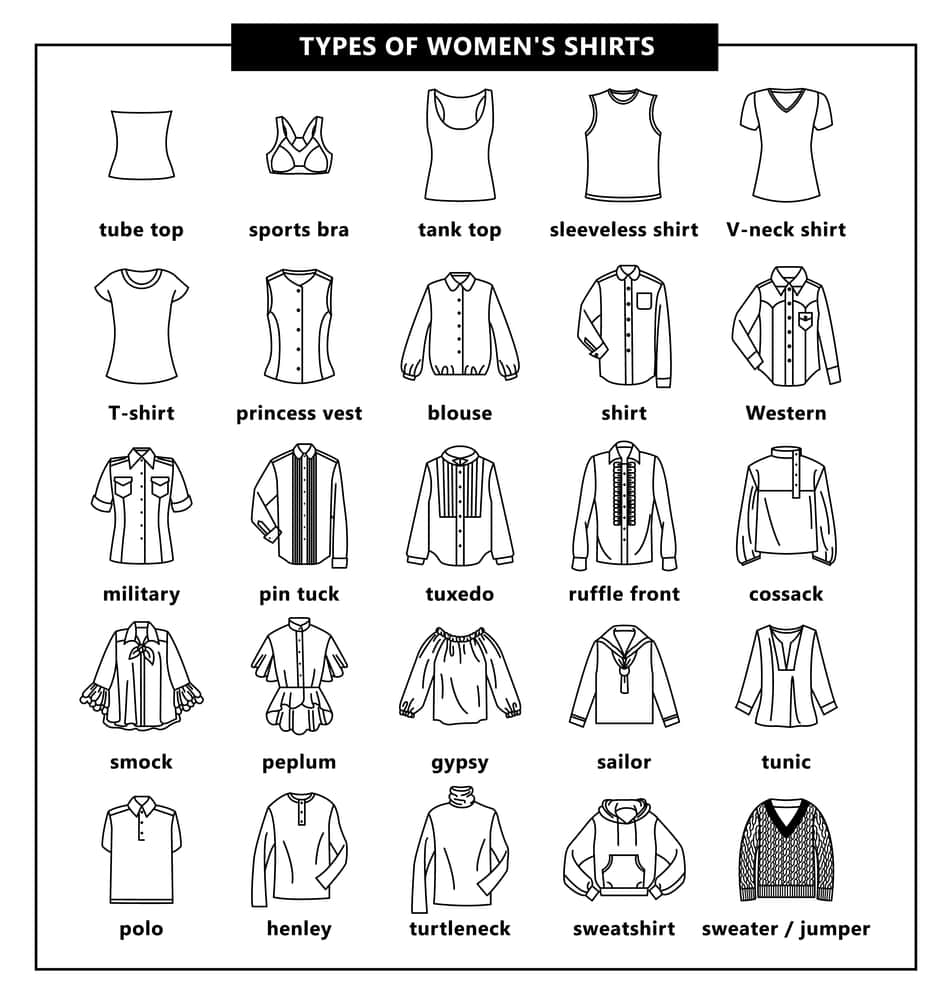 Broad, strong shoulders are a major feature of this body type, which makes choosing tops a breeze! Note that blouses that wrap around your waist can help narrow your waist. Fitted tops are also good choices, as well as tops with wide straps because it slims down your shoulders. Avoid clothes with horizontal stripes on your upper body.
It's also important to pick the right neckline. U-neck or V-neck tops are great but steer away from wide square necklines and tops with low and plunging necklines as they'll draw more attention to the shoulders. Replace your off-shoulder tops and tops with boat necks with asymmetric styles and one-shoulder tops to draw visual interest from your shoulders.
Peplum tops or halter and tube tops will be flattering for your figure, so you can confidently show off your shoulder line. But avoid bright colors and neon-colored tops, and instead, invest in darker colors.
Avoid puff sleeve tops and tops with details at the shoulder like buttons or ruffles. Stick with fitted short sleeves on tops, but do the opposite when the sleeves of a top are long. Having a flared or wider long sleeve will bring some attention and balance to the hips. Drop shoulder tops can help slim the shoulders.
Fabric choices can affect your silhouette also. Heavier knit sweaters and tweed jackets can make your larger top half look even larger. Opt for fine knit sweaters and lighter weight jackets.
Pants and Trousers
Skinny jeans and tight-fitting skin-tight jeans are a no-no because they will emphasize your body shape more. Instead, invest in jeans that define your leg line and can add much volume to your hips and bottom half area to balance your shoulders and make them look narrower.
Pants with vertical lines like a bootleg, flared, and boyfriend jeans should be in your wardrobe. They can make your hips fuller and your shoulder and lower half more proportionate. Baggy trousers and wider-leg pants are also some of the best options.
Feel free to venture out of your usual pant choices and try harem pants. Jeans with rips and strategically placed embellishments are also stylish choices. They will draw attention away from your upper body and shift focus to your lower half, thus enhancing your inverted triangle body shape.
Skirts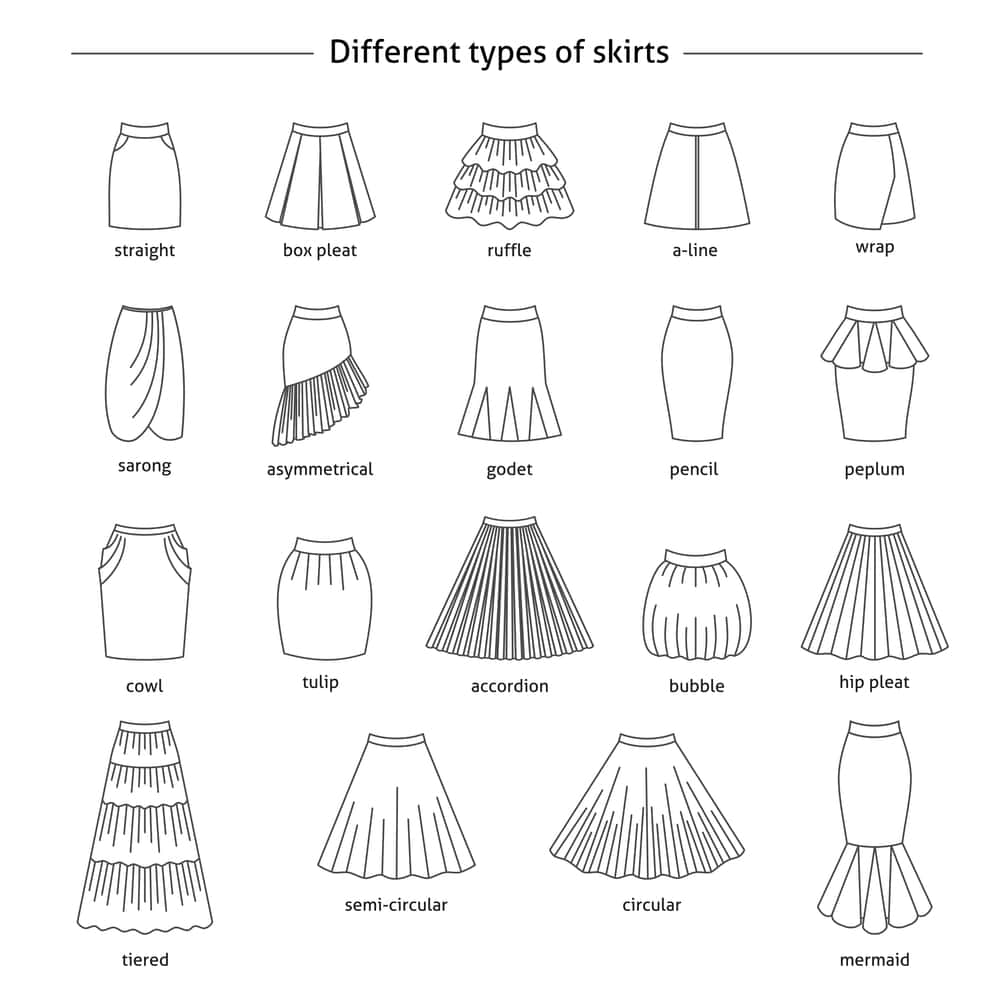 Look for full skirts and dresses that will help boost your hips and provide as much symmetry to your body as possible. Skirts that flare from your hips will add some oomph and curve to your lower half.
Tulip, box, layered, ballerina, and A-line skirts, or skirts featuring simple straight lines, are all flattering choices because they're not only feminine but also practical, as they will ensure a more balanced silhouette. It's also best to lean towards short and knee-length options. And when you pair these skirts with the right tops, you have a stunning outfit on hand.
Dresses
Dresses can make all body shapes look more feminine. And for your inverted triangle shape, your dress choices should also help add volume to your hips and bottom.
A-line dresses will perfectly complement your frame. Dresses that are more flared from the waist or have pretty detailing from the waist down are also good choices. You can also try strapless dresses to balance your shoulders and hips.
To accentuate and achieve a more defined waist, try belted, pleated, and shift dresses.
Jackets
Straight-cut jackets and coats with waist definition will do miracles on your frame. Stylishly cropped jackets or ones that fall on your waist are also good choices because they will take the focus away from your shoulders.
Those with inverted triangle figures should also be conscious of the jacket length. Unless cropped, opt for jackets that extend a little beyond your hip line to help balance your shape. Wrap jackets and single-breasted styles are great options to help define your waist. However, steer clear from too much bling on the chest area as it would make your upper half bulkier.
​
Inverted Triangle Body Shape Outfits
Let's put this all together in some outfits that work for the triangle body shape.
Casual Fall Outfit for Inverted Triangle Body Types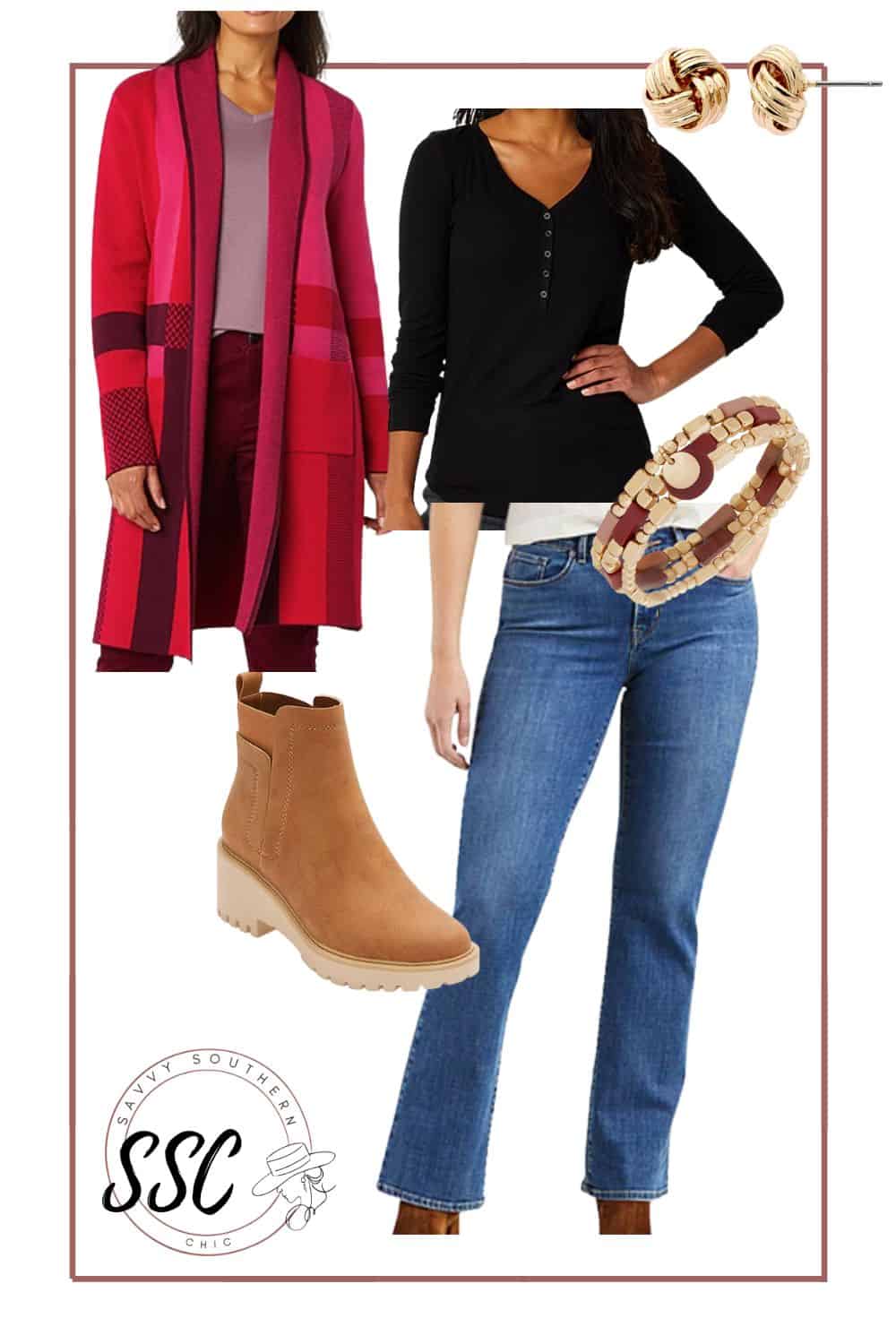 Shop the Look:
A vneck top is universally flattering. Pair it with boot cut jeans and top it with a longer cardigan that has details at the bottom instead of the top. This ensemble works harmoniously to enhance your inverted triangle body shape, making it look more balanced and flattering.
The pattern at the bottom will add volume below the waist and draw the eye down. The stripes at the bottom of the cardigan add a horizontal element. Horizontal lines can visually widen an area, so having them at the lower part of the body helps to balance the broader shoulders by adding width to the hips and thighs, creating the illusion of an hourglass shape.
The long cardigan helps to create vertical lines, which draw the eye downward and add length to your upper body, balancing out the broader shoulders of an inverted triangle shape.
Boot-cut jeans flare out slightly at the hem, which helps to balance out the broadness of your shoulders. The wider leg opening creates volume around your ankles, which draws attention downward and adds visual weight to your lower half.
Keep earrings small and simple and accesorize with bracelets to add more volume below and bring the eye down as well.
Business Casual Work Wear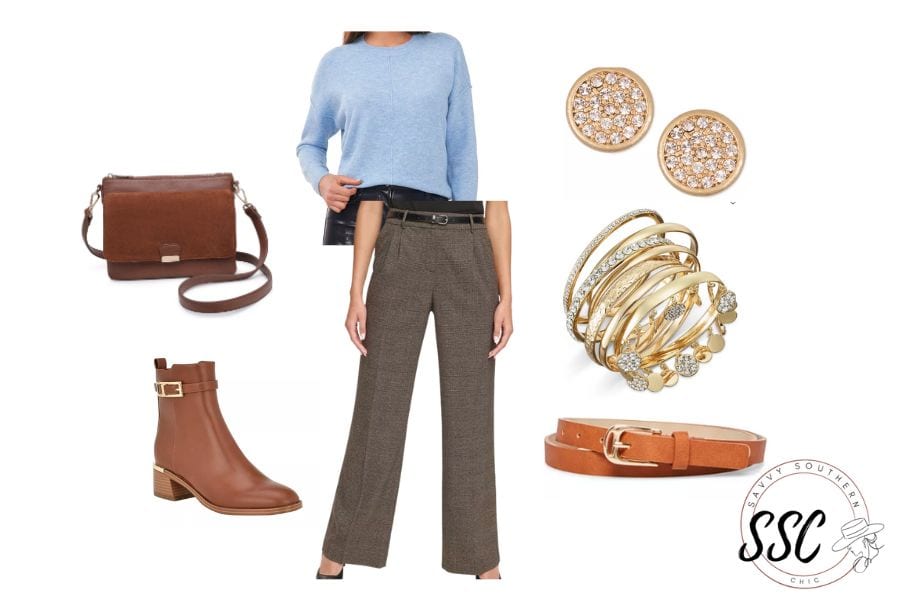 Shop the Look:
An outfit composed of a drop shoulder sweater and wide-leg pants is a stylish choice that can work well for an inverted triangle body shape by creating balance and accentuating your best features. Here's how this combination works:
The drop shoulder design typically has relaxed, slightly oversized sleeves that extend beyond the natural shoulder line. This feature can downplay the width of your shoulders, creating the illusion of a narrower upper body.
Wide-leg pants provide balance to your figure by adding width to your lower body. The wide legs create a visually wider silhouette from the hips down, which helps counterbalance the broader shoulders of an inverted triangle shape.
By combining a drop shoulder sweater and wide-leg pants, you achieve a look that softens the shoulders and draws attention to your lower body, creating a more balanced appearance for an inverted triangle body shape. The outfit plays with proportions and lines to make your upper body less dominant, making it an excellent choice for those with broader shoulders who want to create a more proportionate and flattering look. Don't forget to complete the ensemble with accessories and footwear that enhance the overall style and add a touch of your personal flair.
Small stud earrings make an excellent choice, as do brown dress ankle boots for completing this look.
Holiday Party Outfit for the Inverted Triangle Body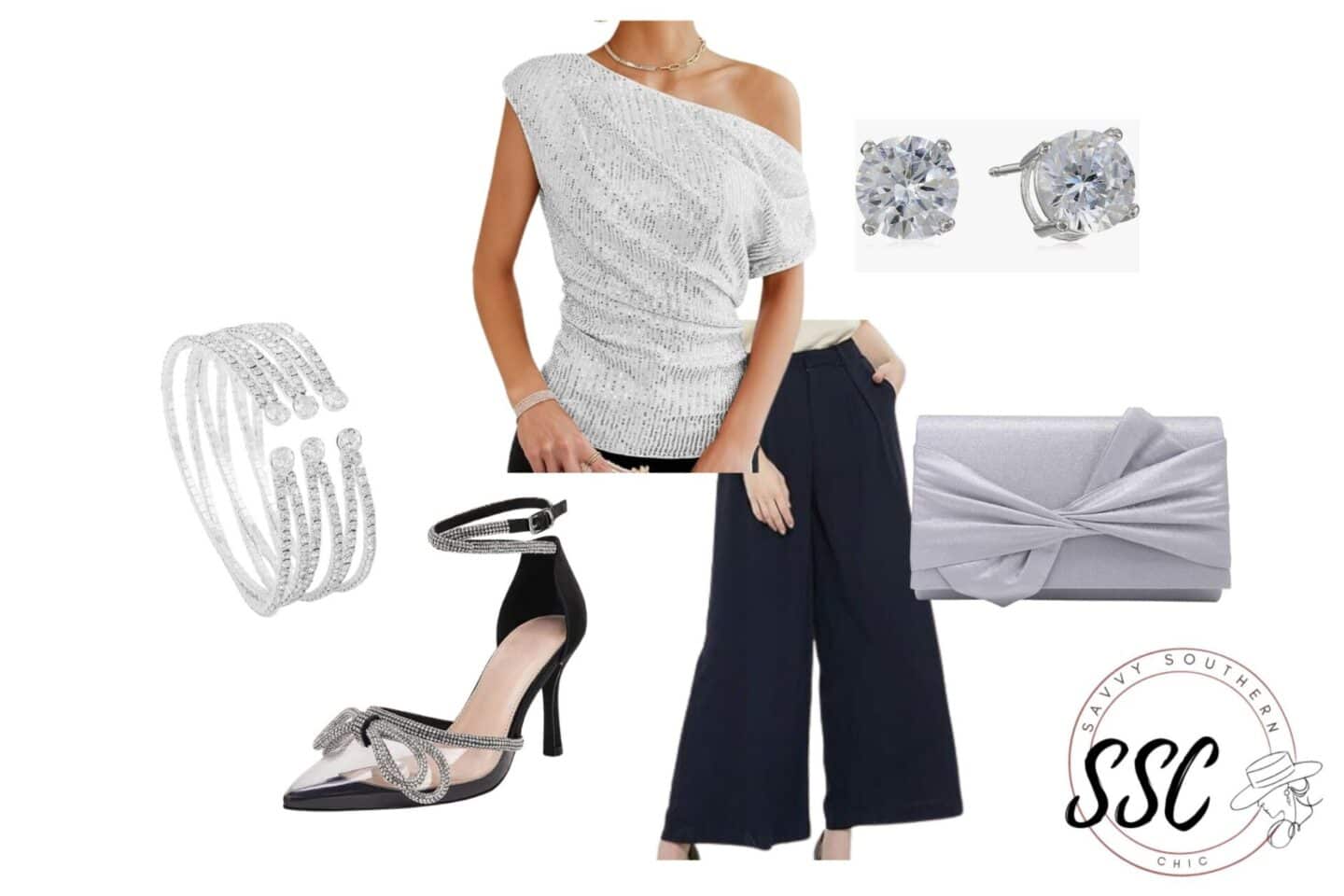 Shop the Look:
An outfit featuring a sequin one-shoulder top paired with wide-leg pants and rhinestone-embellished pumps is an excellent choice for a holiday party and can work well for an inverted triangle body shape. Here's how this ensemble complements this body shape:
The one-shoulder design draws attention away from your broader shoulders, making them appear less dominant.
Wide-leg pants create a visually wider silhouette from the hips down, which balances out your broader shoulders. The wide leg adds volume to the lower part of your body, creating a more proportionate look.
The rhinestone embellishments on the pumps add a touch of sparkle to your overall look. This detail helps draw attention to your lower body and complements the sequins on the top, creating a cohesive and festive ensemble.
By combining these elements, the outfit effectively balances the inverted triangle body shape. It shifts the focus from your broader shoulders to your lower body, creating a harmonious and flattering silhouette. The sequin top and rhinestone pumps add a touch of holiday glamour and create a visually appealing, festive look for a holiday party. Don't forget to accessorize with elegant jewelry and a clutch to complete the ensemble. Again, use bracelets to draw the eye down.
Final Thoughts
Having an inverted triangle body type can work to your advantage if you know how to style your body right. Most outfits, cuts, and different styles will look stunning on your frame. But regardless of your fashion style and body shape, it's always best to wear what makes you happy, feel beautiful, and look confident.