One of the Pantone Spring/Summer 2021 colors is amethyst orchid. It is a bold and unique pinkish purple color. It's a very pretty and feminine color, but you might be stumped as to how to wear it, especially if it's not your most flattering color and you resort to wearing it on the bottom.
There is no need to shy away from this bold color, even for the office. It's boldness can interject confidence into your outfits.
I recently purchased these amethyst orchid trousers from JCPenney. These easy to wear curvy fit trousers have always been in the top of my go to work pants. The polyester/rayon/ spandex blend of the fabric hangs and moves well. They are easy to care for (machine wash) and comfortable to wear. Most of my pants were 1-2 sizes too big after my weight loss and needed replacing. I didn't hesitate to snag this fun color for less than $15 knowing these pants wear so well. (I have 40 inch hips/ 31 inch waist and I'm wearing them in a 4 short. Size up if you want a looser fit, but they do stretch a little through the day.)
A bright color is always best worn as a statement piece. Pair it with neutrals and let it have all the attention. But your neutrals don't have to be solid or plain. Animal prints work great as neutrals and provide some pattern for interest.
I've worn these amethyst orchid pants with both leopard and snakeskin prints.
Pinks and browns work well together, so it wasn't hard to stretch this combo to leopard and orchid. I chose a black belt and black shoes, but next time I will likely go for less contrast and wear nude shoes. I kept jewelry simple and minimal because the clothes are making the statement here.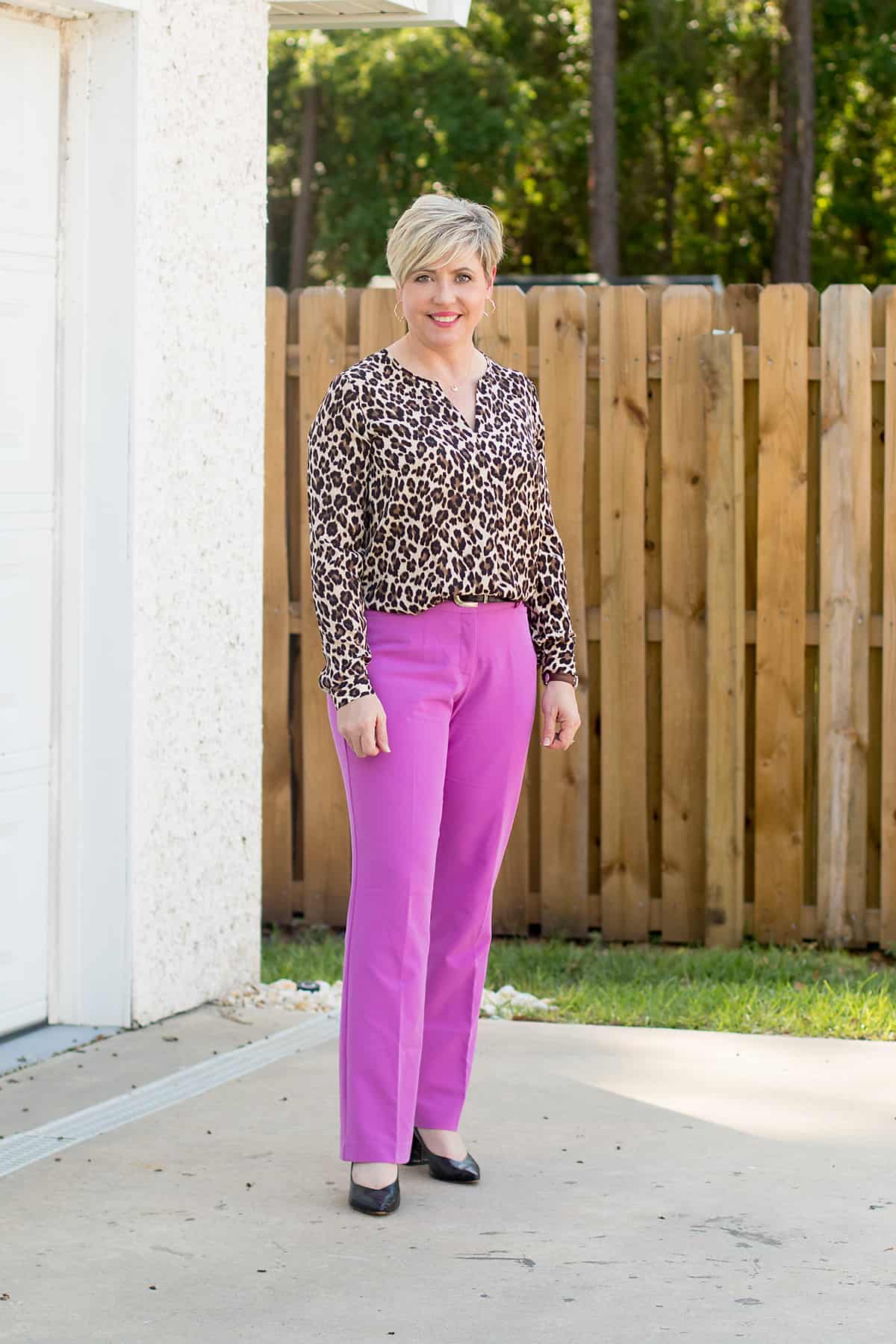 Shop the Look:
A snakeskin print in grey is an equally suitable choice for pairing with amethyst orchid pants. I chose silver tone jewelry for this outfit.
Shop the Look:
Other options for wearing amethyst orchid and animal prints:
If you are wearing a solid color top in this color, pair it with black or grey pants and add a scarf in either snakeskin or leopard print.
Which animal print combo is your favorite? If you love it, pin it and share it for others to see.
You might also like:
Spring Color Trend: How to Wear French Blue and Cerulean
Spring Color Trend: How to Wear Raspberry Sorbet
DON'T MISS OUT!
Subscribe to my daily feed or to the weekly newsletter to get each post as its posted or a link to the each week's posts along with exclusive subscriber content in the weekly newsletter. Make sure you check your junk email after you subscribe and add me to your email safe list.