This year Pantone chose not only one but two colors as color of the year. A bright sunny yellow grounded by a neutral grey. According to Pantone, the pairing of these colors conveys the message "of positivity supported by fortitude." I have always loved yellow and grey together in color schemes for home decor and for outfits.
Yellow typically symbolizes warmth, positivity, energy and optimism. It's a bold "notice me" color. Ever stop to think about why school buses and taxi cabs are yellow? So they will be easily noticed.
On the other hand, grey is a cool, neutral color. While it can have some negative connotations like darkness and depression, grey can also signify strength and sophistication.
Grey and yellow outfits can be sophisticated and cheery combinations at the same time.
I pulled the closest matches I had in my closet to Pantone's color of the year and created a fun and chic work wear outfit.
I've had the blazer for about three years and the top was a purchase from last year. I tend to shop what I like and not necessarily by the color of the year, so sometimes that puts me way ahead of the trends.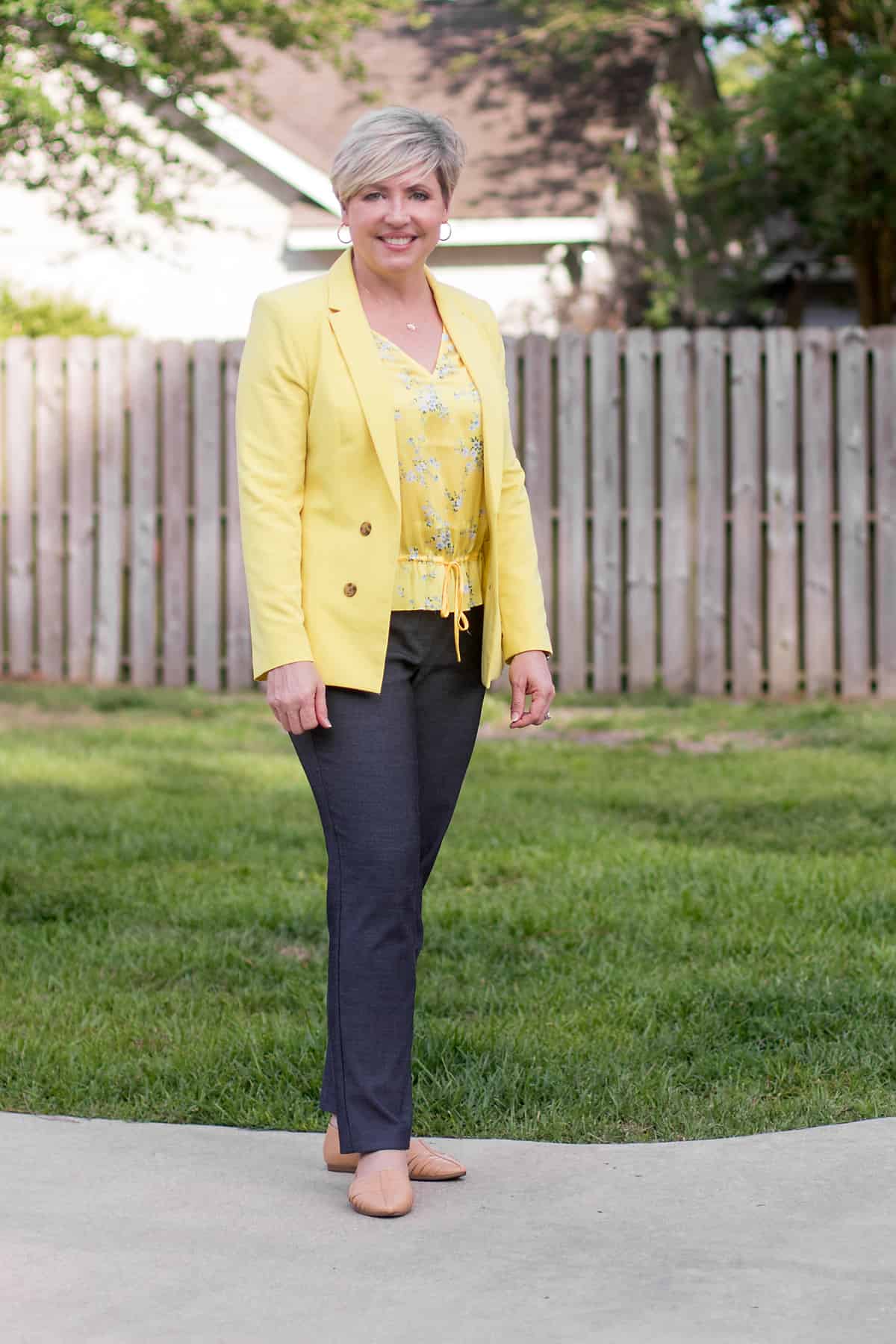 Blazer- JCPenney- option; option blouse – Banana Republic- option; option; pants- Ann Taylor; shoes-Target
I'm normally not this matchy with tone on tone colors, but this worked out. There are enough details to the top- vneck, tie waist, and a print- that it doesn't completely blend into the blazer.
I chose nude flats so the shoes would not compete with the bright yellow, but black flats or pumps would work equally well with this outfit.
Another way to wear a grey and yellow outfit would be to use the same yellow blazer and grey pants but substitute the top for a white or ivory top for a little less color.
If yellow is not a shade you wear well, remember you can always play around with the color in your accessories.
What are your thoughts on the Pantone Color of the Year 2021? Will you be embracing this color full on, just in accessories, or skipping it altogether? Are you a fan of grey and yellow outfits?
DON'T MISS OUT!
Subscribe to my daily feed or to the weekly newsletter to get each post as its posted or a link to the each week's posts along with exclusive subscriber content in the weekly newsletter. Make sure you check your junk email after you subscribe and add me to your email safe list.