The holidays are over and we are settling into a new year. You may be looking ahead and dreaming of spring now, but we've still got plenty of winter left. A coat is a necessary item for winter, so instead of settling for a basic ho-hum grey or black coat, consider these three reasons to have a statement coat in your wardrobe.
You may have the best outfit ever, but if you have to wear a coat to get from point A to point B, or to participate in an activity given that Covid has driven us outdoors, your great outfit is covered up. Since your outfit is covered up, you may as well make your coat the star feature.
A great statement coat can elevate any outfit. I'm in an outfit of leggings, knit top and sneakers but who would notice given this fabulous leopard coat? No need to worry about what's underneath with a statement coat.
Top- Amazon; leggings- Hue; earrings- Kendra Scott; sneakers- JCrew Factory
A bright colored coat or a fun pattern can boost your mood when you need it the most during the winter. If you aren't one for lots of color, having a bright coat can help you add some color to your style without being committed to the color all day.
A few things about this coat I'm wearing- it's mostly polyester and just a little wool. It's great as a fun layer for milder climates but I doubt it alone would keep you warm if you live in a colder climate. It only has one button as a closure. It could still be a fabulous topper if you add more layers underneath. It's lightweight and comfortable.
More statement coats to ramp up your winter outfits: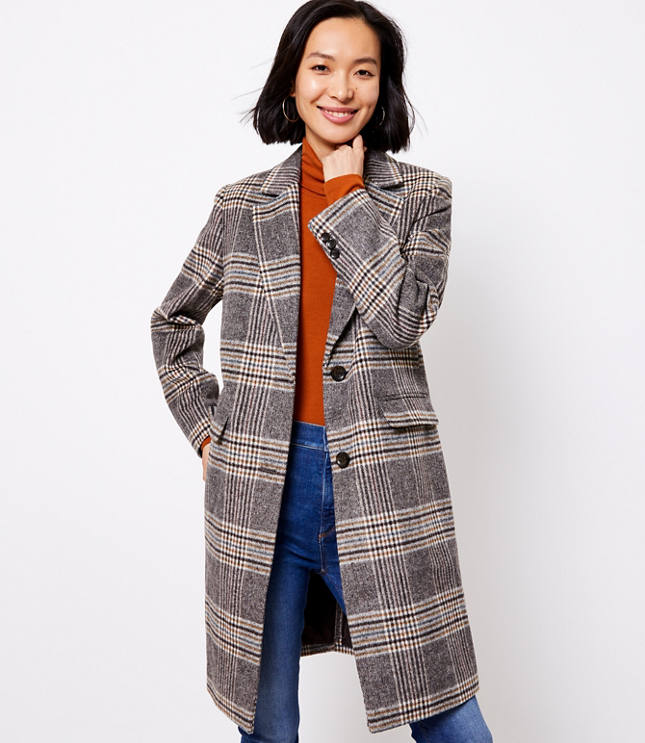 Plaid coat
A classic way to make a statement.
Faux Fur Trimmed Purple Coat
Add some fun to your winter outfits with a splash of color and faux fur trim.
Houndstooth Cocoon Coat
Another classic pattern with a bold statement.
Officer Wool Blend Coat
Make a statement in bold red.
DON'T MISS OUT!
Subscribe to my daily feed or to the weekly newsletter to get each post as its posted or a link to the each week's posts along with exclusive subscriber content in the weekly newsletter. Make sure you check your junk email after you subscribe and add me to your email safe list.