Sometimes I have to shake my head at the everyday things that have been around for years that suddenly become "trends". The good old fashioned rib knit sweaters and skirts are one of those things. Pretty much "knit" everything is trending right now -from rib knit to cable knit. Today we are going to focus on the knit midi skirt, or sweater skirt.
First, what does knit mean? It's making a garment or fabric by interlocking loops of wool or other yarn with knitting needles or on a machine. Knit uses one yarn looped continuously. Woven fabrics use multipe yarns. The good thing about knit is that it tends to have a lot more stretch and wrinkle less. The downside is that it can loose it's shape more easily.
The most common item we associate with knit is a sweater and when we transferred the fabric to skirts they became known as the sweater skirt. If you are searching for one, search out both sweater skirts and knit skirts. The terms have become interchangeable.
How to Wear A Knit Midi Skirt
Once you find your skirt, you may be wondering "What to Wear With a Sweater Skirt?" They pair up nicely with most anything in your closet from other knit tops to flannels to tees and toppers like denim jackets, blazers and moto jackets. A knit skirt can be styled in much the same ways as a slip skirt.
Given the stretchy and sometimes clingly nature of a knit skirt, you may also want to consider some shapewear or smoothing undergarments to get a nice smooth look, especially if you are a little body conscious. Look, it's not you, it's the skirt.
Some garments just need a little help. Soma vanishing tummy undies and smooting shorts are good options to wear under a garment like a knit midi skirt. I also like Jockey slip shorts under dresses and skirts. A half slip with some shaping control also works.
Let's take a look at seven ways to wear a knit skirt.
The most obvious way is to wear it as a matching set.
You can find ready made sets or purchase coordinating separates. These pieces are seperates from Gap- the Softest Sweater Midi Skirt and the Softest Turtleneck Sweater. Gap nailed it in calling these pieces "softest" because they are definitely soft and cozy. I'm wearing the set in the plum color which is mostly sold out, but any of the neutral colors these pieces come in would be great investments. I'm wearing the sweater in a small and the skirt in the medium.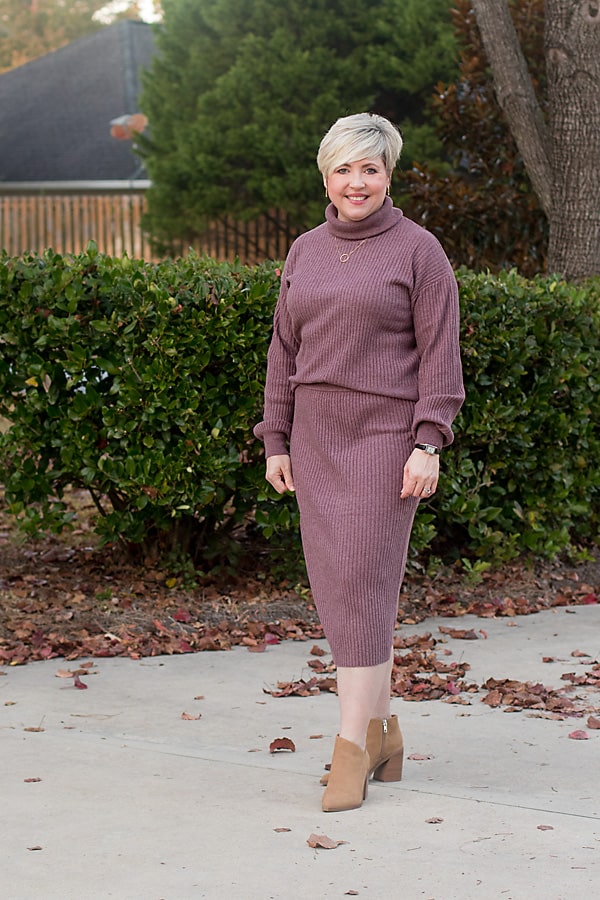 I prefer a little heel with a longer skirt so I styled this set with these booties.
Pair it with a pretty print blouse.
I chose leopard but any pretty print or solid tunic blouse will work.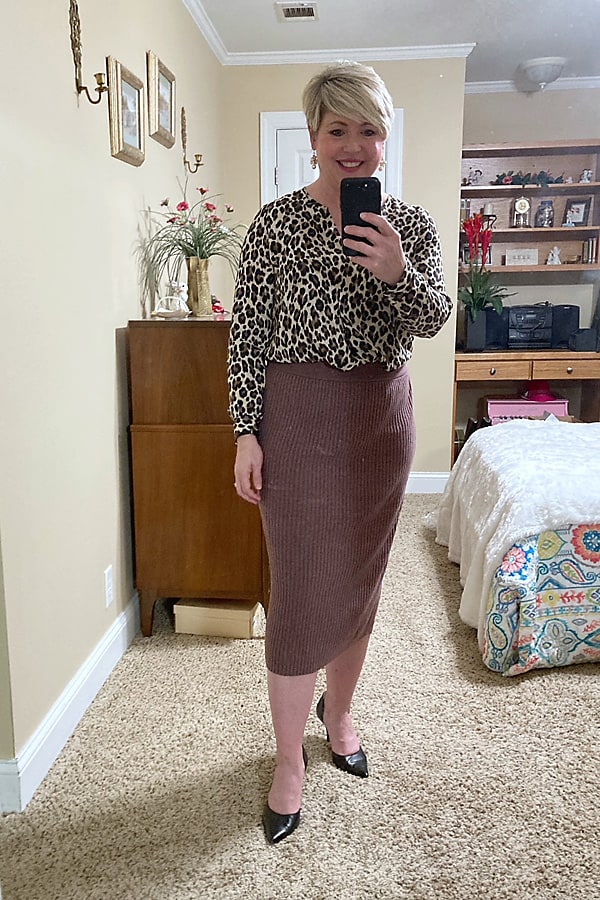 Blouse- similar; pumps- similar;
Wear a knit skirt with a moto jacket and lug sole chelsea boots. It's pretty warm here so I'm wearing a tank under the jacket but in colder climates you could wear a long sleeve tee or turtleneck and add tights to the look.
Jacket- similar; boots- Zappos
Have fun dressing down a knit skirt.
Pair it with a graphic tee, denim jacket and sneakers.
Tee; denim jacket; sneakers- similar
Pair your sweater skirt with a solid sweater in a coordinating color.
I switched up the color to grey because I tried the grey in a small to see which fit the best and the small was not available in the plum when I ordered. I could wear either based on fit preference.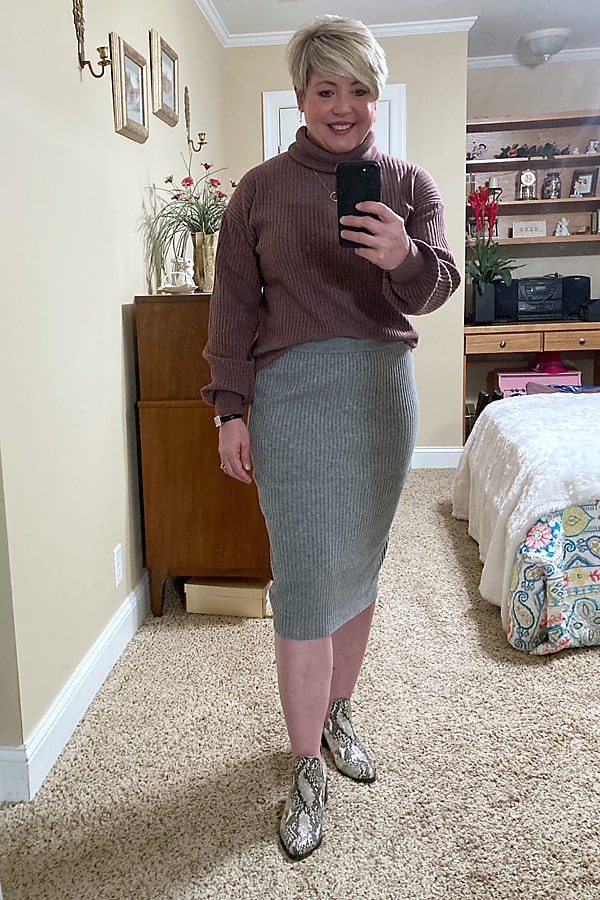 Dress up your skirt with a blazer.
Go straight from the office to date night or drinks with a bold red blazer. Wear this look now during the holidays.
Blazer- similar; similar; white button up- Ann Taylor
Pair a knit skirt with a plaid flannel shirt.
Dress it up with pears and heels.
shirt- Old Navy
A tip for smoother look when tucking in tops-tuck the top into your shapewear. No one will ever know.
For more inspiration on styling a knit skirt, check out how Kellyann at This Blonde's Shopping Bag styled hers.